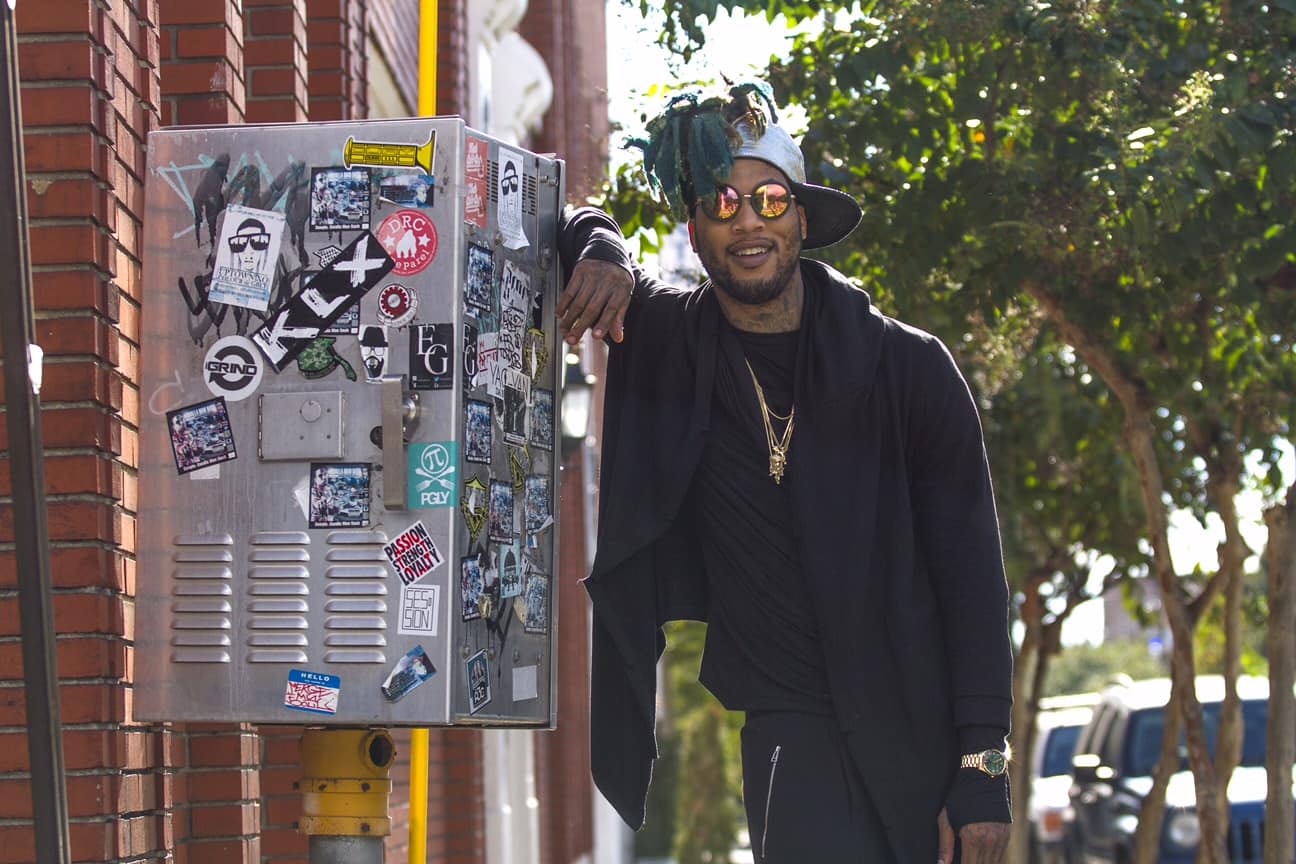 Atlanta's TM88 has been a core component to 808 Mafia since he co-founded the production crew alongside Lex Luger and Southside in 2010. Compared to Zaytoven's twinkle or Metro's swing, 808 served power-drill buzz and digital shrieks for everyone from Waka Flocka to Gucci Mane to iLoveMakonnen. It was after Southside handled the entirety of 56 Nights, however, that word got out TM88 had split from the crew, and hadn't contributed to the Future project. In an interview shortly after the project's release, Southside remarked almost out of nowhere, "Well first off, we gonna say fuck TM88, 'cuz he's not 808 Mafia anymore."
But the producer doesn't seem phased. We caught up with TM88 about his sprawling new Sacii Lyfe project (pronounced sah-chee), premiered here today, and the label imprint he's founding along with it, Sacii Lyfe Enterprises. He seemed in great spirits, fresh out of a marathon session and excited to get even weirder on his own. The tape is standard TM fare with broader borders: standout "Bricks" evokes vintage snares and samples alongside jagged synths, and Project Pat pops out to give his blessing. Hear and read below, and look out for more from TM88 this summer.
What can we expect from this new tape? These beats that I don't think other rappers can rap on. These beats is so weird, we the only ones that can put that flavor on it. It's different styles of beats that I want to put out, I want everybody to hear it. It's like a new wave that I'm starting up right now.
How's this new material different from your previous work with 808? It's that new 88 wave. Future got a lot of this shit too, we finna release. It's something new that I have never showed nobody. If I could explain it… shit man, I be on drugs. Them 'xans and all that shit. So it's real drug, pharmacy music. I got a project coming, too, with A-Trak.
Are these the kind of beats you felt you couldn't put out before? You know how rappers is now. Unless the cool rapper rapping on that shit, they not gonna rap on it. I got a group of cool rappers that everybody wants to be like. So now it's like, we putting this out and every rapper's gonna want to rap on this shit. People be kind of picky with shit they never heard, like "Aw man, that shit too weird, I don't know what to do." But if they hear somebody on it, they like "Man, I can kick that flavor." So we got a whole new pack of beats out that don't nobody know about. Even 808 Mafia, they don't even know, this whole new swag I got out, I just came up with it.
It was really you and Southside that people pictured when they hear 808 Mafia, so it was surprising to see Southside say "TM-88 is not 808 Mafia anymore." It's just a decision that I made. It's his company. He good, he knows what he's doing, he's fine. He's good at making beats. I'm happy to see both of us succeeding right now and getting money. It wasn't because of 56 Nights, we decided to part ways. That's my little brother. It ain't no hard feelings. I'm killing the game right now, I don't even be worried about that shit. I got a hundred thousand songs, I'm not worried about no motherfuckin' 56 Nights. I'm worried about this Drake album that just went platinum. I'm waiting on that plaque right now. But salute the whole 808 Mafia. It's still in my soul, it's on my hand, it ain't going nowhere. Them my boys. But as far as anybody else in 808 Mafia, I don't have contact with them. Right now is about that TM88 shit. Keep flaming the industry up. We got a whole bunch of new music out man. 56 Nights was crazy though, man—shout out to Future and Esco. My favorite song on there is "March Madness."
Crazy. That's the best song. "Diamonds From Africa" is wild too. You had said you contributed some sounds to it. I ain't do nothing on that mixtape. I just want people to just focus in on the talent, not just the drama. That was just some inside shit. We cool, everything cool. I'm so focused right now with this music that I can't even focus on nothing else.
Who else have you been working with? It's a group called MDMA, it's me and Polo's group, they signed to Epic and are about to go crazy. We got Jonah Cruzz. I got a new production camp, all new shit, all new flavors. I got Jeezy single, supposedly. We got Juicy J album. New Wiz Khalifa shit, OG Maco, I know Drama and Cannon got a artist Lil Uzi Vert. Just went in the studio with Chedda Da Connect, look at the flicka dat wrist. I went through last night and killed that studio, bruh. Every room, played flame. Kirko Bangz shit. It's so much shit, and then I'm cooking up packs with Lex Luger, Metro Boomin, Polo Da Don, Honorable C Note, Sonny Digital. Niggas not even ready for that me and Lex Luger pack. Not only am I working on Sacii, I'm still working with producers. Jeremih, the list goes on. I just want people to open their eyes this year and focus on the music, and the producers. We really changing the game. Every month, we making a whole new sound. People can't even keep up. Stay on the lookout for that new shit.
Do you feel more comfortable surrounded by collaborators? It's the same for me. I be zoned out. Even 808 Mafia, me and Southside we'd get up, make a beat, woo woo woop. It's the same process. I'm not gonna switch it up, we just gon' keep going and keep seeing the results.
Whoever's down to work, you're down to work. I'm not working with everybody, I don't want to burn myself out. But I'm scoping shit. Before I had the AK, now I got the scope, the sniper scope for real. I'm in the lab every day bro, this shit like basketball, motherfuckin, I feel like Lebron. I just got a word of advice for all the producers that think they could fill my shoes, stay up 24-hours a day doing this shit. Sometimes I don't even get no pussy, cause I'm working. I'm telling you. All the hoes trying to fuck right now. But it's like, I'm trying to stay leveled and grounded doing this work.