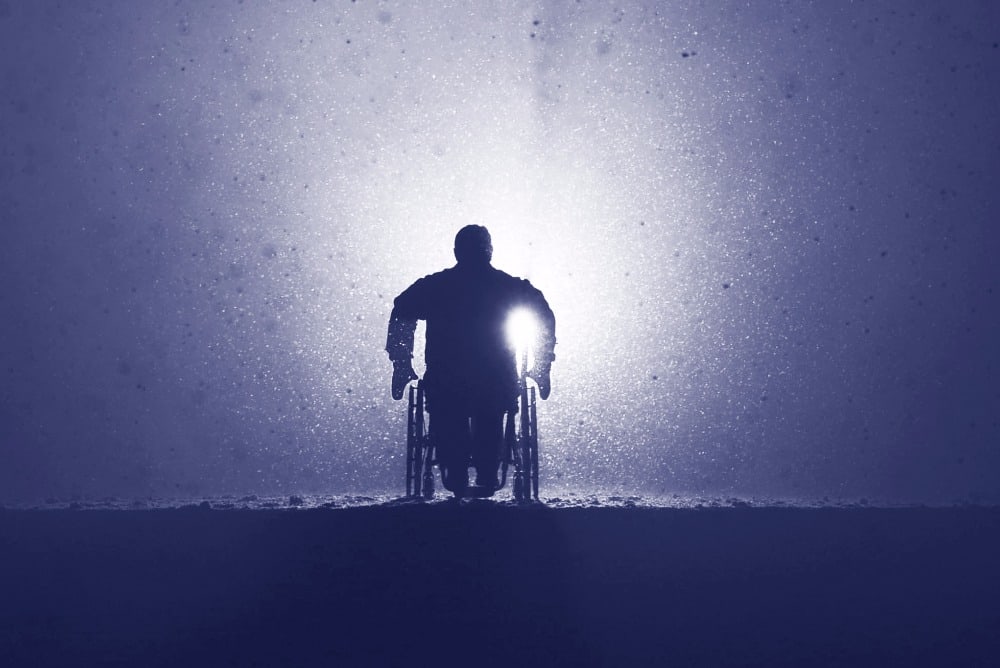 At 2:30AM on a recent Friday night, the main dance floor at Cassiopeia, a club in Berlin's Friedrichshain neighborhood, was starting to fill up. Groups of twentysomething locals and tourists were jumping around to the hip-hop being played by one of the night's several DJs, and in the corner, a tall and very high man with long hair was sporadically lunging out to kiss a passerby. Fidi Baum, a 33-year-old social worker, was sipping a beer in his wheelchair and bemusedly staring at the crowd. "I like how diverse it is here," he said. "This place is my second home."
Baum, who has a form of cerebral palsy, parties at Cassiopeia every few weeks, and the staff knows him well. The door people immediately usher him through the front door, and when he heads to the bathroom, the attendant smiles and wordlessly unlocks the club's wheelchair-accessible bathroom. "I like it because it's one of the few places in Berlin where they play hip-hop instead of techno," Baum says. "And of course because it's wheelchair accessible."
Located in a low-slung building in a former railway maintenance yard, Cassiopeia has a grimy, intimate feel: the club's decorations are bare, the lighting is dark, and the staff is heavily tattooed. And in a move that is becoming increasingly common in Berlin nightlife, it has gone out of its way to welcome people, like Baum, who use wheelchairs. Over the past decade, Berlin may have become the best city in Europe to spend a drug-fueled techno-party weekend, but it has also, more quietly, become the best city to go clubbing if you have a physical disability.
Berghain, the city's best and most famous techno club, for example, may have one of the strictest door policies in the world, but it was purpose-built with wheelchair users in mind. Located in a former power station and opened in 2004, both of its dance floors and its ground-floor sex club can be accessed by elevators or ramps. On weekends, you often see of wheelchair users—in both motorized and non-motorized wheelchairs—amid the fetish-oriented crowd. And even though the club's infamously selective bouncers supposedly once rejected Britney Spears, people with physical disabilities are often allowed to jump the line.
Many of the city's other leading venues have followed suit in recent years. A collective-owned club called About Blank, on the eastern edge of Friedrichshain, is also wheelchair accessible and popular among people with disabilities. The same is true of Tresor, the newest iteration of a highly influential 1990s techno club, as well as Chalet, Panke, and Prince Charles, which hosts popular parties like Horse Meat Disco. On most weekends, the cramped indoor dance floor at Griessmuehle, a dark and dirty club located in a former industrial building in the Neukoelln neighborhood, has wheelchair-users partying on its dance floor.
"I think a lot of clubs are paying attention to it now," says Lutz Leichsenring, a member of the city's Club Commission and Chamber of Commerce. "I see people in wheelchairs in clubs all the time."
Part of the reason is philosophical. In Berlin, nightlife is not only a big economic driver, it's also a key part of the city's cultural fabric. In recent years, Berghain has become nearly as big a Berlin icon as the Brandenburg Gate or the Berlin TV Tower, and marathon partying is a surprisingly accepted part of regular Berlin life—it's not shocking to find your doctor or your dentist blissed out on a dance floor at 6AM. In Berlin, as Fidi Baum puts it, "partying is a human right," so why shouldn't people with disabilities be able to enjoy it too?
The city's nightlife has always been geared towards outsiders. In the years after the fall of the Berlin Wall, enterprising Berliners—many of them squatters and artists—snuck into abandoned factories and train depots and used them to host marathon techno parties. The Bunker, one of the city's most famous clubs, was located in a former World War II air-raid shelter, and had such poor circulation that organizers used candles to tell when the building was running out of air—if the candles went out, it was time to evacuate.
Over the past two decades, the Berlin club scene has become more commercial and international, but it has largely retained its anarchic and leftist-political roots. If big clubs in Miami and Las Vegas tend to cater to the wealthy and the beautiful, Berlin's are targeted at the scruffy and underemployed: the venues are dirty, the cover charges are low, and beers rarely cost more than 3 euros. In contrast with the door policies in Moscow or Paris, bouncers often actively exclude well-dressed and prim-looking tourists in favor of rattily dressed locals, older people, or those who don't fit into the mainstream. Baum, for example, says he almost never has to wait in line to get into a club.
"I'm hoping that Berlin can become the embodiment of a new kind of party culture," says Annina Zamani, a local activist who, for the past three years, has been organizing a party called Rock n' Rolli geared towards people with disabilities. Some of her events took place at Kater Holzig, a famous, now-defunct club on the Spree River, and one featured a performance by Peaches. "I have a feeling that party organizers have become more interested in wheelchair accessibility," she says. She says she's constantly receiving requests from clubs to put on her events in their spaces—"everybody would like to be able to attract this kind of crowd"—and is currently planning a large event, hopefully spread out across several clubs in the city, for the fall.
It helps that, from a practical standpoint, making a club wheelchair-accessible is much simpler in Berlin than in many other denser cities. In 2006, the city tightened its regulations for wheelchair accessibility, including for wheelchair-accessible bathrooms. Because many of the city's clubs are located on the ground floor of repurposed industrial buildings and often surrounded by lots of empty space, building ramps and renovating bathrooms is relatively simple. "It's not like clubs in other cities, which are often located in a basement or in a multistory buildings that you can only access with stairs," Leichsenring explains. "Cities like New York have completely different problems."
"Things have really changed in the last six to seven years " Baum said, sipping his beer at Cassiopeia. "I think it also has to do with the fact that so many creative people are coming here these days, but it also has to do with people like me." Baum often performs as rapper under the name Graf Fidi around Germany, and he says that his visibility goes a long way towards making people more aware of disability issues. "Just by my being here, people are becoming more comfortable with the idea that it's ok to be different."
A few minutes later, he parks his wheelchair on the dance floor next to a group of pretty young British women. "I'm starting to get a bit drunk," he warns, before closing his eyes and bouncing to the beat. At that point, the very high man sidles up to him. He whispers into Baum's ear and plants a kiss on his mouth before running away. "That guy asked me if I had any heroin," he laughs, confused. "I guess we're having a very Berlin night tonight."