Meet Allie X, Pop Music's New Surrealist
Tipped by Katy Perry, but with a harder edge, she's making pop songs into art projects.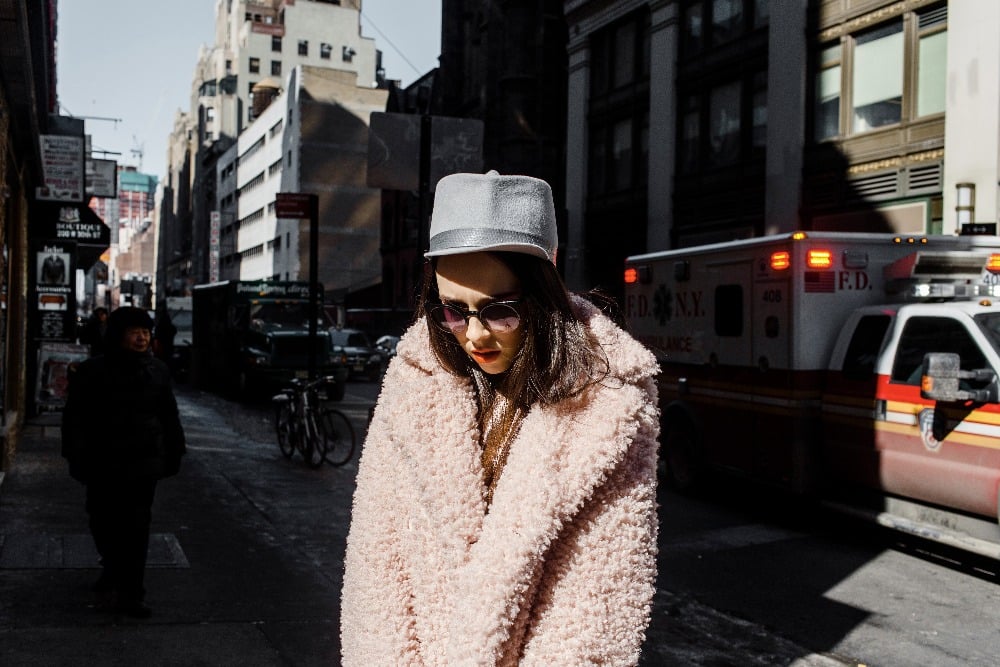 Allie X won't tell me her age. "I would like to think that my relationship with the public could be like a relationship with another person," says the pop singer, wearing a fuzzy pink jacket and tinted shades. "Once I'm comfortable, I can say a few more intimate things about myself." Sitting in a lounge of New York City's posh Le Meridien Hotel, we focus instead on the music at hand: her debut, Collxtion I, out this spring on a label she's starting called X Recordings. (At the time of our interview, she's still in conversation with major-label distributors.)
For many, the first glimpse of Allie came early last year, when Katy Perry tweeted a link to her debut single, "Catch." The song is a booming electro-pop gem, set off-kilter by surprisingly grim medical references. "I was sitting on that song for a while," Allie remembers, describing its initial "R&B swing" as a far cry from the song it became. Recording it, she was still learning how to lay down vocal tracks, she says, much less trying to write an underground hit. "The Katy Perry tweet was like the golden mushroom that sort of shroooomed everything forward, like a Mario Kart race."
Like the reclusive chanteuse Sia, Allie got her foot in the industry as a songwriter. It's a job she continues today, working on YouTuber Troye Sivan's debut album and fantasizing about writing reggae hits for Rihanna. She started writing in Toronto, back when she was going by her real name, Alexandra Hughes, but moved to L.A. two summers ago before stepping in front of the mic. "I had a lot of really talented friends in the indie rock and electronic scene in Toronto," she says. "But in terms of the music I was making, and in terms of me wanting to do pop, it was almost as if I had to be self-deprecating when I talked to them about it."
"In terms of me wanting to do pop, it was almost as if I had to be self-deprecating when I talked about it." —Allie X
It only took a few weeks in L.A. before she found more sympathetic ears: namely, the producers Cirkut and Billboard, part of pop Svengali Dr. Luke's camp. The two helped jumpstart her career and the latter produced songs for Collxtion I, along with Allie and a few others. She says she has no plans to work with Dr. Luke himself, but that's probably for the best: while many of Luke's artists have gone on to become pop juggernauts, Allie seems more interested in treating the genre like an art project, citing modern surrealists like Devo's Mark Mothersbaugh and the novelist Haruki Murakami as primary influences.
That skewed perspective is how she arrived at Allie X, a guise that's been in the making for at least a decade. Looking back at her childhood, she recalls a sudden change in her personality at the age of 11. "My parents said it was sort of like a light switched," she says, remembering a turn from being happy-go-lucky to somber and withdrawn. Since then, she's been on a "quest to find her full self," ultimately adopting the persona of Allie X in an effort to to reconnect with the person she used to be. In the freaky videos for "Catch" and "Prime," for example, she spins around and around in circles, just like she used to do as a kid.
At times, the persona can come off as gimmicky—when asked if she's behind a Twitter account called The Wizard of X that speaks only in rhyme, she says "I'm not sure"—but after meeting her, the character of Allie X feels more like a self-protective alter-ego than a PR stunt. In the cutthroat world of pop music, that makes sense. Sipping mint tea, Allie again mentions that brief moment of escape when you spin yourself dizzy. "It only ever lasts for 30 seconds," she says. "And then you just have to start winding it up again."
Correction: An earlier version stated that Allie X and Katy Perry had met at a party prior to Perry's "Catch" tweet. This line has been deleted, as it's no longer relevant; they did meet at a party, but it was only after Perry had tweeted about the song.
From The Collection:
GEN F