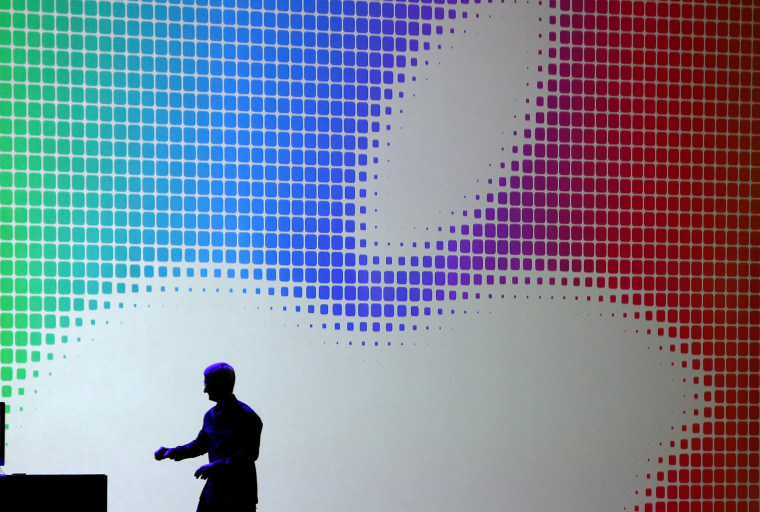 Apple's annual Worldwide Developers Conference (WWDC) kicks off Monday in San Francisco. During the keynote at 10:00 AM PST, Apple is expected to announce their new music streaming service, iOS updates, a new Apple TV, and more. Watch the keynote live here (on Safari or your Apple TV), and follow along with The FADER below.
Update 6/8/15 1:03 PM: The conference opened with a star-studded Bill Hader skit (Abed from Community! Angry Bird!).
Then Tim Cook took the stage in jeans to more formally get things started. "We've got a jam-packed morning for you," he teased.
Update 6/8/15 1:47 PM: Meet Jennifer Bailey.
In an interview with Mashable ahead of the conference, Tim Cook said that the widely watched keynote will not be all-male. And here we go: Apple has now brought Jennifer Bailey, an Apple Pay executive, on stage to talk about payments and Apple Pay's future in the UK.
Update 6/8/15 2:05 PM: Apple Maps adds Transit.
The new Maps will include a Transit view that will include public transportation routes and directions. Better yet, it will account for walking time to the subway station, and etc.
Update 6/8/15 2:13 PM: Look forward to better battery life.
Put down the Mophie—the iOS 9 update includes improvements that will allow for an hour more of battery mode. It will also feature a "low-power" mode that could free up three more extra hours.
Update 6/8/15 2:17 PM: Swift 2 will be open source.
Swift 2 will open up Apple's programming language for all developers, so DIY apps for everyone! This announcement earned a hearty applause from the audience.
Update 6/8/15 2:27 PM: The new Watch OS will bring native apps to your wrist.
Update 6/8/15 2:40 PM: We probably won't be getting a new Kanye West album out of this.
If you've tuned-in hoping that Swish might be dropped during the announcement, you can go back to work now. According to Buzzfeed's anonymous sources, Kanye West and Apple are still working "to finalize a deal, and negotiations between West and [Jimmy] Iovine continue."
Update 6/8/15 2:54 PM: Apple Music will help you curate your music.
"It's a revolutionary music service curated by the leading music experts who we helped hand pick. These people are gonna help you with the most difficult question in music: when you're listening to a playlist, what song comes next," Iovine says.
Drake is here to discuss Connect, a service that will make it easier for artists to upload music.
"The dream of being a new artist like myself five years ago and connecting directly with the audience has never been more real," he says.
Update 6/8/15 3:18 PM: Here is what it will cost you...
$9.99 a month with first three months free for individuals; $14.99 for a family plan.