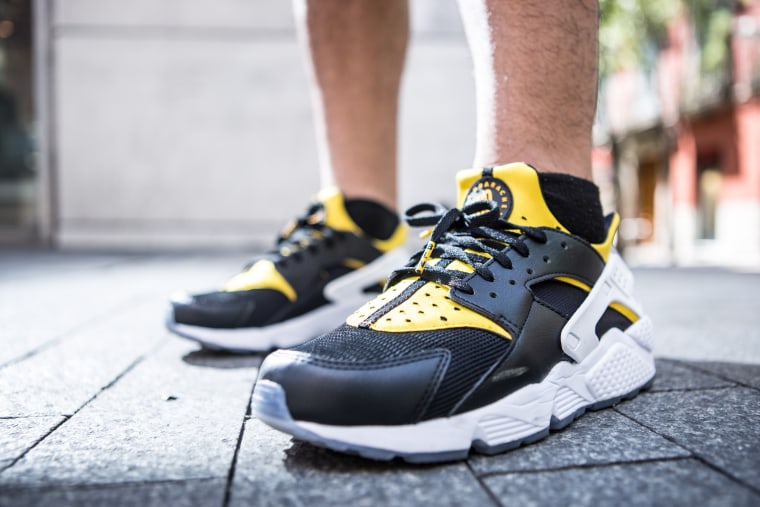 Wearable products have been the tech industry's collective obsession for the past few years—from Fitbits to smart watches, both start-ups and legacy companies have tried to impress the idea that the innovation of the future belongs on our bodies. For the most part, though, wearable products haven't felt groundbreaking or substantial enough to warrant the adoption of a new device. Apple, for instance, still hasn't made a convincing enough case for why someone who already owns an iPhone needs to also own an Apple Watch. We don't believe you/ You need more people, I find myself thinking very time I see an ad for one.
But a concept designed by +rehabstudio, a creative technology firm with offices in London, New York, and Belfast, could conceivably be the wearable tech product consumers really go for—that is, if the company manages to actually produce it. ShiftSneaker is a sneaker that's actually an infinite number of sneakers in one. With technology like mini-LED lights and conductive fabrics, the idea goes that customers would be able to download and customize various "packs" to change the shoe's appearance. Through an app store, customers could match their kicks to their outfit or to whatever sneaker their partner is wearing, use the shoes to keep track of their performance while on a run, or access a safe reflective mode while cycling at night. The idea's not exactly new—Dr. Sabine Seymour described a similarly shape-shifting garment for all occasions in a 2013 interview with The FADER—but things are just so slightly closer to reality now.
When I moved from Toronto to New York a month ago, the hardest part of packing up my life was deciding which sneakers among my dozens would make the journey with me. The idea of having just one pair each of my favorite silhouettes sounds like a dream, and I guess the ecological implications of manufacturing way fewer shoes sounds pretty cool, too. There are some pesky obstacles to overcome, of course—like making sure the industrial materials used are safe for human skin, and engineering the software to prevent randos from being able to hack people's sneakers. Otherwise, though, I'm here for it. Your move, Nike.