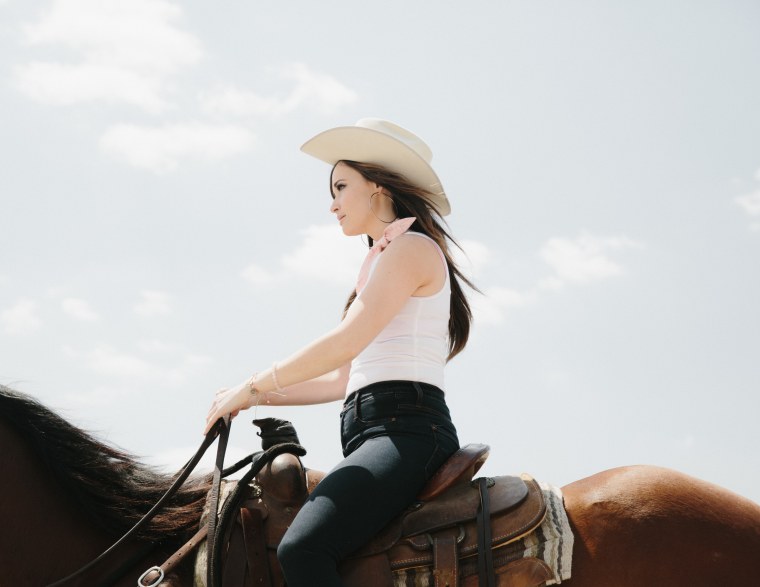 Kacey Musgraves, one of the four cover stars of The FADER's 2015 Summer Music issue and the first country singer ever on our cover, released a new song on Spotify today. Called "Dime Store Cowgirl," it's the second track on her forthcoming album, Pageant Material. It's easily one of the best things she's ever put out, and certainly one of the most personal.
Many of Musgraves' songs play off tropes of small town life, and she usually describes things only precisely enough so as to be recognizable: the waitress who dreams of bigger things, the cheating husband, the neighbor selling Mary Kay. But "Dime Store Cowgirl" is more precise. It tells a story that only Kacey Musgraves has lived: the story of her own rise. For an artist whose perceived authenticity is one of her biggest selling points, that's a powerful statement, and it's a story well told. It's the "Started from the Bottom" of country, but maybe more true.
Here are the lyrics to the first half:
Had my picture made with Willie Nelson
Stayed in a hotel with a pool
Driven through New Mexico where the saguaro cactus grow
Felt really small under Mount Rushmore
And I made it all the way past Austin City Limits
And maybe for a minute I got too big for my britches, but…
I'm just a dime store cowgirl
That's all I'm ever going to be
You can take me out of the country
But you can't take the country out of me, no
Cause I'm still the girl from Golden
Had to get away so I could grow
It don't matter where I'm goin'
I still call my hometown home
Slept in a room with the ghost of Gram Parsons
Drank some wine I can't afford
Went to San Antonio with the River Walk and the rodeo
Seen the white cliffs of Dover from the shore
And I kinda fell in love with a Palm Springs trailer park
But those California stores could never steal my heart, cause…

You get the idea. It's simple but phrased just so—"had my picture made" instead of "taken." While visiting Kacey Musgraves on tour in Texas, I asked her about the song. Here's what she said:
MUSGRAVES: "There's a funny story behind it. I used to sing super-Western swing, yodeling or whatever, in this group [called The Buckaroos] where they would mentor younger kids to get out of their shells and sing old Roy Rogers songs they'd literally never know otherwise. We would wear cowboy hats, and I would want to wear mine kind of cocked back, retro, like Dale Evans, pin-up cowgirl kinda style, and this girl I would sing with would wear hers down really low, low as possible, Terry Clark style. And right before we were about to go sing somewhere, her mom came up to me and said, "Don't you wear your hat like that, you're just gonna look like some dime store cowgirl!" I'd always had that floating somewhere in the back of my brain."
"It's just little references of things that really happened over the last couple of years. I love that the first line is, 'I've had my picture made with Willie Nelson,' and now I'm singing with him. I remember when it was a really big deal that we stayed in a fancy hotel with a pool. We shot the 'Arrow' video in Joshua Tree, at the hotel where Gram Parsons died, the Joshua Tree Inn. He died in room number eight. It has a cool vibe about it. There's that and talking about a Palm Springs trailer park, where we shot the photo for the first album art.. The overall message is, 'It doesn't matter. All this cool shit that I get to do, but I'm still from Golden.'"