Meet Hinds, The Most Easy-Going Rock Group On Earth
In this week's GEN F: sweetly sloppy songs for a never-ending summer party.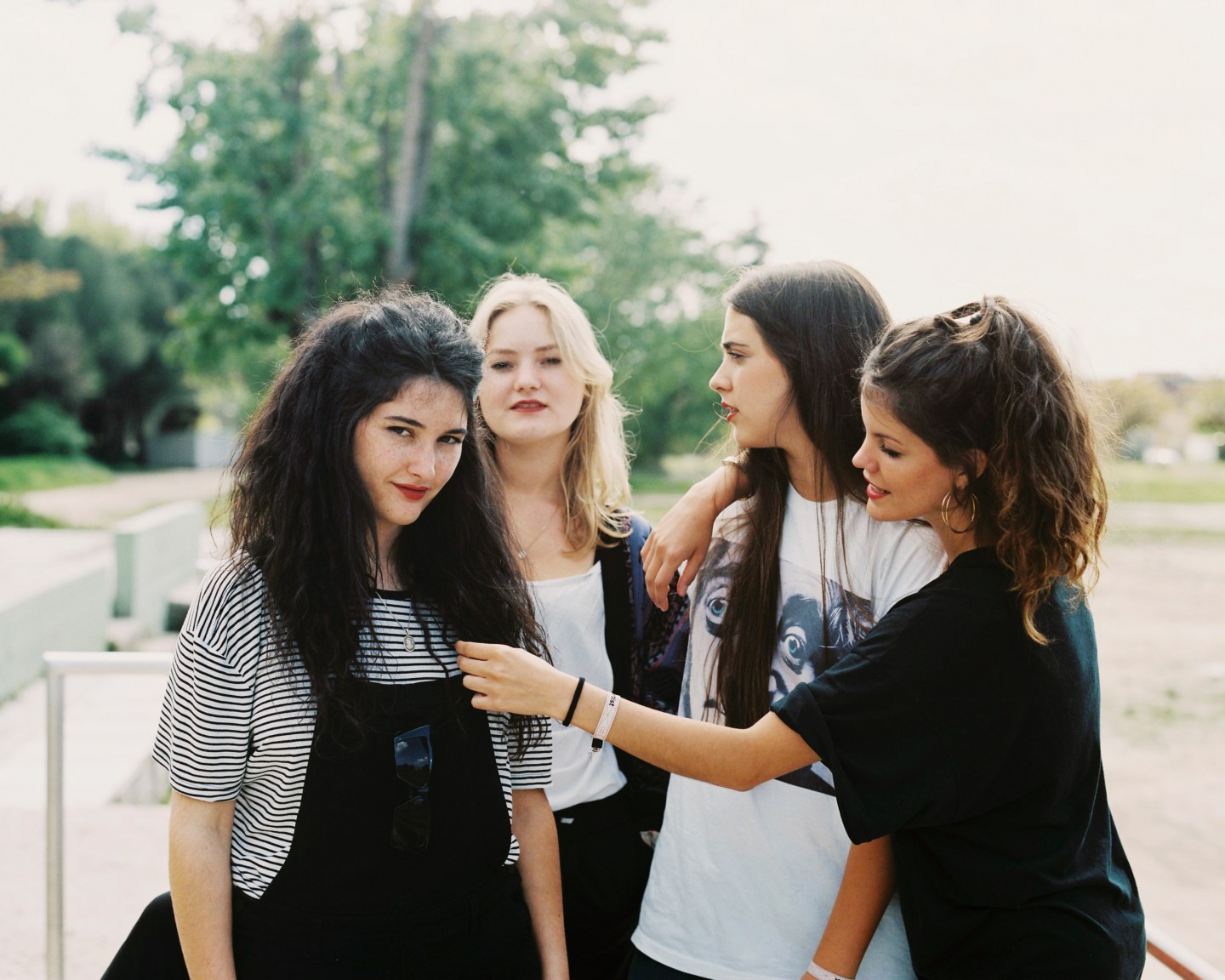 If you head to Hinds' official YouTube channel, you can watch a half-hour documentary called A Summer with Us ☀. It's a spastically edited chronicle of their first jaunt around Europe last year, put together from footage the Spanish four-piece shot themselves: clips of the girls lugging gear around, scenes from a Paris house party, and some silly dancing. At one point, singer and guitarist Carlotta Cosials chases chickens around an impossibly green lawn; later, they all excitedly rummage through an airport magazine rack to find their picture in NME. It's an introductory peek into the wildly photogenic universe of Hinds, whose sweetly sloppy rock seems destined to soundtrack some mythical, never-ending summertime party.
The streets of Madrid were a perfect breeding ground for the band's colorful aesthetic: "It's sunny most of the time," Ana Perrote, Hinds' other singer and guitarist, tells me over Skype from their manager's office. "There's cold beer on the street for one Euro. There's lots of bars, lots of gigs, lots of bands." All four members are squeezed into the frame, smiling. Fans of American garage punk and regulars on Madrid's rock show circuit, Perrote and Cosials met as teenagers, via their now-ex-boyfriends. They started writing songs together under the moniker Deers and rounded out the lineup with bassist Ade Martin and drummer Amber Grimbergen. After a similarly named Canadian band threatened legal action last year, the handwritten announcement they posted to Facebook informing fans of the name change pretty much sums up their happy-go-lucky mentality: "this is sadly the most official post we've ever made."
Like many of the scuzzy rock bands from their city, Perrote and Cosials have been writing songs in English from the get-go, sharing a notebook for ideas and a Spanish-English dictionary for quick, vaguely accurate translations. The words they come up with don't always make perfect sense, like the head-scratching pre-chorus that Cosials sings atop an unwieldy surf riff on the B-side of their "Barn" single: You tried to bright between cans. But when the pair sings together on the bleary refrain—Baby, baby, baby, baby, what are you doing to me?—it isn't hard to feel what they're driving at. "We like to tell really touchable stories," Perrote says, articulating their process of drawing from their own life experiences to make rowdy songs that people can relate to. The band tells me that "Bamboo," a dizzy, effortless-feeling jam that is probably their most popular song, came to life when they were mad at some boys. "I'm not complaining that you don't love me or anything like that," Cosials explains, laughing. "'I'm complaining about you complaining. I can't hear you anymore complaining about life."
In the middle of this year's SXSW, where Hinds performed a whopping 16 times, the band played a late-night DIY show on the linoleum floor of a housing co-op in downtown Austin. Sometime after 1AM, they wandered in from outside, placed their beer cans by their feet, and started playing. When they'd finished, the mob of scruffy-looking teens and twentysomethings that had flocked around them cheered riotously for one more song, which felt pretty special since it's likely most of them had never heard a Hinds song before that moment. Perrote, Cosials, Grimbergen, and Martin smiled at each other, shrugged, and kept playing. "It was a sharing room of happiness," Cosials recalls. "There wasn't a usual separation, like, 'We are a band and you are the audience.' Everybody was having fun in the same way."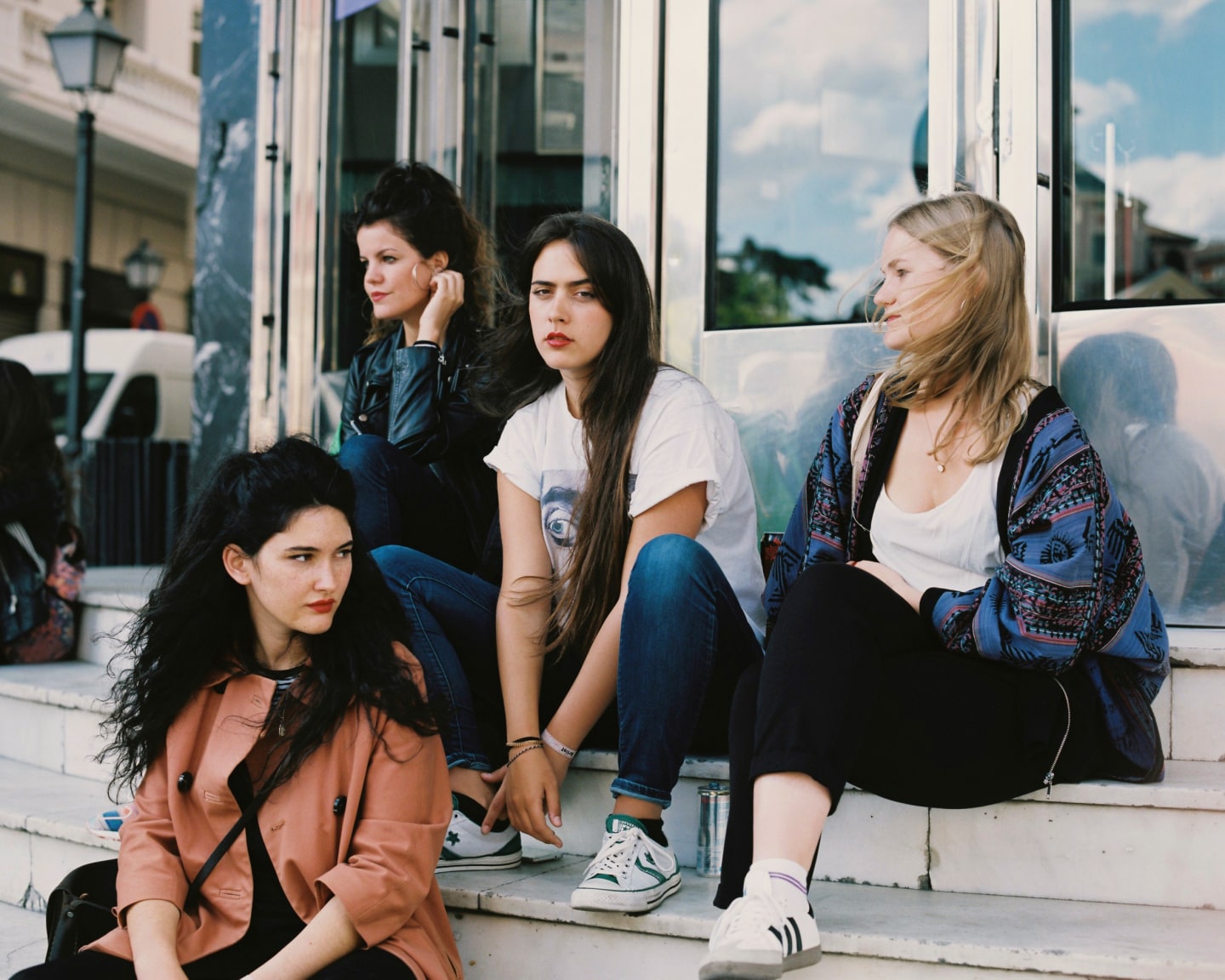 From The Collection:
GEN F