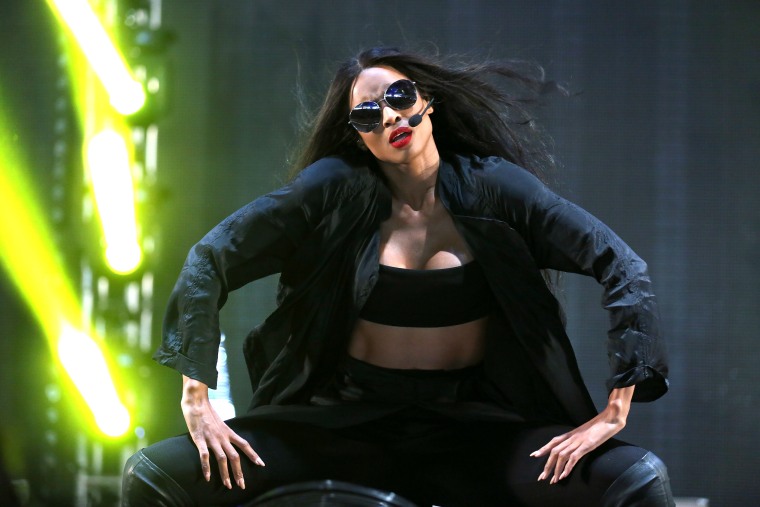 Hitting three million plays in its first three days online (two days later, it's around a cool 5.6 million), Ciara's latest video "Dance Like We're Making Love" has become her fastest-ever watched visual on VEVO. This is the kind of stat we hear a lot of today, in an era when there are so many angles from which to present an artist's success (and from which to "engage" with their "content"); but in the context of an album campaign, and an entire career, that's been more knotty and complex than that of the average popstar, this moment feels significant for Ciara.
While her sixth studio album Jackie has been on shelves since May, it gained the lowest first-week sales of any of her studio albums, seemingly lacking any of the "wow" moments that can send a campaign flying in 2015. The surprise drop; the viral awards ceremony performance; the endlessly meme-able, GIF-ready video or powerful guest verse endorsement (note: all of those examples just linked nod to Drake, the man who has internet pop culture on lock). But as radio presenter Charlamagne Tha God—who is notoriously and incessantly plain mean about Ciara—said to her on Power 105's Breakfast Club earlier this year, "I said your album was dead, never your career. Your album." Even her worst critics acknowledge the strange truth of Ciara's legacy: that she maintains an ever-growing solid catalogue of brilliant work, even without ever quite fitting comfortably into the familiar release-hype cycle.
But in the VEVO era, with Youtube plays counting toward chart positions and thousands of classic videos archived for every casual viewer, maybe Ciara's legacy will be recognised the way it should be: as our most consistent pop dance video artist. "Dance Like We're Making Love" shows that no matter what anyone says, Ciara can still knock a music video out of the park with nothing more than provocative, forward-thinking choreography. The world we live in now is obsessed with visuals and GIFs, and since she first emerged on the scene in 2004, Ci's used every single one of her videos as an opportunity to step up her game and influence others. Like Janet Jackson before her and FKA Twigs after, Ciara is as much a dancer and visual artist as she is a hit-maker, and her video archive is a treasure trove full of some of the most powerful choreography in pop. Here's the nine crucial times Ciara flipped the script and made the world pay attention.
Ciara's debut video was the perfect illustration for a song that told men that her body was off-limits to them unless she deemed them sexy and independent enough for her. It not only debuted her signature move—the back-breaking "Matrix," which sees her lean impossibly far back until she's almost horizontal—but set a clear precedent for all her videos to come: that strong and sexy are not mutually exclusive. No matter how explicit Ciara's moves get, they're impressive because they're so damn hard.
2. "1, 2 Step" feat. Missy Elliott (2005)
In her follow-up video, CiCi cemented her cultural position of the time as a more tomboyish, androgynous alternative to her R&B contemporaries, by popping and locking in the street with the boys.
And in case that wasn't apparent enough, 2006's "Like A Boy" came with a video that showed CiCi actually playing both gender roles to a tee. Whether rolling her stomach in low-slung jeans or rolling her hips in heels, the singer made gender-swapping looks cool for female popstars before Lady Gaga and Beyoncé followed suit.
Long before feminism became a topic that was played out explicitly on the mainstream pop stage, CiCi was raising public discussion of female sexuality with her best ever video, 2010's "Ride." The pelvic thrust-filled clip, for a song all about a woman taking control in the bedroom, was banned on BET and on British television for being too sexually charged; meanwhile, Trey Songz's "I Invented Sex," which shows him licking the naked boobs and thighs of a nameless (and mostly faceless) woman, was broadcast at the same time without a problem. "I am definitely aware that my video has some very sensual moments in it," Ciara carefully told Rap-Up TV in 2010. "However, I do know that [BET] do play sensual videos as well."
I've been gone for too long, think it's time to bring it back Ciara declares in "Gimmie Dat," while performing some of the most intricate, heavy-going choreography ever seen in mainstream pop videos. "Gimmie Dat" is one of her most notable dance videos, and to hammer the point home, features Ciara dancing with five other Ciaras as back-up dancers—because she doesn't need anybody else. Its sparse warehouse setting, military vibe, and use of multiple levels (including some saucy solo floor work) makes it a clear template for recent hits like Tinashe's "All Hands On Deck."
Before Nicki Minaj was teasing Drake in "Anaconda" and Bey was entrancing Jay in "Partition," CiCi brought then-boyfriend and co-writer Future into the picture for a private show in her "Body Party" video. By doing so, Ciara acknowledged and owned the male gaze as she performed her most conventionally feminine, sexualized routine in a video yet—harking back to the message of "Goodies," which is that until she chooses otherwise, you get to look but not touch.
7. "I'm Out" feat. Nicki Minaj (2013)
The visual for CiCi's embittered break-up ballad "I Bet" actually caused some uproar in the ballet community for her untrained technique in pointe shoes; "She's lucky her ankles survived the making of this video," Dance Spirit magazine wrote. But potential injuries aside, the badass ballerina action in "I Bet" showed that Ciara's still unafraid to explore ever different, ever tougher forms of expression in her videos. Plus, she brought an angry, angular edge to a classically gentle art form—fitting for an acoustic R&B jam that declares: you act like you upgraded me, I upgraded you.
9. "Dance Like We're Making Love" (2015)
Which brings us to the latest video: where walking on water, CGI lions and ripping clothes off while strutting the halls of a mansion are only the beginning. The true jaw-dropper of this video is Ciara's powerful dance-off (and it's definitely more of a dance-off than a dance) with her male partner in a refined ballroom. A stark contrast to the kind of wimpy, lovelorn ballroom dance seen in other contemporary music videos going for that classy-yet-sexy vibe (hi, Ed Sheeran), this is a sexual stampede that subverts expectations. Ci pops, locks, stomps, and at one point actually shoves her partner's head down into her crotch. Every move Ciara makes is a power move, and that's as true in 2015 as it was in 2004.