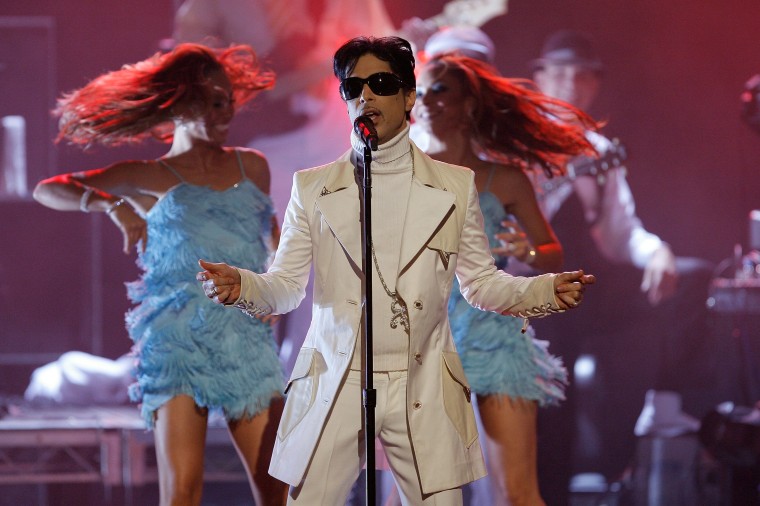 Prince has always been prolific: at his peak—from 1980's Dirty Mind through 1987's Sign O' The Times, a period of vitality, excellence, and range that's rarely been matched in pop history—he put out more albums than Michael Jackson and Madonna combined. Last year, he showed that he can still produce at an impressive clip (even if the quality is not what it once was) by releasing two albums on the same day, both of which went to No. 1 on the Billboard charts.
Now the singer/songwriter/multi-instrumentalist/unique-speller has another full-length on the way. BBC reports that the star's current band, 3rd Eye Girl, said The Hit & Run Album will arrive "hopefully soon." According to the 3rd Eye ladies, this one's going to please the base. They declared, "Super hardcore Prince fans that know every song he's ever recorded—we refer to them as 'The Purple Collective' or 'The Purple Army'—this album is absolutely for them, because it's super funky." "There's a lot of experimental sound," they continued. "It's just hit after hit and definitely caters to those fans who just love to hear what Prince has to say, rather than wanting to always hear that classic Purple Rain Prince sound."
Prince is a well-known studio rat, and he recorded the album without the help of his band—they only recently found out about it during a concert the group played at the White House. "We were all just dancing and Joshua [Welton, who worked on Prince's Art Official Age and the new record] was DJing and he just started playing all these super funky songs... like each new one is funkier than the last. It was all new music and everybody was having a good time, digging it. Little did we know that we were just jamming to a completely new album."
Earlier this year, Prince released "Hardrocklover" on SoundCloud. (For the record, that track isn't high on the funky scale.) It turns out that is the first single from Hit & Run.