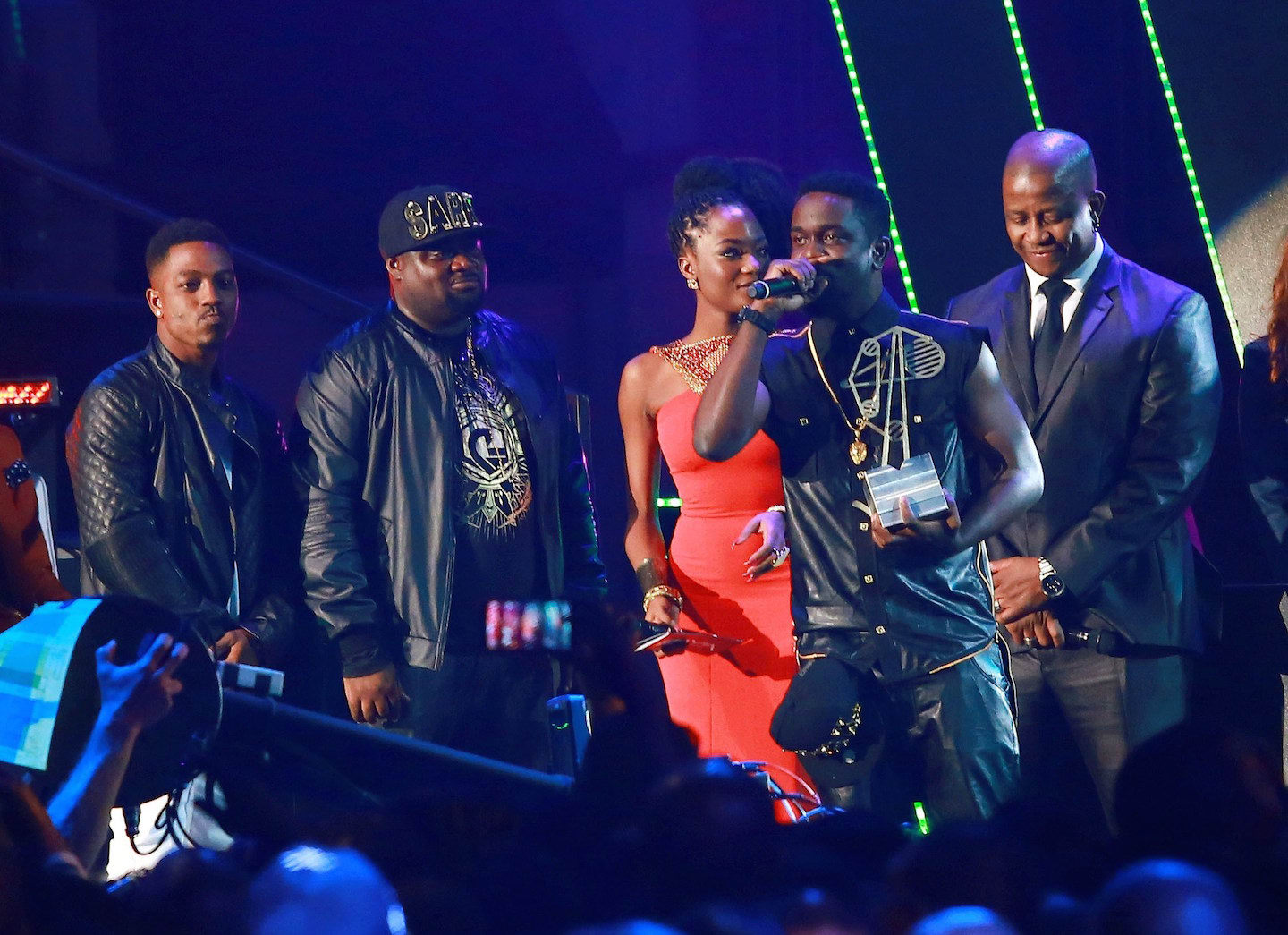 African music has long influenced genres worldwide, starting with the blues in the 19th century which has its roots in the music carried to America's Mississippi Delta by African people forced into the slave trade. It has also helped shape merengue, jazz, and, of course, rock, but on the western cusp of the African continent artists have adopted their own take on a popularized American sound.
Hip-hop first made its mark on Ghanaian music in the 1970s when Gyedu Blay Ambolley—an artist who took an innovative approach to highlife, a densely rhythmic, guitar-based style—released one of the country's first semi-rap songs, titled "Simigwado." On the record, Ambolley spoke in both English and Fante, one of the traditional languages of the local Akan people. Over the following two decades, highlife artists continued to experiment with incorporating other styles into their recordings—from reggae to gospel music—but it wasn't until the 1990s when a new sound called "hiplife" emerged.
A unique hybrid of highlife and hip-hop, hiplife served as an expressive platform for younger artists. During its early days, Ghanaian rapper Reggie Rockstone's tireless grind earned him the title "the godfather of hiplife," while Ghana's first rap group Chief G and The Tribe and other artists including Native Funk Lords and Talking Drums also served as key contributors. As time progressed, hiplife continued to evolve with a plethora of eager new artists and unique production elements. To unify all the different dynamics and give name to the innovative sounds that were now branching off from hiplife, in 2011 UK DJ Abrantee called the popular music "Afrobeats."
The term is not to be confused with Afrobeat, without the "s," the largely instrumental style of music popularized in the 1970s by Fela Kuti. Although it is influenced by the older genre, Afrobeats is now the umbrella term for the multitude of styles that hiplife gave birth to; some still use the names Afrobeats and hiplife interchangeably. Drawing on a variety of languages and a global dance music palette, Afrobeats has carved out a new lane in music. While its long transcended it's Ghanaian roots, the local lineage of contributors to the culture is extensive. Here are 10 Afrobeats artists from Ghana, new and old, that you should know.
The reigning tastemaker of the new school of Afrobeats in Ghana, Sarkodie not only has killer talent, but he's been in the game since 2009 and rapped his way to the top. He spits quick, switching back and forth between English and his native language, with the same fire and wit that first caught him attention in rap battles at the beginning of his career. In 2012, Sarkodie won a BET Award for Best International Act Africa, followed by the Best Hip Hop award at 2014's MTV Africa Awards. He's also a hit at home, with his 2011 song "U Go Kill Me" an anthem for the Azonto dance and music movement.
This Ghanaian duo that has dominated the hiplife/hip-hop fusion for a few years now. With consistency, R2Bees' Paedae da Pralem holds down the rap verses while bandmate Mugeez gives songs the magic touch with his rich vocals. Their name comes from their motto "refuse to be broke," and from the looks of it their pockets should be pretty full. In addition to having their own recording company R2Bees Entertainment, the two have collaborated on tracks with Ghana and Nigeria's biggest artists such as Sarkodie, WizKid and Stay Jay, and they were also featured performers at this year's first Sounds of Africa showcase at SXSW in Austin, Texas.
Ghanaian rapper Joey B has an ear for melody and a knack for a smooth verse, but his laid-back approach should not to be mistaken for any lack of lyrical talent: he has a mindful flow. His biggest hit is his single "Tonga," a chill party song titled after a Twi word—a dialect of the Akan language—that means "an irresistibly attractive woman, especially one who leads men into difficult situations."
Truly an artist for his people, Guru entered the music world avidly representing his roots. The Ghanaian MC raps in his indigenous language and gives much credit to the small towns and villages around his own, the northern town of Nkoranza. Despite his humility, he's still recognized as a leader in the field of hiplife and recently received a nomination for Artist of the Year at the 2015 Vodafone Ghana Music Awards.
An all-round artist, E.L uses his production, engineering and vocal skills in addition to his rap abilities to carve out his place in Ghana's thriving music scene. He's earned production credits for major hiplife artists such as Sarkodie, Reggie Rockstone, and D-Black, but on his collab with rapper M.anifest he sings his own background vocals to further prove his versatility.
Before his disappearance in 2014, singer Castro was the must-have vocalist that just about every major Afrobeats artist had worked with. With his undeniable voice and charm, Castro was an enthusiastic crooner and would always be the one doing the most popular Ghana Azonto dance choreo at a performance or in a music video. Although Castro is no longer with us, in an introduction to some of Ghana's best Afrobeats artists, his legacy cannot go unmentioned.
At the 2015 Vodafone Ghana Music Awards, Stonebwoy broke through as an emerging artist, racked up the awards, and left the building crowned as Artist of the Year. He differs from some of the other Ghanaian artists on this list as he's not categorized as hiplife but instead his Afro-pop songs are doused with heavy reggae and dancehall influences, creating the perfect dance tracks for all of Ghana's moves. Not only do his instrumentals stray from the norm but he also raps in Jamaican patois which adds another dimension to his music and audience.
In 2009, D-Black was appointed as Ghana's United Nation's Celebrity Ambassador, a title that speaks for his global influence. His music still has Afrobeats vibes with hiplife instrumentals, but his delivery is undoubtedly more mainstream. D-Black raps in English, allowing him to reach a global audience. Fun fact: At the age of 19, D-Black managed Reggie Rockstone, Ghana's "godfather of hiplife," and then went on to be the first Ghanaian rapper to be nominated for a BET Award.
There's nothing timid about MzVee's artistry as she makes clear in song, "My Time": In this war I'm a general and my voice is my loaded gun. Ghana definitely shows love to female artists, but MzVee is representing hard right now. She belts through dancehall tracks with her powerhouse voice and makes it clear that she's here both to make you move and to leave her mark.
One thing Edem doesn't do is back down from the track. Just check "Heyba" for proof: he punches out line after line with little space for air. He's well-respected among go-hard Ghana MCs as he's been in the game since 2006. Edem took a liking to Sarkodie in his early days and featured him on his debut album Volta Regime—an appearance that catapulted Sarkodie's career.