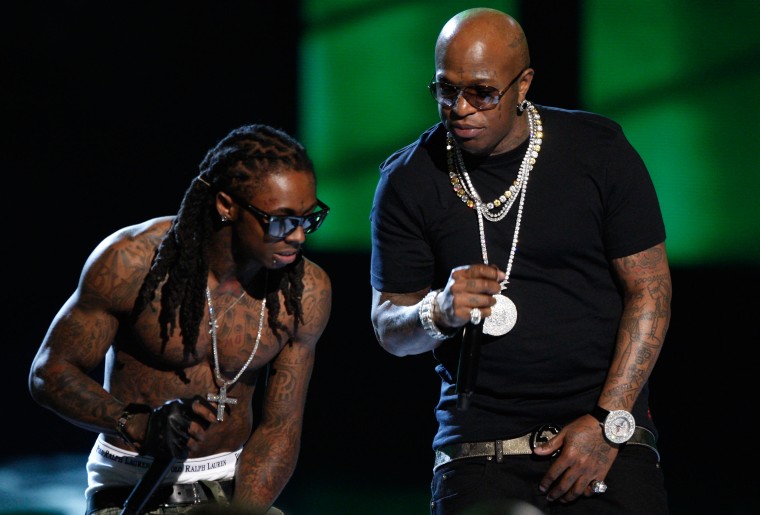 Angie Martinez recently sat down with Birdman on his yacht in Miami to discuss his ongoing dispute with Lil Wayne. Due to the fact that the interview took place on Birdman's boat, the excerpts Martinez played on Power 105 today were difficult to hear, but she asked the rapper about the future of his relationships with Drake and Nicki Minaj, the recent drink-throwing incident with Wayne in Club Liv, and Birdman's possible connection to the shooting of Wayne's tour bus. Read the highlights of their conversation below.
On his relationship with Wayne: "[He] forever my son, that ain't gonna change no matter what... What's going on is just some business. My perspective is: I'm gonna do whatever he wanna do. He's still gonna be my son. I want him to make the decision that he wanna make. And whatever he wanna do with this game--cause I brought him into this game, I took us from nothing and turn us to something, that was my decision. He took it and brought it to another level, which is something he supposed to do... At the end of the day, no matter what he wanna do, I'm with it. That's my son, I love him to death, he's got my blessings, and I'm gonna support him... I gave him a $100+ million contract... it didn't take a corporation to do this. It didn't take an organization to do this. I did this for my son. That meant the world that I was able to do that... What's going on now, I don't really know how it's gonna turn out."
On Nicki and Drake: "Nicki and Drake ain't going nowhere. Regardless. Both of 'em, [are] very [happy]. And I got much respect for 'em... you never hear nothing out their mouths, nothing negative about either one of us. Because we both have blessed their lives. Nicki and Drake regardless of what goes down with us, they're not going."
What he felt after Wayne called out Cash Money on Twitter: "I never thought that would ever happen, for [Wayne] to open his mouth and say something negative about me. I love my son, that mean the world to me, he means the world to me. For that man to say something negative, that affected my life. I ain't speak to him about it... I just take it for what it is... I'm an in-person type person, so I stay to myself. I seen him a few times, we work every day right next to each other. My studio and his studio is right next door, so I see him like every day. I don't say nothing. Sometimes I go over there and listen to his music... I just feel like the studio ain't the place for [a conversation]... I feel like in due time we gonna do that, but this ain't the place or the time for that. My son respect me enough if I call him and tell him I'm about to pull up, he gonna open that gate. I'm gonna go in that house, and me and him gonna talk. I just feel like I know he's traveling, I know his schedule, he's not in town a lot, I know he's gone a lot. So I'm gonna wait for the proper time.
What happened at Club Liv: "You watch the tape? You saw me? You seen me, right? You seen me, right? You seen what I was doing? You seen me, right? I'm in my own zone. And then like I said, I'm not gonna let no man disrespect my son--you're disrespecting me. If it was a disrespect towards him, that shit got checked, ASAP. I'm not gonna let nobody disrespect my family. They know what Wayne mean to me. They know what I mean to him. That's my son. If it was a matter, it got done ASAP. Trust me."
His connection to the shooting of Wayne's tour bus: "[The indictment] is the craziest shit I've ever heard in my life. I'm passionate about my family and my kids. I was born without parents in a boarding house. My children mean the world to me. You crazy if you think that! I ain't trippin, you trippin'! Y'all are trippin.' You know how I am about Wayne. You know the love I showed him. I love him, that's my son. I don't play no games... I can't get caught up in what people say and how they feel, I can't let them dictate how I live my life... I don't know what happened. First of all, it ain't an indictment on me... If you're gunning my child, I got a problem with that. Any nigga gonna bust a gun at Wayne, I got a problem with that. I don't care who it is, we got a problem... Anybody that get in this game, this shit get gangster sometimes. Hip-hop gets gangster sometimes. You gotta be prepared for it if it comes to you... This shit really gets vile sometimes. We chose this life. We in it, and you gotta be ready for it... I couldn't even tell you what happened that night, cause I wasn't there. I heard what happened like everybody else."