Sheer Mag Are Straight Out Of The Nuthouse
In this week's GEN F, a Philly punk band explodes via old-fashioned word of mouth.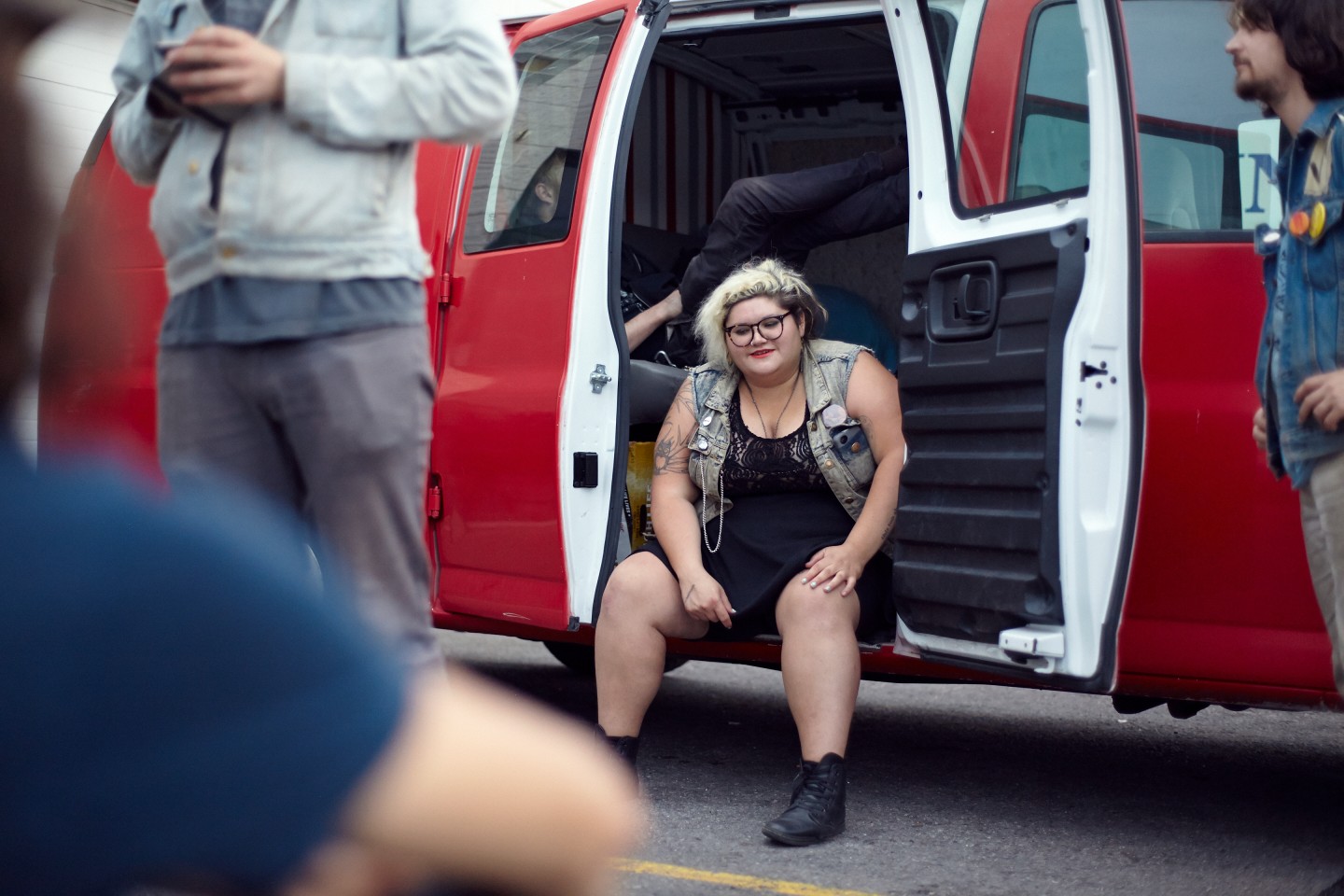 Sheer Mag's favorite shows to play are the most chaotic ones. Listen to one of their explosive rock songs, oozing with the bliss of power-pop and the rebellion of punk, and you should have no trouble imagining them positioned in front of a sweaty basement crowd. Over the phone from a sports bar in Quebec, where the Philadelphia five-piece is scheduled to perform later that night, rhythm guitarist Matt Palmer describes a show they played in Kansas City on their first-ever tour last year: "It was just a bunch of kids rolling around in broken glass, rubbing cactuses on their chests, hanging from the rafters, doing backflips." Frontwoman Christina Halladay remembers another in St. Louis, where a guy selling fake ecstasy (it was actually just Mucinex) kept trying to grab the mic from her. "I did buy a Mucinex pill," she says.
With the exception of Sheer Mag's drummer, Allen Chapman, the band's members all went to SUNY Purchase, a university in upstate New York known for its flourishing DIY rock scene. They all played in various ramshackle rock projects, separately honing the spontaneity and grit that are now crucial parts of the group's sensibility. Before Sheer Mag, Halladay was developing her formidable voice as a singer in a band called The Shakes, where she found her blistering howls were as well-suited to covering The Misfits as they were to singing Otis Redding songs. "Christina had a notorious reputation as a frontwoman among frontwomen," Palmer says.
Sheer Mag solidified when they all wound up in Philadelphia, a cheaper alternative to New York City for SUNY Purchase transplants. They moved to The Nuthouse, a grungy South Philadelphia home where they recorded their debut self-titled 7-inch of low-fidelity riff-rock in the fall of 2014. Its follow-up, II, offers the same greasy pleasure but with more overtly politicized lyrics, condemning the gentrification they've witnessed firsthand in their neighborhood.
Sheer Mag's songs might be perfect summer jams, but their classic rock-radio melodies are inseparable from that punk defiance. You can hear it in the crunchy, blown-out guitar textures, especially on "Button Up," a take-no-prisoners assault on conformity from their second 7-inch, when Halladay belts, You don't know who you're tangling with/ I'm a bad bitch if I please. Despite their fast-rising presence in the underground, Sheer Mag is definitely not a band that prioritizes self-promotion: they don't have PR, they don't use social media, and the buzz they've garnered has largely been thanks to old-fashioned word-of-mouth. "I think we're all just nervous to be shoved down people's throats," Halladay says.
Before they went on a five-week tour earlier this year, the houses on either side of The Nuthouse—where Halladay and Palmer still live—were empty. When they got back, new people had moved in. According to Halladay, the neighbors are "only home, like, two days a week because they're waiting until the neighborhood is less dangerous to cash in on their real estate." In the music video for the anti-slumlord anthem "Fan the Flames," a cockroach writhes on a tile floor, then Halladay sings, The realtors shook hands with their backs turned. "With the first record, we put it out and didn't expect a huge reaction," Halladay says. "And then people were listening, so we felt responsible to say what we were feeling."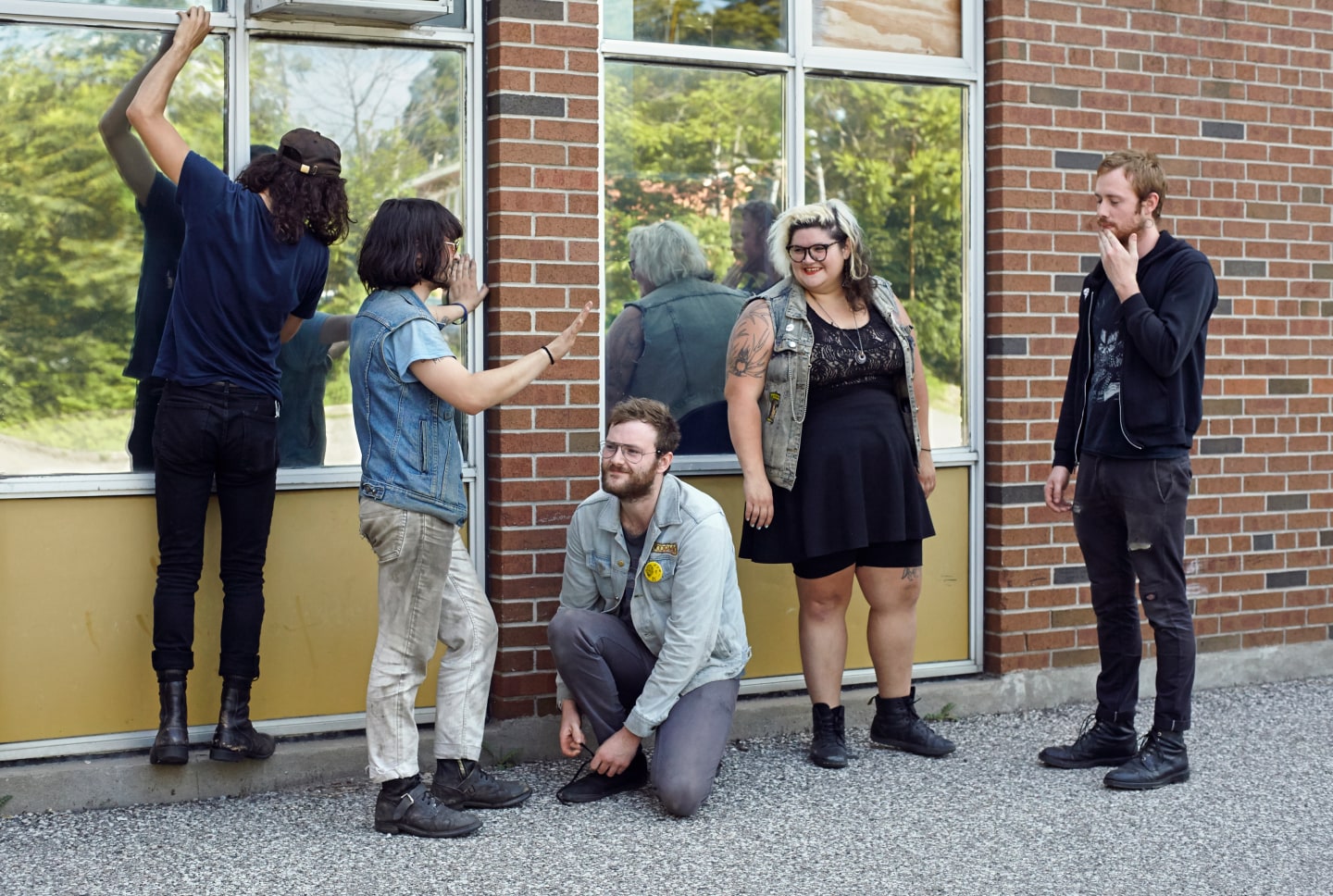 Sheer Mag tour dates:
9/10/15 - Washington, DC - DC9 w/ Downtown Boys
9/11/15 - Richmond, VA - Strange Matter w/ Downtown Boys
9/12/15 - Raleigh, NC - Hopscotch Music Festival
9/13/15 - Asheville, NC - The Mothlight
9/14/15 - Greensboro, NC - Guilford College w/ Hank Wood and the Hammerheads
9/15/15 - Atlanta, GA - The Earl
9/16/15 - Birmingham, AL - Saturn
9/17/15 - New Orleans, LA - Siberia
9/18/15 - Houston, TX - Walter's w/ Glue
9/19/15 - Austin, TX - The Sidewinder w/ Glue
9/20/15 - Denton, TX - Rubber Gloves w/ Glue
9/21/15 - Memphis, TN - Murphy's w/ Ex Cult
9/22/15 - Nashville, TN - The Stone Fox
9/24/15 - Columbus, OH - Ace of Cups
9/25/15 - Lakewood, OH - Mahall's 20 Lanes
9/26/15 - Pittsburgh, PA - VIA Festival
10/3/15 - Baltimore, MD - Ottobar (U+NFEST 4)
10/14/15 - Philadelphia, PA - Black Box - Underground Arts w/ Shannon + The Clams
10/16/15 - Brooklyn, NY - Music Hall of Williamsburg w/ Shannon + The Clams and Shopping
10/17/15 - Wilmington, DE - The Gild Hall
From The Collection:
GEN F