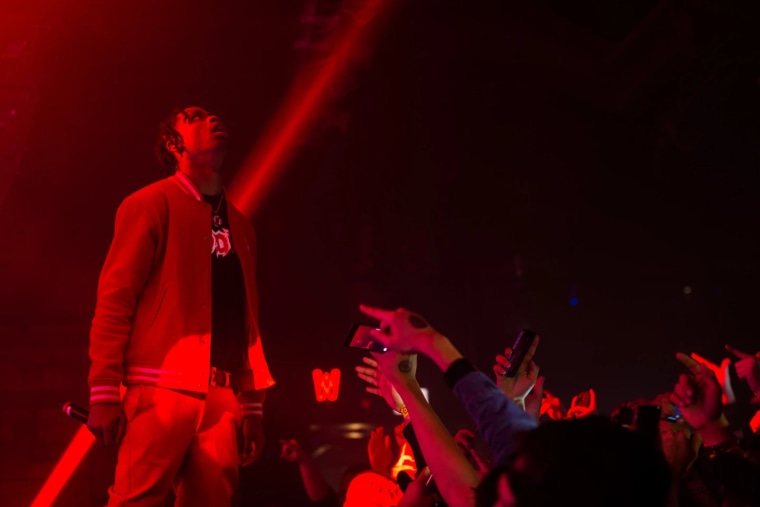 A lot goes into a listening party. For an experience that appears to be breezy and spontaneous, it's a tall task: days, weeks, months of planning; locations that may end up too hot, too small, too crowded; meticulous guestlists that tentacle out of control. In fact, "party" might be a misnomer in such context: the business-minded goals of a listening event feel antithetical to an aimless, intoxicated evening: a party's most fun when you suspend disbelief, and an album's most effective when you believe in it.
Travi$ Scott has unfurled his debut studio album Rodeo by performing it in clubs across the country for a series of listening parties. Fans and followers of the Houston rapper could've seen it coming: for half a decade, he's been clawing his way into pop's V.I.P room, navigating the music industry the way a quick talker might best a stern doorman. An artist as neurotic as Scott may feel most at ease in a dimly lit nightclub like Manhattan's Up & Down—where the Rodeo tour stopped last night—rapping with Justin Bieber, clearing room for Kendall Jenner, and sneering into a hundred iPhone flashes.
In this sense, Rodeo works. The aesthetics fit perfectly: sparkler-bright synths, dead-weight drums, famous friends popping through for big looks and small talk. Blaring from floor-to-ceiling speakers in front of an LED burning flame, "3500" cracked the room open, "Antidote" swept up the remains, and, yes, Bieber rapped into a microphone on a stage for "Maria I'm Drunk." But trying to accept Scott's spot-on impressions of Kanye West and Drake as his own artistic voice on songs like "90210" and "Dis Side" is a bit like watching a magician saw a rapper in half: you strip away context and common sense for the sake of the moment, because, well, what else would you do? It's a performance.
The tension that permeates the record, the artist, and the party, is the question of belief. Is this the singular expression of a prodigal musician, or an expertly curated sonic moodboard? Are the constant, parallel claims that Scott ghostwrites for and steals from his peers the work of noble whistleblowers or scorned onlookers? Is Jamie Foxx really in this club right now? It's an old industry joke that very little listening happens at listening parties. But last night, every few moments, a stray melody, arresting sound, biting lyric, or surprise guest would pop out and seize you from the drink you were ordering or the celeb you were ogling. There are albums for cars, albums for bedrooms, albums for stadiums. Travis Scott's Rodeo is an album for listening parties. In a recent Dazed profile, Young Thug casually mentioned that Scott plays clubs for a fraction of his pay rate, "just as an excuse to perform." This, I believe.