M.I.A.'s 2004 Cover Story Is A Reminder That She's The OG DIY Pop Star
Online for the first time, our story from The FADER's 24th issue details how Sri Lanka's political violence and London's street music shaped M.I.A.'s explosive sound.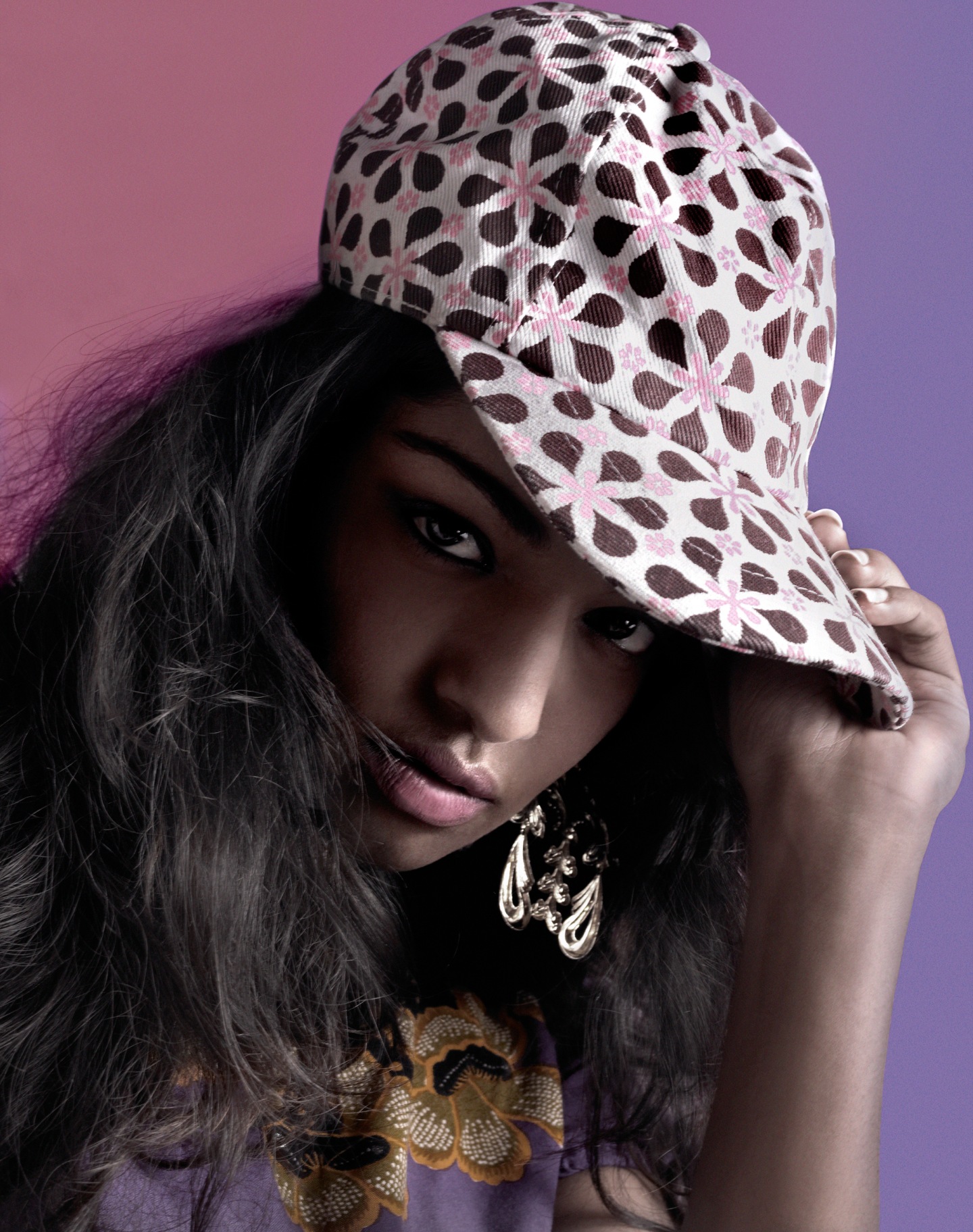 In 2004, The FADER's Knox Robinson interviewed Maya Arulpragasam for The FADER's 24th issue—and M.I.A.'s very first cover.
She's got poison darts for lyrics and crushed clockworks for beats. She salts and peppers her mango. M.I.A. is a weapon of the future.
Late last year the tiny London record label Showbiz Recordings mailed out 500 promotional copies of a quirky, infectious song called "Galang." The song's charm was immediate; "Galang" began with a curious, lurching, roughed-up slappy-clappy beat before a woman's laconic rap wrapped up a massive cultural shift with a simple verse: London calling, speak the slang now, boys say "wha gwaan?", girls say "wha-wha?" The song built from there, the beat jamming along like an '80s world music machine gone haywire and spewing out a mathematics of chimes, tweaks, and squeaks while the MC at the mic chatted slangy non sequiturs that only occasionally emerged from the gauzy flow...purple haze, galang-a-lang-a-lang…razor blades, galang-a-lang-a-lang...Some inpenetrable lyrics. A mess. Perfect. Later it turned out that "razor blades" was actually (ostensibly) blaze to blaze and "shorty go on 'n' get down" was shotgun, get down, but that didn't matter much to the song, because two and a half minutes into the piece the track winds down and what seems to be a chorus of female voices comes in with Yah-yah heeeeeeeey! Wo-o-eee-o-o-oh yah-yah yay, yah-yah heeeeeey!—a militant march or a sing-song battle call. Then the song ends.
People—well, some DJs anyway—went fairly apeshit over "Galang". A combination of factors made "Galang" good with the kind of goodness that held up listen after listen after listen after listen after listen after listen after listen after listen. But the weird thing about the weird-ass song was the way it was so profoundly yet ineffably urban—how it roped together our garage and grime and dancehall and dance punk and post hip-hop hip-hop and linked it with a vague social commentary in a way that summed up city living right now. "Galang" had the sound of confidence and confusion walking down the street, and it wouldn't leave you alone. You couldn't leave it alone. You needed it in your life. You needed more of it in your life.
The song is credited to M.I.A. M.I.A, in turn, is the work of Maya Arulpragasam, a thoughtful, articulate twentysomething living in London, where she arrived with her mother and siblings as refugees from Sri Lanka in 1986. Today both places exert a pull on her; in her lyrics, the political violence of ethnic conflict in Sri Lanka meets her experience of growing up in London's tough, crime-ridden council estates. In a way, the one prepared her for the other. "Who would've thought that a refugee from Sri Lanka would be influenced by Chuck D?" conjectures Arulpragasam. "But no matter what it is, you recognize it. When I got here there was Chuck D and there was Paula Abdul, so the choice was clear. And anyway, Chuck D made sense to me," she continues. "[In Sri Lanka] we were always brought up to say 'we,' and if you listen to Chuck D he says 'we' a lot." Arulpragasam explains that her father was an architect of the Liberation Tigers of Tamil Eelam, a militant guerrilla group formed in the '70s with the aim of securing political autonomy for the Tamil ethnic group of Sri Lanka. She saw him only once or twice a year after he slid through the window at night, and when she did her mother introduced him as an uncle to protect her from police interrogations at school.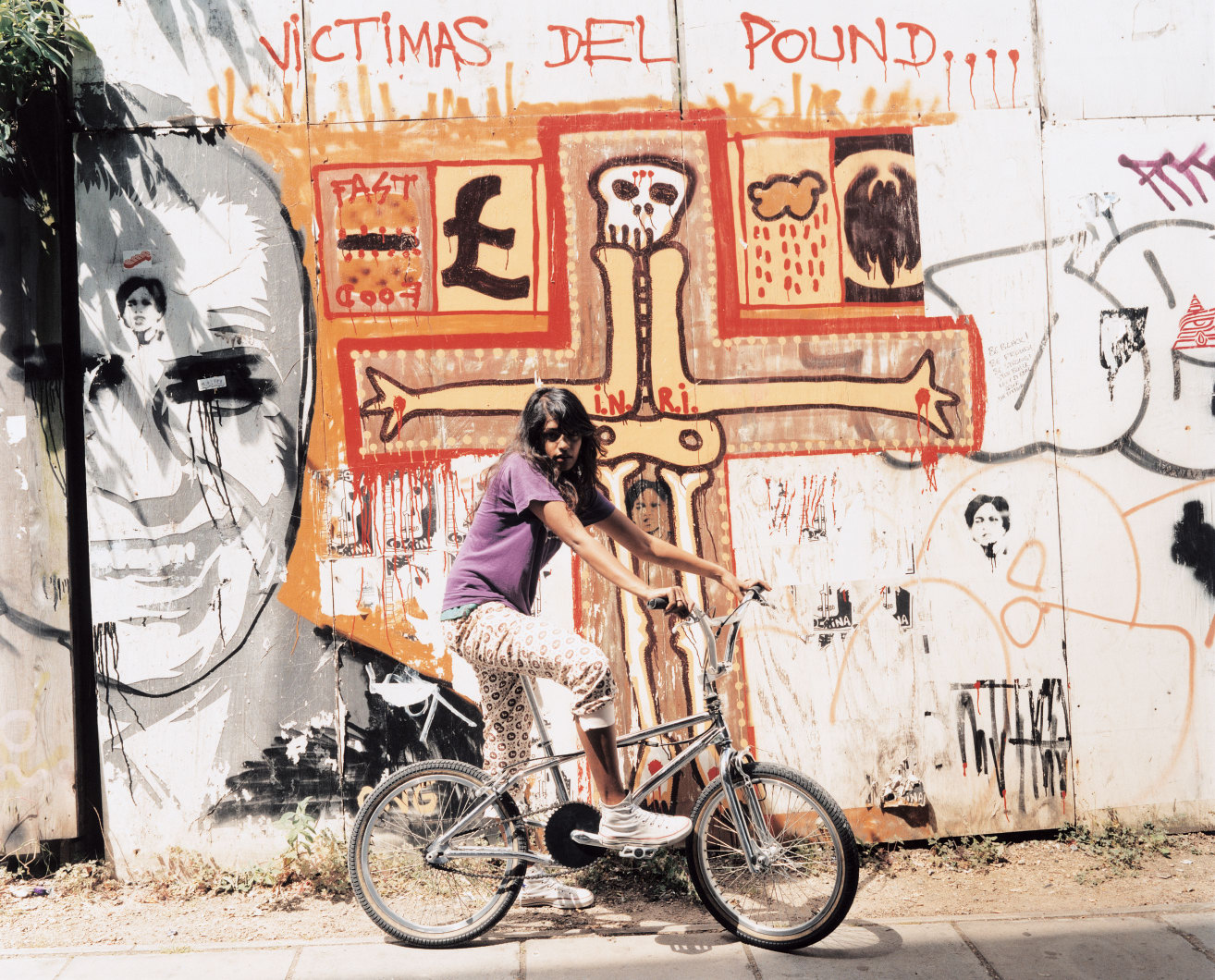 "Who would've thought that a refugee from Sri Lanka would be influenced by Chuck D?"—M.I.A.
In London Arulpragasam went on to graduate from the prestigious Central Saint Martins College, where she studied fine art and film. Coming out of school she was on track to step on the freshly though thoroughly trodden path of the Young British Artist; the Tamil iconography in her stencil graffiti was shortlisted for the Alternative Turner Prize, and Pocko published a monograph of the work. (Her tag Missing In Acton is a reference to a hood where she hung out.) After her cousin died as a suicide bomber in Sri Lanka the week of her graduation, she traveled to the island to film and interview family members about the political violence and repression in their lives. Back in the U.K., however, the post 9/11 social climate made it impossible for her to put the film together, and the way these things go she instead ended up touring with and shooting a documentary about trash rap electroclash icon (and fellow Saint Martins grad) Peaches and her collaborator Chilly Gonzales in 2002.
Peaches introduced Arulpragasam to the Roland TR 505, a low-end beatmaking machine from the mid '80s that retails for around $100. "I tried to spread the word about it. I would tell people, 'There's this thing called the 505 and if you buy one you can make beats on it and you'll be amazing,'" she says. "But I just ended up getting one myself. I had the 505, a shitty 4-track recorder and a tiny mic. I could do it in my bed."
So she did. "The learning curve was really steep," continues Arulpragasam. "At the end of my first week I made a beat. At the end of the second week I was doing vocals. By the second month I could write a whole song, and by month three I was actually getting it right." A short time later Arulpragasam was on holiday on the tiny Caribbean island of Bequia when Lenky's Diwali riddim broke—"before it hit the U.K. and the U.S...before Sean Paul, Wayne Wonder and Lumidee were on it"—and the experience locked her in the direction she wanted to go. "M.I.A. is the result of 15 years of listening to this music, and this music, and this music, and this music. I love Supercat, Johnny Cash, Pet Shop Boys, Dylan, Joan Jett," she says. "But dancehall and hip-hop have been a running theme in my life. Dancehall is the only music where someone can switch it on and communicate from the first second. DJs like Capleton and Sizzla have the power to activate that molecule in your body that is your soul and get it out."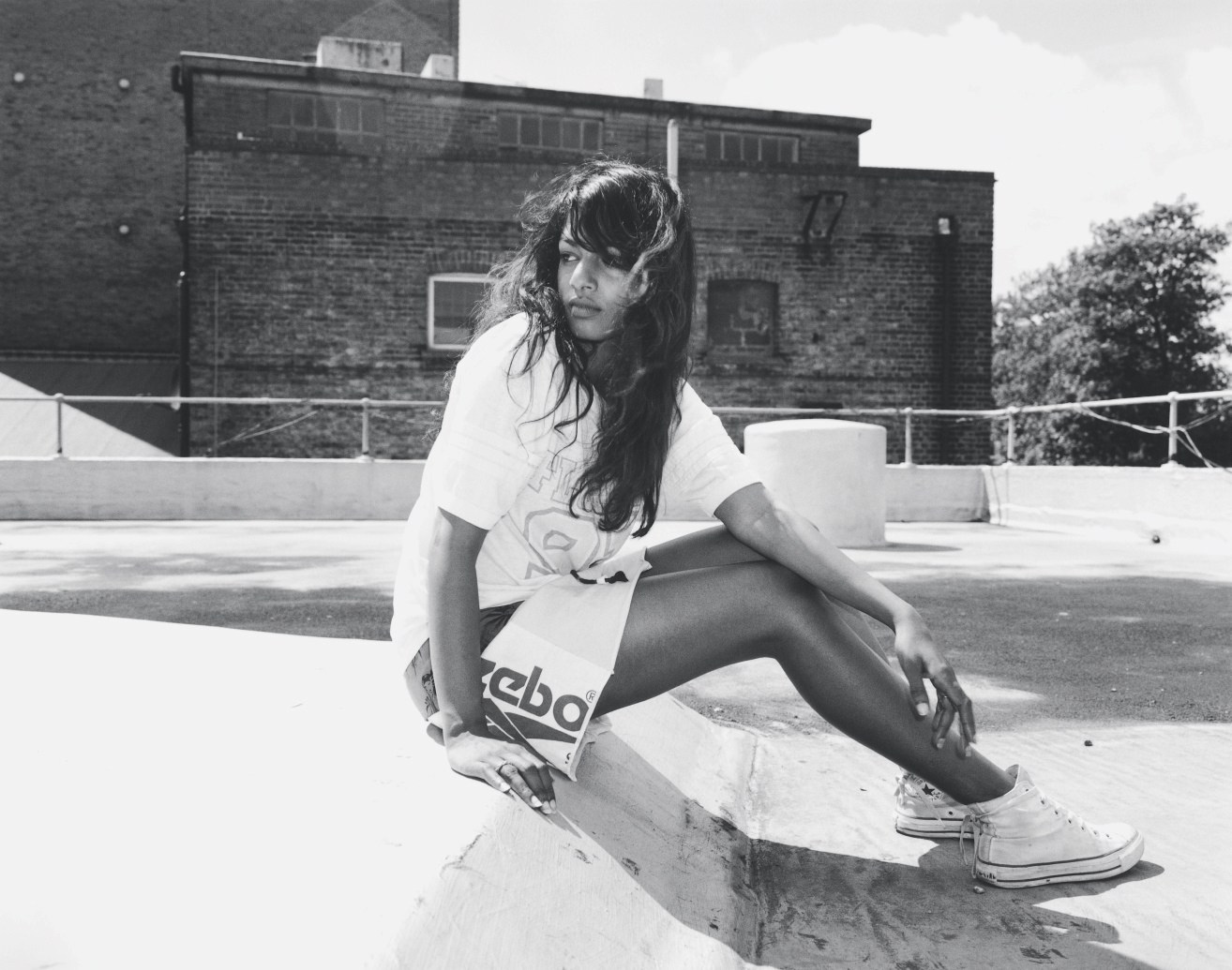 "People say, 'Oh, she's cheating—she has no guitar, she can't play anything, she can't even sing.' Yeah I can't play and sing but I'm gonna do something you could never copy and do."—M.I.A.
Back in London Arulpragasam finished work on the song that later became "Galang", which she shared with Steve Mackey of the Britpop-era rock band Pulp. Mackey was "hosting a party featuring an Indian girl dressed as Wonder Woman singing opera over jungle beats," she says. "And I thought, if he can dig that I know he can get into my stuff." Mackey ended up co-producing "Galang" with Ross Orton of the buzzy, electroey band the Fat Truckers; Arulpragasam credits them for the song's analog texture and its "woink-woink-woink Moog sound."
The sudden success of "Galang" led to Arulpragasam's signing with XL Recordings, home to grime icons Dizzee Rascal and Wiley as well as downtempo rockers like Badly Drawn Boy. She says she chose XL because the label gave her total creative control, which she exercised by electing to work with a team of producers rather than do everything herself. "It would be too self-indulgent," says Arulpragasam about the option to self-produce her debut. "Instead I chose a producer from pop, one from indie, one from God knows where—he was a studio technician who slipped me some beats—and had them do an M.I.A. thing. And having to explain it to different people made me sharpen my thing as well. "People say, 'Oh, she's cheating—she has no guitar, she can't play anything, she can't even sing,'" she admits. "But that's why music is so textbook these days. You've got to flip it—yeah I can't play and sing but I'm gonna do something you could never copy and do. That's the philosophy of M.I.A.—cut and paste and bish and bosh."
It was a good time to be Arulpragasam in the middle of June this year; a few days before she completed her album, NME ran a favorable profile with a montage of styled photos of her, and a few days afterwards she was featured as an "artist in residence" on London's XFM X-Posure radio show—which meant that in addition to spinning a handful of her songs the station also played interviews and live versions of her material recorded at the station. She'd also just returned from shooting a video in an Indian rain forest for her second single "Sunshowers"; directed by the award-winning Rajesh Touchriver, the video is shot in a sweeping Bollywood style and features, among other things, Arulpragasam rapping while seated on the back of an elephant in the middle of a river.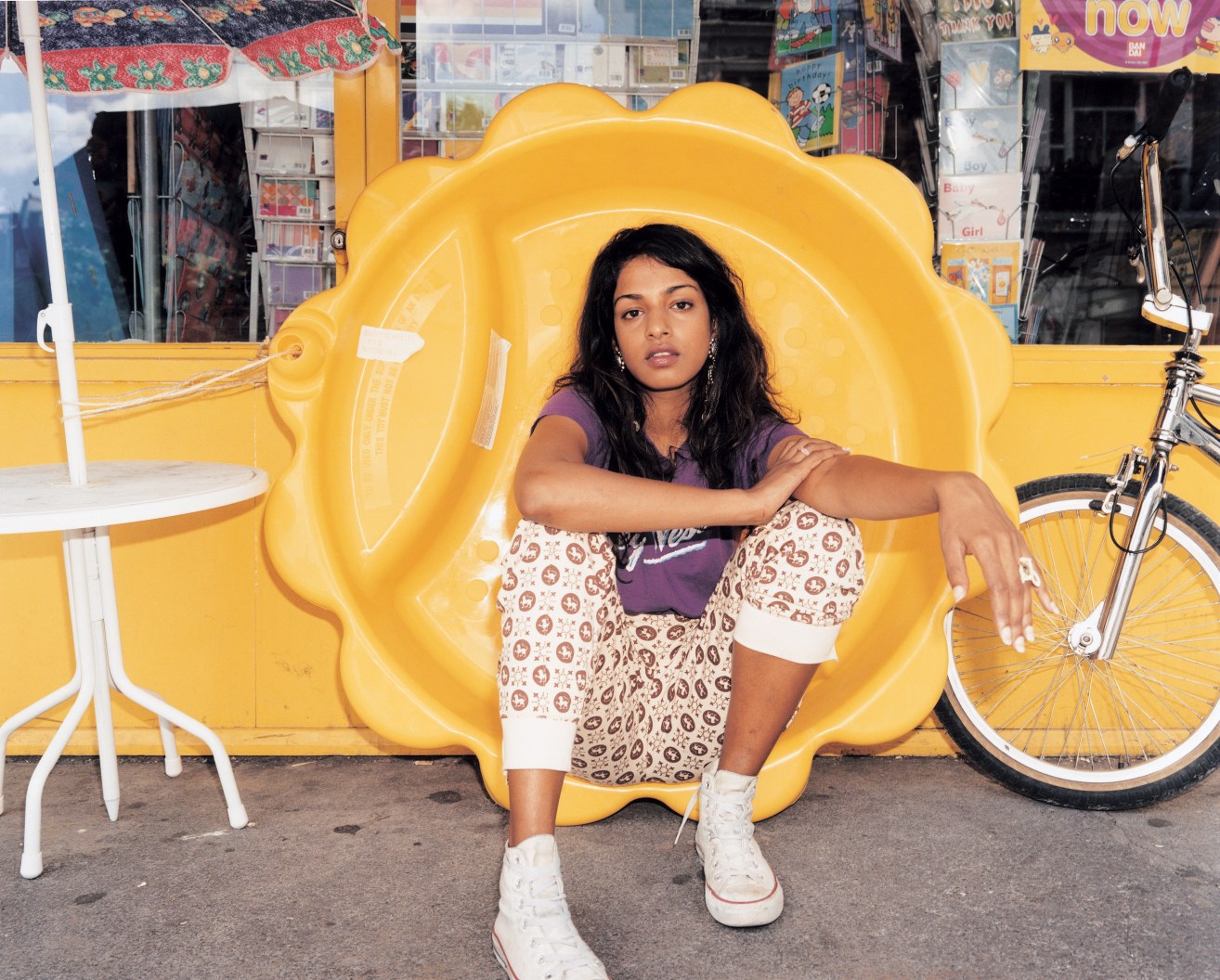 "Every day a bomb's going off somewhere. And the thinking is, if somebody hits you, then you hit back twice as hard. But that's not what Gandhi said—or Jesus."—M.I.A.
By way of a press release for the July release of "Sunshowers" her publicist simply typed up the lyrics to the song and faxed them out. The song surprises with its pulsing beats, simple rhyming and a hijacked reworking of a bit from a Dr. Buzzard's Original Savannah Band disco classic, and it makes even more explicit the ways in which Arulpragasam's personal experiences have contributed to her pointed critique of the social climate all of us are living through today. And it's not simply war "over there"—at one point she says, It's a bomb, yo/ So run, yo/ Put away your stupid gun, yo, which pretty much puts domestic gun control issues in perspective while pointing to our slipping grip on the war on terror. The transcription obliterates the unexpectedly sublime flow of her rapping, but the last verse is worth quoting in full:
Semi-9 and snipered him
On that wall they posted him
They cornered him
And then just murdered him
And he told them that he didn't know them
He wasn't there they didn't know him
They showed him a picture then—
"Ain't that you with the Muslims?"
He's got Colgate on his teeth
And Reebok Classics on his feet
At a factory he does Nike
And then helps the family
Beat heart beat
He's made it to the Newsweek
Sweetheart seen it
He's doing for the peeps peace
"Every day a bomb's going off [somewhere]," says Aprulpragasam. "And the thinking is, if somebody hits you, then you hit back twice as hard. And you get all your money behind it—when you hit. But that's not what Gandhi said—or Jesus. So now these days I don't know if I wanna be good, cuz that's twice as bad." That's a pat assessment of the militant local perspectives on global issues running through Arulpragasam's improbable songs of now. And while it's still a bit shocking that she's come up with a sound strong enough to bring so much together without things falling apart, the entire phenomenal effect will be what makes her debut album essential when it's released in September. She's calling it Arular in honor of her father and his work, and she says he still doesn't know she's "doing music."