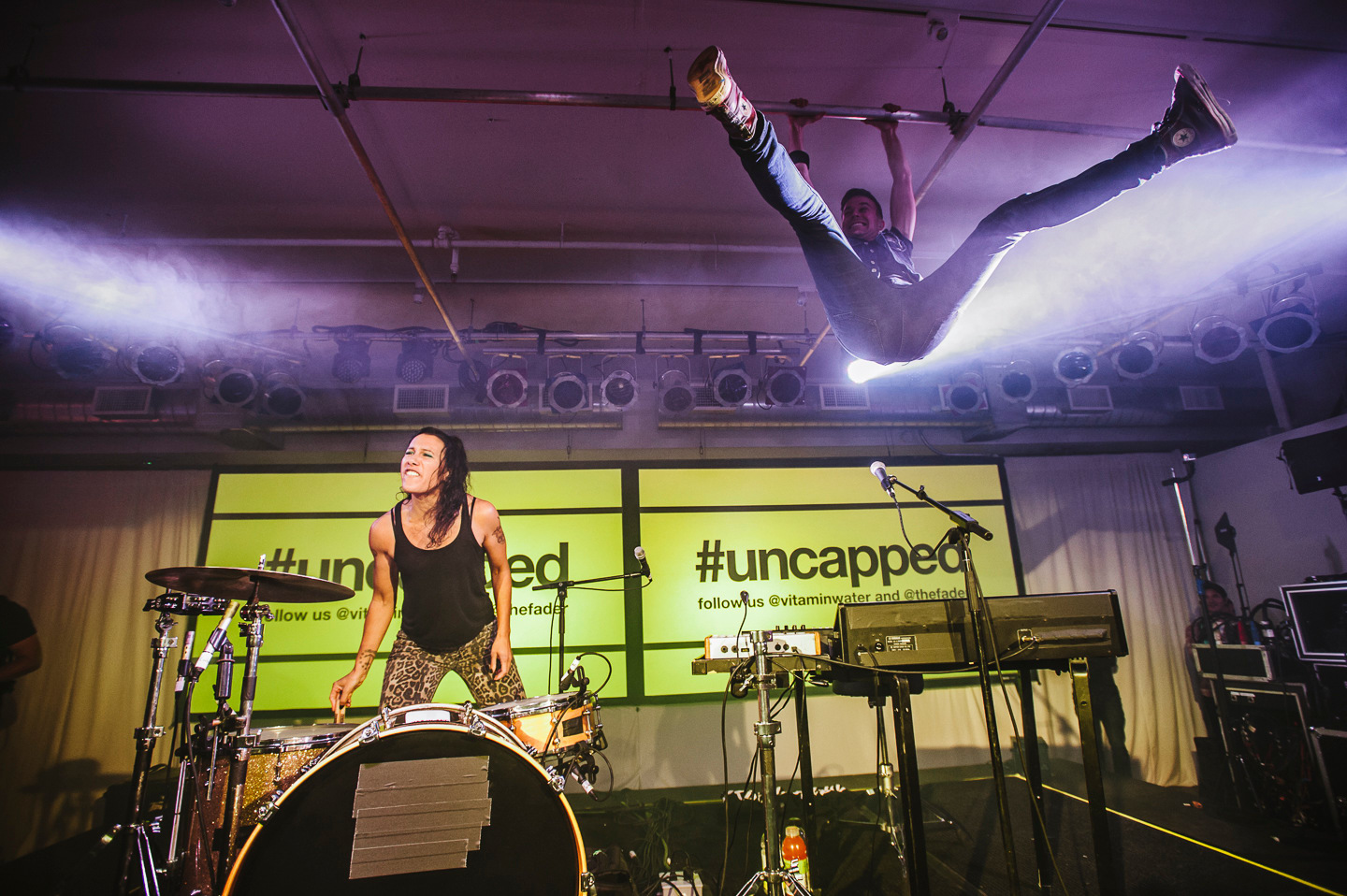 Tuesday kicked off the 5th anniversary of The FADER's #uncapped event series with vitaminwater®, and the night's performers certainly honored the energy of the headliners who came before them. In a colorful space on west 14th Street, the crowd was welcomed by the sounds of DJ Envy who ripped through hits like "Trap Queen," while showing love to his Power 105.1 Breakfast Club co-host Angela Yee, who made a surprise guest appearance. He then welcomed host Miss Info to the stage, who is no stranger to #uncapped, and she introduced the night's first performer: the incomparable Sevyn Streeter.
Flanked by two impressive dancers, Sevyn Streeter strutted onto stage in a crisp, black leather jacket and a pair of black Jordans with pink accents, and immediately seized the room. She ran through bops like "I Like It," "nEXt," "Shoulda Been There" with an impressive fury. But Streeter really laid claim to the throne when she took a seat and belted out "4th Street," which she told the crowd was written the day after she had her heart broken. A cover of Tory Lanez's "Say It" was up next and Streeter added a gritty relatability to the heartbreaking track. She ended her set by tearing through her two biggest songs, "It Won't Stop" and "Don't Kill The Fun."
After some brief stage reconfigurations, Miss Info appeared back on the mic and got the crowd ready for #uncapped veterans, Matt and Kim. As Info explained, when the duo first played #uncapped with Nas back in 2012, she and the iconic rapper hadn't even heard of them. "But by the end of the night," she said. "We were all fans."
Way more seasoned, but still harnessing an incredible sense of raw energy, Matt and Kim jumped on stage and bounced around like a pair of ping pong balls. Matt swung from a drain pipe hanging above his head while Kim pounded away to the classic beat of "The 900 Number." (Not to be outdone by Matt's acrobatics, at one point Kim crowdsurfed and was lifted up by the the audience, effectively dancing on their outstretched hands.) The fired-up duo performed "Overexposed" and "Hey Now" before a faithful cover of DMX's "Party Up." After a balloon drop, "Daylight" packed a still-powerful punch, swiftly followed by a sing-along of Biz Markie's "Just A Friend." After thanking the crowd, they played "It's Alright" to finish off an impressive set.
Most of the crowd hung around while DJ Envy took over the turntables once more, kicking off with a Jay Z mini-mix, then a Drake medley. Meanwhile, The FADER sneaked backstage and spotted Matt, Kim, and Sevyn all hugging it out and relishing in the success of an electric night.