Clothes Don't Have To Be Commercial
Lukhanyo Mdingi is South Africa's sharpest designer, and he's bringing his friends with him.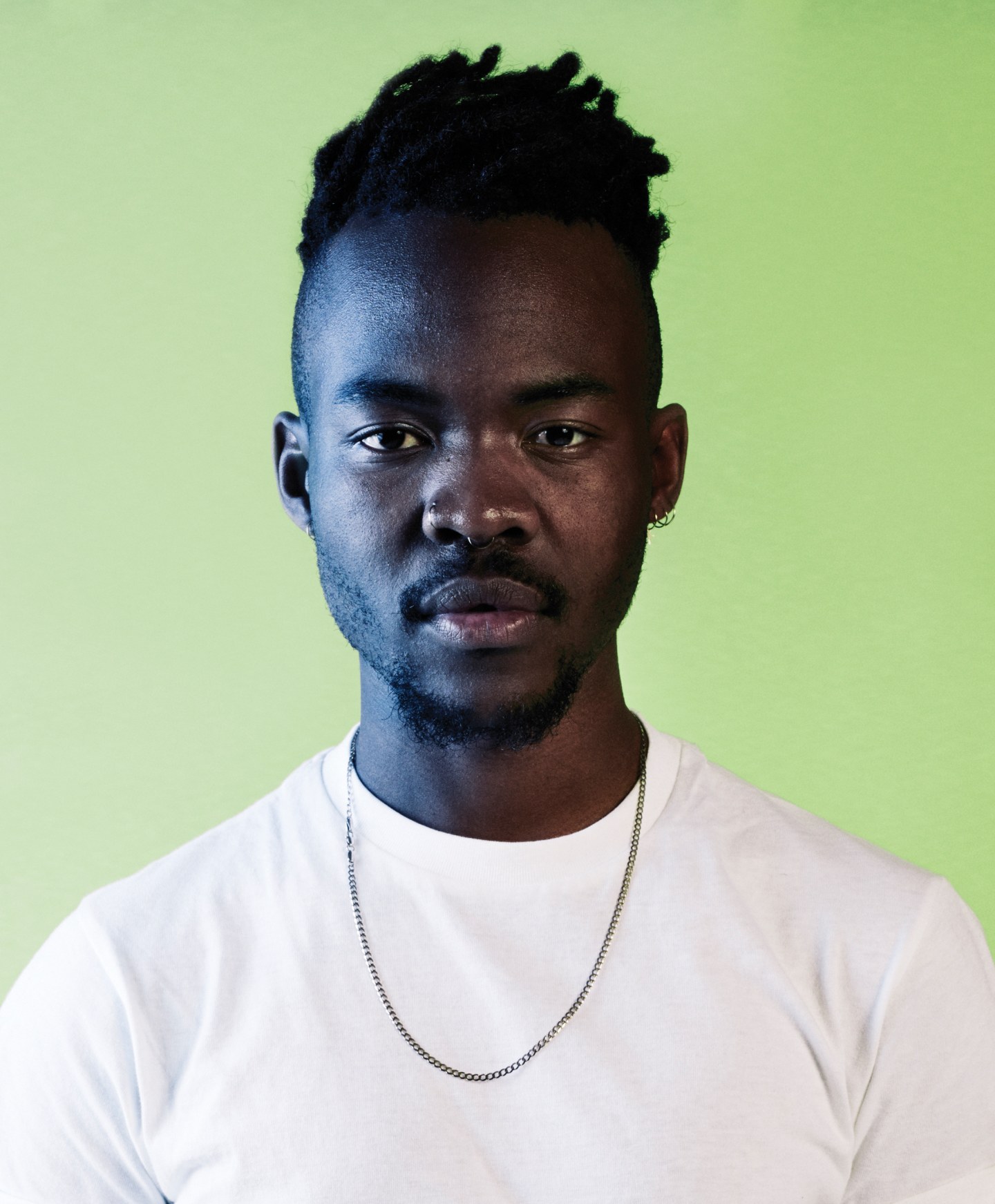 On the internet, Lukhanyo Mdingi is being hailed as the savior of South African high fashion. But at home in Cape Town, the 23-year-old supports his mother by working in a restaurant, patiently waiting for his big break in the more commercial South African market. Fashion bloggers have fallen in love with Mdingi's unisex collections, both for their reliance on rich textiles and for their awe-inspiring lookbooks, the result of Mdingi's collaborations with photographer Travys Owen, art director Gabrielle Kannemeyer, and makeup artist Amori Birch. His most recent collection, Taintless, featured intricately pleated and expertly tailored navy separates, worn by models whose skin was carefully tinted to a matching shade of indigo. While South African shops aren't clamoring for Mdingi's clothes yet, he has already shown designs in the nation's first official menswear fashion week, revealing himself as a beacon of cultural progressivism for a country mired in its traditionalist past.
Why do you think South African retailers resist stocking avant-garde designs?
LUKHANYO MDINGI: There is not a huge fashionable retail
culture in South Africa. People do buy into smaller, independent streetwear brands that use low-cost materials, but when it comes to luxury contemporary labels like mine, it's a small group of people who not only can afford it, but are willing to buy into it. If I put my price points higher, I fear the only people who are going to buy my clothes are U.K. tourists who come to South Africa. But I want someone from my own country to buy it. I want to empower my own country.
You work with a close-knit group of collaborators to bring your clothes to life in lookbooks. What's special about your group dynamic?
South Africa has such a diverse population, but still the number of creatives living here is very small. What we have as a team is extremely rare. I can't think of another label in South Africa that operates the way we do. With the internet, we were no longer exposed just to African design: there are so many people to engage with, you can see exactly what's happening in different cultures. You're able to identify and adapt and see what you really identify with.
What did you find yourself identifying with most?
I love classic, traditional brands. I want to be a traditionalist. When I look at ready-to-wear clothes, it's all about functionality and wearability. I really love form. I love structure and texture and feel. When I created my avant-garde thesis collection at Cape Peninsula University of Technology, I was focused on fabrication and the shape of the garment. But when I launched my second collection, it was very important to show people here that I want to create ready-to-wear. You could say that I was thinking more commercially, but ready-to-wear pieces with special fabrication are my first love.
Would you want to make your clothes even more affordable?
I would never compromise my collection. I see it as my baby, my vision. I already make compromises because of the limited fabrics I have available, but I won't choose cheaper fabrics to be more commercial. That would make me the same as every other designer.
How will fashion in South Africa evolve in the coming year?
There is a new wave of fashion designers contributing distinct styles and aesthetics that cater to niche markets—there's Tamara Dyson, Nicholas Coutts, Rich Mnisi, Jenevieve Lyons, Celeste Arendse. They're making a fascinating mix of African heritage with a flare of contemporary design and international influences. We all have the same goal of establishing strong independent labels, but our creations are all so different. It's beautiful.