Dev Hynes And Friends Showed The Power Of Working Together At The Apollo
The special night showed that Hynes will go down as one of this generation's great collaborators.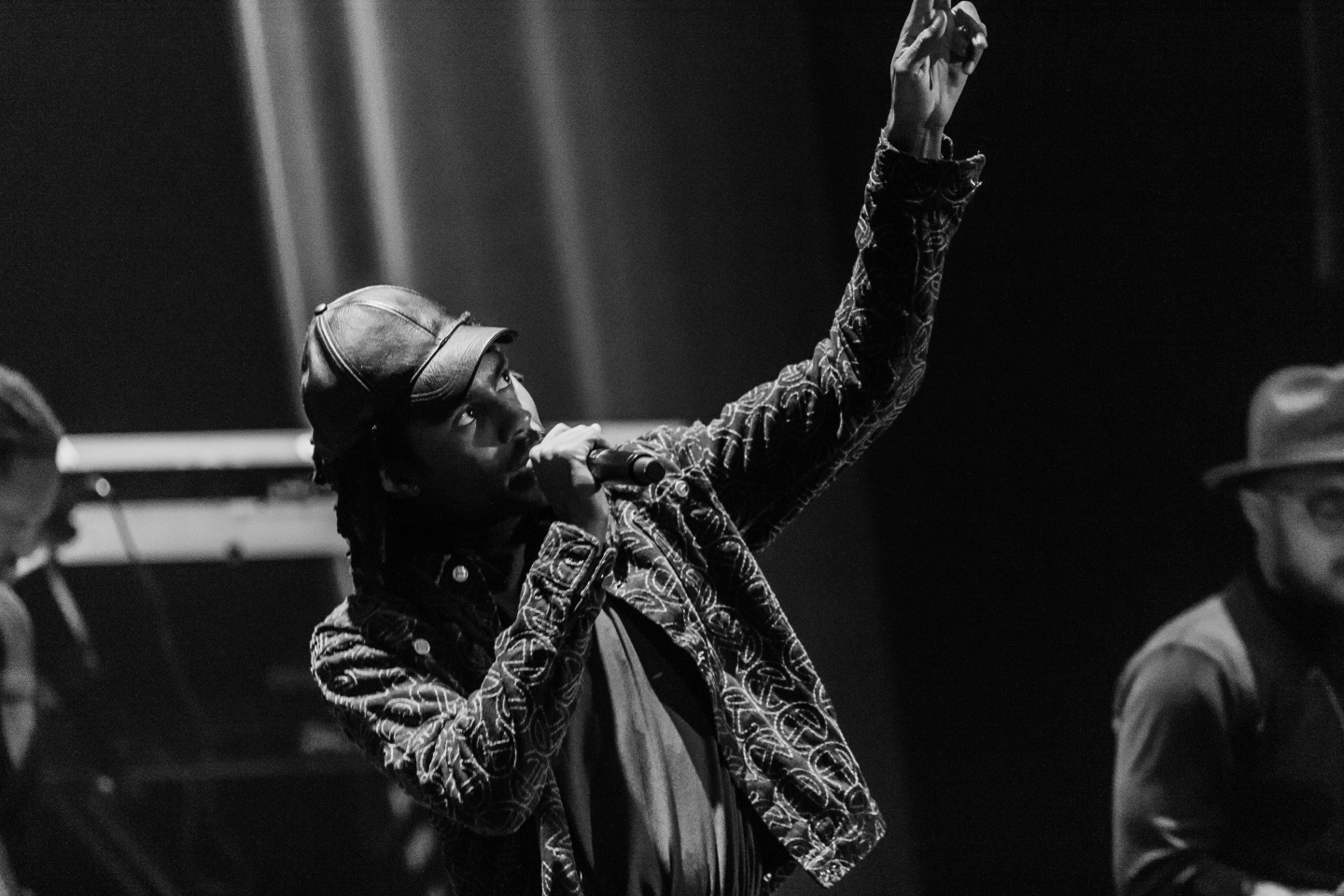 The day before the Blood Orange and Friends show at the Apollo Theater on Saturday night, a friend who recently interviewed him told me that Dev Hynes will not collaborate with a fellow artist until they've sat down together over a cup of coffee. At that point, he said, many artists will just disappear, not quite interested in any further discussion.
But for the willing ones who do stick around, who are down to meet at a local café to get to know each other's sensibilities, the songs become layered and interesting, more personal and profound for each artist than anything that might come from mp3 files shot across Gmail's internet nodes. On Saturday night at the Apollo, the benefits of those coffee dates and in-person meetings were on full display.
It started from the very first song, Blood Orange's newest release, "Sandra's Smile," for which he invited the WAFFLE Crew, a group of litefeet dancers, to perform the jump tricks and spins they helped invent on the streets of Harlem and spread to the rest of the city via subway performances. They kicked off a night not just dedicated to collaboration, but to New York City, Dev's adopted home. All of the show's proceeds went to Opus 118 Harlem School of Music and Dev later announced "the best rappers in New York City"—Junglepussy, Ratking, and Le1f—had opened for him.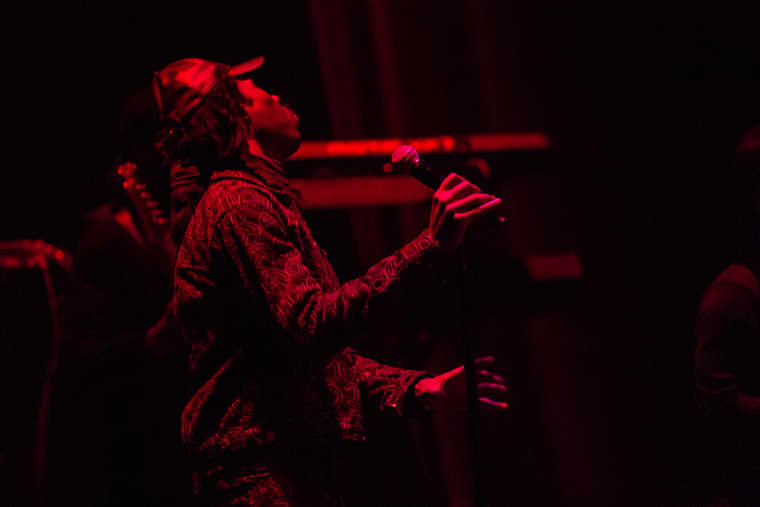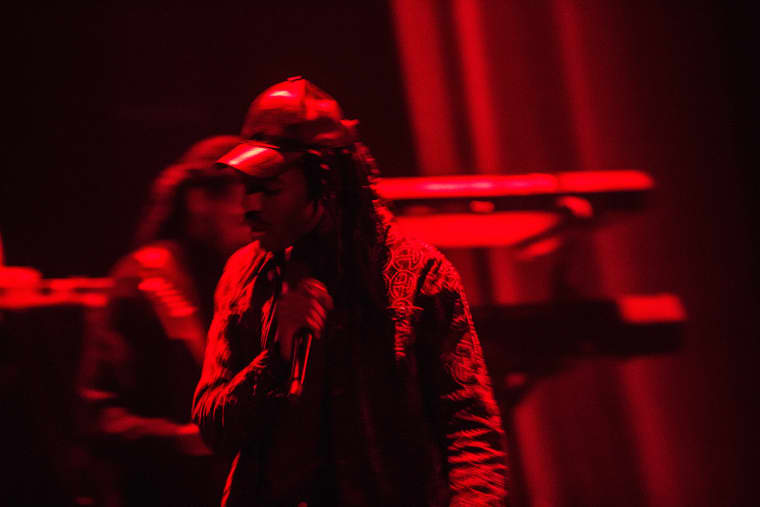 Dev's spirit of collaboration, perhaps his strongest skill, continued to be on display throughout the night. Next he invited Caroline Polachek of Chairlift to sing "Chamakay" while he looked directly in her eyes in the whole song, fully sharing the moment on stage; he gave a shout out to Sky Ferriera in the middle of singing his version of "Everything is Embarrassing"; called out Adam Bainbridge AKA Kindness to the stage who wore a nearly identical outfit to Dev's (dark baseball cap, white long sleeve shirt, black pants) as they wiggled and writhed their lanky frames across the stage together. It's worth noting here that Dev's practiced dance moves and sinuous back alone make a case for him being the Michael Jackson of our time.
Hynes also took the live opportunity to give the crowd a taste of the new music he's been working on. That includes a duet with Dutch singer Bea 1991, who walked out to perform their new collaboration, hinting at a new release heavily under construction. In another new piece, this one a solo effort, Hynes raps, ending the song with the line black as gold and rightly so, claiming his self worth and expanding on the political messaging in "Sandra's Smile." He also invited his backing cellist, Kelsey Lu, to join him at the front of the stage, pulled out his very own cello and they began an experimental string back-and-forth piece. All told, this mix promises more musically and instrumentally adventurous works to come.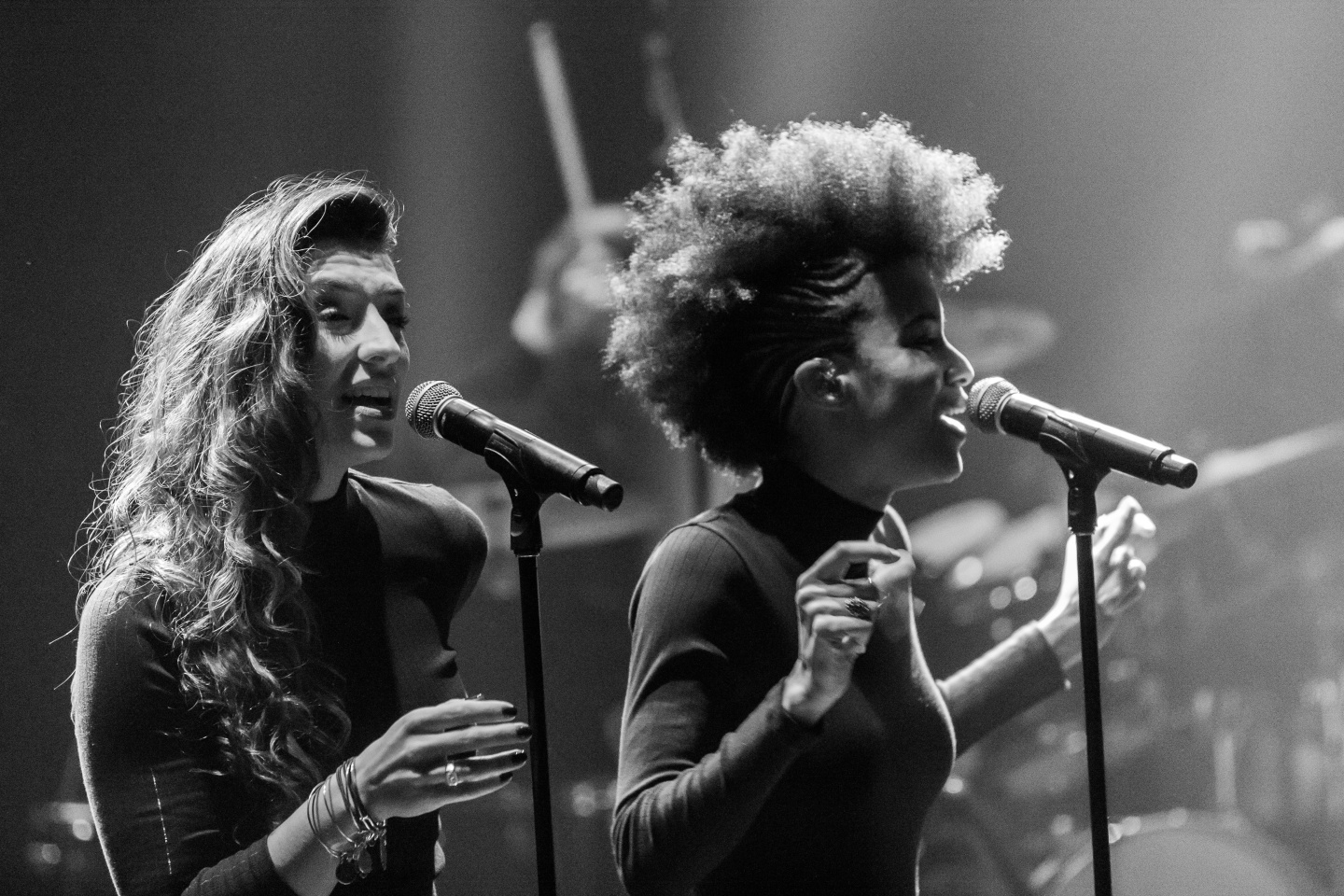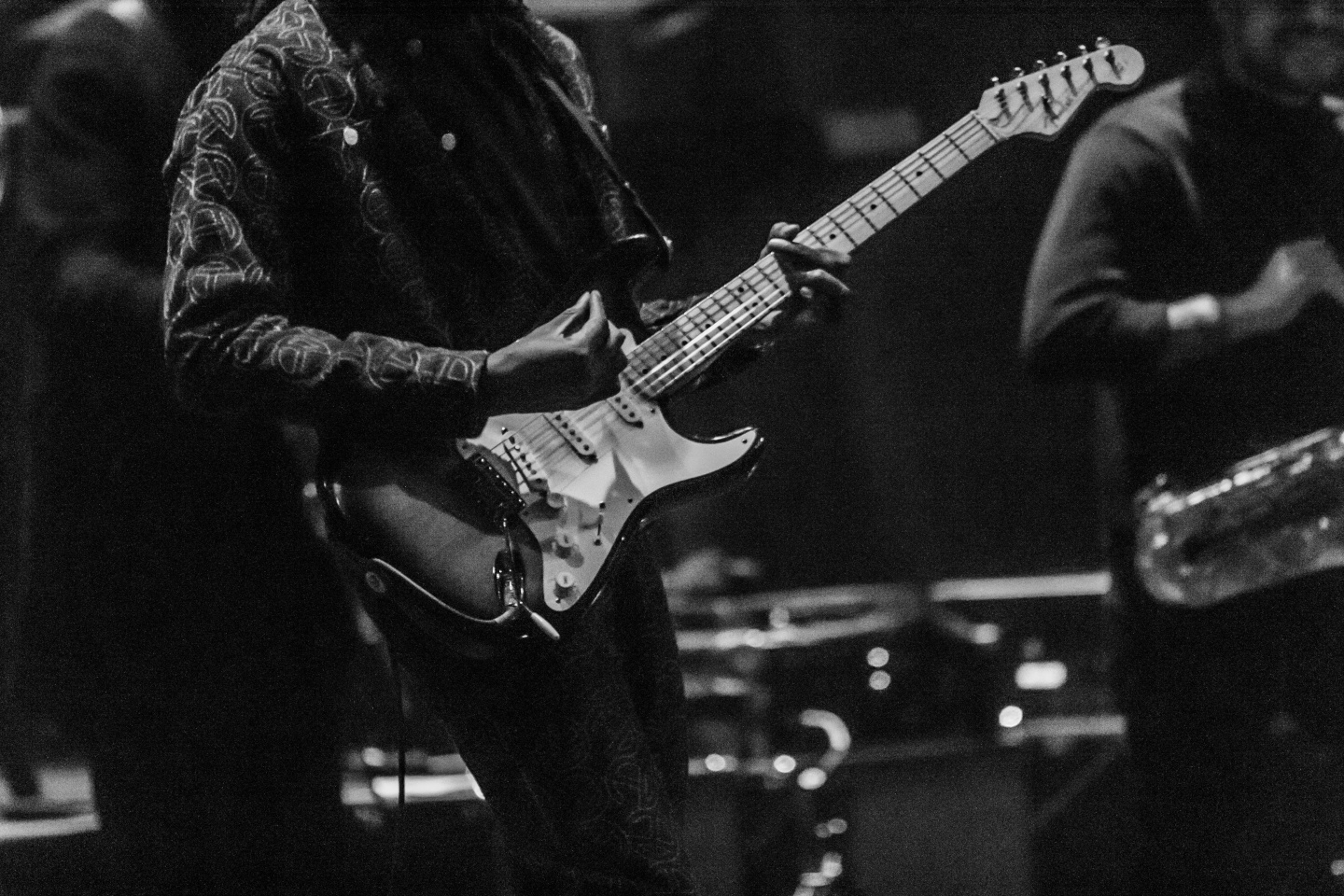 But the night's two biggest moments came from Dev's most well known partner and a brand new one, proving that he still has a lot to offer. Solange, perhaps the most fruitful writing partner he's ever had, walked onto stage and called Dev her, "brother from another mother," before pointing to the front row and saying, "and that's my sister." She broke into a quick performance of their best work—"Don't Let Me Down," "Losing You," and added a cover of Marvin Gaye's "Inner City Blues (Makes Me Want To Holler)."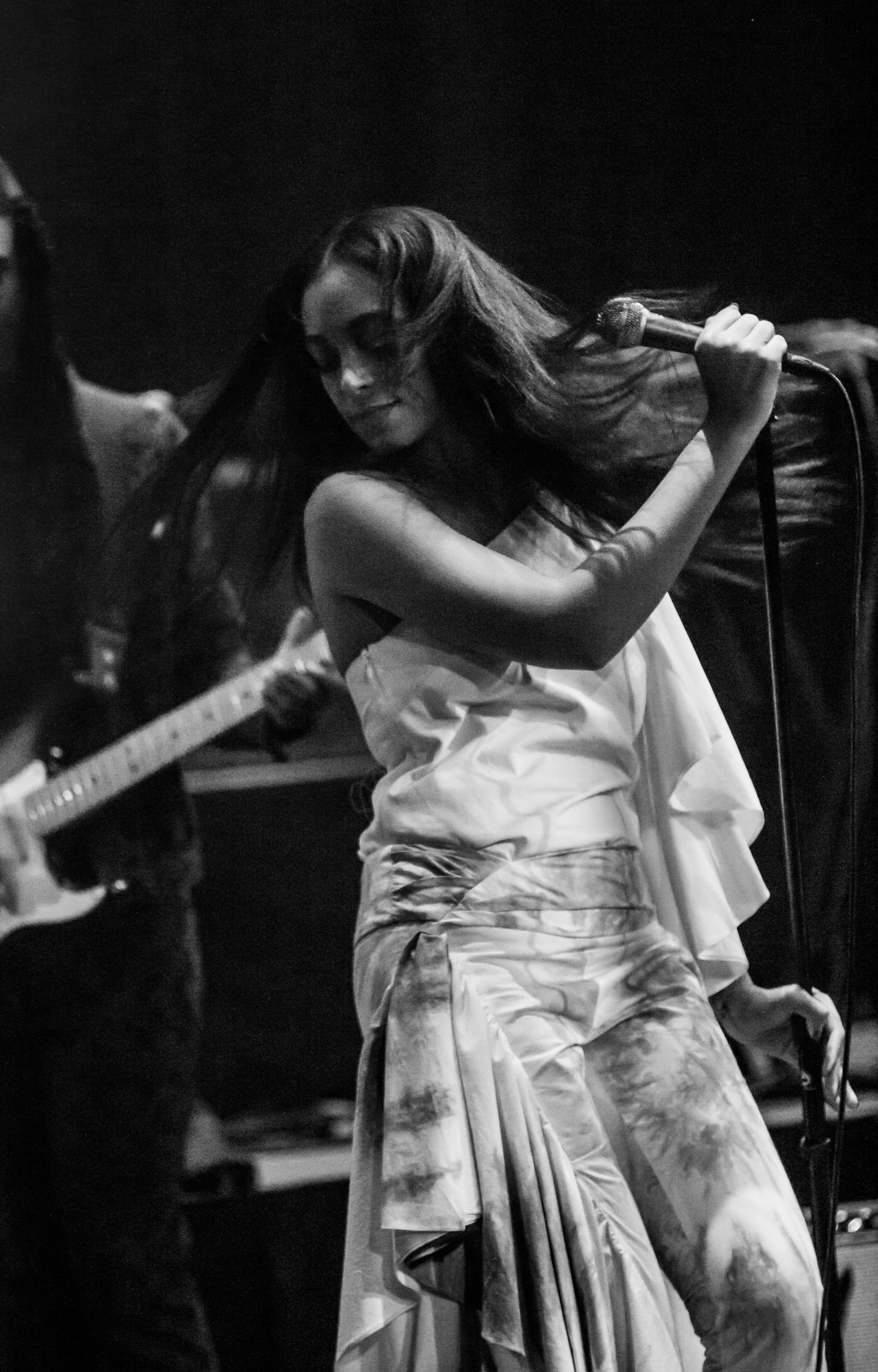 The most surprising point of the night came from the return of an old favorite with a new sound. Nelly Furtado showed up to perform, "Hadron Collider," a new song created with Hynes that they recorded to sell via cassette at the Apollo. Furtado came out sporting a new super-short haircut, modest three-quarter-length blouse, tight knee length skirt and her incredibly powerful voice to sing the new, soft ballad, which sounded somewhat similar to "All That," his duet with Carly Rae Jepsen. They followed that up with Furtado's 2006 hit "Say It Right," with Dev singing backup on the acoustic guitar.
Hynes' work—especially with Nelly Furtado—is particularly reminiscent of the good old recent days of Timbaland bringing out the best in each of his clients. Hynes is defining pop music wherever he finds it, with whoever will sit down for that cup of coffee with him, whether it be contributing to a perfect pop album by Carly Rae Jepsen, re-defining a genre with Solange or, yes, even reintroducing former pop royalty in Nelly Furtado. From his perch in New York City, he managed to introduce Beyonce to Bea 1991, while teaching us all what pop music should sound like.