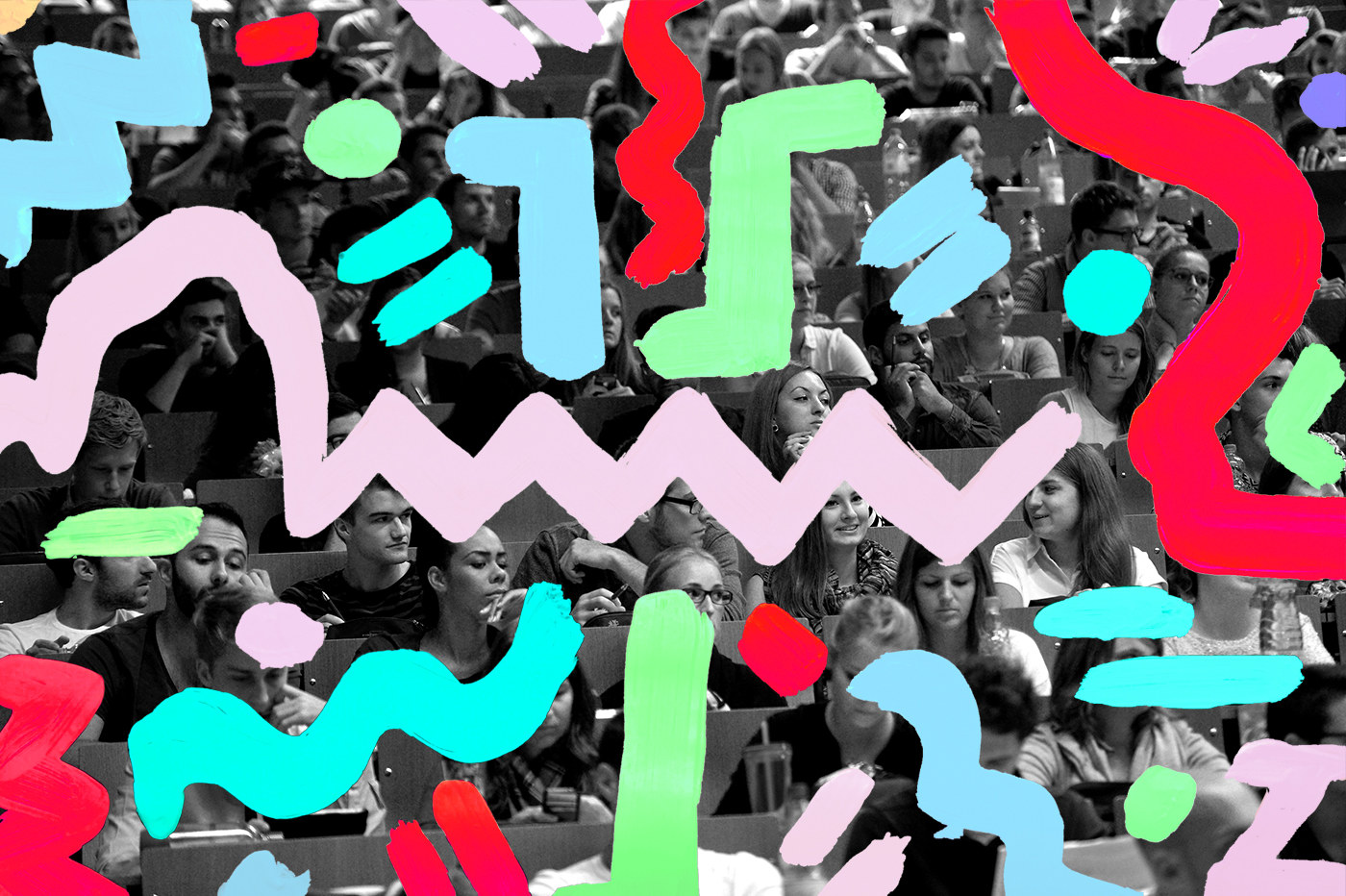 Like millions of other students in their first year of college, 19 year-old Ezra has a lot on his plate. Between writing art history papers, learning German grammar structures, and navigating the social terrain of college, his to-do list is as long as his arm. But the college freshman also has more pressing responsibilities from a surprising source: Travi$ Scott. A Chicago native, Ezra Miller—no relation to the actor—started working with the Houston rapper when a friend at RSVP Gallery linked the two creatives up. Now, he manages Scott's website and e-commerce channels from his dorm at Tufts University. A digital artist, self-taught programmer, and freelance designer with a growing list of clients (in part thanks to a spell interning at OKFocus in New York), Miller's recent credits include smoky red visuals for the Rodeo star's recent BET Awards performance and a "lead technologist" role on the interactive dreamscapes of electronic artists Zora Jones and Sinjin Hawke's Fractal Fantasy project. With course syllabi pulling him every which way and a stacked lineup of freelance projects less than a semester into college, how does Miller juggle it all?
"Sometimes I don't keep things balanced," he explains over coffee at a cafe in Somerville, Massachusetts. "I keep an untiled Pages document open all the time with a priorities list, and usually it's long and daunting." As a junior in college handling school work, a part-time job, and freelance commissions like this one, I get it. Pretty simply, college is a vortex of stress. If you add kickstarting a creative or musical career to the mix—which many artists like singer-songwriter Mitski Miyawaki and producers Ryan Hemsworth and Giraffage (né Charlie Yin) have done—it's not hard to wonder if staying in school is worth it.
"I've had to sort of sacrifice a social life."—Ezra Miller on juggling school work with managing Travi$ Scott's website
Not only can a college degree lead to debt—and increasing amounts of it—but for budding artists, classes and assignments eat up the crucial time that developing a creative project requires. Beyond lost hours, there's also evidence to substantiate the popular idea that college may actively stifle a person's creativity. The various coloring-inside-the-lines tasks of institutionalized learning, in tandem with arbitrary and demoralizing grading practices, make paths to creative expression while in school needlessly difficult. Kyung Hee Kim, a professor of education at the College of William & Mary in Virginia, says that creativity among K-12 students has been on the decline for the past couple decades. She backs this claim up by citing decreasing Torrance scores among K-12 students since 1990. The Torrance Test—named for the psychologist behind its invention and implementation, Ellis Paul Torrance—is similar to an IQ test but targets creative thinking through questions that gauge out-of-the-box-thinking. Remarking on notable declines in Torrance scores as children move from elementary to high school and beyond, James Catterall, director of the Centers for Research on Creativity in Los Angeles, puts it succinctly—"schools have a tendency to suck the creativity out of kids over time."
While these findings might seem persuasive, the irony of a standardized test to gauge creativity isn't hard to notice. Despite the odds, plenty of students are choosing not to dropout and are instead finding other ways to spread their creative wings. In many cases, personal projects blossom quietly and slowly: in the margins of lecture notes, in a few collected minutes between class, and never without sacrifice.
Philly indie punk band Modern Baseball are proof it can be done. In 2012, the FADER FORT alums recorded and released their debut album Sports while juggling stacked class schedules at Drexel University and Chestnut Hill College. It took "a lot of scheduling and a lot of sacrificing," says the band's bassist Ian Farmer. The four-piece rarely saw each other in the studio during the process, however; instead they "pieced stuff together in the middle of the night," explains guitarist Jake Ewald, who's a student in Drexel's Music Industry program. At the time, Drexel University policy barred students younger than juniors from using the school's recording studios until after 11 p.m. because of a technical skills evaluation only available to students starting their sophomore year. "Right when we were finishing [the album] was also when finals week ended up," Ewald remembers. "There were definitely nights where we were up until 8 a.m., then took an hour nap on the couch, and then went to class to take an exam."
"Right when we were finishing the album was also when finals week ended up. There were definitely nights where we were up until 8 a.m., took an hour nap on the couch, and then went to class to take an exam."—Modern Baseball
For Ryan Hemsworth, who studied journalism at University of King's College in Halifax, music also came first. He "neglected homework until the last minute, since creative work is addictive." Towards the end of his time at college, Hemsworth started booking shows in his area, and ended up skipping out on the last few days of class to play with Shlohmo in Toronto. "Most of my time in university was just spent uncertain if I was doing something that I wanted to pursue for the rest of my life," he reflects. He graduated in 2012 and, having since forged a career in music, hasn't looked back.
As he nears the end of his first semester at college, Ezra Miller is experiencing a similar tug-of-war between academic work and his freelance career—but it's often his personal life that loses out. "Every weekday I'm generally in the library from 6 p.m. to 12:30 a.m. if I can be," he tells me. "So I've had to sort of sacrifice a social life."
Charlie Yin, who makes and remixes music as Giraffage, tells a similar story. When he was a political science major at the University of California, Berkeley—he graduated in 2012—Yin was often frustrated at the gap between what he learned in class and how those problems played out in the world. To combat that, he poured his time into music: "I didn't go outside, I didn't talk to anyone," Yin remembers from his tour bus in Colorado. As for school itself, Charlie remembers that he "was studying just enough just to pass."
"Most of my time in university was just spent uncertain if I was doing something that I wanted to pursue for the rest of my life."—Ryan Hemsworth
For all the sacrifices, though, there are also unexpected upsides to starting a creative side project in school. Tunji Ige, a 20 year-old rapper and producer who's taking "sabbatical" indefinitely from West Chester University, recorded his debut release The Love Project from his sophomore year dorm studio. At West Chester, one of the perks of the marketing and communications program was a sizeable student discount on Adobe Photoshop, which professors and administration believed students would use for class assignments. Ige used it to explore design and album art for his first release, which he recorded in a dorm studio. "I got a lot of noise complaints," he remembers with a laugh, just off a plane from his recent European tour.
Other young artists take advantage of the readymade creative network that campus provides. Guitarist Jake Ewald of Modern Baseball remembers Drexel as "a great place for collaboration, cause you've got so many kids trying out a bunch of new things, all stuck inside the same little area." On a larger scale, while enrolled on SUNY Purchase's studio composition program, Mitski (full name Mitski Miyawaki) enlisted the help of a full orchestra of students to make her first two albums—Lush and Retired from Sad, New Career in Business—something that would've been much harder to arrange if she hadn't been at Purchase.
"I was allowed time to make those records," Miyawaki tells me from her tour van, in transit to Minneapolis. "It was as if it was my academic duty to make those records." Because she was enrolled in a specialized program that was intrinsically linked to her musical ambition, Miyawaki was in a position to take advantages of Purchase's resources to explore both her sound and technique. "It was almost an unreal fantasy period where I got to live like a real professional musician without being one," she remembers.
"Whenever I felt like I wasn't getting anything out of college, I remembered that my mother didn't get to go, and I knew that I at least needed to graduate for her."—Mitski
Besides a clutch student discount here and there, finding small pockets of people who share intense creative obsessions, and the resources that specialized programs can provide, there are other reasons budding artists decide to stay in school. These reasons are complex, and can be counterintuitive. For a lot of students, the idea of dropping out to pursue their passions full-time is qualified by finances, family, and uncertainty about the future.
"It's kind of a scary thing to throw all your eggs into this basket that's completely unreliable. It's this thing that so many people don't succeed in," Modern Baseball's Ewald reasons. "You're taking a bunch of money—yours or someone else's—and then just throwing it away." Ryan Hemsworth cites a similar apprehension for staying in school: "The fear of music not working out." Over email from his Toronto home, he continued, "It's hard to be confident enough to go where you want to go, especially if other people aren't supporting you or pushing you to try harder as well, which is often the case for kids."
Besides the time and resources she had access to, Mitski had another, more personal reason to stay in school: "Whenever I felt like I wasn't getting anything out of college, I remembered that my mother didn't get to go, and I knew that I at least needed to graduate for her." For many, reconciling personal dreams with enormous parental sacrifice is part and parcel of a college education.
In every conversation I had about the relationship between college and creativity for this piece, there seemed to be one underlying kernel: that the blessing and curse of a creative pursuit is its all-consuming nature. While that can cause issues, it's also the secret to success. "I think that if you're a creative person, regardless of what kind of classes or restrictions you're given, you're going to be creative," Mitski said. "In life, [there] will always be another thing hindering you from that. Anyone who really wants it, or is really creative, will just find a way."