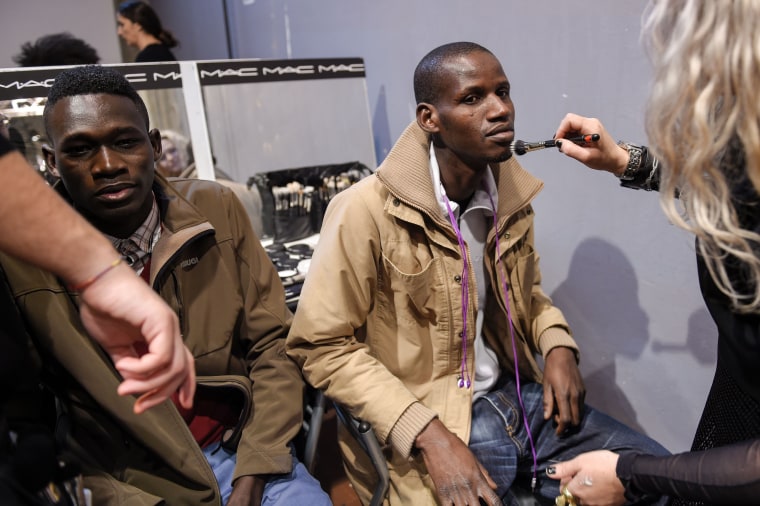 Pitti Immagine Uomo, the bi-annual international Italian menswear show held in Florence, Italy, takes place during the intermission between London and New York fashion weeks. The menswear showcase is often consequently overlooked, but it shouldn't be.
In many ways Pitti Uomo is more innovative and progressive than its counterparts, especially politically. Historically, the fashion industry has always been heavily scrutinized for their abhorrent lack of diversity. Pitti Uomo's runway show Generation Africa sheds light on the far too often under-exposed African designers of the fashion industry. This season, designers AKJP, Ikiré Jones, Lukhanyo Mdinigi x Nicholas Coutts, and U.Mi-1 debuted their Fall/Winter '16 collections there. Alongside their collections, a bigger statement was made when the designers, in conjunction with the Ethical Fashion Initiative, an organization that works to connect fashion brands with marginalized African people, cast three male models currently seeking asylum in Europe.
Donning a slogan of "not charity, just work", the EFI selected models from Gambia and Mali. After Thursday's incredible showing, Simone Cipriani, the head of the Ethical Fashion Initiative said: "We are in an age in which many Africans come to Europe as migrants. We believe in a program that enables them to work in the value chain of fashion." Ikiré Jones' Walé Oyéjidé told AFP, "If I take an asylum seeker and put them in a suit, people perceive them in a certain way, which hopefully allows them to think of them as an equal human being, not as someone less than them," he said.