As Paris, Milan, and London's Men's Fashion Weeks are eclipsed by haute couture, we thought it was time to look back, and recap the good, the bad, the ugly-beautiful, and the super strange. From Thom Browne's bizarre Great Depression-themed presentation to Pigalle's Wes Anderson-esque pastels; here's everything we loved from the last few weeks. New York, you're next.
1. Gucci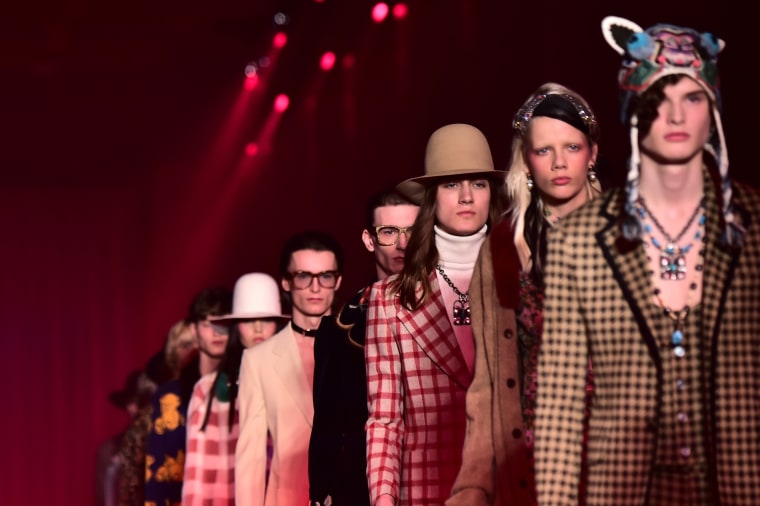 After one year of serving as the helm of Gucci, Alessandro Michele unveiled his breakout collection for the Italian mogul brand. For this collection, Michele went unabashedly bold—aka back to the roots of Gucci. Describing his work as a "collage," the Fall/Winter '16 collection consists of loud gingham and floral patterns, as well as sleek, well tailored trousers and the iconic Gucci loafer.
Virgil Abloh's come a long way in the fashion industry since being know as the "Pyrex guy." With his Off-White brand's F/W '16 collection, titled "YOU CUT ME OFF," Abloh takes inspiration from spatial art pioneer, Lucio Fontana. Although Off-White's signature slashing logo still adorns the backs and sleeves of several garments, Virgil took a relatively safe approach for this collection Oversized bombers, tailored peacoats, and plaid patterns make up an Off-White collection that's surprisingly tame.
For Gosha Rubchinskiy Fall/Winter '16 showing, the beloved Moscow designer stuck to his roots. Pale-skinned models walked the runway in the high-waisted pants and tucked-in shirts combo that we've grown accustomed to seeing from Gosha. Oversized leather jackets and sweaters emblazoned in Russian words made appearances, surely to please Rubchinskiy's rapidly growing cult-like following.
4. Rick Owens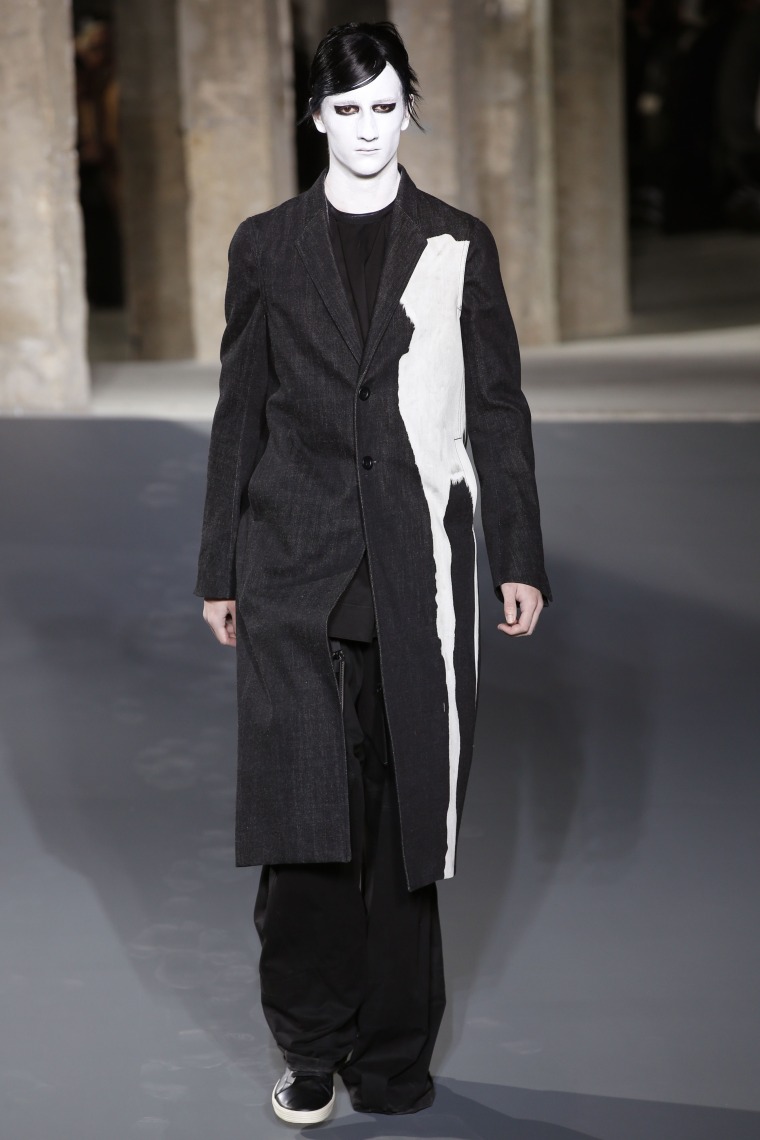 As a follow up to last season's "human backpack" runway show, Rick Owens' Paris Fashion Week was slightly less disturbing. Citing the 1960's Italian horror flick, Eyes Without A Face, as an influence, Owens definitely took a turn for the spooky. White face makeup slathered on the faces of the models matched well with freakishly elongated mohair sweaters dripping white paint. However a set of exceptionally tailored trenchcoats definitely stole the show, and reminded the audience that Owens is first and foremost, a master of his craft.
5. Neil Barrett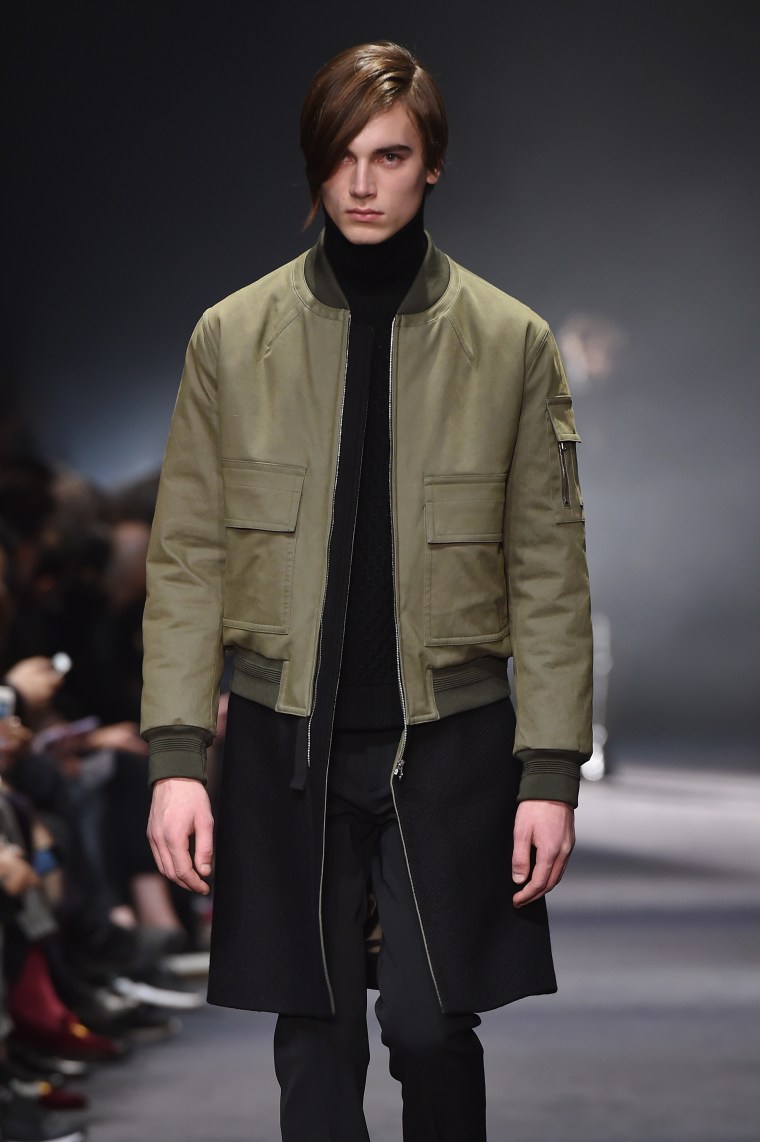 For Fall/Winter '16, the British brand unveiled a sleek collection of menswear that combines elements of sportswear with the more traditional English styles. A runway display of exceptionally made shearling coats, tracksuit tops, leather jackets, and overcoats all layered over nylon and neoprene trousers. Surely one of the best collections displayed in Milan this season.

6. J.W. Anderson
Heralded as one of fashion's most exciting young talents, J.W. Anderson is worth all the hype. The London-based designer has already accumulated quite a fan base: A$AP Rocky sits front row, and he's backed by behemoth LVMH. For his Fall/Winter menswear collection, the young designer rolled out lots of knee-reaching cardigans, smooth satin blazers, and rabbit fur jacket. Snails pervaded the collection, but Anderson insists there's no meaning behind that, saying, "symbols don't need to make sense." Keep the world guessing, Anderson, you're doing great.
7. Junya Watanabe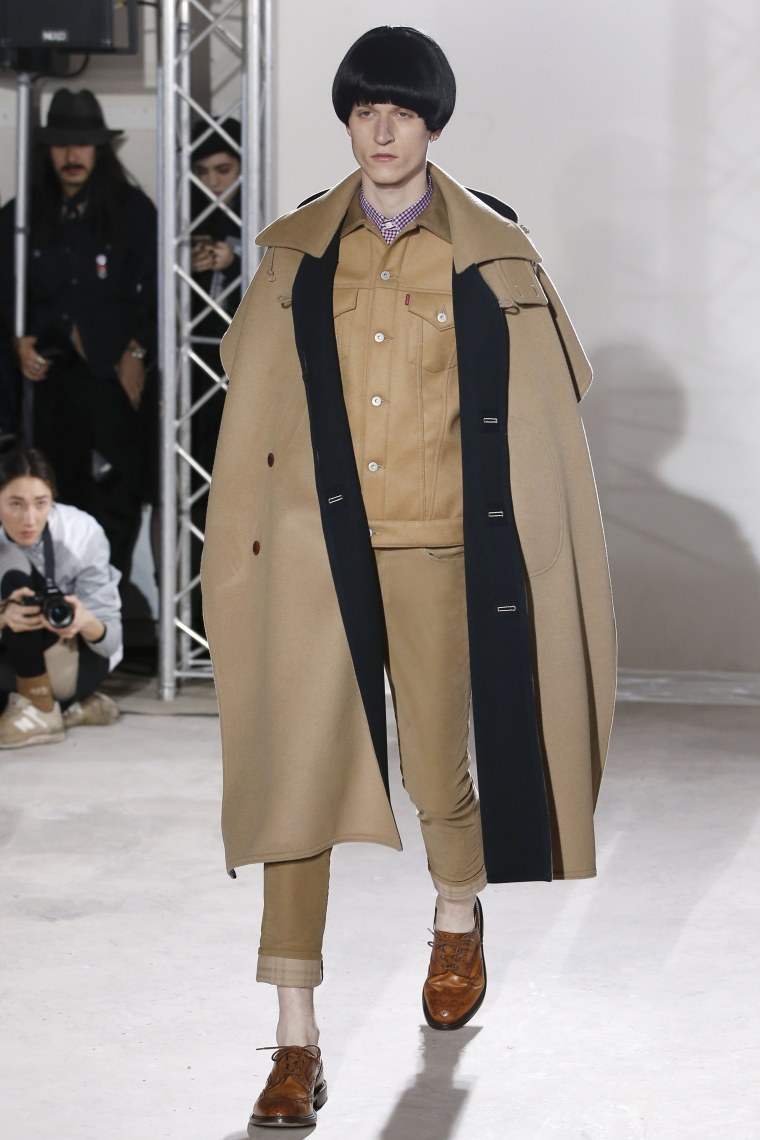 For the acclaimed Japanese designer's Fall/Winter '16 collection, Junya Watanabe presented a collection that both tipped its hat to British mod fashion while simultaneously looking to the future. The male models for Watanabe's runway show walked down in aggressive bowlcuts and solar panels on the back of jackets were a nice touch. The collection consisted of a large variety of exceptionally tailored trenchcoats, double-breasted blazers, and color-blocked denim trousers.
8. Raf Simons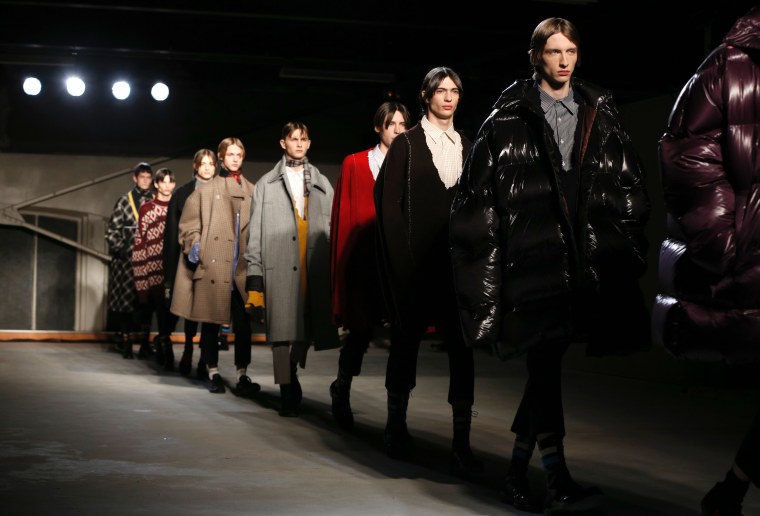 For his showing, Simons drew inspiration from spooky cultural touchstones like David Lynch's Twin Peaks and Cindy Sherman's "Untitled Horrors."The Belgian designer stuck with his signature oversized motif; supersizing distressed cardigans and sweater vests. It was a collection that did Simons' fashion outsider status true justice.
9. Thom Browne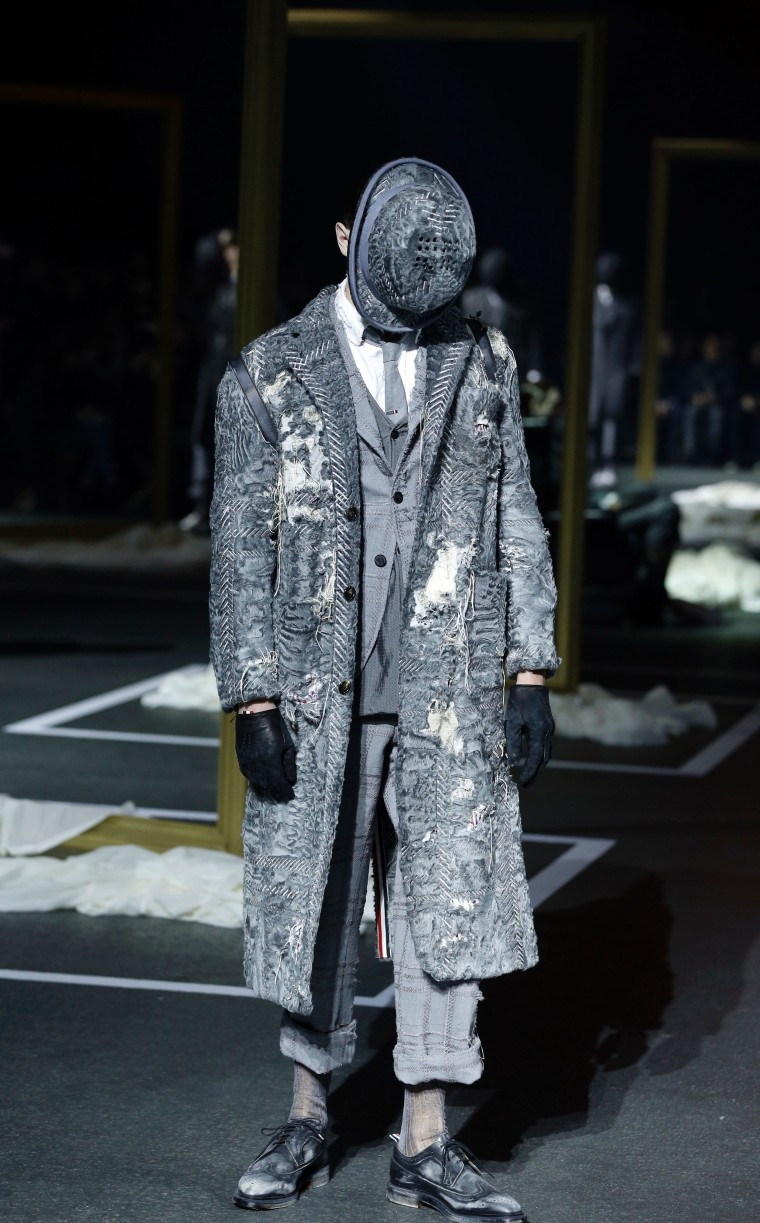 As with all his runway shows, Thom Browne, took a turn for the conceptual. Browne wove a theatrical tale of 13 men during the Great Depression, crafting a collection of distressed formalwear to match. Plaid, stripes, and checkers patterns all made appearances in both pristine and deconstructed variations. Plus, in case you didn't notice—everyone wore bowler hats on their faces.
10. Comme des Garçons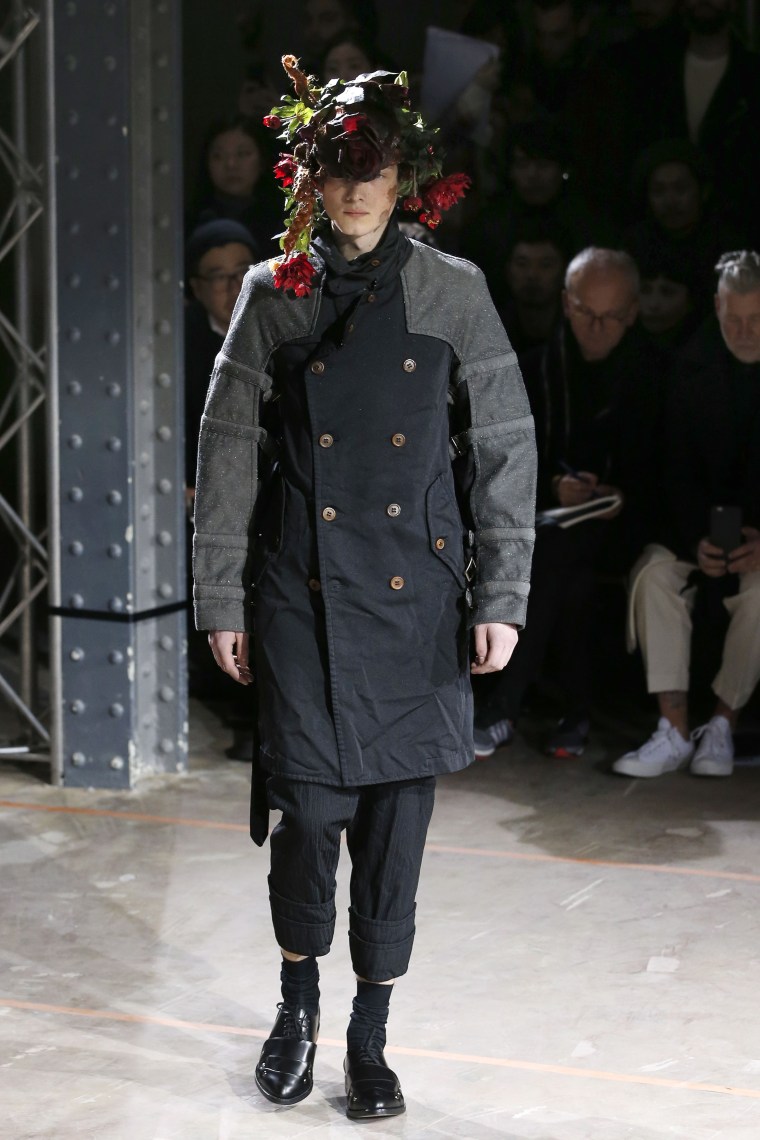 After the terrorist attacks on Paris in November, Rei Kawakubo paid her respects to the city through Comme Des Garçons Fall/Winter runway show, aptly titled "Armour of Peace." Flowers adorned the models' heads, and they cradled bouquets in their arms. Outerwear pieces with samurai detailing took cues from Kawakubo's native Japan.
Stéphane Ashpoole has become somewhat of a mayor in the Parisian arrondissement of Pigalle, for which his signature line is named. For his tenth collection, the enigmatic designer took it upon himself gathered his close friends and the residents of the Pigalle to model a courageous men's collection. Crafted in a soft color palette of baby blues, peaches, roses, and lilacs, Ashpoole's "Eros" Fall/Winter '16 seems as if it came straight out of a Wes Anderson film.
12. Walter Van Beirendonck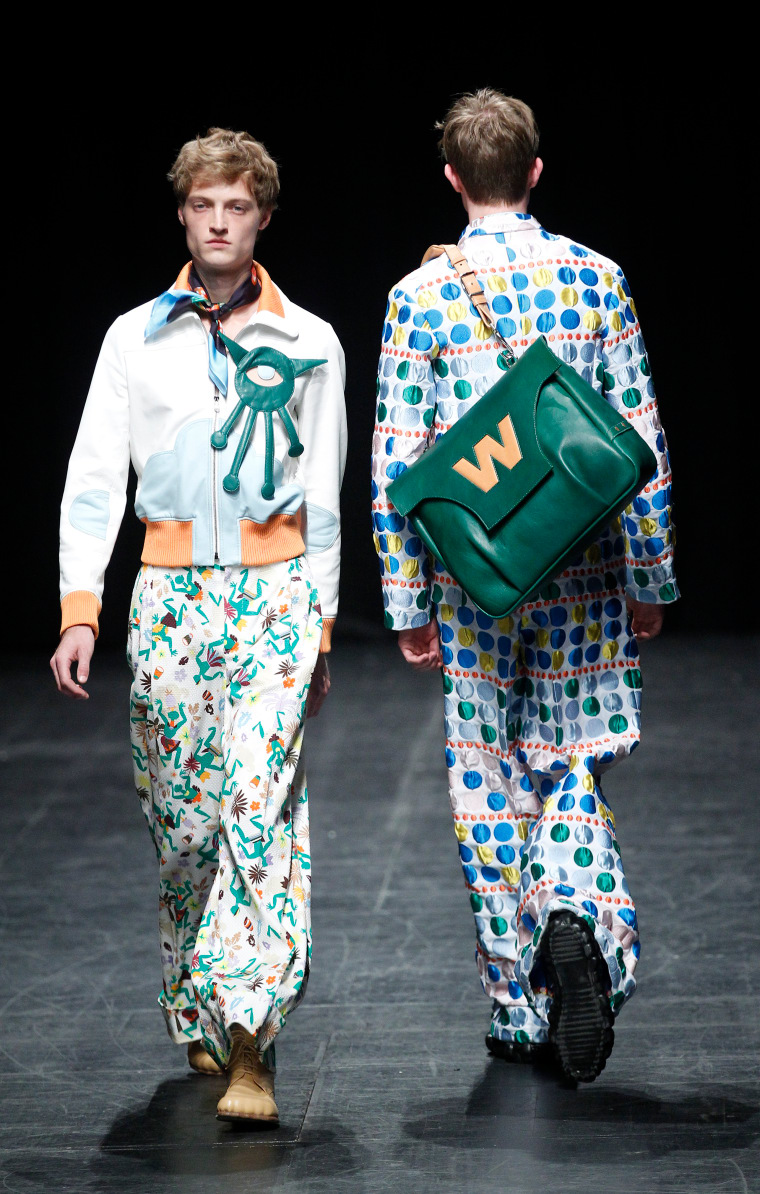 Crafting a collection that seemed pulled from a dystopian wonderland, Belgian designer Walter Van Beirendonck's Fall/Winter showing was all kinds of weird. Eccentric animal prints, deconstructed jackets, wide-legged pants, and incredible facial adornmentsall played integral parts. Luxe fabrics like patent leather and suede played a large part in Beirendonck's showing, but a series of jackets adorned with dolls really lent a mystical aura.