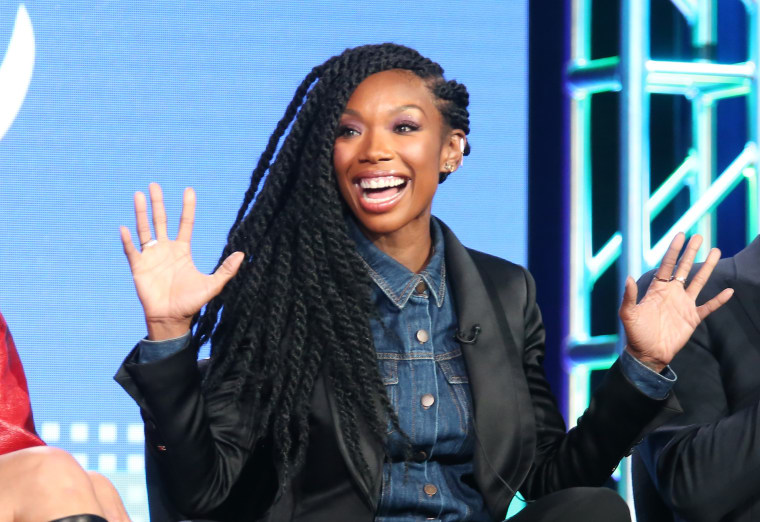 This February 14, Brandy will be her own Valentine for the first time in years. Frankly, she did not sound all that excited about that fact when we asked her about her plans for the day. However, she seems to have the situation under control. Here is her plan, maybe it can be yours too?
Find yourself a little piece of heaven.
"Oh my God, I love the spa," Brandy says, suggesting you find "a piece of heaven" where the music is nice and the drinking water is flavored with a hint of cucumber. Her usual itinerary includes a facial, mani/pedi, prayer, and maybe a nap. "I'll even drift off to sleep if I'm lucky," she says.
Eat good.
Brandy's "life plan," as she calls it, involves a lot of fish and veggies, so on V-Day she'll indulge her less wholesome culinary desires. "I eat pretty clean most of the time, so a part of treating myself is eating what I want," she says. "I'm gonna go in on Valentine's Day." On the menu this year is key lime pie and french fries.
Take yourself out.
Why not? "I am my valentine this year," Brandy explains, and so she plans on stepping out( her getting dressed soundtrack: The Best of Enya because, "It's so peaceful.")
"I'm probably gonna get some fresh twist done, and I'm gonna wear something nice. I think I'll have a drink, dance, talk, connect. Grown up time."
Or, just let your friends do the planning.
"The key," Brandy explains, is to let someone else shepherd you through the day. "My girlfriends are calling me now to figure out what we're doing for Valentine's," she says. "They know that I don't think about [Valentine's Day]." That last bit, however, is probably her best advice: don't think about it.