Davido's upbringing was almost impossibly blessed. Now, he's leveraging his resources to model the future of African pop.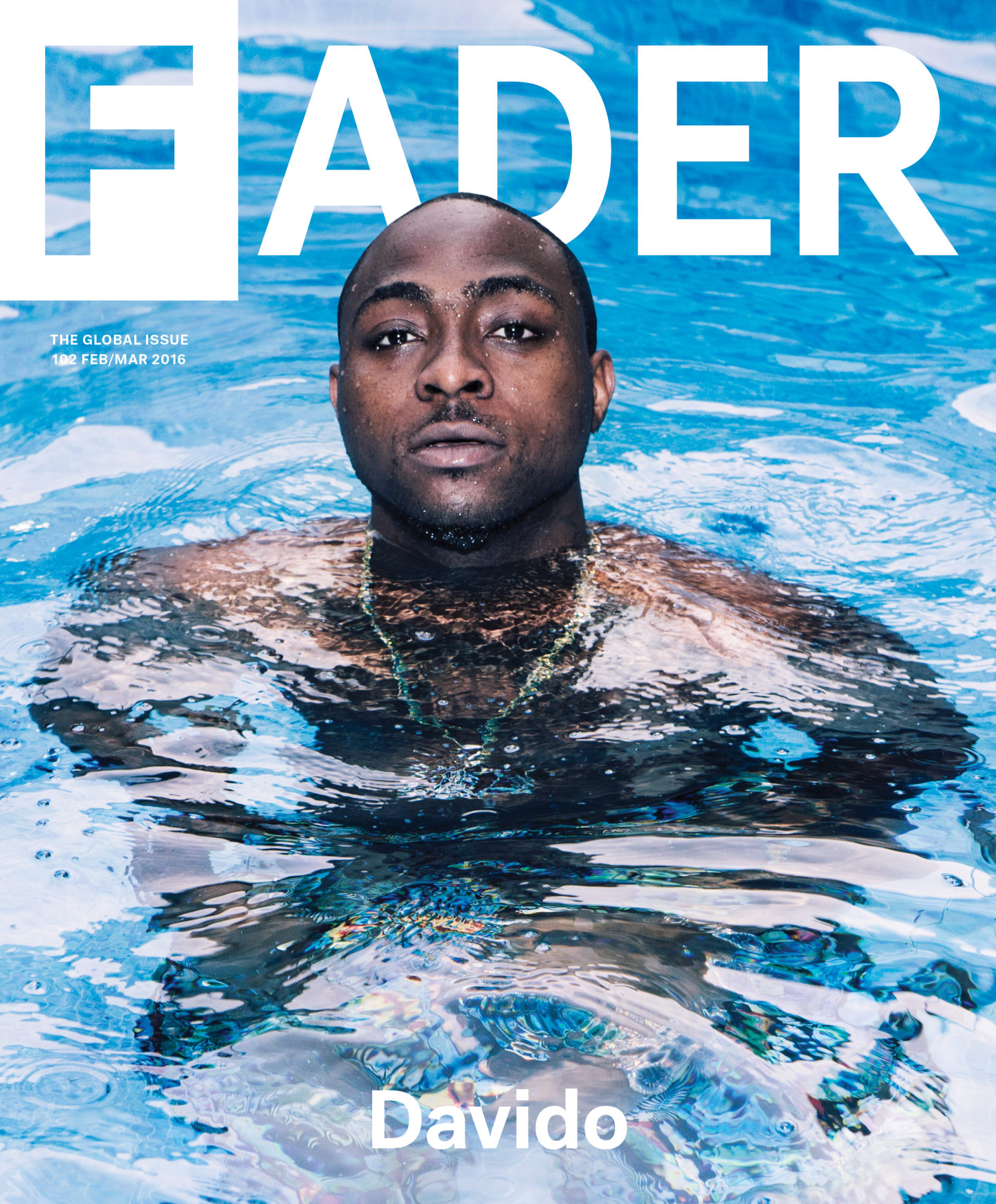 Once, while on a Greyhound layover in Birmingham, Alabama, David Adedeji Adeleke, the Nigerian pop star now better known as Davido, spotted a familiar face on the CD rack of a bus station rest stop. Packed between sections for Top 40 and oldies was an album by Asa, a Nigerian-French singer not widely known in America. Davido had visited this station before, on trips to and from his college in nearby Huntsville and the home of relatives in Atlanta. But this was the first time he'd seen Nigerian music earn shelf space in a random Southern town, and it felt like an omen.
Davido was 16 when he had arrived in Huntsville, a year earlier. His father, Dr. Adedeji Adeleke, a well-known businessman and Seventh-day Adventist in Nigeria with an estimated net worth of over $300 million, dropped him off with his passport, $2,000 cash, and freshman registration documents for Oakwood University, a historically black Christian college. (People often attach the honorific 'Chief' to Dr. Adeleke's name, referring to his wealth and power, largely earned through his founding of Pacific Holdings, a company that deals in steel, oil, gas, and more.) Davido had already spent time in the U.S.—he was born in Atlanta, and sometimes visited in the summer—but much about life in the States was new to him. "That was the first time I had a phone in America. There was unlimited calling. I never saw nothing like that before," he remembers. "In Nigeria, you gotta pay before you get what you want."
The school roomed him with another international student, a Rwandan track athlete—"I was like, 'Okay, wow. They just put all the African people together?'"—but he gravitated toward an upstairs neighbor named Jaymo, an American kid whose speakers constantly rattled Davido's ceiling. "One day, I went to go check what the noise was. I went upstairs, opened the door, and the guy had a full studio in his room," he says. "I told him that I was trying to do music, too. He asked me, 'How much do you have to invest in equipment?' And I said, '$2,000.' He was like, 'That's too much.'" They went to Guitar Center with $500.
From then on, Davido spent most of his time making beats and recording vocal references to send to a cousin in Lagos, a fellow musician with a trove of industry contacts. His grades slipped, and after three semesters, he dropped out and left town without telling his father. First he went to Atlanta, where he used his older brother's ID to get into clubs, and funneled the money Chief Adeleke sent for school and living expenses toward drinks and motels. Later, he threw out his SIM card and hopped on a plane to London, where he went MIA for several months as he shifted his focus from production to vocals. "There was no Snapchat, no Instagram. There was barely Twitter," he says. "I just went off the radar."
Chief Adeleke, meanwhile, had been on the hunt for his son. When Davido finally returned to Lagos in 2011, with new tattoos and piercings, his father had him apprehended by police officers at the airport. Having failed to bring home the business management degree he'd been sent to America to complete, Davido reached a compromise with his father: he, still a teenager, would attend a private university two hours north of the city. His music dreams would be sidelined until he had honored his family by graduating. Davido returned to school, but often snuck out of his dorm room to hobnob at industry parties and blew off exams to record.
"People always say, 'Oh, he's just some rich kid.' And he is," Davido's current manager, Kamal Ajiboye, tells me over coffee in the lobby of a Lagos hotel. "But they don't realize that this music stuff—at first he did it alone."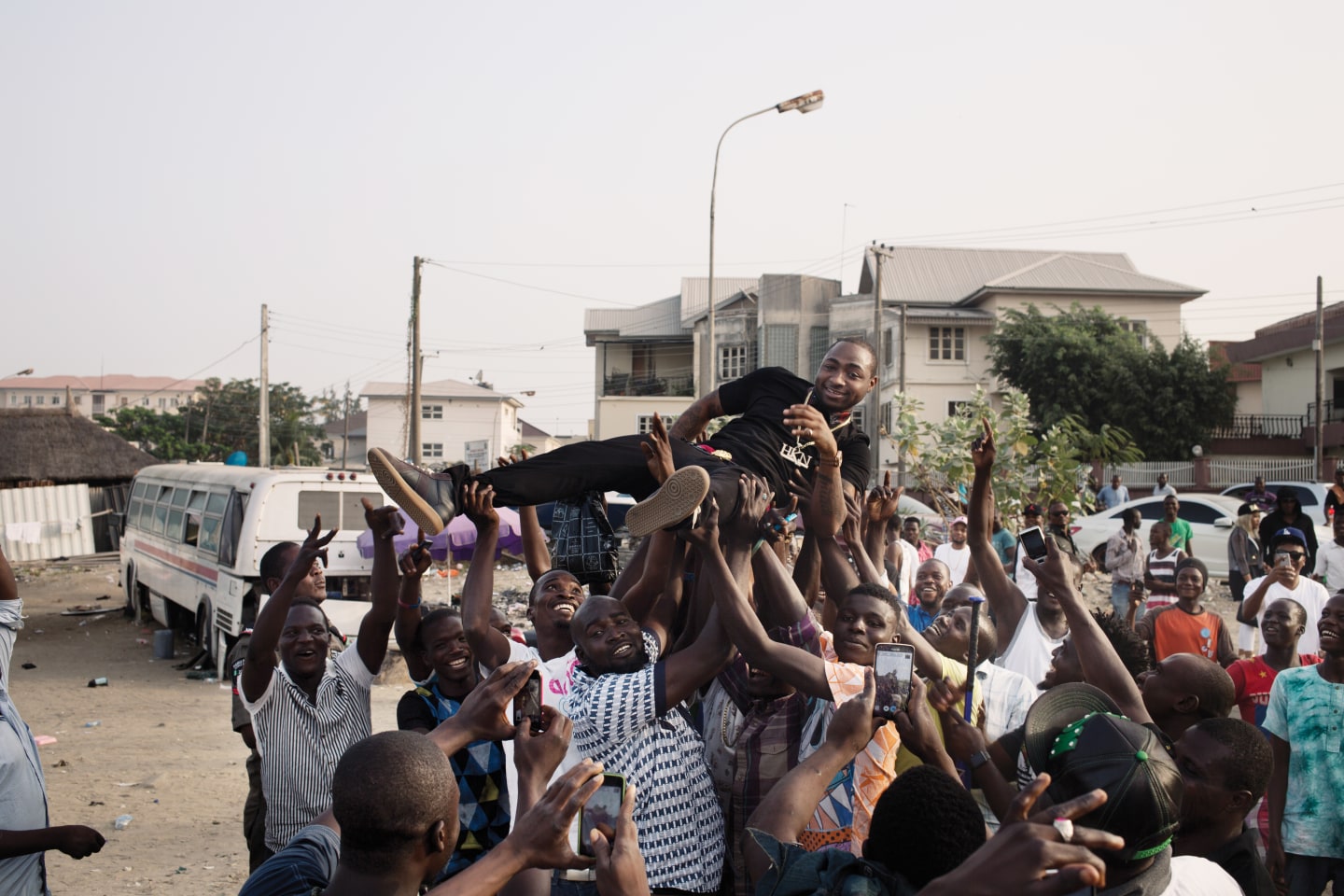 For the past three years, Davido, now 23, has lived in the posh Lagos neighborhood of Lekki, in a three-story house that welcomes a revolving cast of employees, friends, and hangers-on, with imported weed and liquor in constant supply and demand. On a Friday afternoon in December, he's sitting on a couch in the home's top-floor lounge, telling his life story to an audience of a half-dozen people. A television is queued up with YouTube videos of some of 2015's most potent grime beefs and freestyles. With an omnipresent gold chain swinging around his neck and a pair of traditional leather slippers dangling off his feet, Davido waves and claps his hands to underscore some points, and spits out Nigerian exclamations like ah-ah! and eiiiish! to emphasize others. A pair of deep symmetrical dimples and a generous flashing of teeth make even his wildest stories seem like harmless capers.
Davido's childhood home is just a few minutes' drive away. Inside, there's a grand marble staircase, and family photos spanning several generations line the walls of multiple living rooms. (Davido's godfather, it should be noted, is Aliko Dangote, a construction magnate whose estimated $18 billion net worth has earned him Forbes' title of Africa's richest man for the past three years.) At Davido's house, the walls are dominated by portraits of Davido. Most of the pieces, including a five-foot tall Old Masters-style painting, have been painted by fans, who camp outside for as many as three days, waiting for Davido to accept their offerings. A painting of his late mother has also been hung up, and so has a Jackson 5-era portrait of Michael Jackson, which keeps watch over the battered second-floor studio where Davido tracks demos and records one-off collaborations.
Davido released his first singles in 2011, while he was still in school. In the previous years, artists like D'banj, Wande Coal, and P-Square had developed a new sound for Nigerian pop, by pulling elements from R&B, hip-hop, and house, and blending them with Nigerian rhythms and melodies. The wave's primary currency was its cool, led by singers who wore designer clothes and engineered songs for the clubs. Their music was more concerned with letting loose than standing against the country's corrupt, oppressive government. "Before, the most popular Nigerian music was a way to give expression to the people. You could still dance to it, but it was a way to challenge politics," Michael Ugwu, general manager of Sony West Africa, tells me later. "But these new guys, all they wanted was to have fun. It was a new image for Africa."
This brand of slick, innovative pop resonated across the continent and beyond, frequently under the vague descriptor "afrobeats," a term popularized in the U.K. In 2011, D'banj landed a U.S. record deal with G.O.O.D. Music, then helmed by Kanye West. Soon after, he released "Oliver Twist," a global dance-pop hit that climbed to No. 2 on the U.K. charts. "Guys like D'banj, they were legendary status. They were doing shows internationally," Davido says. "I was looking at them like, Damn, these guys are really big out here. Can I do this African thing? I need to take the opportunity now."
"I think there's enough for all of us to eat, but then sometimes it can feel like only one person will win."
Davido found an audience with just his second single, "Dami Duro," an uptempo track with a frenetic vocal melody and rattling drums, on which he introduces himself as omo baba olowo, Yoruba for "son of a wealthy man." With its mix of glossy synths and familiar Nigerian references—its second verse features a lyrical nod to Yoruba folk songs—"Dami Duro" endeared a then-unknown Davido to both young clubgoers and fans of more traditional fare. It would go on to become one of his biggest hits, gaining traction on Nigerian radio, in Lagos' nightlife scene, and with his father. After the song blew up, Davido, still a student, declared he no longer wanted to study business, and Chief Adeleke paid for the university to erect a music department for an inaugural class of one.
Last year, he finally graduated, after taking time off to attend to his career. After that first single, Davido remembers, "everything just happened. I was being booked in, like, Botswana, all over Africa in under six months." He self-released a debut album via his own HKN label in 2012, and has since worked with a global crew of producers and songwriters on a steady stream of singles. Some, like 2013's muted "Gobe" and 2014's traditional "Aye," typify one style he favors: mellow love songs with lightly Auto-Tuned vocals and beats constructed out of kora riffs, buzzing electric guitar, bright keyboard sounds, and stuttering programmed drums. Others are more indebted to house and hip-hop—like 2013's clattering "Skelewu," which was remixed by Major Lazer, and 2015's Meek Mill-featuring "Fans Mi," for which he says the Philly rapper was paid $200,000—and traveled the internet to African diasporic communities in cities like New York and London.
"We always wanted to create a new sound that everybody wants to follow," says producer and longtime Davido collaborator Shizzi, while sitting in an elaborately furnished office in Davido's sister's home. "Nigerian music is evolving, and there's something about our music that's easy to listen to. I always do a fusion—I take from here, from South Africa, from America. I like to take sounds from different places and bring it together, to be able to sell to people all over the world."


For Davido, the result has been a kind of fame for which there are few parallels. When I land at Murtala Muhammad International Airport in Lagos to report this story and discover I don't have the necessary yellow fever vaccination document required for entry, I successfully drop his name, much to the delight of a middle-aged official who asks me to pass on a message. "God bless our son, Davido," he says.
A couple of days later, Davido performs at the wedding reception of family friends in Lekki's Lagos Oriental Hotel. His five-song set was offered to the newlyweds by a family member as an ostentatious gift, much like the brand-new Bentley on display elsewhere in the hotel's ballroom. Afterwards, he attempts to snake out of the hotel through a makeshift exit, his oblong face streaked with sweat. Dozens of young men crowd the wings of the ballroom, undeterred by the armed soldier who is a member of Davido's everyday security detail. Waiters drop their serving trays for a chance to touch him. Bartenders and ushers abandon their posts. Palms are thrown to faces, temples, and the sky in disbelief. But the wilder the scrum grows, the calmer Davido seems; similar scenes manifest nearly anytime he appears in public, and he's accustomed to the hysteria. "Sometimes they want money, sometimes they want photos, but sometimes I think they just want me to see them," he tells me later.
His celebrity at home comes with perks and burdens. For the past few months, Davido has publicly battled for the custody of a daughter he had out of wedlock in May 2015, a tabloid scandal that his reputation has survived, partly thanks to his wealth. Millions of Africans know his name, but in the U.S., Davido is largely anonymous. Last year, after he paid cash for a house in Sandy Springs, in the same posh Atlanta subdivision where Future lives, the home was raided by police, who assumed Davido was a drug dealer or scammer. "I guess a neighbor must have tried to snitch. They saw me and thought, 'How did that African get here?'" he says. "How do I explain to someone who's never heard of me that I'm famous? I showed them all of my videos on YouTube. They loved it."
A few hours after the wedding, Davido plays another show, a 20-minute set at the holiday party of a large investment firm, for which he is paid $50,000 USD. Earlier that night, he'd performed with just a DJ and a backing track, but for this gig he brings along a hypeman and a feverish five-piece band. In Nigeria, concerns about security, a lack of concert venues, and deep income disparity mean there are few large, ticketed events; aside from a handful of public concerts, private shows like these are the norm. While the major label-backed global music industry makes money from multiple income streams—album sales, radio spins, tours, and placing songs in ads—Nigerian artists have to look elsewhere.
When I cite an oft-repeated statistic—that for every CD sold legally in Nigeria, 10 are sold illegally—to Davido, he suggests that it's actually much higher. "I have 100 million views on YouTube but I have never directly made money [selling] my music," Davido says. "Zero. That's nonsense." Following the widespread adoption of the internet and of mobile phones, there's opportunity for change.
Artists used to depend on Lagos's Alaba market, a centralized network that distributes bootlegged CDs around the country, to build the buzz they needed to book private shows and win endorsement deals. But with physical discs becoming far less common, they're focusing their outreach online, using social media to push free downloads on local blogs. Increasingly, there are opportunities to get paid off of releases too: with the iTunes Store, which launched here in 2012, and, more importantly, through mobile apps, built by the same local telecommunications companies whose endorsements already underwrite much of the music industry.
The significant majority of Nigeria's population, according to the World Bank, lives on $1.25 a day and does not have a credit card. But even in rural areas, mobile apps make it easy for people to use prepaid phone credits to pay for ringtones, ringback tunes, and MP3 downloads. Over two-thirds of the 63 million Nigerians who subscribe to telecom giant MTN—which counts Davido among its spokespeople—buy ringtones, Bloomberg recently reported. Profits from these sales are a promising revenue stream, and are currently split between artists and the phone companies. "We still have to very much depend on third parties," Sony manager Ugwu explains. "But it looks like the market is finally taking notice of the opportunities for industry growth."
But even as mobile song sales surge, there is a fear in the Lagos entertainment scene that other cash flows are drying up. In May 2015, Nigeria elected a new president, Muhammadu Buhari, who has promised to clean up the country's unchecked corruption. Buhari has threatened government officials and bank executives with criminal charges and already levied fines on large corporations. MTN was fined $5.2 billion in November 2015 for selling unregistered mobile SIM cards, an illegal practice government officials believe may have benefited terrorist groups like Boko Haram.
Davido says people with money are now afraid that flashy gestures will make them targets of government watchdogs, and that, as a result, the private concert market has begun to shrink. In 2014, he says, he might have booked as many as six gigs on a given Saturday—each paying in the neighborhood of $70,000. Today, it's closer to two or three. "The show money is cool, but I need the kind of money that comes in the mail," he says. "Now, if I say no shows, where's the money going to come from? I should be able to take my daughter somewhere and say, 'I'm not doing no shows for two months.'"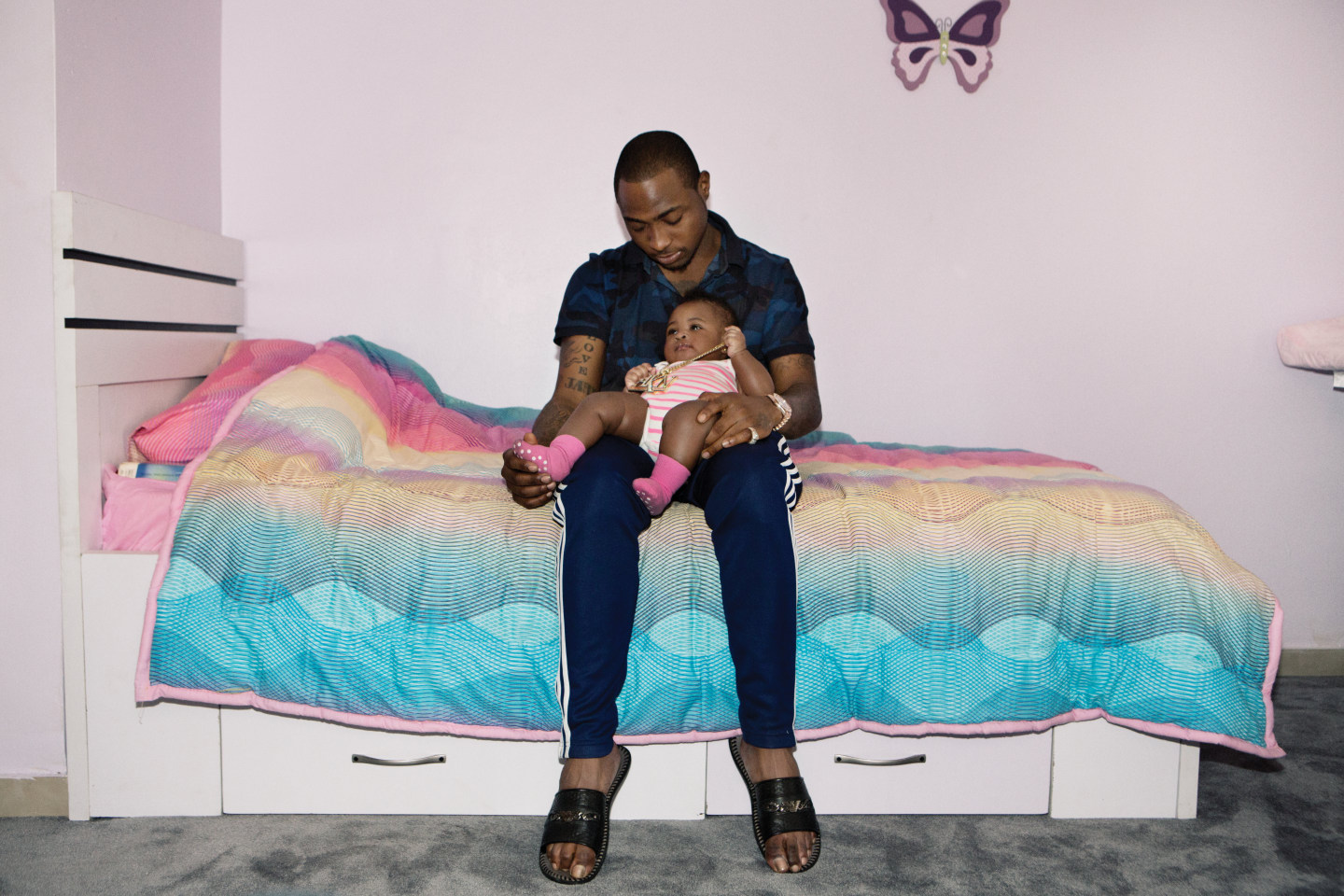 "The show money is cool, but I need the kind of money that comes in the mail. I should be able to take my daughter somewhere and say, 'I'm not doing no shows for two months.'"
So, looking for reliable income and new fans, Davido is making arrangements outside of Nigeria. In January, he flies to New York to finalize a deal with Sony Music Global, which will release his much-anticipated second album, tentatively titled Baddest. Davido has already spent two years and around $1 million of his own money on the record, and the timing seems right. "There is a massive renaissance going on," says Ugwu, pointing to the international success of OMI's "Cheerleader" as an indicator of fans' widening tastes. "There's interest. Music is traveling."
The Sony deal, which was brokered in part by Nigerian-born, U.S.-based A&R Efe Ogbeni, will provide him with new resources to reach American and European fans. Davido envisions snagging an opening spot on a prime U.S. tour, a big push for a crossover single, and other traditional major-label marketing. Baddest will feature non-African artists—Future will appear on at least one song, Davido says—and strike an overall balance between Nigerian pop and American-inspired hip-hop. "I know what kind of songs work. The music should have everything in it—Jamaican, African, American, everything. Something like Wizkid's 'Ojuelegba,' it has a cool feel to it," he says, nodding to the song remixed by Drake and Skepta in 2015. "But are foreigners going to come to Nigeria to listen to that all the time? No. It has to have a pop influence."
For any Nigerian artist with international ambitions, the pressure to succeed is amplified by a fear that global audiences might not welcome more than one African star at a time. And even that's not guaranteed—Davido tells me a story about a time before the ultimate demise of D'banj's G.O.O.D. Music deal, when Kanye West called D'banj producer Don Jazzy, already wildly successful in Nigeria, into a tiny, uncomfortable room with 20 other producers. "I don't want that to be me," he says. "I wanna be that one African nigga, where it's like, 'Call that African nigga. Let's get him on the hook.'"
That sense of competition underlies a long-running feud between Davido and Wizkid, former friends and collaborators turned rivals, who have spent the past few years subliminally dissing each other in songs and across social media. "Me and Wizkid, we're the best," says Davido. "If one telecoms comes to me, the other one will go meet him. If Coke comes to me, Pepsi goes to him. Whether or not it's true, they make it feel like it can only be one of us. I think there's enough for all of us to eat, but then sometimes it can feel like only one person will win."
Wizkid, 25, is perceived as a kid from the hood who made his way to the top on his own, a story admired in a country where hustle is a virtue and a survival tactic. Davido, on the other hand, is respected for his smart choices: working as his own A&R for years before he was in the major label system, he's enlisted the help of songwriters in a country where they're not commonly used, aligned himself with an experienced management team, and released an unabating string of singles to stay relevant between albums. "My business decisions, they're not by accident," Davido says. "I have a father that's made billions [of Naira]. When he tells me, 'Make this move,' I listen to him." But that can also backfire. For all his popularity, Davido's family money and custody battle have also made him an avatar for what some consider wrong with modern Nigerian society: the dissolution of traditional values and a culture that favors the rich while the poor get poorer.
In reality, Davido and Wizkid may have more in common than it appears—in January, Wizkid faced his own scandal, after a woman claimed he'd fathered her son and was a deadbeat dad. Recently, the two have made overtures to come together. At a December concert in Lagos, they spontaneously gave a joint performance before a stunned crowd. When both artists arrived at the venue, there was no clear direction from the promoter as to who would headline the show and, by effect, leave with a sense of victory. Tension built backstage until Davido, cleverly recognizing a chance to force Wizkid's hand in public, invited his erstwhile rival to share the stage. They wound up going back-and-forth for several songs.
A week after that show, I'm in the passenger seat of Davido's Porsche Panamera Turbo S, driving to his brother's house with his manager, Kamal. The sun has set, but the streets are still clogged with Friday rush-hour traffic, as pedestrians and vendors compete for sidewalk real estate. We weave through tiny streets and major throughways, drawing waves and claps from a cluster of squeegee kids who recognize the white sportscar as Davido's. As we drive, Kamal's two phones buzz nonstop with requests. Someone asks about a fashion endorsement. Idris Elba is in town for a movie premiere and wants to talk about recording a song together. When one call comes through, Kamal answers gruffly, then warms up. "Nah, bad boy!" he exclaims, simultaneously teasing and complimenting the caller. It's Wizkid himself, asking whether Davido might be down for some sort of collaboration, an official end to the stalemate. Days later, Davido remains enthusiastic about the possibility. "We're gonna give them What a Time to Be Alive—African version," he says, a grin creeping across his face.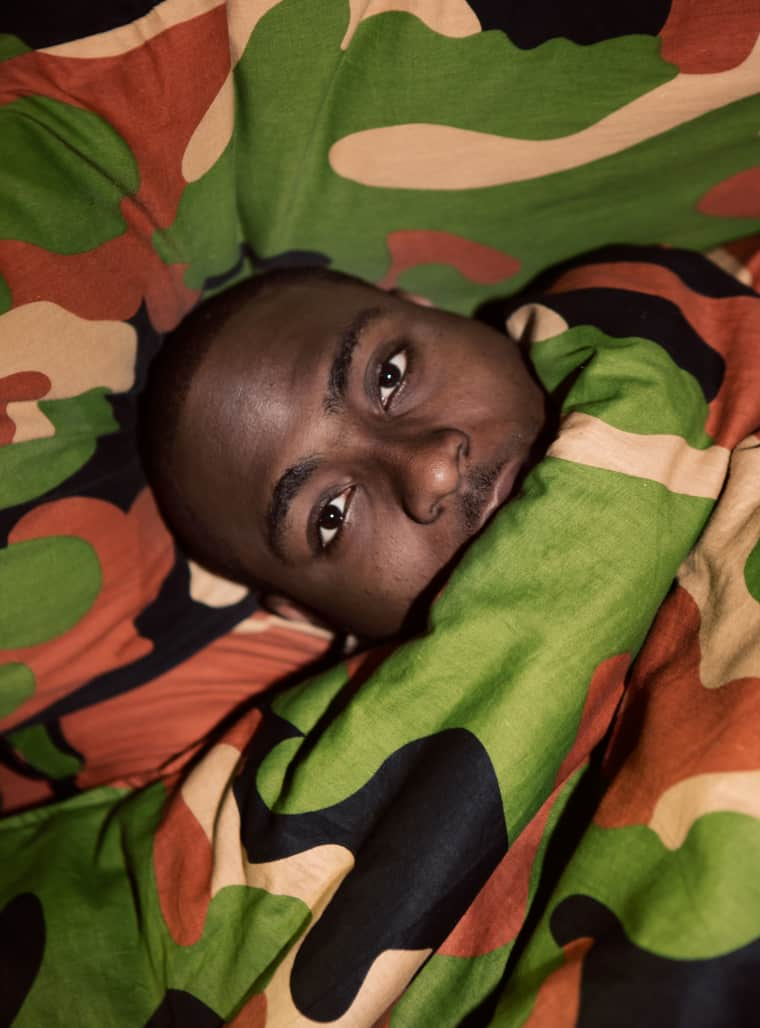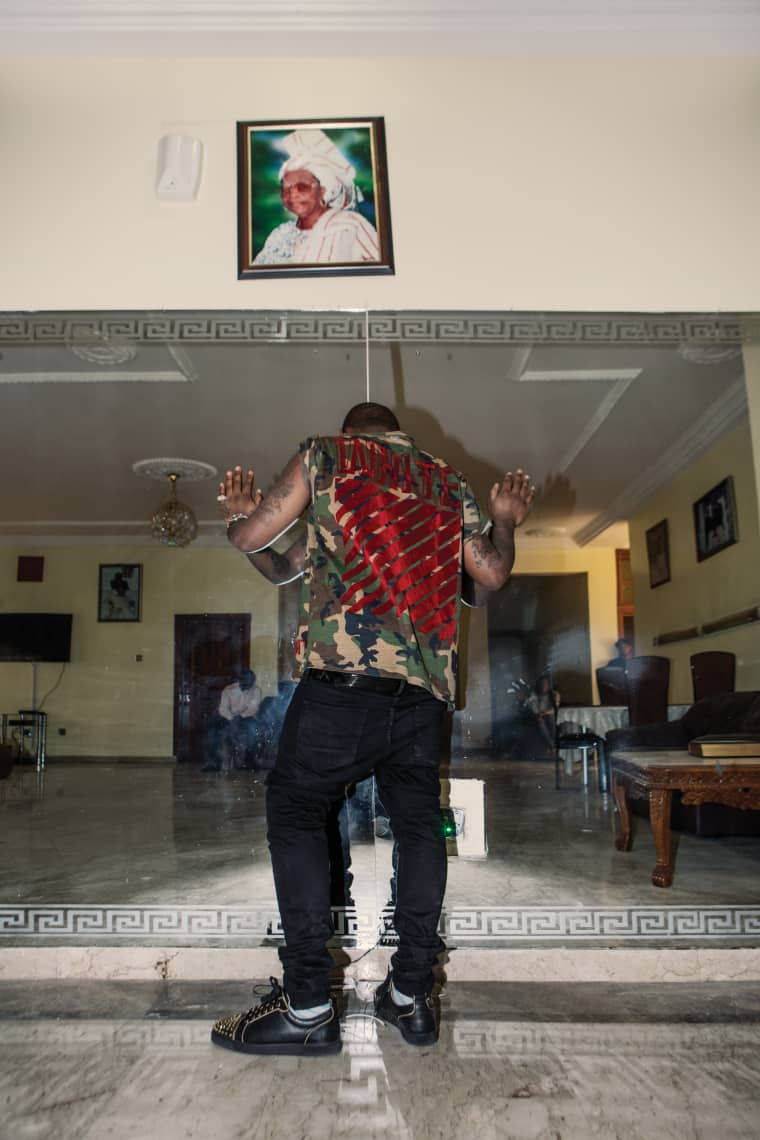 Davido thinks he will triumph where others have struggled because of his innate cultural literacy of both the U.S. and Africa, the result of being raised between worlds. Long before the internet erased them for the rest of us, money and travel erased borders for him. "I can be in the club with Meek Mill and Future and be on a level with them," he says. "I understand what they're talking about. I know what the trap is. These are things that some of these other guys, they don't have it. They can't have these conversations with the rappers, so how can they have them with the fans?"
The night before he performs at the wedding, Davido brings me to Quilox, a popular club, for his older brother's birthday. Inside, the thousands of miles that separate Lagos and cities like New York and London disappear. Here, if you're well-off enough, like Davido and his friends are, you are privy to the same bottle service procession of top-shelf liquor and champagne, the same Drake- and Future-heavy playlists, and the same $600 Givenchy T-shirts you'd find all over the world. The women hanging around the VIP are wearing the same crop-tops and cut-out dresses that I've considered buying from Instagram boutiques. In one night, I see more dabbing than I've seen across several months in New York. Davido and his brother tell me that, at last year's celebration, they ordered so much Ciroc that they wound up having to take some of the bottles home.
Over the four days I spend with him, Davido weaves between Yoruba, Pidgin, and American-accented, slang-filled English. He talks to his sister about which pink outfit his daughter should be dressed in, records greetings for his Snapchat followers, and breaks bread with a club-owning entrepreneur, code-switching effortlessly through all of it. As comfortable on the subject of local witchcraft as he is talking about the upcoming U.S. election, he comes off as a natural representative for all people who can claim a handful of places as home at the same time. Davido recognizes that there are listeners worldwide who, like him, belong to multiple cultures. People who instinctively see themselves through the eyes of others, and must cut through the stereotypes they know they'll be measured against. Which is why, when I ask him whether or not the world is ready for a Nigerian superstar, he shrugs and laughs. "Of course they're ready," he says. "They just might not know what that's going to look like."