Sian Anderson is a BBC Radio 1Xtra DJ and freelance writer. In her column Grime Time, she looks at the stories behind the headlines in grime.
As the tentpole awards ceremony in the U.K.'s music calendar, The BRIT Awards are pivotal to how British music is seen around the world. The award show, established 1977, is meant to be reflective of music celebrated within British culture (the clue is in the name). It has two jobs: to take the temperature of the country's music, and to provide a sign of which way the wind is blowing. In 2016, it has work to do on both fronts.
Grime artists like Stormzy and JME are charting in the Top 10 and Top 20 in the U.K official charts, yet are being overlooked by the awards without so much as a nomination or performance at the ceremony. Beyond grime, black British artists in general are mostly unrepresented: in 2015, FKA twigs was the only British person of color to be nominated for a BRIT award. This year—while U.K. pop acts and singer-songwriters Adele, James Bay, and Years & Years are tied for the highest number of nominations—a grand total of one black British act is nominated (production trio Disciples, for their collaboration with Calvin Harris). Asking why this is the case seems to be the awkward conversation no one wants to have. I would like to have it.

Grime has historically been largely absent at the BRITs, but its crossover moments have received recognition before. In 2002, chart-topping garage/grime group So Solid Crew performed at the awards, and eight years later, after his performance, Dizzee Rascal went home with the Best British Male award. That is the reality of the BRITs: you have to chart to be recognized. At the time of the last ceremony, February 2015, there simply weren't enough U.K. rap and grime artists outselling the names that were nominated. But one year on, factoring in grime's commercial success and critical acclaim, the landscape looks very different.
South London MC Stormzy, as well as selling out two U.K. tours and hitting 40 million views on his own YouTube channel, made U.K. chart history in 2015: his single "WickedSkengMan4" peaked at No. 18, while "Shut Up" (above) peaked at No. 8. This month, Music Week (also known as the music industry's bible) released the statistics for single releases so far in 2016, showing that Stormzy accounted for 0.3% of the market share with those two freestyles. At a glance, the percentage doesn't look like a hugely impressive contribution, but for an unsigned artist scheduling his single releases via Ditto (an online digital music distributor) with only his manager, radio plugger, and PR team backing him, it's a huge achievement. There should never be a question—in the mind of anyone who is truly paying attention, who doesn't have a hidden agenda—as to whether he deserves recognition as a breakthrough act in the UK.
It's not just a lack of black representation, but all non-white artists; and it's not just Stormzy, there's a general absence of all U.K rap and grime music. In 2015, JME (Boy Better Know's CEO) released his third album Integrity, which currently holds the record for the highest album chart position ever for an independent act in the U.K. (No. 12). JME replaced U.K. rap duo Krept & Konan, who previously held the title for their 2014 mixtape Young Kingz. That's two consecutive years of independent grime and U.K. rap artists making history in the charts. And there's more: grime scene stalwart Big Narstie, who has Ed Sheeran and Justin Bieber on his list of fans, recently charted in the Top 20 with a track that revived the career of much-loved garage crooner Craig David. ("When The Bassline Drops" was released in late November, after the traditional cut-off point for BRITs nominations—but so was Adele's 25, and she's nominated in four categories.) U.K. rap/R&B trio WSTRN charted at No. 4 with their debut single "In2," and after self-releasing her debut album, London rapper Little Simz became the first U.K. artist to appear on Forbes' Hip-Hop Cash Kings list in 2016. None of these people have been acknowledged by the BRITs.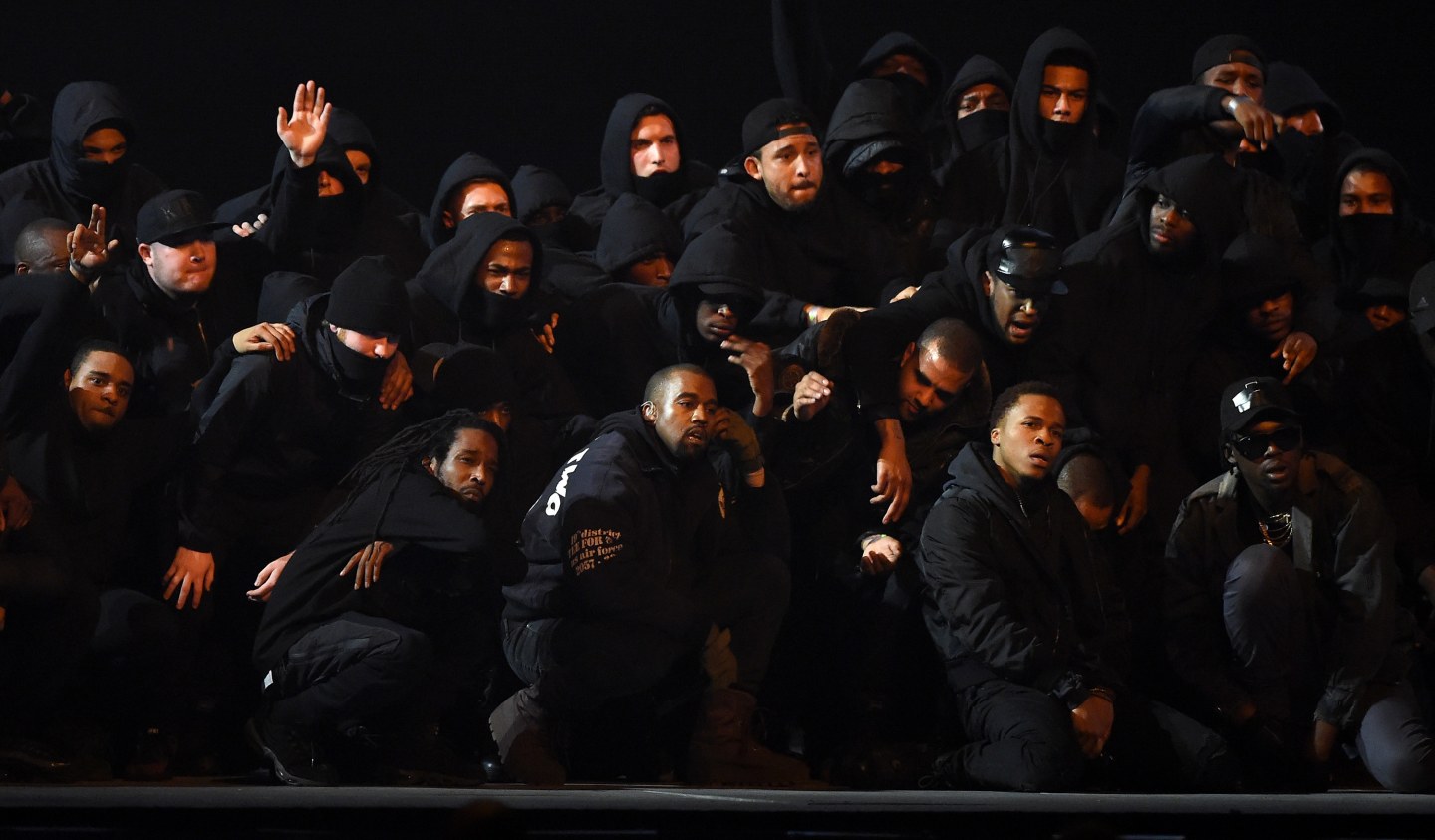 "Kanye West, an American artist, being responsible for identifying rap and grime as two important U.K. scenes should have given the BRITs a wake up call."
At last year's BRIT awards, there was a breakthrough moment for black British musicians on the mainstream ceremony stage. Grime MCs Stormzy, Skepta, Jammer, Novelist, and U.K. rappers Krept & Konan were among those who joined Kanye West to debut his single "All Day." The performance, broadcast on primetime TV, was made up of 25 men in all-black attire, and highlighted many of the black U.K. artists who had previously been overlooked by the BRITs. The Daily Mail labelled the performers a "mob"; they were described as a "gang" by MTV.
But in reality, the day after the performance (that, while heavily muted, accidentally broadcasted three N-bombs), there was a negligible amount of complaints to U.K. broadcast regulators Ofcom. Out of 5.8 million viewers, 150 complained. Ofcom didn't even open an investigation. Minus those 150 people, the rest of the audience were entertained by, or introduced to, a crucial yet too often overlooked aspect of British culture. Because, like it or not, there are large and influential areas within the U.K. with black men who wear black hoodies and perform their music without smiles on their faces.
Wiley, grime's godfather, spoke in the NME about what Kanye's "All Day" performance meant for U.K. underground music: "That is power. But it's not a power we've got, it's the power Kanye's got...Kanye came in and helped my scene make it." I also wrote about the performance for Noisey, highlighting how motivating the broadcast would have been for artists in the U.K. scene. 19-year-old south London MC Novelist spoke to The Guardian about being onstage for the performance: "I liked the fact that I was onstage with people like myself in my tracksuit, that was sick...the country knows about us, and that's all that matters."
Kanye West, an American artist, being responsible for identifying rap and grime as two important U.K. scenes should have given the BRITs a wake up call—especially this year, when there was a real opportunity to celebrate the charted success of the U.K.'s underground. But the awards' continued refusal to acknowledge the achievements and influence of grime completely discredits an award show that supposedly exists to celebrate popular and successful British musicians.
"Grime may be a relatively new genre; grime may be a small scene; grime may be heavily independent, but it contributes to the bigger picture of U.K. music. It matters."
In a (since deleted) post on Facebook, singer and grime aficionado Lily Allen—who has been recognized by the BRITs eight times, taking home best British Female Solo Artist in 2010—posted her thoughts on the lack of recognition for independent artists and grime MCs at the awards. She pointed the finger at major labels, stating that the likes of Skepta, JME, and Stormzy being nominated for awards at the BRITs would "pose a direct threat to music industry figures." She blamed it on the voting process: "The voting academy consists of 1000 music industry figures...and here lies the problem, music industry figures don't necessarily care about music, they mostly care about themselves, they vote tactically for their labels artists to win or so that their competitors at other labels DON'T."
Stormzy, on the other hand, had a different perspective on it, taking on the issue in a freestyle filmed in Tokyo: What, none of my Gs nominated for BRITs,/ Are you taking the piss?/ Embarrassing. He also directly addressed the elephant in the room: race. Next year I'm going on dark,/ Like wa gwarn is my face too dark?/ Last year they told the mandem that to be nominated you gotta go on U.K. charts,/ So what do we do—we chart,/ Don't come here with your lies don't start,/ Deny our ting you can't. Stormzy's in the charts now—you can't claim he's not nominated for a BRIT because he's too underground, and you can't deny that grime in general is making waves. He suggests that the only other explanation for the snub is his race. This freestyle has over two million views.
The truth is somewhere between both Allen's and Stormzy's takes. A voting academy of 1000 major label staff members equals a voting academy of 1000 people with agendas and jobs to keep. The labels and staff in question—I used to be one of them, admittedly—have a vested interest in their own artists and labels winning. They've pumped thousands of pounds into these artists, and they need that 'BRIT nominee' stamp of approval for their poster campaigns. But here's the thing: many of these U.K. labels are not diverse enough themselves, and still wouldn't know how to market a black artist if they were given a step-by-step handbook from Kanye West and Jay Z. Find me more than a handful of successful, black, major label artists who have reached success in the U.K.—without having had their own team to call the shots, and the label working only as apparatus—and I'll take that back. But until then, there needs to be an understanding moving forward from both major labels and the BRITs: to be supportive of all British culture, you need an unbiased team of representatives who have lived through (or understand) urban culture themselves.
Grime artists will swear that they're fine being recognized by their fans alone and that they don't care about a BRIT nomination, since the BRITs obviously don't care about them. Rightly so. But it's not about whether they should be longing for a relationship with an institution that's never supported them anyway, it's about whether they deserve recognition from said institution. It's about whether they deserve to be rewarded for putting in double the amount of work a signed artist puts in (or more). It's about exposing an audience to a scene fuelled with brilliant character and extraordinary lyricism at an explosive BPM, that's absolutely popping off in parts of the U.K. Grime may be a relatively new genre; grime may be a small scene; grime may be heavily independent, but just like Stormzy's total market share of 0.3%, it contributes to the bigger picture of U.K. music. It matters. And grime artists deserve to be recognized for it.