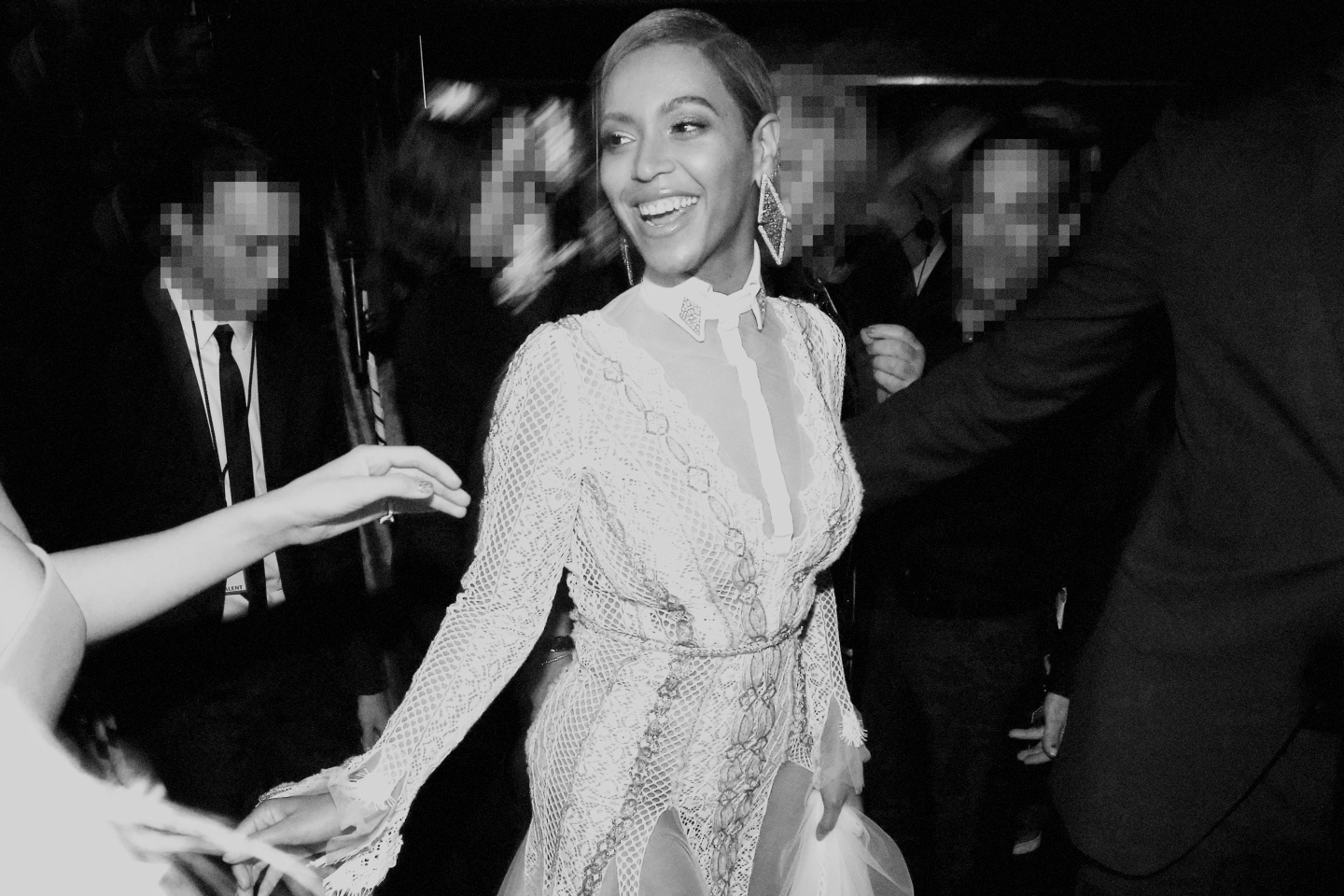 When Beyoncé drops, she makes the world stop. The iconic pop star only extended the trend with the release of "Formation," a stinging, visceral celebration of being black ​*and southern, not to mention a political statement that crashed squarely into the face of conservative America.
For Beyoncé, "Formation" also signified something else, the first taste of what could be the impending release of the follow-up to Beyoncé, her eponymous, surprise-release 2013 audio-visual masterpiece. She's notoriously coy about her behind-the-scenes moves, and little is often known of what she's cooking before it's served on a golden platter. Maybe she's been in the studio recording #B6, maybe not—it's part of what makes her such a thrilling character, one that keeps us guessing as much as she keeps us satiated.
Throughout her career, a few ticks past the days of her stint as one-fourth (and then one-third) of Destiny's Child, Bey has been opaque about her recording process as a solo artist, and not every song that's laid down in the booth makes it onto the final product. Some end up getting jacked from the studio and hit the internet, where they exist as treasures for deep-diving members of the Beyhive. Some are only mentioned in passing; a few make it onto obscure special edition versions that end up at big box retail.
With "Formation" still fresh off the pot, five songwriters and producers look back on the songs that never made it onto the standard edition of her five LPs.
1. Rodney "Darkchild" Jerkins on "Back Up"
Status: Bonus track on Circuit City edition of B'Day
Songwriting/Production Credits: Destiny's Child, "Say My Name," "Lose My Breath"; Beyoncé, "Deja Vu" featuring Jay Z; Michael Jackson, "You Rock My World"; Justin Bieber, "As Long As You Love Me"
How did the song come about for you guys?
Rodney "Darkchild" Jerkins: I haven't listened to the song since we did it. I do remember when we were working on B'Day. I remember when I first got the call from Beyoncé to work on the project, and the mood that she was in and she was feeling, she wanted New Orleans-inspired music to be incorporated to the stuff she was doing. Creole-type stuff. Zydeco... She wanted that type of inspiration. We were doing a lot of ideas around that, and the horns, but at the same time, we wanted to give that urban street edge. So we tried to get that combination. That's really where that tune started from, from that inspiration that she gave us.
There were a lot of people working on that one record. What was that like?
I have a camp so I brought my writers, LaShawn Daniels and at the time, Anesha and Antea [Birchett], they were sisters, and this girl Delisha [Thomas] and Makeba [Riddick]. I brought basically five writers to work on different ideas. You either make the cut or you don't. Delisha and Makeba made the cut for "Deja Vu." "World Wide Woman" was LaShawn Daniels and Sean Garrett. It's just kind of, we do a lot of songs when it's an artist of that magnitude, like Beyoncé. You're not sending her one song; you're sending her 20 ideas.
"She's probably the closest thing we've seen to Michael Jackson as far as having that determination and drive that I've ever seen."—Rodney "Darkchild" Jenkins
A lot of musicians I've spoken with say they didn't have time in the studio with her.
That's not the case with me. I actually recorded "Back Up" with her, "Deja Vu," "World Wide Woman," all of that was with her. LaShawn was actually with her the whole time. So it was a little different with us. Probably because we had history with "Say My Name" and "Lose My Breath," "Cater 2 U," all of that. We had such a history that she was there with us the whole time. She gave us direction, and she had like four or five studios going at one time, but then she only sings what she likes. "Back Up" was one of those records.
Were you under the impression that it would end up on the standard tracklist?
Nah, you never know. I did like seven songs on Michael Jackson's Invincible album, but I might have done 60 songs to get to those seven. You don't know what's going to happen. With "Back Up," it was on some type of special edition.
So is it disappointing when the song doesn't end up on the final tracklist?
That's common in our industry, where some songs make the cut, some don't. It's bad when it doesn't make the cut and you don't get in on the project. But in that scenario, we got the first single with "Deja Vu" and Jay Z, so it worked out anyways.
Looking back on when you worked with her then, how has she progressed to become the superstar she is now?
She's more mature, she's her own woman. She always had it in her. She's probably the closest thing we've seen to Michael Jackson as far as having that determination and drive that I've ever seen. But now, she's more mature. She knows exactly what she wants, what she needs in her projects, where she wants to go. She's creating her own lane. There's really no one out there who can compete with her. She's in her own world. It's almost like every time she comes out, no matter what she comes out with, it's an event every time.

2. Bryce Wilson on "Settle 4 U"
Status: Leaked
Intended for: Dangerously in Love's failed sequel
Past: Former member of Groove Theory and Mantronix
Songwriting/Production Credits: Toni Braxton, "You're Makin' Me High," Beyoncé, "Hip-Hop Star," Mary J. Blige, "Get to Know You Better"
You'd already worked with Beyoncé for Dangerously in Love. How did "Settle 4 U" come about?

Bryce Wilson: A good friend of mine, Chill Patterson from Chicago, who was Lupe Fiasco's manager, he called me. I had an album that was going on Columbia and I wasn't getting along with the label. I was like, y'all ain't handling your black music division that great. So I wanted out. I left, and Chris Lighty gave me a great exit and I had this album that was done that was a great album. It was actually a Groove Theory album with this other singer [than Amel Larrieux], and it was the complete opposite of what me and Amel did. I did something that was sonically way more aggressive and progressive. I had these songs and I kind of just walked away from music for a while, like I'll go to film school, I'm good on the music politics. I went to L.A., bought a house and chilled. [Then] I got a call from Chill and he was like, "I played these records for Jay Z," and I was like, cool, whatever. He hit me about a week later and said, "When can you come to New York?" and I said next week. I came in and me, Chill and Jay and Beyoncé and a couple other people, we were in the studio and we played the whole album for them. Jay was just shaking his head like, this shit is amazing. B loved the records. They had heard the album and were like, aight, we'll see y'all later, we'll see you later and get back to y'all. So we just hung out in the studio talking and Jay Z took the CD and got in their car and they drove around for an hour, hour and a half, and they called back and were like, we want these records, are you cool with that? I was like, of course. Jay said it was a done deal. They took the records.

It was kind of weird. I'd stopped doing music all of a sudden, and because of Chill and Jay and B, I got half of my album on a solo project. Then I get a call a week later and Jay is like, "Yo, Janet [Jackson] likes one of the records. We'll take five but are you cool with giving Janet one?" I was like, dude, we can do whatever you want to do. Jay really had his A&R hat on and was really involved in her project at the time. Then, we started getting a lot of the business in order. This was right before Jay took the job at Def Jam, and then we got a call back and her father had sold a bunch a records already, so they had paid for so many records already from Scott Storch, that it moved my records out. Jay was like, "It's not a wrap. We'll definitely take 'Hip-Hop Star,' and 'Settle 4 U' is Beyoncé's favorite record. We don't know what we're going to do with that record, because we have a certain amount that we can put on the album." So they took the records and she did the vocals and I mixed them, me and Tony Maserati, who did her whole album and is a great engineer. I saw Jay maybe seven or eight months later, and he was like "Dude, you don't understand, B loves the 'Settle 4 U' record." I was like, what are you gonna do? And he was like, "I don't know, but don't worry about it. The record is what it is."

Maybe a year after that, I got a call and they asked me to mix the record, and I was like, "Do you want me to change it up, make it a little more crazy?" They were like, leave it alone. The record actually had Marilyn Manson drums on it. The toms were straight Marilyn Manson, metal rock drums. If you look at "Hip-Hop Star" and "Settle 4 U," they had more of a rock element to it. We looked at her like she's our Tina Turner, so that's what we were going for with the record.
"Beyoncé can handle any record you put in front of her."—Bryce Wilson
Do you remember "Settle 4 U" leaking seven years ago?

No. I just saw it leaked maybe three years ago. I was telling someone about the record and I just happened to YouTube it. I had done a [demo] for Mary [J. Blige] that I personally liked, and it was there. So I tried it with B's record and it showed up.

Are you disappointed when records leak?

Nah. No one's selling records anymore, so there's no income you're being robbed of. I think that you should be in alignment with the world. The world is about sharing now, so as long as it's out there, it should be there. I think it's fine.

I wish it did end up on the album, because if you have a record that has a different dynamic or color to the record, I'm all for it. I don't like when everything sounds the same. Dangerously in Love had a pretty good range of records. I think that it was a record that definitely would have added something else to her range to see how dope she is. Beyoncé can handle any record you put in front of her. Any record that pushes her in that direction, it would have been good to be on the project.
3. Clinton Sparks on "Forever To Bleed"
Status: Leaked
Intended for: I Am… Sasha Fierce
Songwriting/Production Credits: Lady Gaga, "Bloody Mary," Akon, "Sorry, Blame It On Me"
How did the song come together?

Clinton Sparks: It leaked and there was a lot of positive feedback on it, and then it obviously didn't make the album, which sucked, because I got the whole, "Congrats, you made the album! It's off to mixing and mastering." And I was like, oh shit, I just made Beyoncé's record! My life's gonna change! How the song came about was, I couldn't find people to demo the records that I was writing, and I never considered myself to be a singer, per se, so I was with my engineer and had this song and just wrote it, and the song was called "Inevitably" before she changed it to "Forever to Bleed." I made the record, and I sent it over to Jay Brown, who was working on Rihanna's album. He was like, "Send me that record for Rihanna."
I don't know, maybe a week later, he said, "Send me over the stems right now." I was like, alright, cool. He told me B was in the studio right now and was about to cut it. I was like, oh shit! I was actually on the demo, and it was me, for the first time in my entire life, ever singing on a record. I wrote and produced the whole song and then recorded the demo, and then even Beyoncé was like, "This sounds like a hit with you singing on it." We cut the record and then it was the waiting game. I finally get that congratulations, uploaded to mastering. I was like, I own 80 percent of a Beyoncé record! Then, they sent it to me to listen to, and they changed it to "Forever to Bleed" from "Inevitably." I was like, oh my god, I hate that! It sounds like a menstruating song now. "Inevitably," that title was interesting. It's a compelling word to use for a title. Then it also tied into the song, saying I knew inevitably I was going to break your heart, or what not, which I should have known better. Have you heard the song?

Yeah, it's all over the internet.

Really? Because they took it down.


"She was like, "It's one of my favorite songs, it just didn't fit the sequence of the album. It would have stood out."—Clinton Sparks
These songs will forever keep popping up on the internet.

OK. Then me, her, Jay Z, Irv Gotti, Kelly Rowland, we all went to 40/40 to watch the Super Bowl. It was when the Patriots were playing... some New York team. [Ed: The New England Patriots played the New York Giants on Feb. 3, 2008] I'm not a sports guy at all. We were all watching it and then I asked Beyoncé, "Why did you change the song to 'Forever to Bleed' from 'Inevitably'?" She was like, my Southern slang made it hard to say inevitably. I was like, what's the difference? It's the same exact thing. And she was like, I guess you're right. We were going back and forth, joking about it, and I told her it was a menstruating song. She was like, "Oh my god, Clinton!" That was that. A couple of weeks before the album came out, the tracklist came out and the song wasn't on it. I asked her, "What happened?" She was like, "It's one of my favorite songs, it just didn't fit the sequence of the album. It would have stood out."

When the song leaked, were you disappointed?

Yeah, I was like, I hope this doesn't affect being on the album. At that point, when songs got leaked, it was cool though too because then you started getting recognition beforehand. One half was like, I hope this doesn't affect it, and the other half was like, it's great that people know I did a Beyoncé record.

It's kind of crazy that was your first placement as a singer.

The first two songs that I wrote, produced and demoed with my voice on it was that song and then Akon's "Sorry, Blame It On Me." The first two demos I ever wrote and demoed, the two biggest artists at the time took them.

Have you had a chance since then to send stuff to B?

Yeah, I mean, just like every other prominent songwriter or producer, you have the shot. You send in records and if they make it, they make it. If they get heard, they get heard. I'm not sure if you know how that circle of songwriting and producing works, but every time a big artist is working, everybody and their mother is in the studio writing records to try to get on it.

Do you know how it leaked?

I have no idea. For all I know, that could have been the reason that [it] didn't make the album.
4. Sean Garrett on "Beat My Drum"
Status: Unreleased
Intended for: I Am… Sasha Fierce, most likely
Songwriting/Production Credits: Beyoncé, "Diva," "Video Phone," "Upgrade U," "Ring the Alarm," "Get Me Bodied"; Fergie, "London Bridge"; Destiny's Child, "Lose My Breath," "Girl"; Ciara, "Goodies"
How did "Beat My Drum" come together?
Sean Garrett: With B, when you're in the habit of working with her, we come up with ideas that work specifically for her and swing the pendulum in a different direction. A lot of times, it comes from her and what she likes and what she's on. Sometimes, it's hit or miss, because you may be thinking she's wanting to go in one direction until something strikes her nerve, and that's the nerve for her. That'll be the final idea of what she's gonna do. Generally, you're always shooting in the dark with her. She's just creative and eclectic and up on always trying to be ahead of the game. That was the moment of me trying to figure out how I wanted to give her another moment.
Do you remember which project this was intended for?
I don't remember exactly which project this was for, I just know that it was something that I was... I'm always constantly doing stuff with her in mind. Anytime I hear a beat I think she'll love, I'll put something to it and go from there and hopefully it's something that she's in the mood for doing.
What exactly were you trying to accomplish with this song? What made it so special?
She's just an energetic performer and she loves drums. She loves edge. I was thinking dance for her. This is probably quite a few years back, but I was thinking more her dancing. Her giving another moment of Beyoncé. Another side of Beyoncé. She has so many sides to her. You always just trying to touch base with a video moment. She's such a visual artist. This was just trying to figure out another side to her that could be fun and young and exciteful and a great video.
"You know Beyoncé, man. She doesn't like to let everybody know what she's about to do."—Sean Garrett
"Beat My Drum" was supposed to be the lead single for the project. Was that the actual case?
I couldn't say, because a lot of times, I thought... Honestly, I thought other records were going to be the first single, and then I was fortunate enough to have worked with her and gotten quite a few singles on her, but even then, I didn't know it until the last moment. She's very... You know Beyoncé, man. She's very quiet about how she does things. She doesn't like to let everybody know what she's about to do.
Beyoncé don't get a lot of leaks. She just has a very tight control. Most of the time, that's generally not the case, but I pretty much follow her direction. I think that's a good thing. I had to learn, because as an artist myself, an artist owns that right to protect their interest of how they want to roll their project out. It's just important to give them that opportunity to roll it out the way they want to.
You don't seem too nervous about records leaking.
I am nervous. You don't want to fuck up your relationship. I'm nervous. I'm definitely nervous about that, because it's not my record. It's something I'm working on for her. That ain't the idea, that's not the case.
Why didn't the song make the album?
Sometimes, when I think about it now, I don't think it was good enough. I just don't feel like it was good enough. I always push myself to give B the best. I never feel like I've done good enough. That's why I'm always so excited about working because I gotta keep pushing myself to do better work, to do great work. That's really the mentality. Never feel assured that you've outdone yourself and keep working. You might be a legend one day if you just keep your head to the ground and never get overzealous and start thinking you've outdone yourself. That's the space I try to stay in.
5. Novel on "My Body"
Status: Unreleased
Intended For: I Am… Sasha Fierce
Songwriting/Production Credits: Kelis, "Bossy," Alicia Keys, "Tell You Something," David Guetta, "Hero"
How did the session come together?
Novel: I was working with one of my favorite writers, I don't work with a lot of writers, but there's one in Atlanta named Cristyle. She changed her name to Crystal Nicole. She and I were doing the record and I want to say it was originally for Beyoncé. I was in the studio with her and a guitar player named Tony Reyes, and we were working on all these records for her. I hadn't met her; I worked with her, but I had a good connection with my publishing company. Cristyle was an up-and-coming writer and I was busy on the production side, so she comes into the studio and I have this ballad going and she comes up with this idea about a person, a partner, being so close to you, that they're one with your body. I was like, that's dope. She starts writing, I'm working up on the beat, and an hour or two later, she goes in the booth and basically sings it down in like two passes. She's dope. So, we finished the song and sent it to the publishing company and my manager to try to get it to Beyoncé.
It was six months to a year before Sasha Fierce came out. A lot of times, when you give artists records, they'll hear it but they'll be like, eh and pass on it. It.'s all about timing, a certain moment when it was more personal to them or they're in the club and the song is exciting. I guess she heard it one night, and when I got the call, it was like, I was chilling with Dallas Austin and my ex-manager, and we were having drinks and I got a call at 3 a.m., and it was Big John, and he was with Beyoncé, in the car with her or something. She was like, "I love this record." For some reason, at that moment, she loved it. She was like, "Can I get the files tonight?" I'm like, cool. Of course we couldn't get them to her that night, but we got them to her the next day, and we sent it to her right away. I never met her, I never talked to her, I only talked to her management on the phone, and at the time, I was making good money producing a lot of records.
"[With some labels] I still haven't gotten paid from for records I did two years ago. Beyoncé ain't that type of person. She pays right away."—Novel
She took the record, first off, and paid me right away. The way she handles a record is, if she wants a record, she's about it. I've had problems with labels, even today, that I still haven't gotten paid from for records I did two years ago. Beyoncé ain't that type of person. She pays right away.
A lot of times, people do that and they know they're going to take the record. I'm certain she was going to take the record because she mixed and mastered it, but at the time, I think for her, it was like, no one else needs to hear this record. It was hers. She added a few elements to it, a little bit of writing and production, and I thought that was cool. It shows how much she evolved in her work. The record was done, and I wanted to hear the record. They were like, "We can't send any Beyoncé records out." I was like, well, where was it mastered and mixed at? I'll go hear it myself. I'll fly out there. I was hoping to just meet her. I flew to L.A., heard it and it sounded fuckin' amazing. I was like, damn, I wish I could get a copy of that! Sidebar here, after she did "My Body," Cristyle had gotten flown down to work with Beyoncé for a couple of other records. At the time, I was doing Alicia Keys' project or something like that, I'm not sure. I remember Cristyle going down to work with Beyoncé and her taking a bunch of tracks that I did to write to. Supposedly, I don't know how true this is, Beyoncé has like three of my records demoed that I'll probably never hear. Ever. Beyoncé would have producers and writers in rooms and then she would go and check out a song, and if she liked it, she'd work on it. If she don't, she'll pass and keep going. But she'll knock out those songs one by one, that day.
Anyways, "My Body" got down to mixing and mastering and it was incredible. I'd already gotten paid so this was way dope, and then at the very last minute, the album came out and it wasn't on it. I was like, nooo! I think honestly, I don't know what happened. I want to say it was probably competitive with the other ballads, and there weren't many ballads on the album. "Halo" was just a really great record, Ryan Tedder did that one. It may have been they didn't need another ballad, but it just happens sometimes. You get to that point and then you just don't make it. I would pray that she puts it on an unreleased project or another project. I got the record back after a year. I got the rights to it and what not, but if she wanted to do whatever with it, it's Beyoncé. That's pretty much the story.