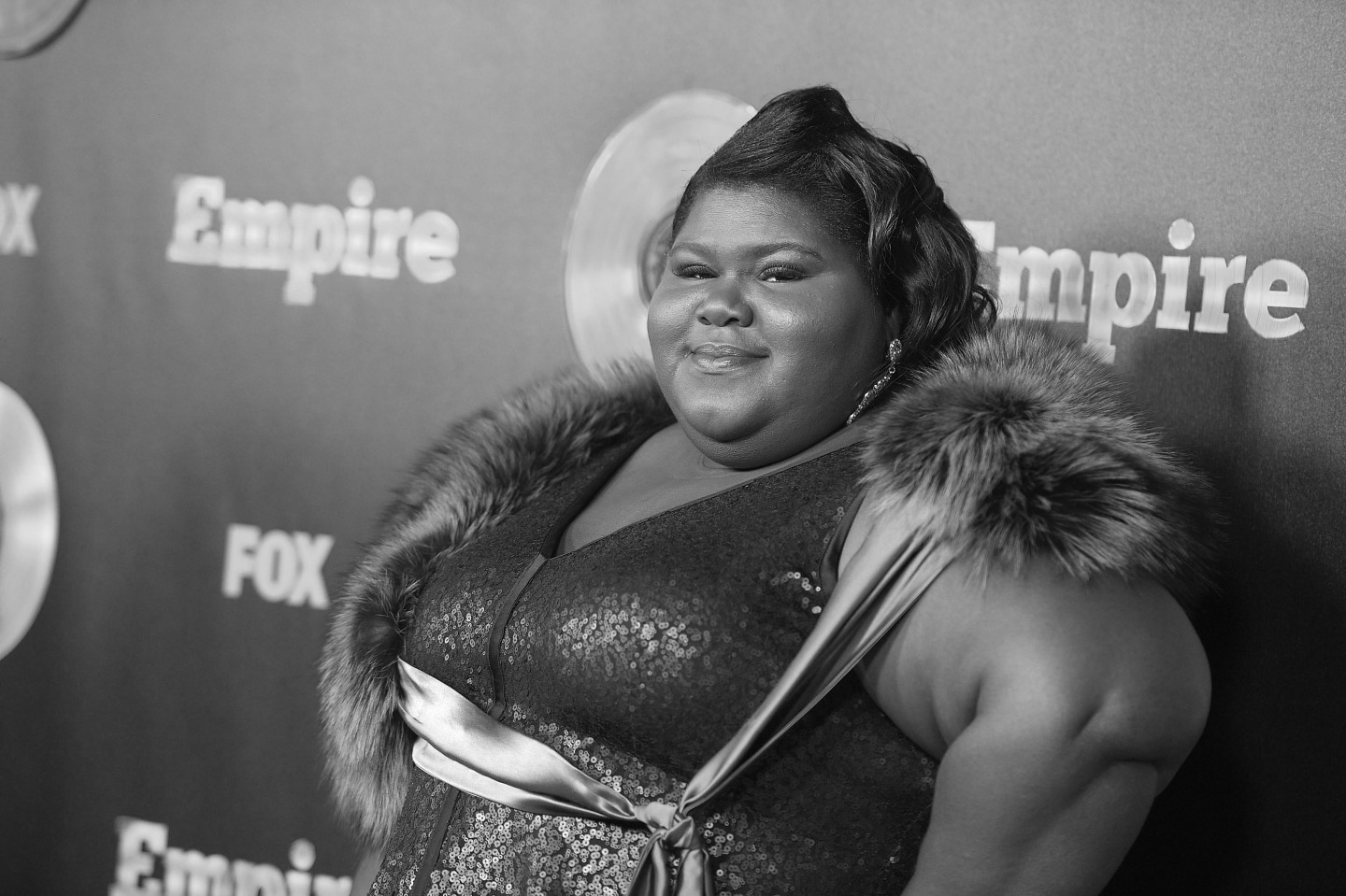 I've transitioned through a variety of body types in my life, so size—as a construct, not necessarily a specific number—is something I think about a lot. I've always been curious about how it might feel to be unaware of my body in the way I imagine forever-thin people get to be. This isn't to say that thin people don't struggle with body issues (no size is immune), but that there is a certain freedom afforded those who've never had to apologize for how they look. There's a line on Animal Collective's "In The Flowers" that sums up my curiosity well: If I could just leave my body for a night.
When I was young I was obsessed with Missy Elliott, a plus-size woman who achieved career success, commanded respect, and thrived with self-love inside sexist media and entertainment industries. But Missy was an exception. What I didn't see were fat women with great sex lives, reveling in the male gaze that I'd grown up believing was important—I didn't see a lot of confident fat women who were loved. Instead I saw Jenny Craig commercials, Roseanne Barr in baggy T-shirts, the perpetual pursuit of weight loss, and no indication that fatness was anything other than a flaw.
Right now, size diversity is everywhere. Recently, Sports Illustrated put a plus-size model on its cover for the first time, and EBONY's Body Brigade issue celebrated the spectrum of size with a cover shoot featuring Jazmine Sullivan, Chrisette Michele, Danielle Brooks, and Gabi Fresh. In 2014, Calvin Klein cast size 10 model Myla Dalbesio for its lingerie campaign and Vogue published a spread titled "The Best Lingerie Comes in All Sizes." Melissa McCarthy and Beth Ditto are both now designers of plus-size clothing lines. Drake raps about his love for "BBWs" on the same song where Nicki Minaj declares "thick bitches only." Gabourey Sidibe's stunning lingerie photo shoot in V magazine, and hoards of plus-size Instagram babes with followers in the hundred thousands, have disproven the fallacy that fatness is inconducive to a fulfilling sex life.
Popular culture suggests that we're moving beyond size activism toward a place of size normativity. I'm not saying fat-shaming is obsolete, or that the fashion industry—a primary perpetrator, where rigid internal standards dictate pervasive cultural norms—has undergone a body positive revolution. It hasn't been that long since Karl Lagerfeld called Adele, "a little too fat." But there's a widespread re-evaluation of body ideology taking place. Plus-size people—and those whose bodies present as 'thick' or 'curvy'—have reconstituted the norm, and are settling within its freedom.
"Fat acceptance is trendy now," says Serah-Marie McMahon, a style expert and the founder of WORN Fashion Journal. "There is a general feeling in the zeitgeist that it's less OK to make fun of fat people, whereas it's historically been an easy joke. I would like to keep seeing fat people everywhere, including fashion magazines, and I would like it to be less of a 'do' when it happens. I would like fat jokes to stop completely."

When I was young I saw Jenny Craig commercials, Roseanne Barr in baggy T-shirts, the perpetual pursuit of weight loss, and no indication that fatness was anything other than a flaw.
When macroscopic fat-shaming does occur, the resulting backlash often overshadows the slight itself. Nicole Arbour's embarrassingly acerbic "Dear Fat People" video, which went viral last fall, rightly generated more criticism of Arbour than of the people being shamed. "I just block and delete," says blogger/model/designer Nadia Aboulhosn (who wears a size 12), of her approach to managing negative comments on Instagram. "You literally do not affect me when you say things like this. My physical appearance, that I'm fat or whatever, that doesn't affect me. What affects me is when people talk about my character."
On the consumer side, shopping while fat has become significantly easier over the last half-decade. Many boutique brands now cater to plus-size people. Blog and Instagram-famous plus-size models like Aboulhosn and Gabi Fresh are the faces of lucrative capsule clothing lines. Online-only brands such as ASOS, Eshakti, and Modcloth go high in terms of size (Eshakti up to size 36, and users can submit their measurements for custom pieces). Fast fashion brands such as Forever 21, Old Navy, and H&M offer extended sizes to accommodate bigger bodies and are generous with their straight-size measurements.

"Who are you to tell me what I can and can't wear?"—Tess Holliday
Last summer, an atypical face covered People's 2015 Body Issue: Tess Holliday, a size 22-24 model, and the first plus-size woman to be signed to a major modeling agency. The cover line: "You can be beautiful regardless of your size." It was a radical notion to display on newsstands across North America, and a statement that reflected a plus-size coup d'état.
Up to that point, Holliday, a social media star, was best known for creating the #effyourbeautystandards campaign in 2013. People is reliant on ad revenue from fashion and beauty clients—thereby enforcing fashion and beauty standards—and so the cover spoke volumes. "There were pictures of me in bathing suits and lingerie and people were [commenting on] my size," says Holliday of the impetus behind #effyourbeautystandards. "I got really frustrated—who are you to tell me what I can and can't wear?" In response, she posted a batch of hashtagged selfies to her popular Instagram page, prompting thousands of inspired photos from plus-size people around the world. (Searching #effyourbeautystandards today turns up nearly 1.2 million posts).
Holliday is not advocating the pursuit of a different body, but for living happily in the body you already have.
On that People cover, Holliday wore a sultry black lace bodysuit. Around the same time, Marie Claire columnist and Instagram fav, Nicolette Mason, posted a shot of herself swimming in an inflatable pretzel at her bachelorette party weekend in Palm Springs. Aboulhosn, whose capsule collection for Canadian plus-size retailer Addition-Elle launched last fall, recently Instagrammed herself sans pants with the caption, "A little bit of muscle, a little bit of cellulite…"
"There are so many of us who want stylish things," says Gabi Fresh (real name Gabi Gregg), who wears a size 18 and has designed four seasons of swimsuits in sizes 12 to 24 for online retailer Swimsuits For All. Fresh's first collection sold out in 48 hours. "That's what indie designers and boutiques can offer us," she says. Holliday, too, says she does most of her shopping online—"I know it sucks that you can't try it on, but whatever, just return it. At least those designers are making it...Accessibility has so much to do with change."
"Ten years ago it was impossible to style for fat people unless you styled from a [personal] wardrobe," says McMahon. "It's so exciting to have choice now. You don't have to be one kind of person." McMahon notes that "plus-size" doesn't mean one-size-fits-all, and that plus-size designers must consider vast differences in shape and circumference when creating clothes. (Indeed, I want to note that "plus-size" can mean anything from size 10 to 36 and beyond, and that fat-shaming may feel different, and be endured more severely, by women on the higher end of the size spectrum and whose bodies, unlike Aboulhosn, Ashley Graham or Dalbesio, don't register as "fit".)

At a Brooklyn photo shoot for the fall 2015 Addition-Elle capsule collection, Aboulhosn noted that the fashion-forward effort toward body acceptance outside the plus-size market puts pressure on plus brands to compete. "Five years ago there was nothing. It was all frumpy clothes. There wasn't a lot to choose from," she said. At the shoot, Addition-Elle's vice-president of marketing and visual display, Roslyn Griner, told me that the brand is actively pushing to change the perception of "plus-size" by featuring sleeker, trendier clothing.
Aboulhosn, who is on the cover of April's Women's Running magazine, often posts photos of herself in jean shorts and bodysuits. She also Instagrams herself chilling with her straight-size boyfriend. "People make [size] a bigger deal than it is," says Aboulhosn, who doesn't consider herself officially plus-size. "To label someone fat is so tiny in comparison to how complex an individual is." Still, seeing women of size in loving relationships is itself remarkable considering we've spent decades being sold the idea that fat people are undeserving of romance.
Fat bodies are being reclaimed by the people who possess them, and now, more than ever, different body sizes are sources of strength, not ridicule, shame or stress. For some, like Aboulhosn, size is inconsequential: measurements are merely traits. If a person is happy, healthy, beautiful, fashionable, and potentially successful, what does it matter if they're fat? For others, like those who rally around #effyourbeautystandards, the movement is progressive. "Getting dressed has a lot to do with how you feel about yourself," says McMahon. "Just the act of being fat, putting yourself in great clothes, taking a selfie, and posting it online is an act of active rebellion."
A lot has changed since I was a curious child pondering body freedom. Diet plans and fitness regimes are still highly saleable commodities; the world still gives us reasons to feel guilty about ourselves. But we now have the option to disregard that shame entirely. When Sidibe's Empire love scene emboldened body-shaming trolls in 2015, she casually let them know she didn't care. When supermodel Cheryl Tiegs denounced the "glamorizing" of Ashley Graham's Sports Illustrated cover for being "not healthy," Graham—star of the new issue of Maxim—didn't respond at all. Tiegs ended up apologizing anyway.
Fatness, it seems, is fine. The taboo is on its last legs.