Edward Snowden Is A Featured Vocalist On The New Jean-Michel Jarre Album
Listen to "Exit."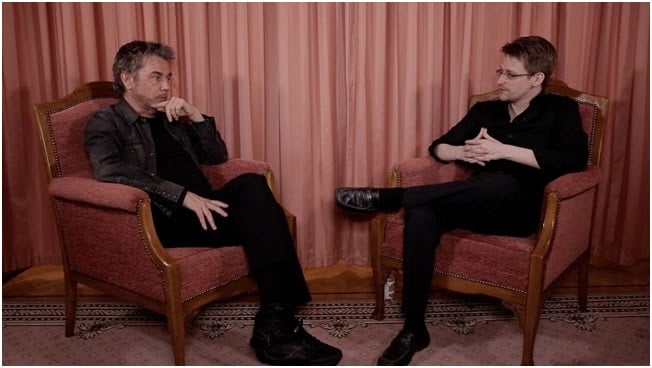 You might not have known that Edward Snowden was a big fan of electronic music. "I've always appreciated [it]," the famous whistleblower explains in a video for Rolling Stone. "The melodies that I remember with most fondness are actually from video games where they generate 8-bit music, and those kinds of chiptunes have really made a resurgence in modern musical culture today."
Snowden contributes to a song on the forthcoming album by French electronic music pioneer Jean-Michel Jarre. Jarre referred to Snowden as "a modern hero." "I wrote a speedy techno track evoking the constant and hectic production of data and the obsessive quest for more information," Jarre noted. "I then linked the music with this mad hunt and chase in order to get hold of people like Edward Snowden." The two were connected through a journalist, and they met in Russia.
The track will appear on Jarre's Electronica 2: The Heart of Noise. Listen below, and look for the album May 6.
1. The Heart of Noise Pt. 1: JM Jarre & Rone
2. The Heart of Noise Pt. 2: JM Jarre
3. Brick England: JM Jarre & Pet Shop Boys
4. As One: JM Jarre & Primal Scream
5. Exit - JM Jarre & Edward Snowden
6. These Creatures: JM Jarre & Julia Holter
7. Here For You: JM Jarre & Gary Numan
8. The Architect: JM Jarre & Jeff Mills
9. What You Want: JM Jarre & Peaches
10. Circus: JM Jarre & Siriusmo
11. Why This, Why That, Why: JM Jarre & Yello
12. Switch On Leon: JM Jarre & The Orb
13. Gisele: JM Jarre & Sebastien Tellier
14. Electrees: JM Jarre & Hans Zimmer
15. Swipe To The Right: JM Jarre & Cyndi Lauper
16. Walking The Mile: JM Jarre & Christophe
17. Falling Down: JM Jarre
18. The Heart of Noise (The Origin): JM Jarre