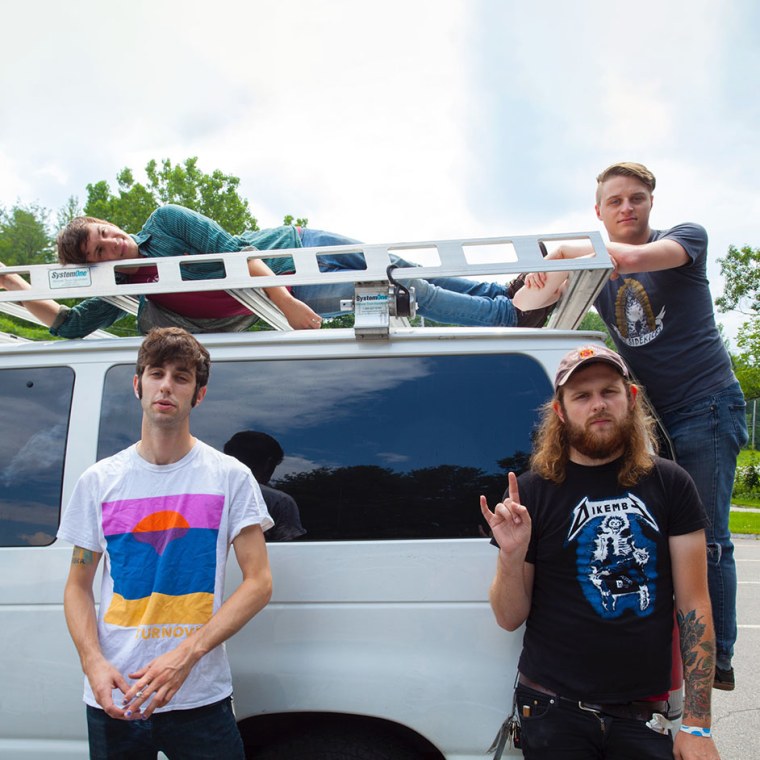 Cam Boucher, the frontman of Sorority Noise, has a really honest writing style. He digs into unnerving topics—addiction, suicide, unshakable depression—with a thoughtful clarity. In March, when I went to Philadelphia to report a story about Modern Baseball, Brendan Lukens mentioned that listening to Boucher's vulnerable tracks helped him muster up the courage to write lyrics about his own mental health issues.
Knowing that, it's really saying something that Boucher's latest batch of songs were almost deemed too personal for public consumption. "I recorded [It Kindly Stopped For Me] at my parents' house over the week of Thanksgiving," Boucher told FADER in an email. "These songs are concentrations on friends I lost during the summer and fall of 2015. After we sent the 7-inch to the plant, the thought crossed my mind that maybe these songs shouldn't have been released, and maybe they were just for me."
Listening to the EP—four quietly gut-wrenching, notably unplugged melodic rock songs—it's easy to understand why he felt like that. "Fource," for example, feels like a direct glimpse into a private moment: it sounds like it was sung into an iPhone while Boucher trudged through some sort of rural terrain. At points he stops to catch his breath, and you can hear the familiar echo of shoes squashing dirt while he sing-speaks lines like I fucked up my hoodie and ripped through my jeans/ start walking towards the light, not sure that that means.
I guess we're lucky the songs were shipped out before Boucher could change his mind. He's happy they're out in the world now, too. "I'm glad I got to release this record," he said of It Kindly Stopped For Me, which is streaming in full below and drops April 22 on Topshelf Records. "I think it's important for my head in the process of moving forward."