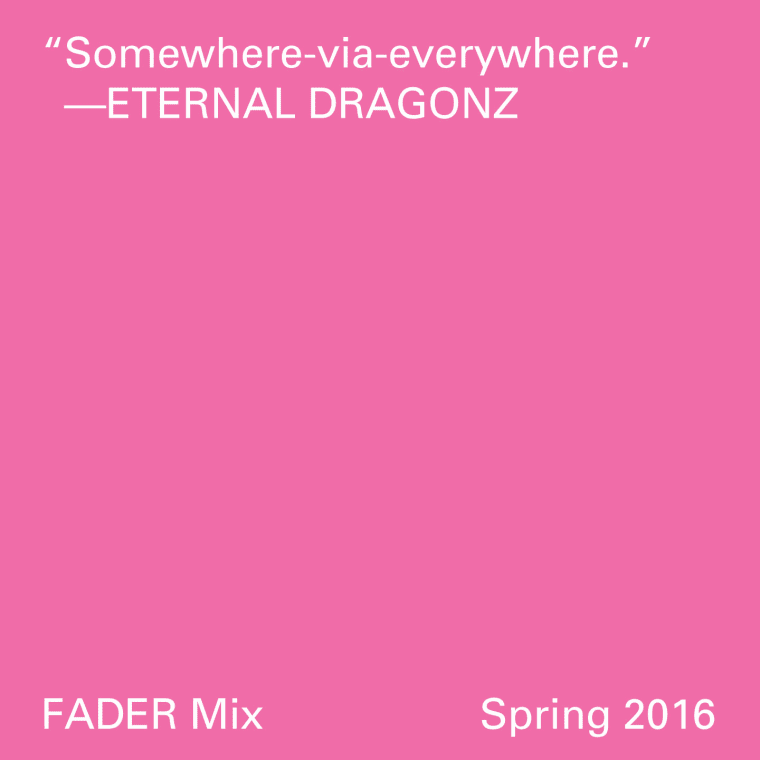 Eternal Dragonz is a new collective of East and Southeast Asian artists working across a wide variety of creative mediums, including music, art, fashion, and writing. Their network extends to London, Los Angeles, New York, Sydney, and Melbourne, and they recently came together in cyberspace for their first compilation, Karaoke Vol. 1. "Asia's a big place with thousands of cultures and languages," Eternal Dragonz's V Kim told The FADER about why they came together. "We often get cut short. We need to tell our own stories. We don't need Hollywood to tell the Ghost in the Shell story for us."
By way of introduction, Kim, a DJ and producer based in Sydney, has put together a pure fire FADER Mix that highlights cuts, edits, and remixes from the crew and beyond (including a subtle but brilliant "Work" flip by Brooklyn's own Hitmakerchinx). Spanning rap, pop, trance, and more, it's like the best night you've ever had in a club condensed into 43 minutes and 15 seconds. I mean, there's even a mashup of K-pop stars Big Bang with '90s trance duo Binary Finary. Dive in below, and scroll down to get to know.
Where are you right now? Describe your surroundings.
V Kim: I'm at my desk in the office canceling every meeting for this week so I can enjoy Tim Hecker uninterrupted. I can see Sydney harbour outside, the Harbour Bridge, ferries, and tourist barges are squawking loudly.
What is Eternal Dragonz, and how did you all connect?
We're a group of pan-Asian artists who mostly live and work in the West. Musicians, DJs, singers, visual artists, designers, and writers.
We all met through Jason Wong, who works for Fade to Mind. He reached out to me. So when I was on tour in the U.S.A. last year, I stayed with him and designer Jenny Yoo in L.A., and also met N.Y.C. designers Eric Hu and Lucy Chinen. The rest of us are spread somewhere-via-everywhere: Hibi Bliss in Busan and Poipoi in Tokyo, who met in London as part of Night Slugs; Scintii from Taipei-via-London, Moslem Priest in Kuala Lumpur; and 2SHIN from London's BBC AZN Network. I'm stuck in Sydney, Australia. It's important to represent Asia as more than the China-Korea-Japan triad.
Why did you feel the need to come together in this way?
Asia's a big place with thousands of cultures and languages. We often get cut short. We need to tell our own stories. We don't need Hollywood to tell the Ghost in the Shell story for us.
Please could you tell us about some of the artists featured on this mix?
The mix is the soundtrack to a heavenly car crash. Hollow highway rap knockers followed by infinite trance loops layered with early '00s K-pop vocals, plus a few drummier, no-melody dancefloor tools.
What plans does Eternal Dragonz have coming up?
After the Fade to Mind guest mix on Rinse FM, we'll kick off the EDZ mix series with Moslem Priest. Then an art journal, singles from the artists showcased on Karaoke Vol. 1, a V Kim EP on the way with some very special remixes, and we're talking to a few international festivals too. But I'm kind of busy at the nine-to-five now.
What's the last book you read that had a big impact on you and why?
The Life-Changing Magic of Tidying Up by Marie Kondo. My laptop desktop screen is so much cleaner now and my Ableton projects are neat. Thank you, Marie.
What's your favorite dish to cook and how do you make it?
Laap mei faan (literally "waxed meat rice"). It's Hong Kong comfort food / azn stoner food, and when I hop off the plane and get suffocated by Chinese air, it's the first thing I order from some sweaty old restaurant at 2 a.m. You get the clay pot (essential), and add rice, laap cheung (kind of like a Cantonese chorizo), dark leafy greens, and slice up some shiitake mushroom, shrimp, shallots, garlic shoots, and anything else you want. Add sugar (the secret to all Canto food) and both dark and light soy as a bonus. Korean soy sauce works too; it's a little bit sweeter. I stir in the congealed fat sauce they use in Hainan chicken recipes, too.
DJ tip: I like to soak the rice for 30-60 minutes before cooking so you get the perfect crunchy burnt rice at the bottom of the pot.
Tracklist
태민 (Taemin) - Drip Drop (VK Loop Edit)
Bpl (Burnt Puxxy Lips) (KA Edit)
Red Velvet 레드벨벳 - Automatic
Bok Bok / Sweyn J / Poipoi - Papaya Lipgloss (Poipoi Peppercorns Bootleg)
Rihanna - Work (Hitmakerchinx Remix)
Celestial Trax - Kdh [Vip] (Ft. D Carter)
GD X Taeyang - Good Boy (VK Edit)
Mila J - Sorry Ft. Bobby Brackins
Wa$$Up - Stupid Liar (Ft. 니화) (VK Edit)
Timbaland - Drama Queen (Ft. Tink)
에이코어 블랙 (A.Kor Black) - How We Do
Lumidee - Be Good (Ft. Dave East)
레이디스 코드 (Ladies' Code) - 갤럭시 (Galaxy)
Sistar X Beam & Yanou - Nahonja Rainbow (VK Edit)
Big Bang X Binary Finary - Haru '99 (VK Edit)
포미닛 (4Minute) X Andrew Rayel - Hdik 4 Min (VK Edit)
Mm X Ye - Wolfplug Inst (Low Ton Bootleg)
V Kim - Gd Kicks
Ka - Energy Refill
Taeyang X 4 Strings - 4 Weddings (VK Edit)
Big Bang X Darude - 2Nite (2011 Ver.) (VK Edit)