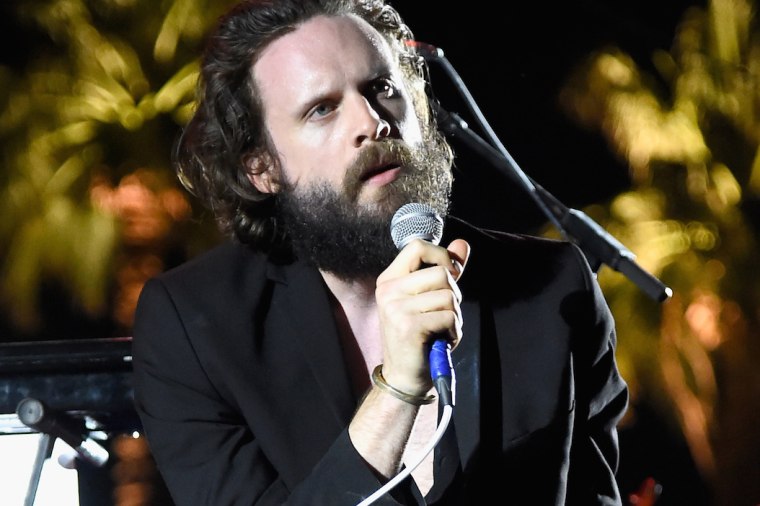 There were some pretty surprising writing credits on Beyoncé's LEMONADE—Soulja Boy and Animal Collective got listed because single lines on songs were borrowed from old songs of theirs—but perhaps no credit was more surprising, for my money, than J Tillman's. Best known today as Father John Misty and best known a few years back as the drummer of Fleet Foxes, he landed on the Diplo and Ezra Koenig co-produced masterpiece, "Hold Up," with a straight-up, non-sample-based writing credit. But how?
Scouring the internet this weekend for connections between one of modern rock's nuttiest personas and Beyoncé, I only found one tidbit: an Under The Radar interview where Tillman said the highlight of his 2015 was seeing Beyoncé dancing side-stage at his Coachella set. Today, in a statement explaining his involvement with LEMONADE, Tillman revealed that that very show was when he knew—a full year ago—that would be featured on the new album.
About a year and half ago, my friend Emile Haynie played Beyoncé some of my music, along with some tunes I've written for other people, back when she was looking for collaborators for the record… Pretty soon after, they sent along the demo for "Hold Up," which was just like a minute of the sample and the hook. I'm pretty sure they were just looking for lyrics, but I went crazy and recorded a verse melody and refrain too that, unbelievably—when you consider how ridiculous my voice sounds on the demo—ended up making the record, right between picking up the baseball bat and decapitating the fire hydrant. The first verse and refrain is my lyrics and melody.
I was mostly kind of in the dark, my involvement with the record kind of ends with me just sending off the demo, it wasn't until she came to my Coachella set in 2015 and told me personally it had made the record that I really had anything concrete with which to convince my friends that I hadn't actually gone insane.
And it was good writing too! Tillman's part to the song is below, via Genius:
[Verse 1]
Something don't feel right
Because it ain't right
Especially comin' up after midnight
I smell your secret, and I'm not too perfect
To ever feel this worthless
How did it come down to this?
Going through your call list
I don't wanna lose my pride, but I'ma fuck me up a bitch
Know that I kept it sexy, and know I kept it fun
There's something that I'm missing, maybe my head for one
[Refrain]
What's worse, lookin' jealous or crazy?
Jealous or crazy?
Or like being walked all over lately, walked all over lately
I'd rather be crazy