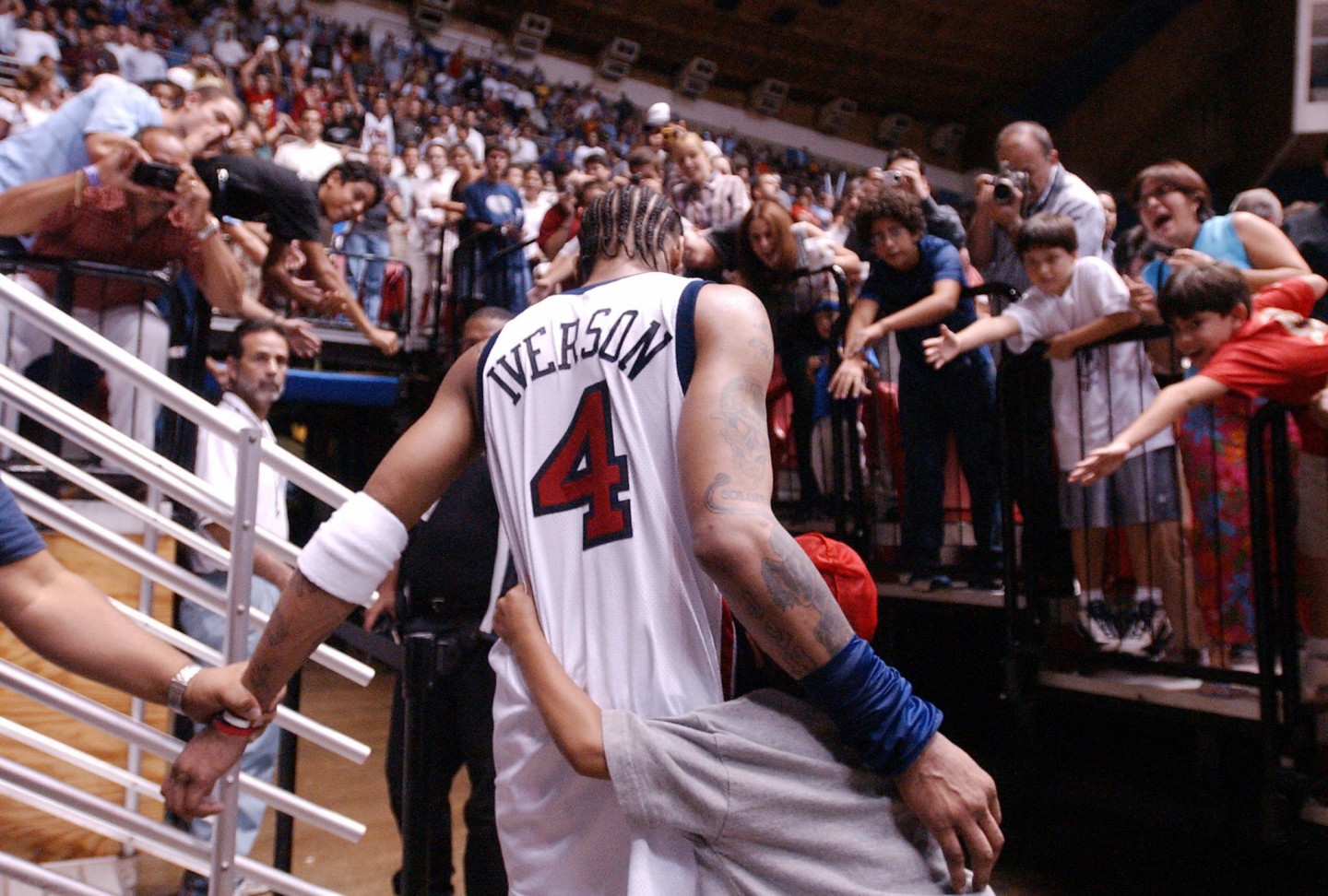 At the turn of the millennium, as Allen Iverson rose to greatness, so did his cornrow designs. And in response, after watching his games, my two older brothers abandoned their barbershop. One started bringing girls he'd met back to our living room, where they'd grip his hair into tight cornrows.
He didn't keep those cornrows forever—over the years, I watched as my brothers tried high-top fades, afros, and shaved side parts. They beamed with confidence as they managed the upkeep of each style, with pomades, du-rags, and pick combs that weren't considered legit unless the handle had the black power fist on the bottom. Their eagerness to try new things came as no surprise: their hair's versatility enabled them to do just about anything to it.
Twenty years after Iverson was drafted to the Sixers, we're still seeing black men broadcast that versatility. Where we once only got occasional glimpses of such expression in music videos or on TV, social media has made images of black men's hairstyles more visible. Fetty Wap has loc extensions, August Alsina has a new style every week, and Wale always shows off his new updos on Instagram. Ostensibly, many of these men rely on their hairstylists for creative direction, but not all of them. Ty Mosby, a Los Angeles-based hairstylist who goes by Ms. Weavologist, said frequent client Ty Dolla $ign himself came up with the idea to wear the long-hanging loc plaits that have become his staple style. After his hair is finished, Ty "starts feeling himself and gets a lot of energy," Mosby explained over the phone from Los Angeles. "He gets up and looks and the mirror and he's like, 'I'm back.'"

That's the same spark of renewal I've seen in my 13 year-old brother when he brushes down the sides of his J.Cole-inspired fro, or the reward I see on my hightop afro-rocking friend's face during the two-hour sessions where he parts, moisturizes, and twists his hair in my bedroom mirror. When I look at Future's tightly spun bun or 2 Chainz's vibrant fishtail braids, I think about how good these men look, but also about how their investment in self-care must do something beneficial for their spirits.
From Los Angeles, Toronto rapper Jazz Cartier said that when his hair, which he wears in various styles of shoulder-length locs, is out of place, he feels off his game and "not on point." The son of Jamaican and Guyanese parents, Cartier said he considers his hair an extension of himself—if it's not flourishing, neither is he. "It's like a plant. It's like a flower that I grew myself," he said. "As a black man having dreads—it shows dedication and that you can nurture something on your body and show it to the world." Though he admits to having some bad habits, Cartier said that looking after his hair has motivated him to also look after his skin and monitor what he's eating, moving him to adopt a holistic regimen that's given him an all-around glow that he called "booming melanin."
Looks like the ones Ty and Jazz rock may seem unique, but they're not without precedent. "No style that's ever been created is totally new," master barber Shizz 215, the man responsible for the braid crowd Omarion rocked in February, told me. Shizz calls the braid he did for Omarion an adaptation of the Euro-Fade, a name he coined in 2002. The style—a high cut that fades down into the beard and connects at the start of the jaw line, and forms into braids or an afro at the top of the head—is a reflection of how hairstyles reinvent themselves throughout time, Shizz said, with key help from forward thinkers. "It's almost like a European mullet, but we just added to that and created something. It's more catered to black hair," he explained. "We've always had that energy and attitude to be bold, whether it was accepted by the masses or not. That's how trends are set. Most trends come from our culture."
If innovative hairstyles often riff on ones that came (sometimes way, way) before them, Shizz said that a look's history can be diluted and a style deemed "universal [after] all races can wear it." At that point, he said, a style is often mistaken as a new trend, even when it's not. You've seen this happen—think about Khloe Kardashian's "boxer" braids or Justin Bieber's new dreadlock bang.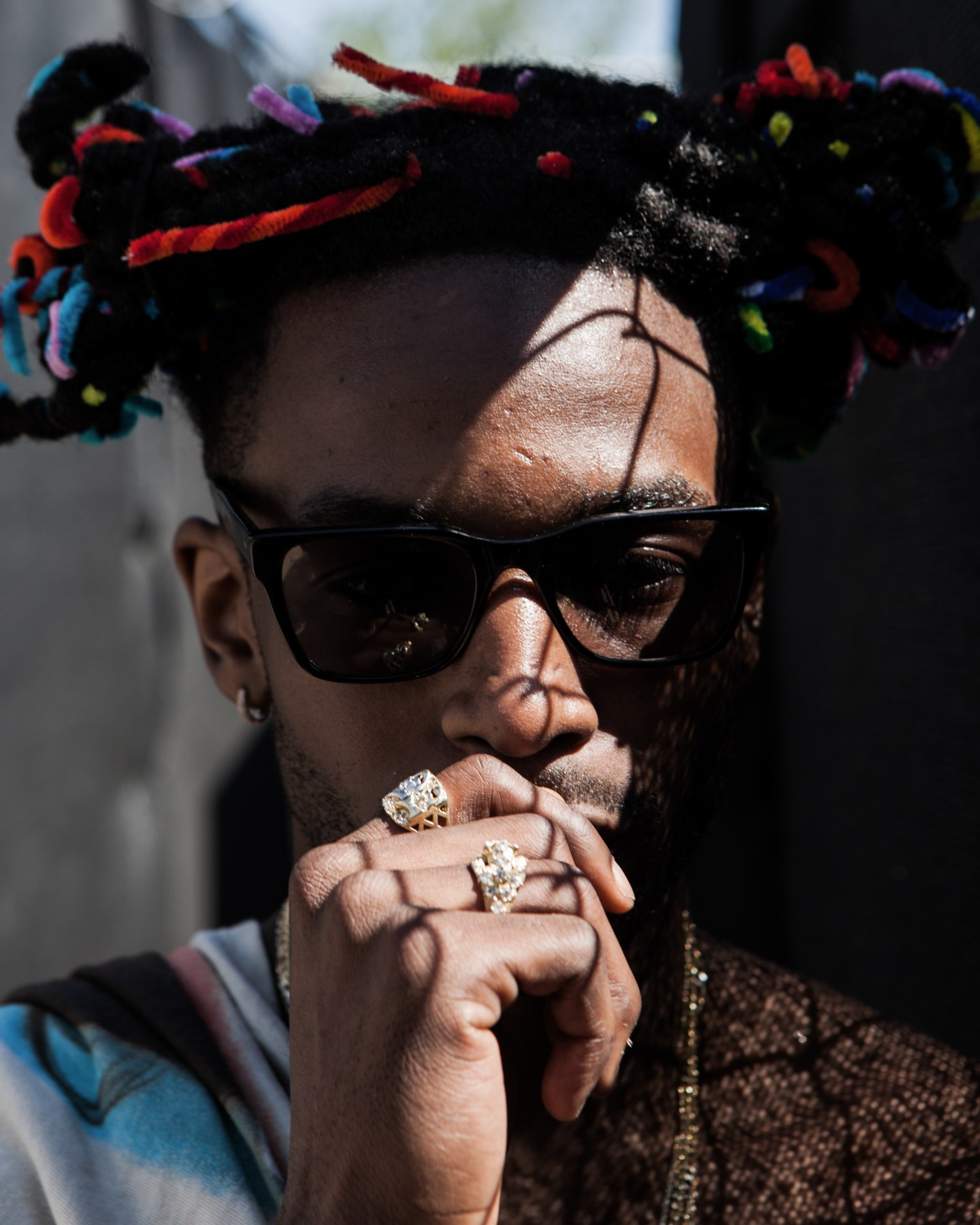 "Being black is such a powerful thing." —Jazz Cartier
Back in March, Jazz Cartier performed at The FADER FORT in Texas with pipe cleaners wrapped around his locs. The colorful accessories also served as curling tools, leaving his hair bountifully coiled after removal. Bright and changeable, the style called attention to the magic that lives in his mane, and inside of him.
"Being black is such a powerful thing," he said. "We stand out because we make things. No disrespect to white people, but I always see them trying to reach for a black person's hair. First of all, don't do that. That's just a no-no. Hair, for us, it's an expression. It goes beyond us. It's an outlet to be ourselves."
The attitude behind great hair, which Shizz defined as "feeling strong in who you are," is part of what's admired when white people adopt (or appropriate) black hairstyles. And it's arguably harder to explain that attitude, or the emotional transformation that occurs when someone goes from one style to another, than it is to technically change the look. The narrative about hair and self-expression has often centered on black women, but black men have their own valuable hair politics, too. In experimenting with their hair, they look and feel beautiful all by simply being themselves—and that's extremely special.