Young Thug Embraces Purple And Lace For Prince
At the New York stop of his Hy!£UN35 Tour, Thug paid his respects to his idol.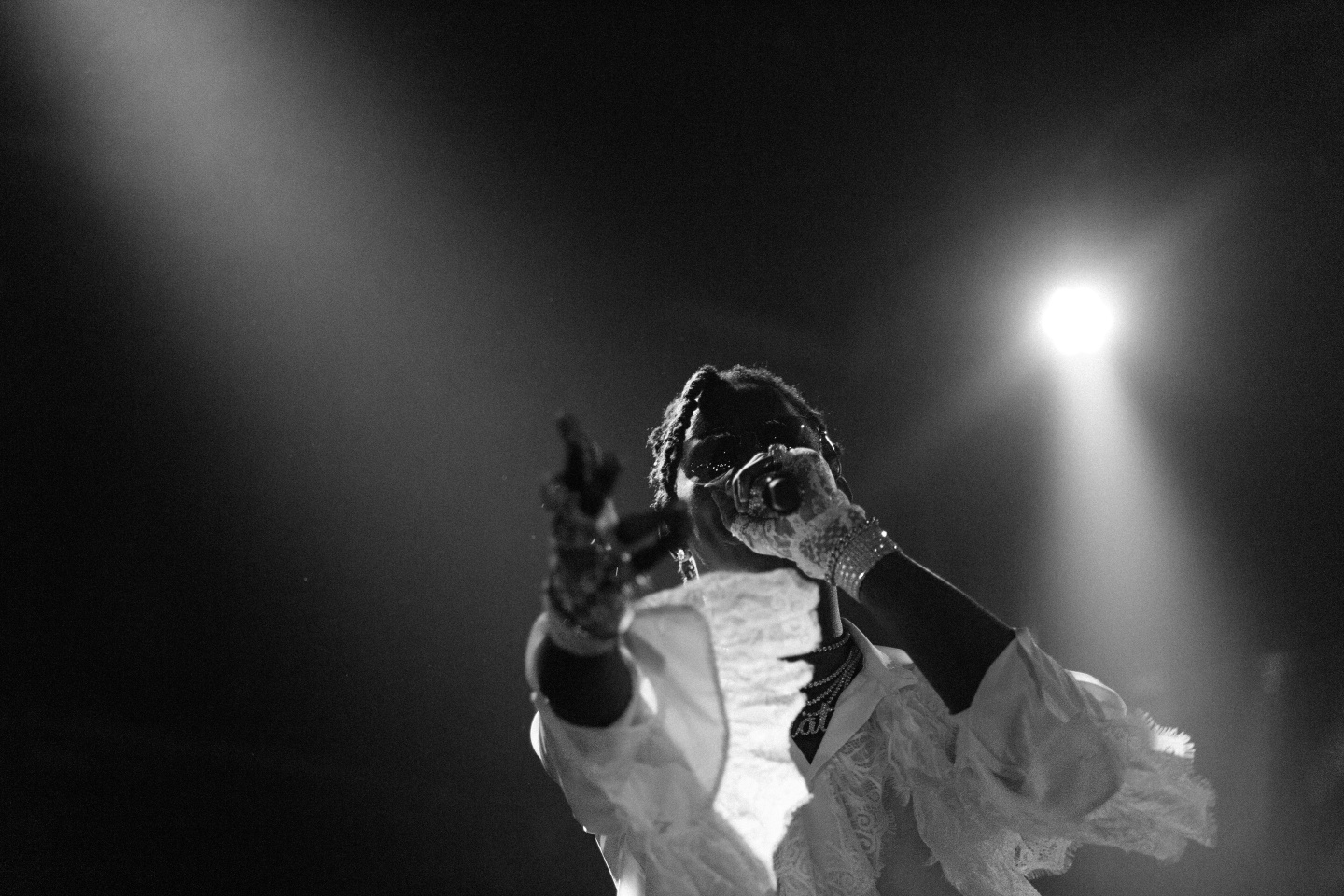 When Prince passed away suddenly last month at age 57, the rapper Young Thug was quick to pay homage to the star on Instagram. Thug posted a photo of Prince staring flirtatiously at the camera, sporting a ruffled white shirt and holding a luscious, candy-red rose. The caption read simply, "I quit."
Prince was still on Thug's mind as he passed through New York City on Monday night on the Hy!£UN35 Tour. The rapper started the show with Prince's famous glyph—the sign that the Purple One adopted in the mid 90s, a merger of the symbols for male and female—attached to his microphone. A cardboard cutout of Prince stood stage left, keeping a watchful eye on the proceedings. Throughout the show, the backdrops repeatedly flashed Prince imagery: in one shot, the star was captured in the middle of a rapturous guitar solo as precipitation poured around him; in another, Prince appeared to be shooting a laser gun with his shirt tastefully unbuttoned to mid-chest.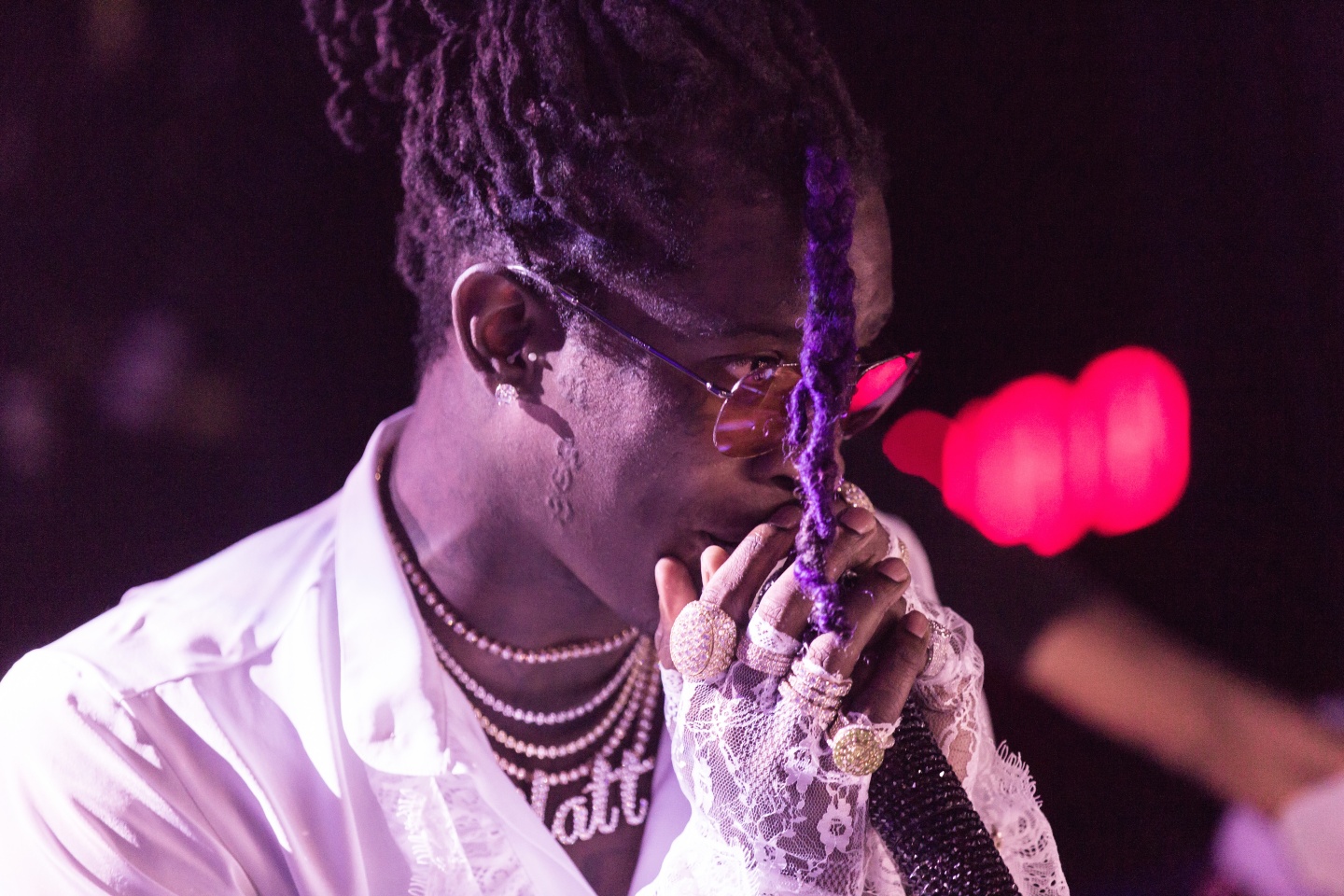 These tributes suggest a superficial level of affiliation. But Thug also shares Prince's progressive, gender-agnostic fashion sense, and he took the stage in what can only be designated a blouse, with sleeves that evoked the Purple Rain era: a buccaneer on his way to the disco. Prince ignored any regulations pertaining to genre and sound, and Thug has done the same within the purview of hip-hop, disrupting the genre's surface by toying with voice. Drawing from an arsenal of mewls and shrill cries, he's demonstrated a willingness to explore textures and tones that others can't or won't, reaping the reward in the form of singular, sometimes seductive tracks.
In addition, both men are incapable of turning off the creative spigot, recording constantly and releasing gobs of material—though Prince was more invested in holding back, making the audience want more. In the last 13 months, Thug has released five mixtapes.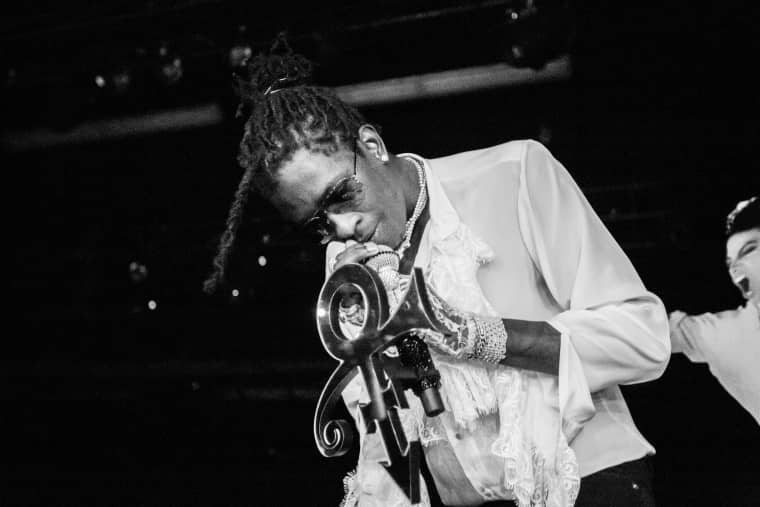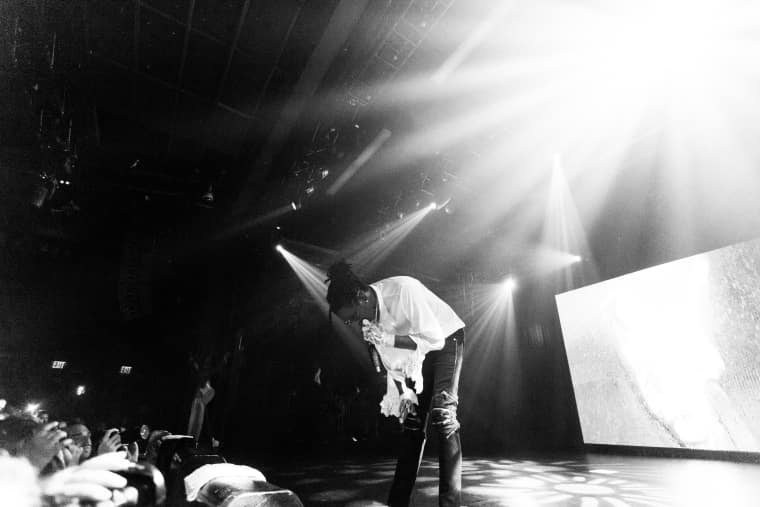 At the Playstation Theater, he skipped easily between those releases. He's an artist for whom individual releases don't necessarily serve to demarcate distinct periods in his evolution. Sometimes the rapper signaled a change in catalog with a simple statement: "If you fuck with [insert project name here], make some noise!" But he also organized the set around his own internal logic, batting references back and forth across various mixtapes. The "Slime Shit" (Slime Season 3) line I go ape shit, call that Ludacris! found a companion in Barter 6's "With That:" My money stack tall as Ludacris['s] afro. The pointy, measured guitar riff that drives "Pull Up On A Kid" (Slime Season 2) sounded like a refinement on a similar idea from "Halftime" (Barter 6).

On the rapper's last several projects, he's displayed a special glimmer when united with London On Da Track and tracks like "Power," "Check," "Again," and "Digits" proved to be the rapper's comfort zone last night. A London instrumental often joins undemanding keyboard melodies – wringing emotion from a few notes with minimum of commotion – and desolate, wood-chopper drum patterns. This landscape has proven especially favorable for Thug, drawing out the contrast between the fractured veneer of his voice and the traditional beauty of a piano.
Towards the end of the evening, Thug pulled more frequently from his back catalog: "Danny Glover," low on color but still one of his most efficient songs in terms of brute force, "Stoner," which can seem almost monotone relative to Thug's more recent work, and "Lifestyle," a slippery 2014 hit – again the work of London On Da Track.
"Lifestyle" is a celebration of accomplishment, a tally of ladders climbed and obstacles bested, but here the rapper took one more opportunity to show his appreciation for a predecessor. After he finished the song, he requested that the house lights bathe the stage in purple – one more surface-level salute from a rapper who loves to play with surface.