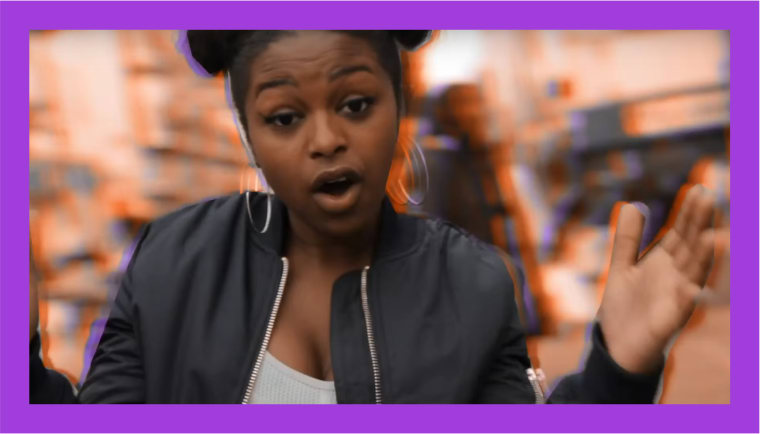 23-year-old MC Nadia Rose was working in a betting shop in her native south London in 2014 when she realized something was up. "I didn't feel like I was being me," she later told NME. "I felt like a robot." She always knew music was close to her heart, growing up around her DJ dad's soundsystem and writing her own rhymes from the age of 13—so she made the bold move of handing in her resignation, and embarking on a new life in the world of U.K. rap.
It's a good time to join the ranks: between the likes of Section Boyz and Krept & Konan, British rap is flourishing. And Nadia Rose brings her own versatile flow to a thriving genre—as she puts it on the fiery single "BOOM!": I kill rap beats then I kill techno. Not to mention, she's got punchlines for days. With a blistering tongue that will put you in your place, and a way of turning any rhythm into a ridiculously fun hook, this summer is hers for the taking. She says she has an EP on the way in September, so here's everything you need to know before it drops.
Her savage breakthrough single, "DFWT," used the DJ Mustard-produced beat of Mila J's "My Main."
And before that, she was primed to blow up with "BOOM!"
Her 2015 freestyle "Station" is perfect for any time you're stuck kicking your heels on the platform during severe delays.
U.K. singer Etta Bond loves her, and featured her on the remix of "Seen and Never Heard."
So does Katy B, who invited Nadia onto her Rinse FM radio show to talk about her love of Eminem and Missy.
She's also known for setting radio airwaves alight with her freestyles, like this one on BBC 1Xtra.
Just don't tell her that her music is lit or crunk—because we don't even say that shit in England.