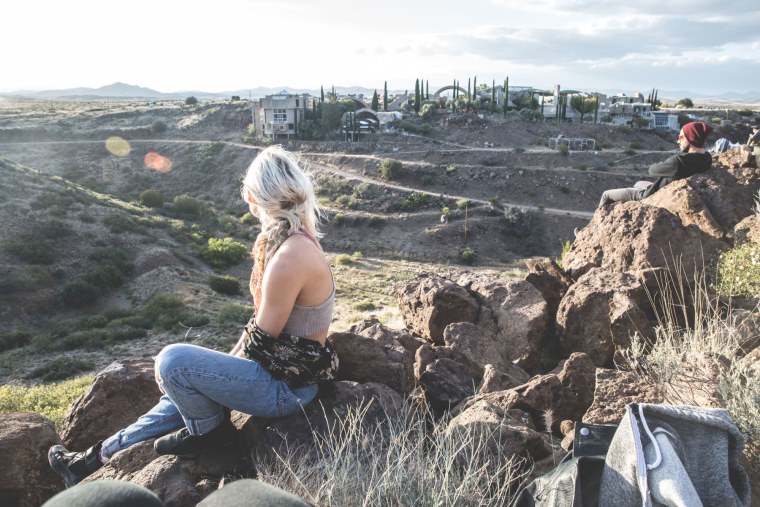 This weekend, in the middle of the Arizona desert, FORM Arcosanti—the tiny music festival we've profiled before—is returning to an unfinished architectural experiment of a city two hours north of Phoenix. The three-day event, which was co-founded by L.A. rock band Hundred Waters's Zach Tetreault, embraces a more intimate vibe than your typical festival, encouraging its attendees to meditate—both literally and figuratively—on music's connection with nature. Alongside the weekend's many performers (a playlist is available via WeTransfer here) and panel speakers, Boiler Room will be in Arcosanti to record an onsite podcast and stream Sunday night's performances. Ahead of that, we spoke with Boiler Room's U.S. senior programmer Morgan Steiker about why the global live streaming platform decided to camp out in the desert.
How did Boiler Room get involved with FORM?
MORGAN STEIKER: We started the conversation with FORM last year and were really excited and inspired by their approach, and everything about the festival. Unfortunately we didn't have enough time to put it all together to be involved last year, but this year we picked up the conversation early and we've been in touch with the festival organizers for the past six or seven months.
We are really excited to come on board to broadcast one of the stages. There'll be a live podcast which we're gonna be recording onsite, and a stereo episode which is a different video format for us. What particularly got us interested in FORM is the relationship between nature and music, and how environments affect creativity.
The whole history behind Arcosanti—the place, the architecture, the whole vision behind it is really inspiring. When we partner with festivals we look for ones that have interesting stories and interesting locations. We felt that it was really important for us to support FORM this year because we knew that with the location, programming, and the whole spirit behind the festival we'd be able to do some really great stuff together.
Are you excited?
I'm beyond excited. I've been thinking about it for the past couple months and I'm really, really eager to go. I'm excited about all the stuff we're gonna do together, I'm excited about the music, and the panels, everything.
We're broadcasting Perfume Genius, Tyondai Braxton, Tortoise, and Julianna Barwick. Except for Perfume Genius, they're all artists that haven't yet been featured on Boiler Room; they're all artists that we love, and that we naturally support. For us, it's really important to showcase stuff outside of just hip-hop, house, and techno, and these artists all bring something unique to the table, so we're crazy excited about the lineup. They're in an environment where they're really encouraged to be creative and have this intimate environment where they can take their performances in a different direction. Every time we broadcast music and work with artists we look to do something special with them, something that feels one of a kind and one time only. It seems that FORM is in line with that and all the artists that perform there feel that way.
What is it about the music and nature crossover that feels important?
When we were talking to FORM we were thinking about things that our audience would find interesting. Elements, you know? For instance, what is it about FORM that makes it unique, and what are some of the interesting topics we can discuss around that? The Arizona desert, that environment is so special. We started brainstorming with Zach [Tetreault], one of the festival organizers, about editorial angles with which we can tell stories that are compelling for our audience but are also in the spirit of what FORM is about. We landed on this topic of environment and creativity—how does nature, location, and movement affect an artist? How does an artist's environment play into their music, and their approach to creativity?
Totally—and the coolest thing about broadcasting from such a small festival is that it invites a much wider audience to the experience.
When you come across different artists you know that where they live, and how they live, and that their relationship to nature and their environment really affects their music. Obviously for Boiler Room it's a something we see firsthand just from broadcasting music all over the world—seeing how a DJ in South Africa will approach his music differently than a DJ in Berlin, and how a jazz artist in New York will be impacted by his environment in a different way than a jazz artist from L.A., even.
Watch Boiler Room's FORM Arcosanti live stream this Sunday 7:50 p.m. to 1:35 a.m. PDT / 10:50 p.m. to 3:35 a.m. EDT here.