Get To Know Fifi Rong, The First Voice You Hear On Skepta's Konnichiwa
The London-based DIY electronic artist brings a fantastical touch to the grime MC's new album.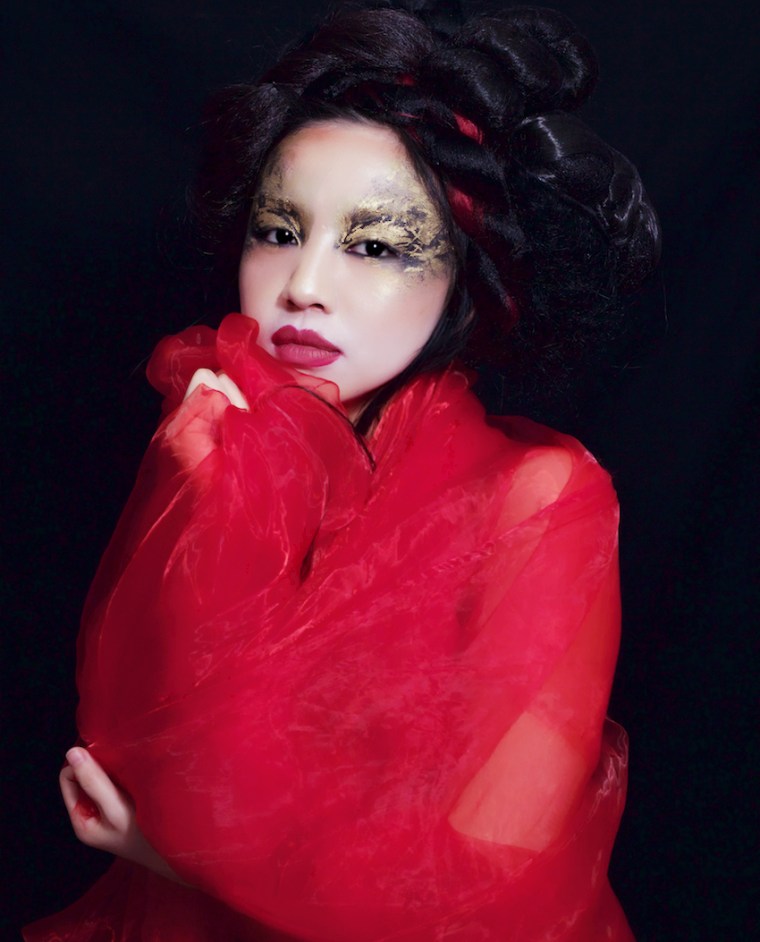 In the peaceful opening moments of Skepta's new studio album Konnichiwa—the calm before the storm of sirens and bass—an anonymous, intriguing female vocal drifts by. Over a sound bed of clinking swords and lapping water, her brief yet powerful performance lays the scene for not only the title track, but the whole LP: Looking for me, Konnichiwa. The voice belongs to Fifi Rong, a 26-year-old singer and producer based in London. Though her floating yet sharp-edged vocals have been featured on tracks for trip-hop pioneer Tricky and Swiss electronic duo Yello as well as Skepta, Rong is a fiercely independent artist in her own right.
Having been brought up in China, Rong's parents sent her to boarding school in Bristol, in the south west of the U.K., at the age of 16. She later moved to London in 2008. Though she had trained in piano, violin, guitar, and classical singing as a child, Rong never viewed music as her path until she found herself immersed in the city's underground subcultures. Inspired by the dubstep she discovered at beloved club Plastic People, and the U.K. garage producers she'd met, she started making her own beats. In 2013, she self-released a debut album of trippy electronic pop that reveals a clear influence from the dark basements of the U.K. capital. In April 2016, she shared her latest project, the Forbidden Desire EP.
The FADER had a chat with Rong over the phone from her studio in leafy north London about how she linked up with Skepta, and discovered that the two artists, despite making wildly different music, have a firmly DIY mindset in common.
How did you come to work with Skepta?
FIFI RONG: It was around two years ago; we came across each other on Twitter. He listened to my music, and he thought it was something else, it was different. So we arranged a session, and "Konnichiwa" was the first thing we recorded when we went into the studio. This album has been a long time coming, and it's well worth the wait.
Did you know at the time your contribution was going to be so prominent on the album?
I don't think Skepta planned it. It's always been public, 'The new album Konnichiwa is coming out,' so I always knew that this was the album concept. But when we recorded the song, I didn't know how it was going to be used.

What was it like working with him?
He's incredible. I really respect him as a true artist, and he's a great person as well, very humble. I learned a lot of things from him. I remember in our first meeting, he asked me, 'So what's your plan?' And I was saying I'd been scouted by a lot of [TV talent] shows, like The Voice U.K. and The X Factor. And he gave me three words: "Don't do it!" At the time [I was] new to the industry—I'm always locked away behind a door just doing my thing, so I don't have much knowledge about the music world. I didn't know why I shouldn't [go on these shows]. But now, I'm thankful. Because [now] I know who I am, and how I should conduct my career. So it was very good advice.
Another thing about him is that he's really open-minded when it comes to music. Although he's kind of a spokesperson for grime, his eyes are open. He listens to everything, and he knows his music. And of course, to be a pioneer, you have to absorb information—from new stuff, cutting edge stuff. I think that was probably the reason why he felt like my voice was different.
Were you aware of Skepta and grime beforehand?
Not really. I mean with grime, I listen to the beat. However, I used to work in a club as a manager, and now, I realize I've heard his voice many times in the club. I just didn't know that it was him. Around the time that he contacted me, people were like, 'I'm a big fan of his music,' so I knew he was respected. I've become more of a fan now, actually. Because I got on well [with him], and I respect people with real artistry.
"I want people to know my sound, rather than think I'm a collaboration artist, or just a voice."
What other London or U.K. sounds inspired you when you moved here?
When I first found the dub side of dubstep—rather than the Skrillex kind of dubstep—it was when it had just started, and I was really into that kind of dark sound. I made that really downbeat, heavy kind of thing, and then [a producer I was working with] was like 'Oh, that's dubstep!' That's the first time I heard the term. I said, 'What is that?' So I kind of made it by accident.
There's other things, like garage. [After moving to London], I met my friend Scratcha DVA, he's with Hyperdub. And the person who taught me to produce was a really old school 4/4 garage producer called DJ Narrows, so my first album sounded a little hard on the drums.
And then there was Tricky. I didn't produce with him, I collaborated with him for a few years. I grew up listening to a lot of his music, but later on, we met and he liked my music. He's a big supporter of my sound. People like to say [my music is trip-hop] because I was seen on his album. But I don't see that.
Tell us about the inspiration behind your latest EP Forbidden Desire.
Forbidden Desire is kind of a preview of the album coming up. It's a test run. Because I'm not signed, I don't have a label, I don't have people telling me what direction I'm going to go. I just put myself out there. My stuff was more underground...but now it's more song-based, and hopefully more accessible.
And what about the album you're working on?
The album I'm working on is different, because I've done quite a few collaborations over the years, so on this album I'm making a big point of doing everything by myself. I want people to know my sound, rather than think I'm a collaboration artist, or just a voice. Sometimes, as a female producer, people doubt me, as in, 'She's had help from other people.' I don't want that kind of attitude. It's been around 15 months in the making, although there were breaks where I released two EPs.
When can we expect to hear it?
This is the lesson [from Skepta]—we can't really say! Let's play it by ear.