How SassyBlack Turned A Dating Epiphany Into A Hypnotic Debut Album
THEESatisfaction's former soul singer explores relationships and queer black womanhood on No More Weak Dates.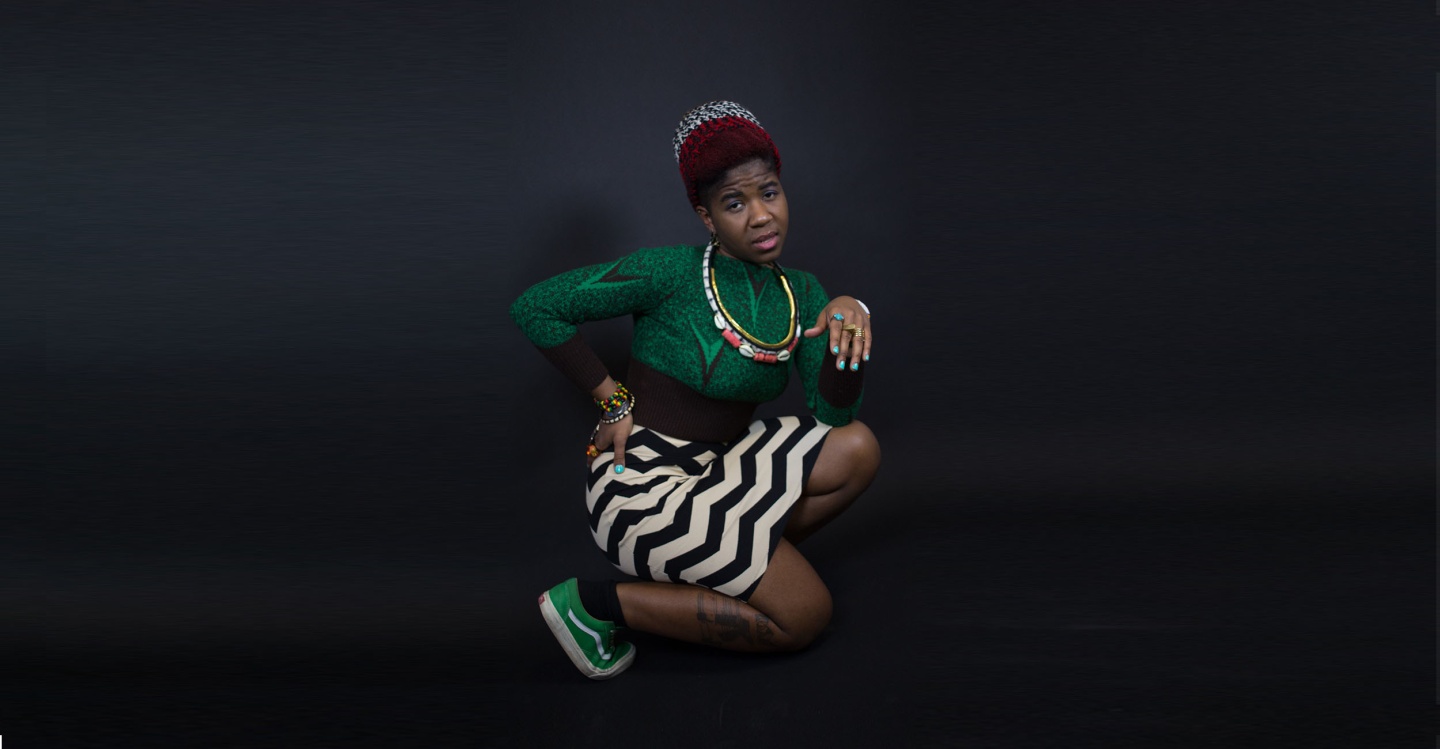 SassyBlack is always busy. Known off-stage as Catherine "Cat" Harris-White, the Seattle-based singer-songwriter-producer is also an event curator, a freelance writer, and an entrepreneur. (Not to mention, an actor—watch her playing Ruth Brown in the first episode of HBO's Vinyl.) However, she first caught the world's ear as one half of the afrofuturistic hip-hop duo THEESatisfaction, who just this week announced that they'd split. "As growing artists, the members of THEESatisfaction reached a point that in order to continue growing each individual needed to move on to the next phase of their career," Harris-White told The FADER. "For me, as a classically trained jazz vocalist it felt like the right time." Alongside all her other endeavors, she's been baring her soul on her SassyBlack SoundCloud page for the past two years, cranking out beats and EPs as a solo act.

In fact, Harris-White embodies the kind of work ethic Baby Boomers like to believe is devoid amongst screen-obsessed Millennials. Facing obstacles common to young people living in America's cities—dramatic rent increases, displacement of communities of color and people living on low incomes, pay rates that barely keep up with the rising cost of living—she has responded in turn by becoming her own one-woman management team, serving as her own producer, promoter, booker, and all-around advocate. As a result, she has emerged as one of the Pacific Northwest's most promising and enterprising musicians.

Now, the assiduous young artist is bringing the world her futuristic-pop perspective on dating with her first full-length solo album, No More Weak Dates. Hopping from cheeky self-assurance to raw self-doubt and back again, Harris-White explores dating's highs and lows with an emotional honesty that is instantly relatable. The titular opening song lays the groundwork. No more, no more weak dates, she croons over a stark beat until it becomes a mantra for the musical journey that follows. Singles "New Boo" and "Comicon" combine funk and electro-soul sensibilities, conveying the type of fun idealism that walks hand-in-hand with new relationships. But other songs capitalize on Harris-White's penchant for minor tones, well-serving lyrics about insecurity, distrust, and waning romantic interest. On "Give it to God," for example, she sings, Baby can you reach my standards?, repeating it like it's a challenge. No More Weak Dates is just as mercurial as modern dating, infused throughout by the smoldering, jazzy quality that has become a hallmark of SassyBlack vocal and production stylings.
Harris-White talked to The FADER by phone as she hustled through the streets of Seattle, sharing her insights on her groove, her city, and the origins of her new album.
There are a lot of albums about dating in the pop music landscape. What's different about the perspective you're sharing with No More Weak Dates?

I think mine's very cynical in a way. My album also doesn't have a resolution. It doesn't say, "Hey, we're married!" or "Hey, I hate you for life!" It's kind of a circular conversation about dating. Also, I mention that I date all kinds of people. It's not just me singing about a woman or me singing about a man. It's me being open to the possibilities. I do use "he" and "she" pronouns, I also use "they" and "them" in a couple songs. And some songs it doesn't have any. I also go for some weirder sounds, in terms of soul music.

On the album, we kind of get to explore the different aspects of your identity through the lens of dating you—your identity as a grown, queer woman of color; as a young person still learning from past relationships and looking forward to future ones; as a sci-fi nerd. Why did you choose this concept?

I'm turning 30 this year and I think that's been the pivotal thing. I kind of had an idea when I was younger that by the time I was 30 I'd be getting married. It was sort of freaking me out. I'm just realizing that I wasn't at the point that I thought I would be at. Then it was like, well, what about dating? Dating is crazy. I'm not good at it. I wind up being someone's friend or scaring them away or they really like me and then I'll be like, "What is happening?" So I just was like, "What if I just approach that?" I guess No More Weak Dates is just a proclamation to myself—because I've also just been on a ton of whack dates—like, "Don't do that anymore! Find self love and worth and understand that you have purpose and that you shouldn't be treated poorly. You have options." I thought it was important to approach that as a black queer woman. Also, the way the album is, it's very universal at the same time.

You produced the album too. How did you get started producing?

I started when I was in college. I had GarageBand on my laptop, so I was like, "Cool, I'm gonna start playing with this." I'd make up songs and then I'd sing them and then I'd beatbox over them, which is something I did when I was a kid with like a tape player. I wasn't really comfortable in doing it until like 2012 or '11. I would tinker around with Ableton, but I was super nervous about it because I just didn't want people to tell me I was bad. And a lot of people told me I was bad or they didn't like my beats. So it was just kind of nerve-wracking. I can't remember when I [started] to feel super confident, but I started putting up stuff on my SoundCloud and I was making more and more beats and trying to get more comfortable with myself. And I haven't stopped. I just started owning it like, "I am a producer." And now I am more than ever.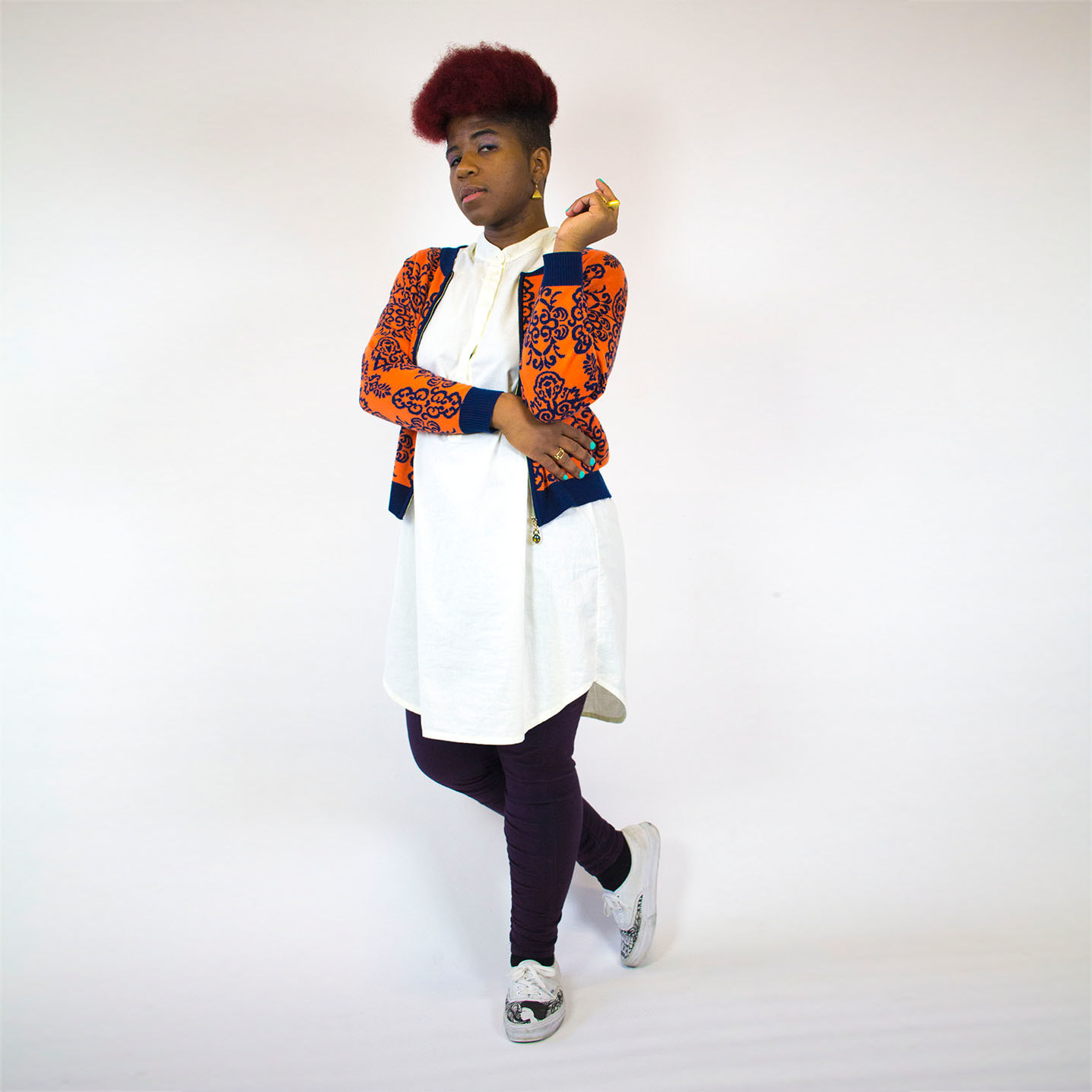 "People want us to be more angry or more happy or more queer or more black—there's always the extremes."
You've been making music for a long time, but this is your first full-length solo album. How did that factor into what you decided to put on it?

I was just going with my intuition. It was originally an EP that I made. I started making some beats and then it grew into an album. I was really taking a strategic approach to these songs, sitting with them and letting them grow and morph, not just letting them sit in one stage. I wanted to put together an album that I thought would represent me.

And at first I was asking people for opinions on how to approach my album. I'd play them a couple songs and some people that were kind of in the industry were like, "Oh, you need to do it like this. You need to do it like that." And I know they had good intentions, but it was super discouraging because I was like, I'm not that chick. I'm not that person. I want to have urban audiences, but I'm not assuming that urban audiences only have one sound that they listen to. I'm understanding that black folks and queer folks also like listening to Bilal and also Chaka Kahn. I'm inspired by the same things that I think my audience is whether it's Earth, Wind and Fire or Bobby McFerrin or Miles Davis or Ella [Fitzgerald]. I grew up listening to similar things and I'm gonna let that, whatever that sound is, inspire what I do.

Do you feel like queer black artists and audiences get pigeonholed by the music industry?

Most definitely, like all the time. I mean, I feel like people want us to be more angry or more happy or more queer or more black—there's always the extremes. It's like, [they] can't just let it be, you know? And even like, there's some artists that are queer and black that I don't relate to and probably don't relate to me. So, we just kind of get grouped into this massive cluster of people, you know?

There have been experiences where that happened to you personally?
I mean, just in articles and stuff like that. And it's an honor too to be recognized for who I am. I just think sometimes people are like, "Oh, we're getting ready to do this and it's like everything's like queer rap or queer hip-hop or, you know?" It could be good and bad, I think. Those labels help to distinguish the sound and what you're getting ready to experience. Sometimes I think the labels can be too much. I try to take the best of it so that more queer folks can find me. It is how I identify, so it's not something I'm hiding or running from.
Anyone who follows you on social media knows you are always working on something. In addition to SassyBlack you write, you curate shows, you sell stuff that you knit. Where does this hustle come from?

I think it's like a health thing for me. I like to be busy, otherwise I get really sad. I love creating, and it's just like I need to be creative for my life. Also, I need money. Being an artist doesn't bring me all the money that I need and so I was like, well, let's just sell these other things. I haven't had a quote unquote "real job" since 2009 and so that's where a lot of the hustle comes from. I'm also listening to people like, "You're good at this, you're good at that." I'm like, "Oh word? I probably could make that work."

What in your view does it take for a young artist to survive and thrive in a city like Seattle?

I mean, I wouldn't suggest doing it the exact way I'm doing it because I'm crazy, like, off top. I would say keep your job, save up, try and live with people that you can deal with or that inspire you. For musicians, diversify your options in terms of being an artist. If you are the kind of artist that can teach people, do workshops, do panels, speak. If you're someone who's more adept to writing, write. If you're someone who can produce for people, produce. Try to get into songwriting, different things like that. That is it, figuring out what makes you the most money that also keeps your soul alive. You gotta remember your soul. Can't forget about that. It's hard, you know, even for me. I'm still working at being sustainable. So I think that's that would be some of the tips I guess. Oh, apply for grants.

Do you like being based in Seattle?

I love it.

Tell me more about what you like about the scene there and how that feeds into your artistry.

When I think about why I live in Seattle it's not really the music scene, which is kind of funny. There's a lot of nature here. I need that. Like, if I need to just get away from somebody, I can—or energy or whatever it might be, myself even. That's really the major thing that inspires me. In terms of the music scene, people are always saying the Seattle scene's growing, but I'm actually at the shows, I'm on boards for stuff, I pay attention and the scene is growing. There's some really heavy hitters coming from Seattle and I think with the proper support they can really bust out. The music community, in terms of the organizations, are really working to support the Seattle scene. And I think they're working harder on both sides to communicate. And I'm working hard to make them all communicate, being involved in it all.

What's next after No More Weak Dates?

I'm already working on my next album, an EP, and just mixtapes and some other stuff and looking forward to seeing where that goes. Maybe I'm like, "Ah music, why? I'm just gonna stop all this and start acting." We'll see what happens. Definitely some more music though. I'm my own booking agent right now so I'll be out on tour in different cities starting in June.