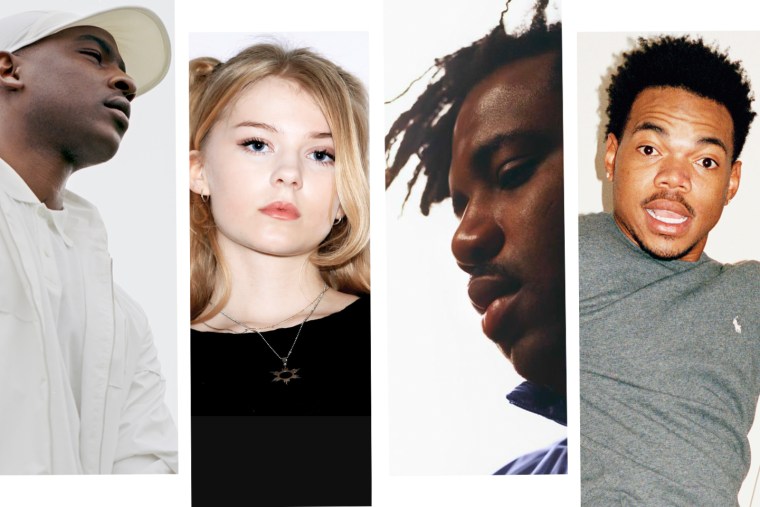 1. Chance The Rapper's new mixtape features lots of reflective moments wrapped in playful-sounding packages. "Summer Friends" is a wistful example: We still catching lightening bugs/ When the plague hit the backyard/ Had to come in at dark cause the big shorties act hard.
2. Sampha's back! "Timmy's Prayer" is a slow-growing slice of digital soul that, naturally, showcases the British artist's affinity for imperfect rhythms and his unearthly singing voice.
3. "Text Me Back," a standout from Skepta's fourth studio album, opens with a Nokia-style ringtone, before getting real romantic. At one point, he manages to rhyme Simba with Tinder.
4. With its polka-esque accordion melody, Lil Uzi Vert's "Ps & Qs" sounds like literal summer. It's been around a month, but feel like we're going to be hearing it around a lot as the temperatures shoot up.
5. Promising New York rock band Charly Bliss has been mostly quiet since 2014; grungy one-off "Ruby" is a clever and catchy reminder as to why people got excited about them in the first place.
6. With its symphonic flourishes and gloom-pop hook, Mykki Blanco's balmy "High School Never Ends" feels, for lack of a better word, cinematic. Makes sense, then, that the music video is essentially a short film.
7. "Infinity," the unconventionally structured new song by Terrible Records-signed L.A. psych songwriter INGA, is hinged on jazzy textures, shifting melodies, and some sing-song poetry about walking alone forever and ever.
8. New tunes from MNEK—the British songwriter and LEMONADE collaborator who we've been following since he was, like, 14—rarely disappoint. Recent single "At Night" has a radio-friendly beat drop and an age-old sentiment at its core: At night I still think about you/ do you still think of me too?.
9. Toxe, a high school senior responsible for some truly brain-breaking productions, just released an explosive new edit of a late-'00s Slipknot track, which she said was made during breaks from studying for her final exams. Coolest graduation song ever.
10. "Pain Killers" is the latest from TDE dude Mozzy's new Mandatory Check tape. It features crew member E Mozzy and a steady, classic-sounding flow.
11. International heartthrob J. Balvin released his Mexico-set "Bobo" video less than a week ago, and it already almost has 20 million plays on YouTube. Come for a bleach-blonde Balvin in a baseball jacket, stay for the feel-good reggaeton.