FADER Mix: Seiho
Peer inside the Osaka producer's head with this glitchy, jazzy mix ahead of his debut album Collapse on Leaving Records.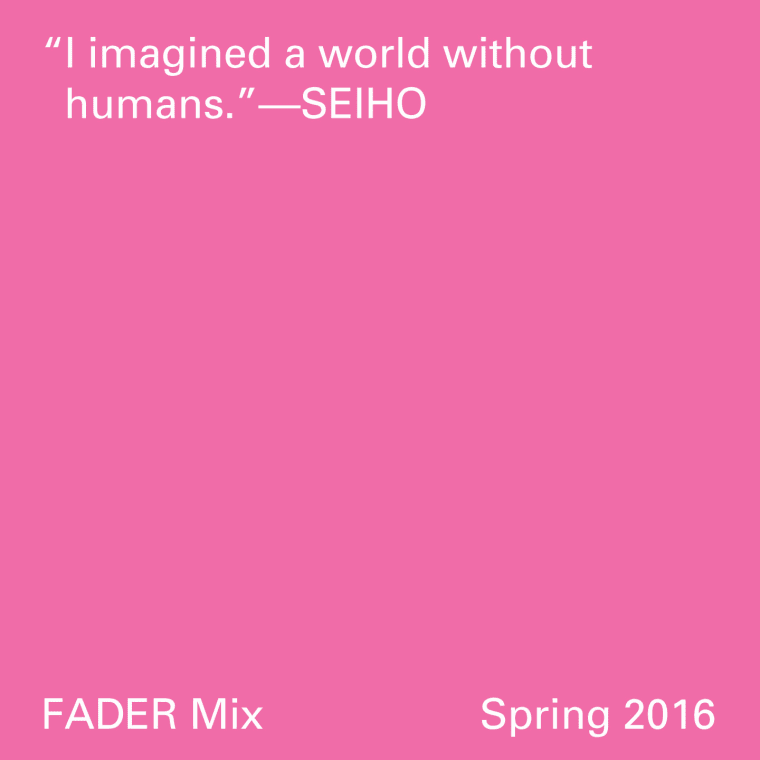 Japanese producer Seiho, who lives in the sprawling city of Osaka, makes complex yet playful soundscapes that flip between being beats led and ambient focused. Ahead of the release of his debut album, Collapse, which he says was inspired by imagining "a world without humans," Seiho has made us a FADER Mix that acts as both a companion piece and musical influence mood-board. It's a little bit jazzy, a little bit glitchy, and a lot brain-massaging. Listen below, scroll down for a short interview with the man himself, and make sure to pick up a copy of Collapse, dur out May 20 on Los Angeles label Leaving Records.
Where are you right now? Describe your surroundings.
At a meeting room [at] OG management office. [It's in] Aoyama, Tokyo, a town next to Harajuku. It's like the 5th Avenue in N.Y.C. [and] has a lot of high brand shops. The meeting room is not organic.
Tell us a bit about this mix—what do you imagine people doing while listening to it?
I've re-listened to progressive rock, [which] I used to do a lot. I've created the mix, sensing and re-recognizing where my music comes from.
What's your earliest musical memory?
Jazz and fusion music from my parents' library when I was three or four years old.
What ideas helped shape your album, Collapse?
I imagined a world without humans. Not in a lonely, desolate image, but more like there are convenience stores, ATMs, cars and, of course, mountains and rivers and everything are all there, except humans. Not even a body of yourself watching such scenery exists. It's almost like a first person shooter game.
What's the last book you read that had a big impact on you and why?
Murakami Haruki, Kawai Hayao ni aini iku (Murakami Haruki Meets Kawai Hayao). It's a book of a talk session with a big novelist, Haruki, and a psychiatrist, Hayao. I was able to reconfirm that we should live sensing as an individual not as one in a colony. It's a book published post Aum Shinrikyo.
What's your favorite dish to cook and how do you make it?
Creatively hand-cut vegetables cooked in a French-like cuisine. These vegetables are arranged and cut similar to traditional Japanese ikebana flower arrangements.
Tracklist
Seiho - UNI002
Seiho - COLLAPSE (Demoware)
Deuter - Amida
GONG - You
ZS - Bump
The Alan Persons Project - Step By Step
Dayan - For Earthly Thinking
Seiho - The Dish
AOKI TAKAMASA&TUJIKO NORIKO - 26th Floor
Tony Allen And His Afro Messengers - No Discrimination
Seiho - Heaven (mfp remix)
Obey City - With Grace We Go (Seiho Remix)
Seiho - Peach and Pomegranate
Eagles - Hotel California (Seiho Silentmix)
Yoshihiro Hanno - A Secret Marriage