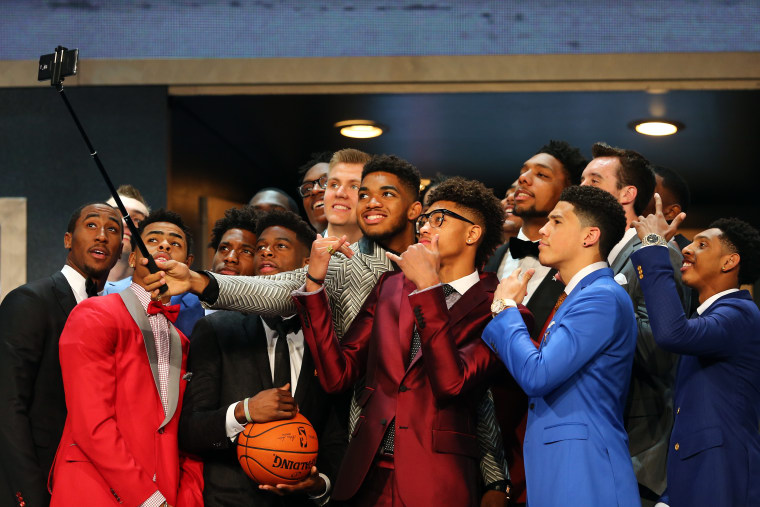 On Tuesday night, in a midtown New York Hilton, a small bit of the mental stability of millions worldwide was decided by the bouncing of 14 numbered ping pong balls. This is a thing called the NBA draft lottery. Its rules are arbitrary and contentious; its history is riddled with conspiracies. And in its utter arbitrariness, there is a kind of mad joy. I love it.
Each of the 14 teams that have not made the playoffs has a chance to land the number one pick in the coming NBA draft. The numbered ping pong balls are used to select a four-number combination: there are 1,001 possible combinations, and each has been assigned in advance to one of the lottery teams, weighted on the basis of the team's record this past season.
It's convoluted, yes, but the only thing you really need to understand here: the worse your team's record is, the better chance it has of landing a high draft pick, and the commensurate young talent that comes with it.
This anonymous "young talent" thing is important. This inchoate "young talent" is what can take your middling-to-poor franchise and turn it into the blockbuster of your wildest fan dreams. This vague "young talent" is the very thing that can bolster your mental stability as an NBA fan: welcoming LeBron (#1 pick, 2003) or Kevin Durant (#2 pick, 2007) into your life is a blessing and a gift. This undefined "young talent" is everything.
And the NBA draft lottery is not when this "young talent" actually gets picked. The NBA draft lottery is just when the order by which this "young talent" will be selected gets decided.
It is the job of the modern NBA general manager to take, as much as possible, the guesswork out of their jobs. Analysis of everything — from the understanding of optimal player usage rates to best practices when scouting in former Soviet states — continues to be elevated. But this NBA draft lottery is the big brick wall into which the beautiful luxury sedan that is "logic" and "reason" goes smashing headfirst.
Because it is a fucking ping pong lottery.
So it's random chance, choosing willy nilly: will it run into your office, cackling, sweeping all the shit off your desk? Or will it build your home a beautiful backyard cabana while you're busy at work?
No one better embodies this than the Philadelphia Sixers, who spent the last few years under the watch of a — pick one: crazed genius/crazed crazy person — named Sam Hinkie. Hinkie's grand plan as general manager became known, only semi-demeaningly, as "The Process," and it amounted to treating a pro franchise as if it existed in a thought-experiment vacuum. Hinkie cared naught for fan experience: he was dedicated above all to building salary cap space and bottoming out in hopes of landing high draft picks.
In April, when Sixers ownership brought in more traditional management and implicitly downgraded his role, Hinkie opted to walk away. In a 13-page resignation letter, he quoted Max Planck and Elon Musk and ol' Abe Lincoln. It was the physical manifestation of all that aforementioned "logic" and "reason" stuff; it was his best attempt to justify, pretty much, everything he's ever done. Imagine him shouting at you from atop some cement bench in some suboptimal public park, clutching the rolled up manifesto-scroll in his hand: "All of it had a purpose! All of it!"
The beautiful thing: on Tuesday, as planned, the ping pong balls fell true, and the Sixers nabbed the number one pick. They'll be able to choose between the consensus top two guys in the draft, Duke's Brandon Ingram and LSU's Ben Simmons. One of these two young men may just bring happiness to millions for a decade to come. And that is no small thing.
At the lottery, stuffiness is balanced with inanity. Accountants from the redoubtable Ernst & Young are there to make sure all goes properly (this is mostly for show: it's the NBA trying to add professionalism to an inherently silly thing). And each team is represented by an individual of their choice, which is usually the team's GM or a co-owner or maybe a star player. And almost always, these individuals bring some kind of daffy lucky charms; often, the choice by each team of who to send becomes its own exercise in courting fate.
This is the kind of head space in which some people feel the need to say out loud that they, personally, do not actively put stock in superstition. Here's Celtics owner Wyc Grousbeck: "I actually believe it's just pretty random and it doesn't matter who is sitting there." Thank you Wyc. You are a bold man for this singular belief.

This, on its own, is amusing: fancy corporate exec types, realizing the fate of their careers hangs in the bouncing of these ping pong balls. Even better: as ESPN's Zach Lowe reports, "If the power goes out in the drawing room, the NBA sticks all 14 balls into a basketball with a hole cut into the top, and has an official pluck them out one-by-one."
OK, but — is the basketball hole cut in preparation? Or would they have to send someone out for a sturdy set of scissors?
Dragan Bender is an 18-year-old, 7-foot, European kid. Jamal Murray is a 19-year-old shooting guard who did one year at Kentucky. According to the experts, if the Celtics — my team — don't trade their number three pick, they may just draft Bender or Murray.
It turns out Bender was born in Bosnia and Herzegovina, lived most of his live in Croatia, and now plays in Israel: that means he cannot be fucked with, right?
It turns out Murray was raised by a visionary of a father, who educated him on physical balance through kung fu movies like The Five Deadly Venoms and used to make him shoot jumpers blindfolded and who taught him meditation as if it were another offensive tool. I mean, listen to this (via The Players Tribune):
As I got older, my dad's ideas about mental discipline seemed less and less weird. I remember driving to my city semifinal game in Grade 10. My dad was driving a sprinter van full of my teammates, and I was in the backseat. Music was blasting and guys were fooling around, making jokes and all of that. Our nerves were bouncing off the walls inside that van.
About halfway there, my dad turned around and gave me a stare.
'Settle down and focus.'
He said it loud enough so only I heard him.
!!!
Technically, I should be bummed right now: the Celtics could have lucked out and broken into the top-two, thereby insuring themselves either Simmons or Ingram. But I find pouting to be a waste of time. And I'll be honest: as of Tuesday afternoon, I'd never even heard of Dragan or Jamal. Since, though, I've been entranced. And I'm ready to bet my life on them both.
Now I'm reading the scouting reports. Now I'm watching the YouTube highlight reels. Now I'm ready to remedy the general, current startling lack of Jamals and Dragans in my life: whichever one of these guys the Celtics end up with, I'm embracing with open arms. Because after the chaos of the NBA draft lottery, now a different force appears, one equally arbitrary and illogic, pops up: hope.