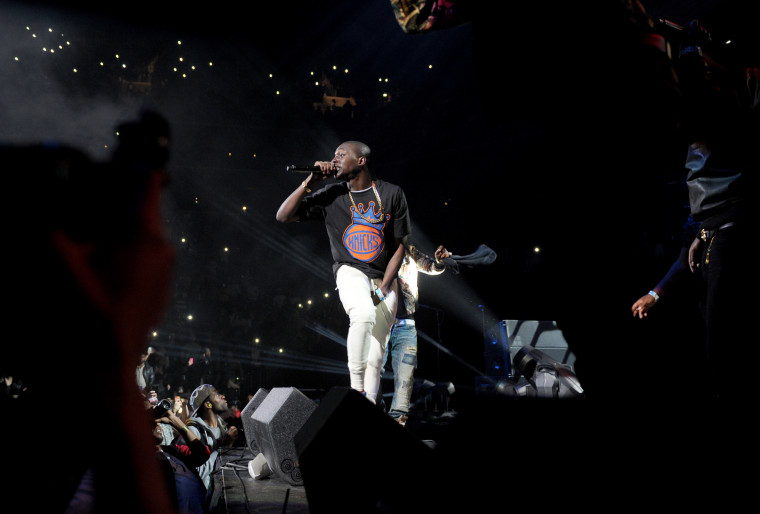 Ackquille Pollard a.k.a. Bobby Shmurda, the "Hot Nigga" rapper who's been in jail since December 2014 on various drug and murder conspiracy charges, was profiled by GQ and gave a rare interview from jail. We got a lot of insight into Shmurda's life in East Flatbush, New York, his rise to fame alongside his GS9 crew, and the problems with the indictment that could destroy his life.
1. He's written movies in jail, including the story of his life.
He spoke of the "movies" he had written, including one based on the story of his life. 'That's going to be a fiction story about this whole experience,' he said, laughing. 'I gotta say fiction, though. It's going to be a fiction story.'"
2. Prosecutors claim GS9 is a drug gang, but haven't found any drugs.
"For a case against a purported drug gang, there was a curious lack of drugs. No undercover sting had interrupted a GS9 drug transaction. No illicit profits had been sought in forfeiture proceedings... So far, the main evidence of drug sales appears to be the recorded phone calls and the snippets of dialogue about dealing 'crills' and 'twork.'"
3. What you think you know about New York gangs is probably all wrong...
"...trying to grasp gang dynamics in New York City is a notoriously fraught undertaking. For one thing, New York was never like Los Angeles, birthplace of the Bloods and the Crips, or Chicago, birthplace of the Vice Lords and the Gangster Disciples. Its 'gangs' were always fractured, fluid, forming and dissolving and re-forming."
4. ...but the cops don't know much better, either.
"But there is an institution that does often treat groups of young black males in poor neighborhoods as organized crime: law enforcement. One former N.Y.C. prosecutor who's recently entered private practice describes what he calls a 'newer trend' in the city's criminal-justice system, whereby groups of kids, all friends, are lumped together and charged with conspiracy based on individual crimes—drug possession, gun possession, attempted robbery, say—that some in the group have gotten busted for. Now, he says, under conspiracy law, 'you put them together as a gang and they're all responsible for all their criminal activities.'"
5. In fact, they're even targeting parts of the city's hip-hop community as "criminal gangs."
"Social media today — not just Instagram and YouTube, but dozens of local message boards dedicated to hip-hop — is filled with homemade videos that feature the performance of what law enforcement might call 'gang activity.' The N.Y.P.D. monitors social media just for this."
6. Some believe that Bobby was born into a gang, and couldn't escape it.
"In a sense, if you grew up on those blocks, you were a G-Stone Crip. On the other hand, GS9 was this smaller, closer-knit group of friends who were focused on hip-hop. But because they'd grown up in GSC-land, they were citizens of it—and it was a citizenship, the source suggests, that could not be renounced: 'I think a lot of those kids were forced to be gangbangers. Forced as in: You're a Crip, or you're against us.'"
7. A rapper named Ball tried to get him away from the people hurting his career.
"Ball says he found Pollard holed up at the Times Square Holiday Inn, and he was not alone. 'It was like he was kidnapped by Crips,' Ball says. 'Blue shit everywhere. And everybody was looking at me like: Who the fuck is you?'... Ball recalls having to pull Pollard, who was clearly exhausted and ill and 'coughing up some green shit,' into the bathroom. He turned on the water faucet so they could talk without the others hearing. 'I was like, 'Bro, you gotta come home.' "