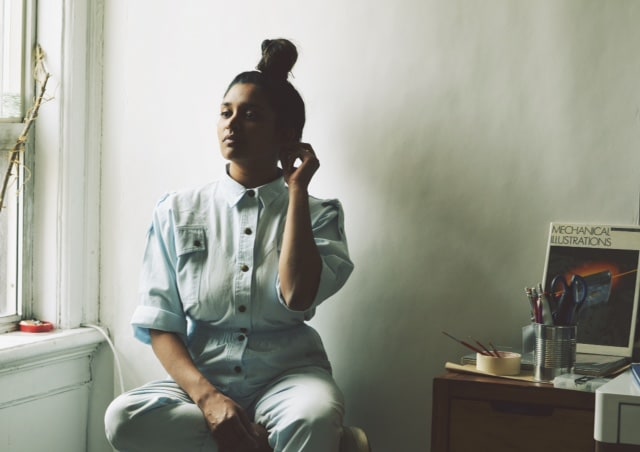 Rajni Perera lives and paints in Toronto, but most of her success is overseas. "I've been producing my own shows and showing my own shit for two or three years in [Toronto] because no one wants to show me," she said, bluntly, when we recently met at a borrowed studio in the city's west end. "Now, I'm making all my money in Euros, Dinar, and U.S. dollars. It's so funny."
Like portraitist Kehinde Wiley, Perera's career is premised on using visual economies to open up new possibilities for how black and brown people are represented. Much of her work is future-facing, and sometimes incorporates traditional art forms — like embellished photography, in the case of her ongoing Maharajas and Maharanis series. Perera elevates her subjects with historical bling: an ornate armor inlaid with pearl and gold adorning an intricately tattooed back, or a woman in a luxe sari with a serpent wrapped around her neck. It's beautiful, sure, but also a sly critique of the legacies of exoticism and ethnography.
Perera, 30, is acutely aware that she had to be embraced elsewhere to find success. So now she's an artist and businesswoman, finding success in the emerging Southeast Asian market with fantastical, densely colorful, and sometimes unsettling mixed media works created from her distinct, third culture perspective: born in Sri Lanka, raised in Toronto's multicultural suburbs.
Today, Perera debuts a new limited edition series commissioned by Amsterdam's The Public House of Art, which we're exclusively unveiling below, and that will later show at Scope Basel in June. She spoke with The FADER about making a hustle happen in the new, globalized contemporary art world.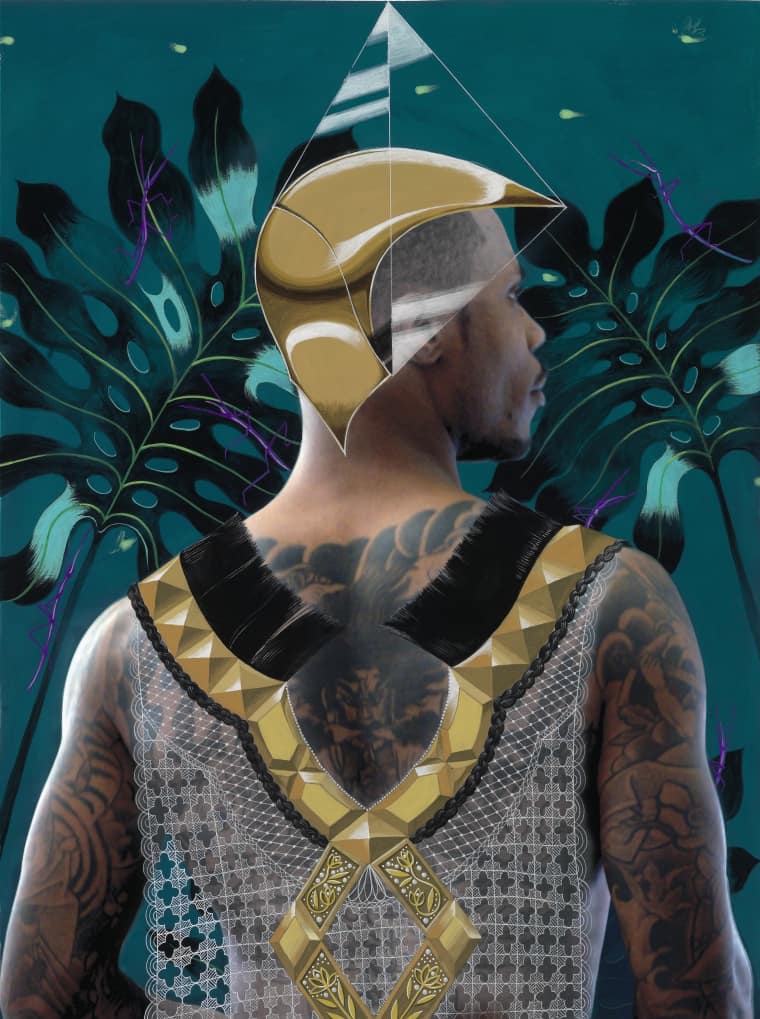 You recently scored commercial representation with Saskia Fernando, who founded the first contemporary art gallery in Colombo, Sri Lanka. Is it true that when you showed there almost all the works from your Maharanis series sold at the opening?
Yeah. People buy art in Sri Lanka. They go out with their credit cards, and they're like, "Yeah, I'll take that with my living room. That'll go nice in my master bedroom. And that will look good in my front hallway." The ballers come out.
In the Sri Lankan art market context, your work arguably benefits from an appetite for the decorative, and this throwback to Rajput and Mughal-style miniaturist portraiture.
I really like the idea of subverting the look of the bourgeois. And also, it looks beautiful. Painting jewels and feathers is my fucking dream. For a painter, this is perfect. It's a very satisfying series for me to make and continue making. And yes, you're right. It's easier for me to sell into homes in Southeast Asia than homes here because of the [preferred] aesthetic. A big factor in the lack of interest in my work in [Toronto] could be because people don't have colorful homes here, especially art buyers. It's all white. White, white, white. I like it, too. I like all-white homes, it looks very nice. I'm Torontonian, it's totally fine.

But Toronto's arguably changing with the help of new institutions like the Aga Khan Museum, and decentralized political movements like Black Lives Matter Toronto. Where do you see yourself here within this moment?
Sometimes I sit around painting, and I'm like, This is not enough. I'm fucking wasting time. I should be out there changing the world. Sometimes, I get down about it. I brought it up to a friend, and she was like, "You know what? You've been painting powerful colored women now for, like, 10 years. Don't you think young girls, these same people who are at this rally, have been seeing your works since you've been making it? Don't you think it affects young black girls, and your daughter, and any kids around who see your work and are like, Whoa, there's a black superhero in space! Usually it's just a white guy."
I work in this place where I want to say something about where colored women have always belonged, where they should belong, and where they will belong in the future. I've always wanted to say that, and I've been saying that. So in terms of my place here and now in Toronto, even though the mainstream white arts community has been ignoring me, I know that what I've been putting in has gone to the right places.

You're mom to a four-year-old daughter. How comfortable do you feel bringing her to an art opening?

You get funny looks. [An opening] is a place where people are drinking, which is why I think people feel weird about it. You don't take a kid to a bar here, whereas in Europe, there's kids in bars all the time. Toronto is quite a young city, and we don't have the same drinking culture. That conservatism extends into the art world here, too. People are still looking for landscape paintings and line drawings [that are] beige and pale, and go with the couch in the living room. People don't take risks.
"People buy art in Sri Lanka. They go out with their credit cards, and they're like, 'Yeah, I'll take that with my living room. That'll go nice in my master bedroom. And that will look good in my front hallway.' The ballers come out."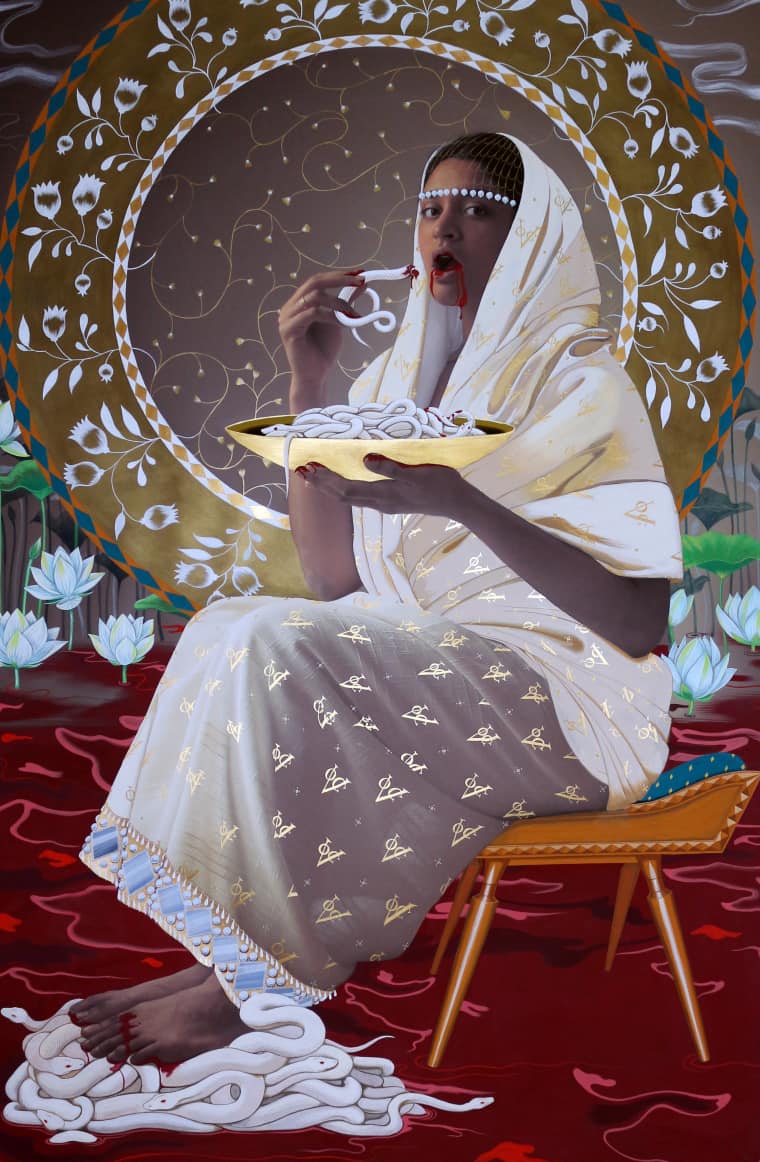 You showed at Art Dubai, which is a key fair in Southeast Asia's emerging arts scene. How do you engage with social issues in regions where there might be an ongoing political censorship of art?
[My pieces "The Husband" and "We Come Alive Eating From Your Flesh"] speak about monarchs or aristocrats that sit at the top of the caste system while their country is crumbling beneath them. So as capitalism replaces imperialism, what do these people do? Nothing. They're just these sinuous figures that sit at the top and benefit from the effects of colonization. [In the images], the wife's eating a snake. She's very opulent but she's sitting in a disgusting lake of blood with lotuses growing out of it. ["The Husband"] is a man who is very royally dressed, [but] turning into a monkey and holding a rotting branch of araliya, which is a beautiful Sri Lankan flower. There are flies buzzing around, and he's got a lake of blood, too, with a Dutch colonial-style wallpaper backdrop so there's no mistake. I'm surprised [that diptych] went really well in Dubai. But they bought the work. They bought it!

What pressures are there for artists like yourself when navigating art and funding systems where access and inclusion requires a "performance" of identity politics?
Because I'm a female immigrant, it's hard not to make identity-based work. I've made work about the aesthetics of science fiction. Guess what people like more? The work that I make about being a brown woman.
So making identity-based work that's subversive seems to be the best way for me to be an effective artist, in terms of churning out stuff that has good ideas behind it, as well as sustaining a career. This is the place where I've found myself. And steering away from making bad identity-based work? I mean, I read a lot. I've been reading Culture and Imperialism by Edward Said. That's a sick book to pick up. Educating yourself on where our ideas on race and belonging and culture come from, and trying to see where it's going, will help instead of blindly making something that other people will like. It's easy with social media to make things that people like so you feel good about yourself as an artist. That's a really fucked up thing that happens all the time.
There's been a lot of talk about "selfie feminism", and how it is flattening and takes advantage of artists' unpaid labor because of a reliance on a like-based economy. What's your stance on using Instagram?
There are [female] artists that get a lot of exposure, but almost none of it translates into any capital whatsoever. It's just like, a number, because they're cute. This kind of thing is starting to happen more and more. I find it quite strange. They do really good makeup, take selfies in bed, and have like a million followers. I'm not in any position to say this is right or wrong, because it's social media, and it's happening, and that's how it is. The degree to which I perform within it is probably minimal. But it does generate its own capital, which for me is not that important, because it's the capital of attention and some sort of superficial confidence-builder that may not translate into something that's ultimately good for your career.

"It's easy with social media to make things that people like so you feel good about yourself as an artist. That's a really fucked up thing that happens all the time."