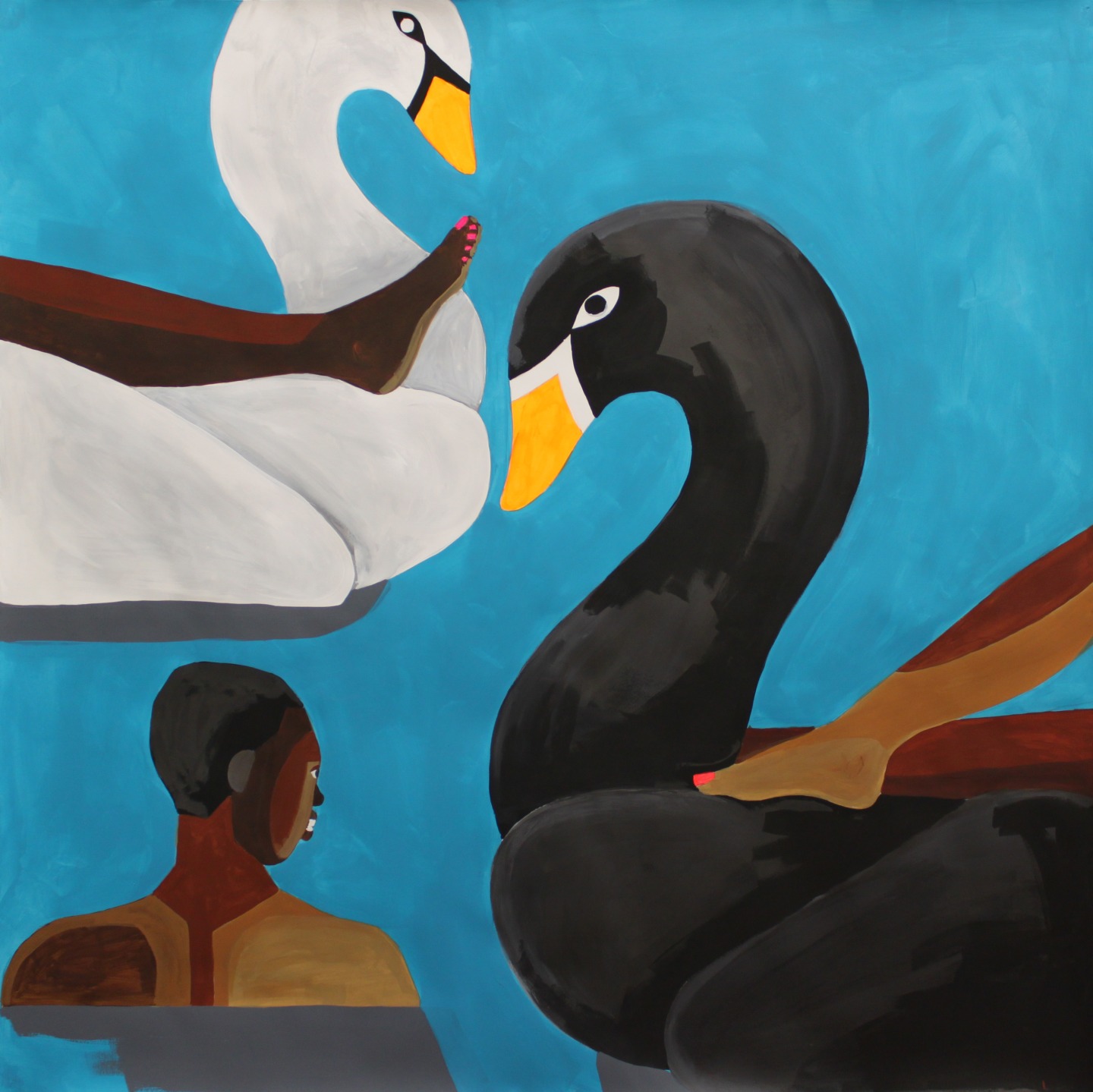 If you were to survey the work of Derrick Adams in its entirety — which extends across collage, illustration, photography, performance, video, sculpture, and painting — it would be easy to confuse it for the decades-long labor of five or six different artists. Pagan Rite, his 2002 performance at Skowhegan, an artist residency in Maine, for example, played with the idea of inverting social conventions. Unannounced at the opening, Adams had four people spit wine throughout the exhibition space to see how attendees would react. Last year, in a November Performa 15 show, he challenged the history of racial performance in the circus, a crafty provocation on cultural theft. In the course of his 17-year career, Adams has also released colorful pop collages, large-scale afro-inspired sculptures, and stunning black-and-white photography. He is prolific in both output and scope. Through it all, Adams, now 46, has sought a singular purpose in his work: to have a conversation with fans and critics.
"I really think about what I am trying to say with the work and what's the best way to communicate that language," he told me in mid-May when I reached him by phone. During our interview, Adams, who is based in Brooklyn's Crown Heights neighborhood, frequently referred to his multidisciplinary approach as tapping into "pre-existing languages." Sometimes, he said, "the painting might not be as successful in communicating certain ideas in a conversation with another person. Photography might be better. I'm liquid when it comes to what kind of material to pick to have a conversation with."
Born into a family of musicians and writers, Adams — who said he became fascinated with the "production of art" at an early age — was raised in Baltimore and later moved to New York City, where he attended Pratt and Columbia. It was during his time as an elementary school educator that he began to fully understand the dynamics of his approach to art making. "I learned a lot in terms of observation — how kids see and the things that influence their conversation, their identity," he said of that time. "I realized everything from the textbooks to the posters in the school were part of this whole visual culture."
Since then, Adams has attempted to expand the limits of our visual culture. His most recent shows — one in Newark and one in Red Hook — probe the representation of black identity. On view at Gateway Project Spaces until June 24, Culture Club is an acknowledgment of "the other side of black society," according to the artist. It is, more or less, a commentary on what Adams termed "the joy of the present." In one series of paintings, men, women, and children are depicted in various settings of repose. "No one talks about how we need a time to decompress as well as time to engage in social and political arenas. You can't have one without the other. You have to have some kind of outlet," he said, speaking to the inspiration behind the series. "[The individuals in the paintings] are not really entertaining; they're just doing what they would be doing if they were in a pool, which I don't see as much. I don't see the black figure, you know, just existing, doing nothing, not necessarily in a performative state but in a state of self-reflection."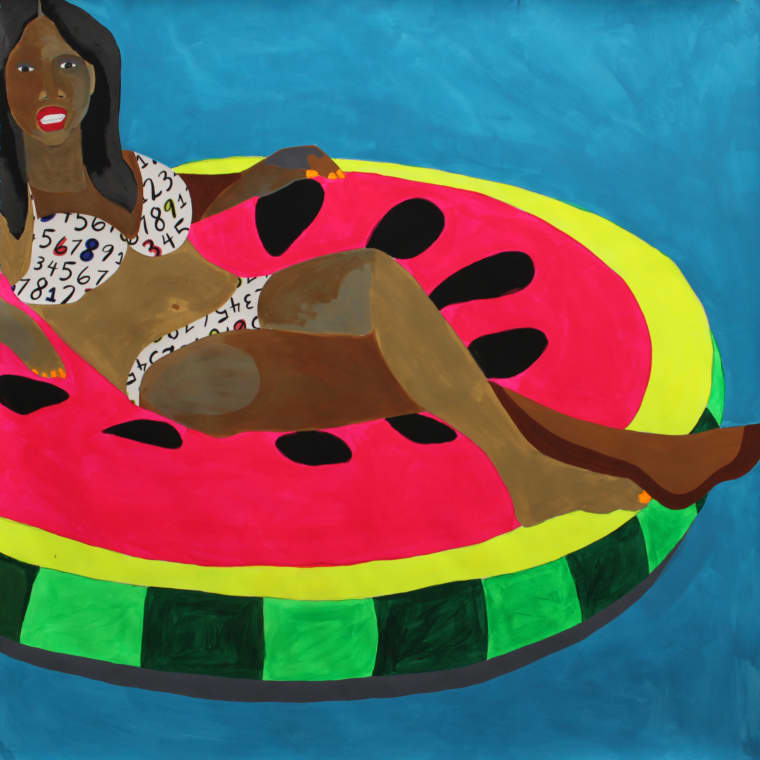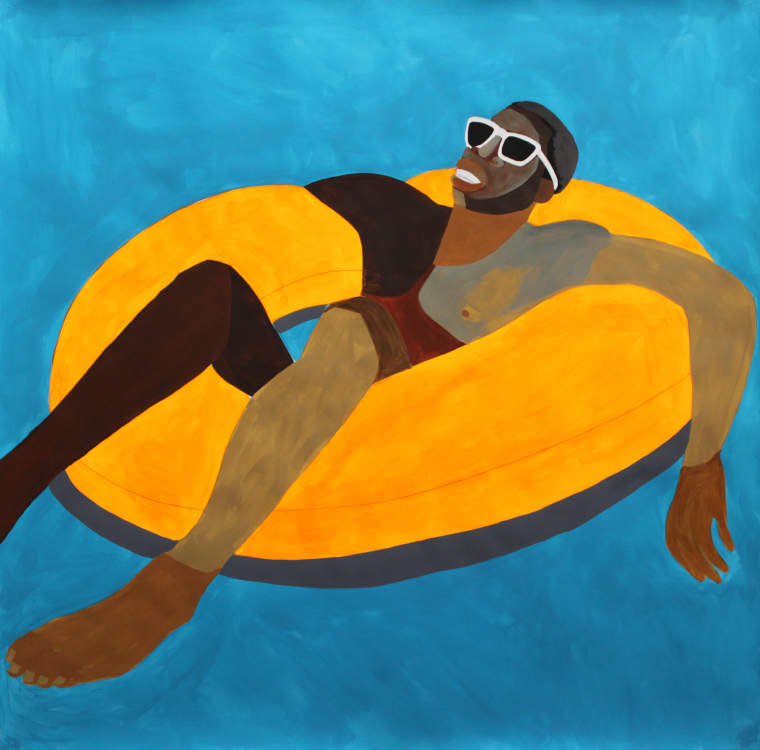 "My interest as an artist is to create detours in places that people can reflect on in a more positive way." —Derrick Adams
When I asked Adams why that was, he was quick to answer. "I think certain people feel like they have certain roles to play in society. Artists think along these lines, too. They believe they have certain roles to play, certain images to capture, certain things to talk about," he said. "My interest as an artist is to create detours in places that people can reflect on in a more positive way. Let the other artists make that type of work. I like those works and I like the artists who make those works, but because they make them, I don't have to. I can offer something else."
In Adams's upcoming show, ON, he again attempts to offer something else. Opening June 10 at Pioneer Works, the month-long solo exhibition incorporates a medley from Adams's oeuvre: performance, mixed-media collage, video, and sound installation. It is a fully immersive experience in which Adams sets out to investigate popular culture, fragmentation, and nostalgia through sitcoms like Martin, Good Times, In Living Color, and The Jeffersons. Opening night will feature live reenactments of infomercials and commercials in front of vibrantly hued wall hangings. Elsewhere in the gallery, braids will be refashioned as lampshades and video stills will broadcast clips of infamous 90s' TV psychic Miss Cleo.
"It's hard to look at the black figure and the black body without thinking about consumerism," Adams said of the role consumption plays in the exhibition. "Our self expression, our coolness — everything can be a commodity. With ON, I'm interested in making people more aware of the construct of media and how it plays a part in the way we see ourselves, in the way we interact with each other, in the way that we see value."
That is, until it's time to have a different conversation.