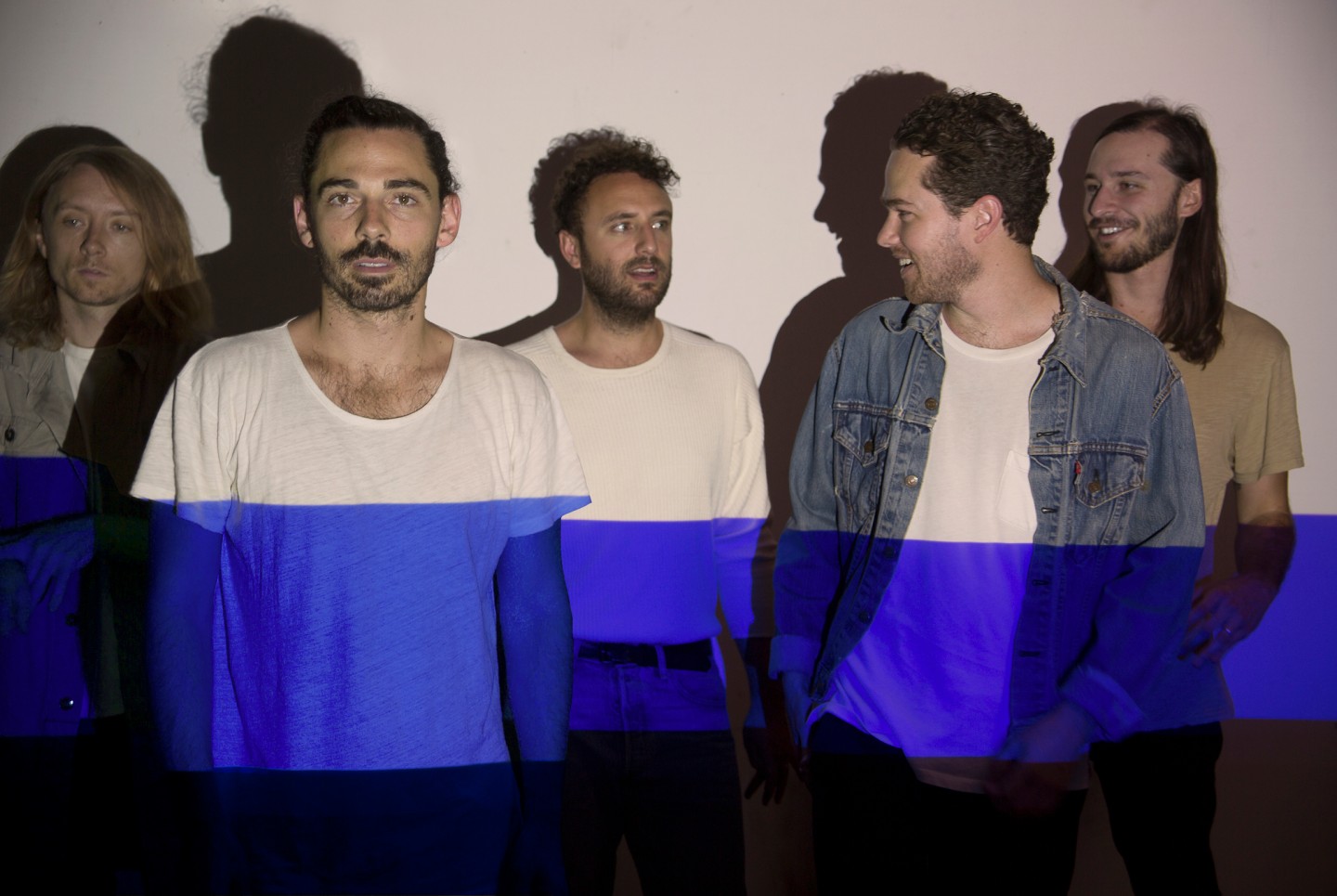 Local Natives are in a great place, and their new music is, too. Their debut album from 2009 was a bright and heart-swelling reflection on coming into adulthood, but its follow-up, 2013's Hummingbird, was a solemn, cloudy, and contemplative work — a direct result of losing a family member, and the departure of a band member. But now, after three years of relentless touring, one of L.A.'s best indie rock bands is making optimistic, happy-sounding music again, which is good for everybody involved.

Their new album, Sunlit Youth, was created with risk-taking and gut-following in mind. They made a song with no guitar. They traveled to and recorded in Thailand, Malaysia, Nicaragua, Ojai, and Hawaii. They were stimulated by the sounds of sampling, and encouraged by the experimentation of their favorite California rappers. As Local Natives members Ryan Hahn, Taylor Rice, and Kelcey Ayer explain in their first interview in years, they've got an attitude of embracing life with equal confidence and openness about whatever may come.
Below, watch Local Native's new video for "Villainy," and read about the wild journey that got them here.
Sunlit Youth was recorded all around the world, in Thailand, Malaysia, Ojai, and Nicaragua. Why?
RYAN: We tried to shake things up a lot when we were working on the record, and wanted to see what would happen if we were writing in different environments and locations.

TAYLOR: Thailand and Nicaragua are especially interesting because they book-ended writing for us. Thailand was the first big trip, at the end of 2014, and kicked off a lot of the record, and was the first time the songs were really starting to come together. Nicaragua was at the very end of writing. This whole writing process has been an evolution for us, to chase the excitement of writing music, and connecting to that kind of "pure essence" of finding something inspiring, and pushing ourselves outside of what writing songs as Local Natives has been in the past.
In Nicaragua, we wrote about ten songs in about eight days. It used to take maybe six months to do something like that. It was just follow the inspiration, and follow the joy of making music together. If something wasn't working, we moved on, and that process helped this explosion of prolific creativity, where we wrote more like 50 songs for this album, instead of in the past where we had done maybe 18. And Nicaragua was probably the least hard that we worked: it was a casual environment and atmosphere. You just wake up and go to the beach, and just enjoy being in this place, and then you can focus on writing some music in the afternoon.

RYAN: We would record as we went more, too. I can point to a bunch of songs on the album that are like, "Oh, the guitar track is from our rehearsal space, but the drums are from Thailand. This vocal was sung into an iPhone in our hotel room," or whatever. It's just all pieced together from all these trips, and for us that's new. Rather than just slogging it out in our rehearsal space, we were able to take from everywhere.
What made you change your approach to making music?

KELCEY: In the past, we toured pretty hard. In 2013, we did, what, 180 shows? Insane amounts of touring. A lot of times, it's just not the most conducive to working on music, but for some reason, we kind of re-thought how we do songs. We used to think, "We have to be in a room together with all our instruments to make a Local Natives song," and that just wasn't the case this time around. We started making music on plane rides to and from shows. We were able to utilize production, and sampling, and our laptops more. I think that helped us grow, not only as songwriters, but in our ability to produce more.

It's a reflection of us just wanting to do what was exciting to us. Really, we haven't been totally listening to straight-ahead five-piece, four-piece bands — like, rock bands — for a while. We've just been listening to a lot of different types of music that's been getting us really excited, from electronic to hip-hop, and it just started to make sense that everyone was getting really proficient at recording on computers. We don't have to be bound by these restrictions that dictate, "This is what a band should do."
What's the story behind "Villainy," the first song you guys have made without using guitar?

TAYLOR: I remember Ryan came with the original idea for "Villainy" — that beat — and he said, "Well, what's a Local Natives song without guitars?" And that kind of opened things up. That week, Kelcey and I both responded with two songs each, and I remember saying, "OK, we kind of have to raise the bar now." Chasing that spark of inspiration and joy, and breaking open the conventions of what a Local Natives song has to be.

KELCEY: We all listen to a lot of different music — guys like Jon Hopkins, or Jai Paul, or that Madvillain record, or Kendrick Lamar and Vince Staples — than we did when we were starting out and were 20 years old. But I don't think we wanted to lose ourselves and be like, "Alright, we're going down this whole new path and throwing everything out." It's more about throwing it through the Local Natives filter and seeing what it would sound like if it was the Local Natives doing this. And you know, there are songs on Sunlit Youth that are guitar based — there's nothing wrong with the guitar. I think it's just trying to express our sound in a new way.
There's also a song on the album that sounds a little more bluesy. How'd that happen?

RYAN: Literally the day after D'Angelo's Black Messiah came out, I went to the practice space and was like, "Oh, I'm going to try and write a D'Angelo song." So that verse, and that guitar, and that melody was what I had for a long time, so I just kept playing with that. I think it was going to Hawaii when I finally got a chorus for it. Bringing it back, I got to work on it with Kelcey and Nik. Nik was on this Prophet synthesizer, and Kelcey was playing keys with some big synth pad, and it just felt really cool to not just do a straight-ahead white boy soul song. It was like, alright, "Let's flip it on the chorus and get weirder with it."
But yeah, that one is pretty indebted to D'Angelo. There were also the drums, which were all based on this sample I'd grabbed from this old soul song and chopped up. Originally, we thought, maybe we'd completely replace it, or do something more Local Natives-y, but then, it just felt really exciting to augment it with Matt playing real drums over this chopped-up soul sample. It was just, again, something new for us.
"This record, it just felt like coming home and going like 'Oh yeah, this place is incredible.' Just owning it: planting a flag in the ground." — Ryan Hahn
What's it like to be making happier, upbeat sounding music again?

TAYLOR: It feels great. With Hummingbird, I think we have kind of an interesting relationship to that record. I love that record, and I think it was this genuine expression of where we were at the time. It's just that it was a really hard time in so many ways for us. It felt like, "Oh, there are these songs in here that have to come out in this cathartic way," so the writing process was just so steeped in that and heavy, just because of what was happening to us at the time.

And this process has just been so different. We're in such a different place. It's been great to be at home, in LA, feeling like we don't have these boundaries, that we can do whatever we want. L.A. has been an interesting environment for that. As we came home, it felt like Los Angeles was this incredible environment — in this moment — where I see people in all different forms of art breaking conventions, and it just feels like a really, really inspiring melting pot. It helps us just to be here in our home, in the sun, because we all grew up in Southern California, and being comfortable and reconnecting to why we all did music in the first place — why we all chose to do this.

RYAN: When we first started touring on Gorilla Manor, we would often get the question: "Oh, you guys are from Southern California. Has that really influenced your music and your writing?" At the time, I don't think we thought it did. We didn't really own it. And on Hummingbird there was this feeling of "Alright, we almost want to circumvent that." We wanted to go someplace new: a city, with concrete, with grey. Different textures. This record, it just felt like coming home and going like "Oh yeah, this place is incredible." Just owning it: planting a flag in the ground and saying, "This is where we're from, and this is what inspires us." It just has this joyful feeling to it.
Listening to the album itself gives me the feeling of facing a dark tunnel, but knowing I have a super strong flashlight with me. A confidence in facing what lies ahead, good or bad. Is this the connecting thread for the album?

TAYLOR: Yeah, very much so. I think that analogy you just made is a pretty beautiful one. Another aspect of how we changed things was to go down to the core of what songwriting is and really focus on lyrics. This is the most that we've done that and known that these songs need to work, musically and with the lyrics. It's all connected. Ryan, Kelcey, and I would do a bunch of writing shifts together, and meet up regularly to discuss what was on our minds and what these songs were about. We've always collaborated so deeply, but focusing on that helped us so much more to know when a song was connecting, and when it was special: when it needed to be chased, or when, you know, like, "Let's move on, and keep looking for other exciting things." Having that viewpoint — like coming out of this tunnel and feeling excited and empowered and like the world is this thing that seems concrete — it seems static — but it's not. It's this realization that we can do whatever we want, kind of, and if you push on it there's going to be this effect, somewhere. It can be hard to see that, but I think there is this optimism, and that thread goes throughout a lot of the songs in different ways.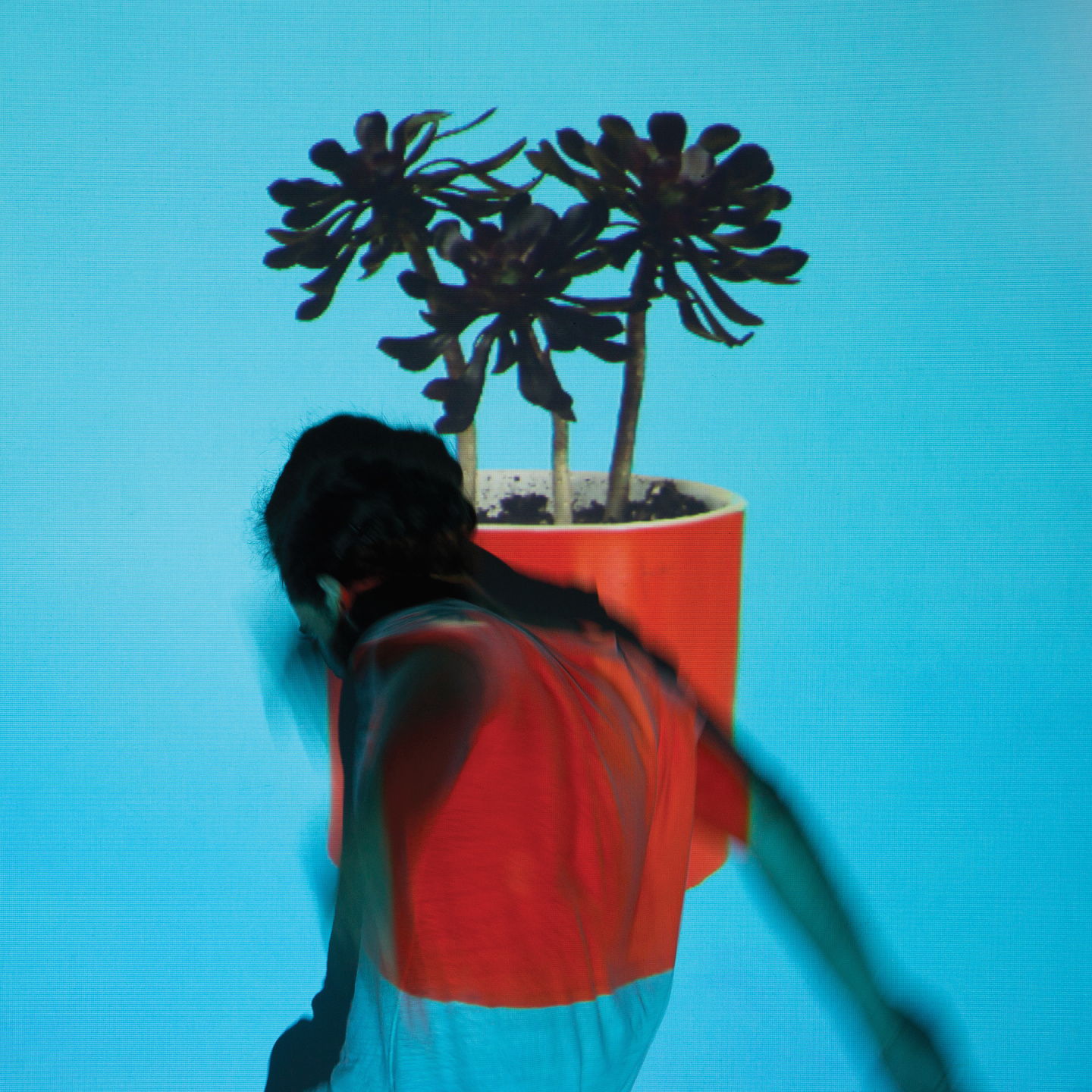 How did your album cover come about? It's distinctly different from the art of your last two albums.

KELCEY: We've never worked with anyone on the artwork for our records before. This time, we've just been trying to push ourselves in every way, and wanted to also push ourselves on the artwork, and see if we could get somebody to help us on this. So [there's] this guy, Brian Roettinger, we're working with. He's like right down the street from our practice space. We've been fucking around with using different symbols that kind of feel very central to Los Angeles, and then projecting them on to us just dancing around to Bee Gees and being ridiculous. We were fooling around in the studio, and that was the image that just stuck. As soon as we saw it, we were like, "oh, that's gotta be it."

RYAN: Yeah, it's pretty similar to how we do everything: all of us in the room, messing around, and finally something just clicked.

TAYLOR: Yeah, usually we argue about everything, and democratically vote on everything, but it was one of those moments where everyone saw it and was like "yep, that's awesome.
What's it been like playing these new songs after touring Hummingbird for so hard and so long?

TAYLOR: I think for whatever reason it took a little while for us to kind of have the songs from Hummingbird sink into the live setting. I mean, we did get it, because we toured for several years straight. But, in these very first shows, these new songs [from Sunlit Youth] – we would play a lot of them at these concerts – and they felt so great and so fun to play already. It's just kind of immediately working, and that's been really exciting. A song like "Villainy" that's the most different for us because there are no guitars, just felt really fun to play. "Past Lives," the first song that we put out: that's been great. It's just been a really, really fun, joyful reconnecting. You know, Ryan, Kelcey, and I have been playing in a band together since we were kids, since we were 16 years old. It was that thing that made us get together. It's just been fun to have that experience again.