Rae Sremmurd deserve to be taken as seriously as they have always taken themselves.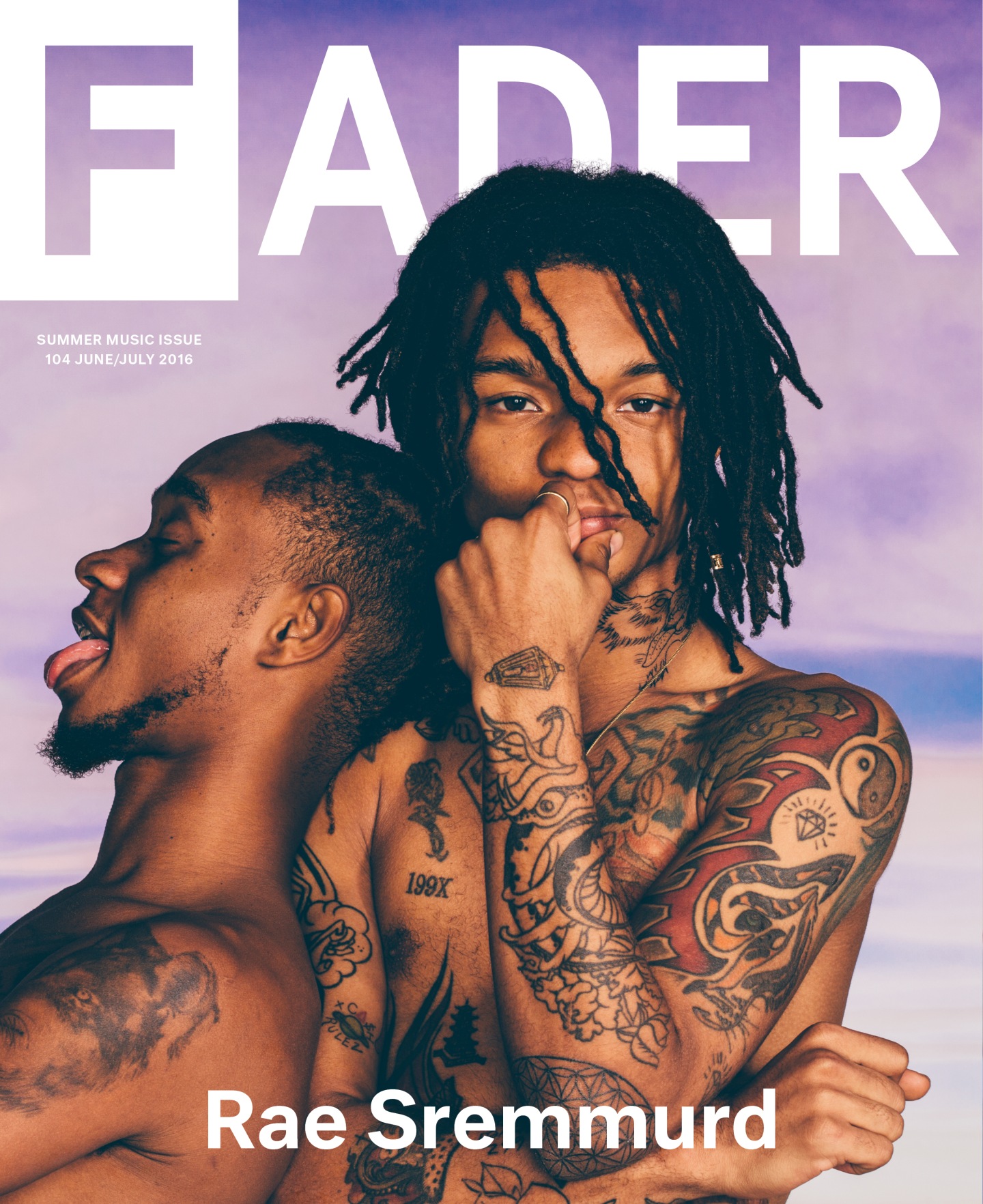 On April 28, Rae Sremmurd are in New York for their second appearance on The Tonight Show, where they'll perform "Look Alive," a single from their upcoming album. In the green room ahead of the taping, Swae Lee, 23 years old and the younger of the group's two members, is camped in front of a mirror. He fixes his gaze on himself as he angles his face from side to side and plays with his hair — undershaved dreads, which he can wear draped over his eyes, twisted back in pigtail braids, or in a pineapple-like topknot.
"Gucci jackets!" his older brother, Jxmmi, 24, yelps from across the small room. Both boys are wearing brand new ones: Swae's is embroidered with flowers, and Jxmmi's, which he's wearing over a bare chest, is a patchwork of shiny red, black, and green panels. "Do you know what truck nuts are?" he asks his half-dozen friends in the room, referencing the toy testicles that are attached under the rear bumper of pickup trucks. He wants some.
The taping starts and the guys watch on a monitor in the green room. During his monologue, host Jimmy Fallon drapes his suit jacket over his shoulders like a cape, and dances to a song by Styx. "He gotta be so high," Jxmmi says. "I wonder if he smokes weed." Fallon keeps the gag going as the show continues: he does "cape time" with first guest Adam Levine, the singer, and second guest Michael Shannon, the actor. "We gotta do the capes," says JJ, Rae Sremmurd's DJ, who goes by D_JaySremm.
The room, used for musical guests, is stocked with instruments to play with. JJ picks up a banjo and plucks out a riff, while Swae freestyles a melody and raps. Later, they sit together at a piano, JJ plinking keys on the upper octaves while Swae harmonizes on the lower end.
Someone pops in to announce their turn has come, and the boys walk ahead to the stage. Trailing behind them in the hallway, I hear an employee of The Tonight Show say: "I'm worried about this one."
A slight like this doesn't come as a total surprise. Rae Sremmurd's music is celebrated for its feel-good energy, but it has also been derided as superficial, or written off as novelty in the cartoonish tradition of Kriss Kross. The brothers have jumped around at photoshoots, ridden skateboards through midtown offices, and figured out a way to combine Auto-Tune with their voices to sound even younger than they are. At a time when many acclaimed rappers are expressing pain, or anger, or political turmoil, they have been distinguished above all by a sense of joy. Their music's approachability and pop appeal has made them a fixture on radio nationwide, in clubs, and on college campuses. But by some, their exuberance has been taken for weakness.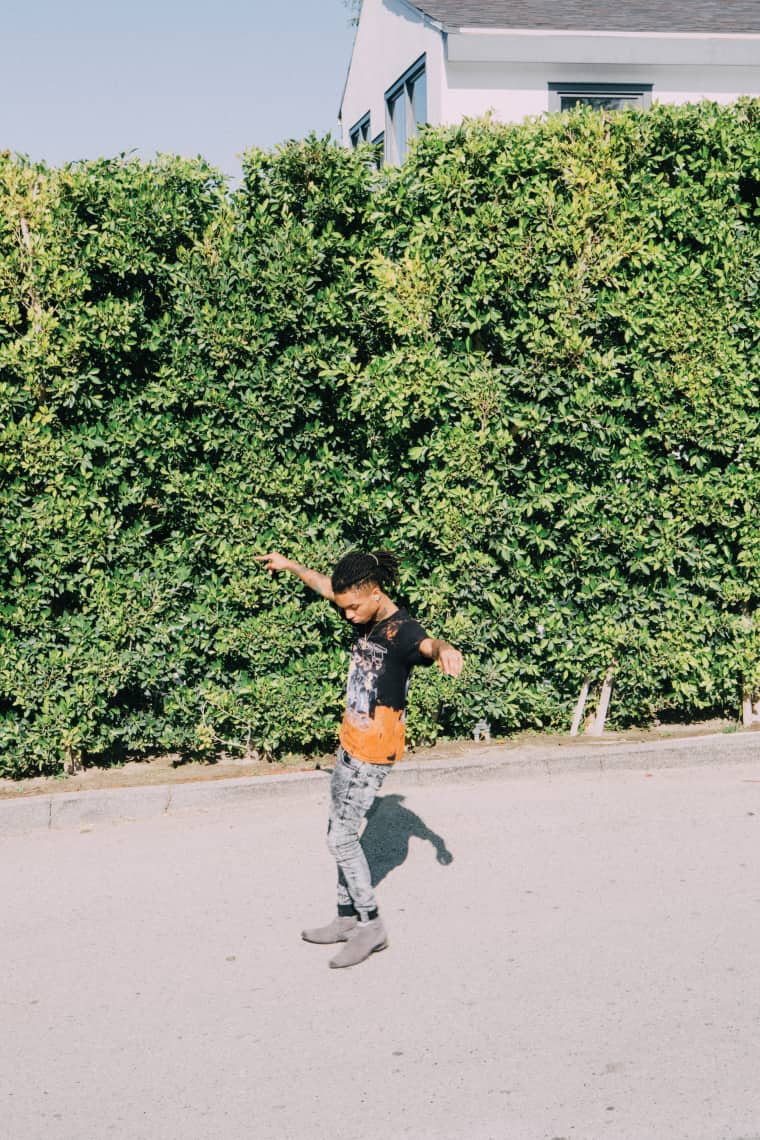 Jxmmi and Swae Lee were born in California, as Aaquil and Khalif Brown. Their mother was enlisted in the army and "worked on tanks," according to Jxmmi. Their father was not around. Swae tells me that for a time, when he was very young, he knew his "real dad," but Jxmmi doesn't remember ever having a relationship with the man. "When I was conscious about what was going on," he says, "he wasn't there."
The army took the family from California to Mississippi, Maryland, and then Texas, where they lived on a base in a duplex with a backyard. "I thought it was big," Swae says. "But I might've just been fascinated because it was a house." In Texas, at some point around his 10th birthday, Swae learned to produce music using Fruity Loops. "This white dude came through, he was making beats," he says. "He had charisma and shit. I asked him, 'How do you make them beats?'"
When the boys were in middle school, they moved back to Mississippi. Their mother left the army and settled down in Tupelo, a small city about two hours south of Memphis, with a new partner, their stepfather, who had extended family in the area. "That was the easiest place for us to get by," Swae says. To support the family, their stepfather, who both boys call their dad, sold drugs. "He was doing whatever he had to do. Keeping us in school, getting us to school," Swae says. They began to take music seriously as they entered high school. "You got your niggas selling drugs, fighting. You got your dorks, your geeks, your smart kids. Goths. Athletes," Swae remembers of the place. "We were just the niggas that took interest in music. I didn't really understand what being famous was. But I saw myself just turnt. Being successful."
Together, they started a group called Dem Outta St8 Boyz, a name that reflected their itinerant childhoods and boasted their knowledge of culture beyond Tupelo. "We're out of state, not thinking one-dimensional. That was our statement," Jxmmi explains. Along with a third member, Lil Pantz, they recorded songs and released videos on YouTube. Swae bought a video camera from a thrift store and learned to shoot and edit. "We had songs that were getting 3,000 views. That was big for us. I was going crazy on the computers," he says. "It was the 'Crank Dat' era," Jxmmi remembers. "We got into dancing." In a video for their song "Put It in Rotation," the three boys perform a choreographed routine on someone's driveway, their Superman leaps and oversized jerseys clearly inspired by Soulja Boy and the snap music that had recently dominated the region's ringtones. "Atlanta was ahead of my town in music," Swae says. "So I'm tuning in to Atlanta."

The brothers met JJ, their touring DJ, around 2008. JJ went to school in a nearby town called Shannon. "The school Swae and Jxmmi and them went to was mostly white," JJ remembers. "It was the nice school. Everybody at the school had MacBooks type shit." On the Sunday night they met, over a holiday weekend when there was no school on Monday, kids from around the county were congregated at the local skating rink, and JJ noticed them all going crazy when Outta St8's delightfully chirping "Party Animal" came on. "Swae Lee and Jxmmi come up to me, all crunk," he says. "I instantly said, 'Y'all gonna be special.' Like, 'Bruh, y'all niggas is finna get outta here.'"
Around the same time, Swae and Jxmmi's mother and stepfather were splitting up. The boys stayed with their mom and maintained good grades, but started getting kicked out of the house. "It was so much stress," Jxmmi says. "She's a single mother. We weren't the most organized kids. Our room would be dirty and she didn't like that."
"Me and Jxmmi, we were always just me and Jxmmi. That's all we had," Swae says. "We had jobs, but we liked to spread out music. We were always out late. I guess it was just too rowdy." One time after their mother asked them to leave, they decided to never go back. They didn't want to go to their stepfather's house, Jxmmi says, "because it was so many people living there." So, while still in high school, they moved into an abandoned house with a friend of their stepdad's, where the city said they didn't have to pay rent as long as they paid to keep the lights on. "It was a fucked-up, rinky-dink house," Swae says. "Cold as fuck. The water's cold. You gotta jump straight out of the shower, jump straight into a blanket, and just chill."
After graduating, Jxmmi enrolled for a short time at Itawamba Community College, 20 miles out of town, but returned to Tupelo once Swae graduated so they could pursue music full time. They set up a microphone in a closet and recorded constantly. With Lil Pantz, Outta St8 Boyz performed at a local Juneteenth festival and on Wild-Out-Wednesday, the amateur competition segment on BET's now-defunct after-school countdown show, 106 & Park. Pantz left the group not long after. "He kept getting in trouble and we didn't want that around us," Jxmmi says. He was replaced by a friend who then rapped as Lil Dre, and now performs solo as Bobo Swae. The brothers made a policy of never cursing in songs. "They knew they wanted to make commercial music," Bobo says. "They were masterminds."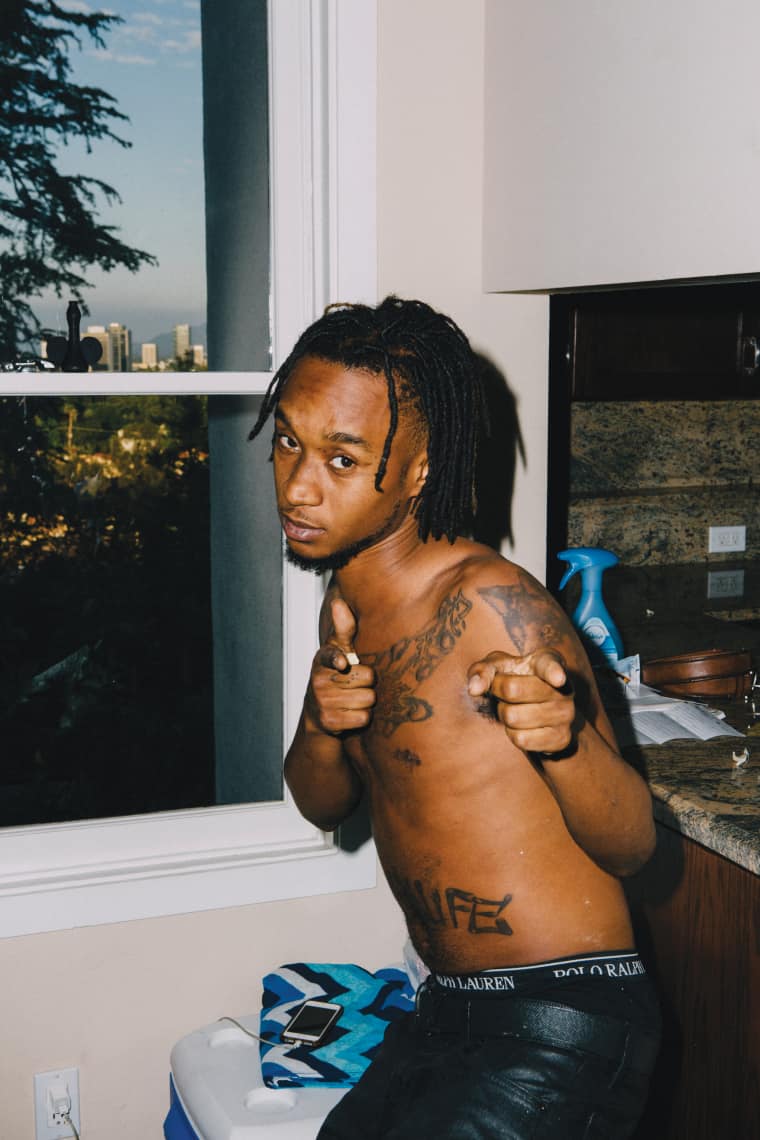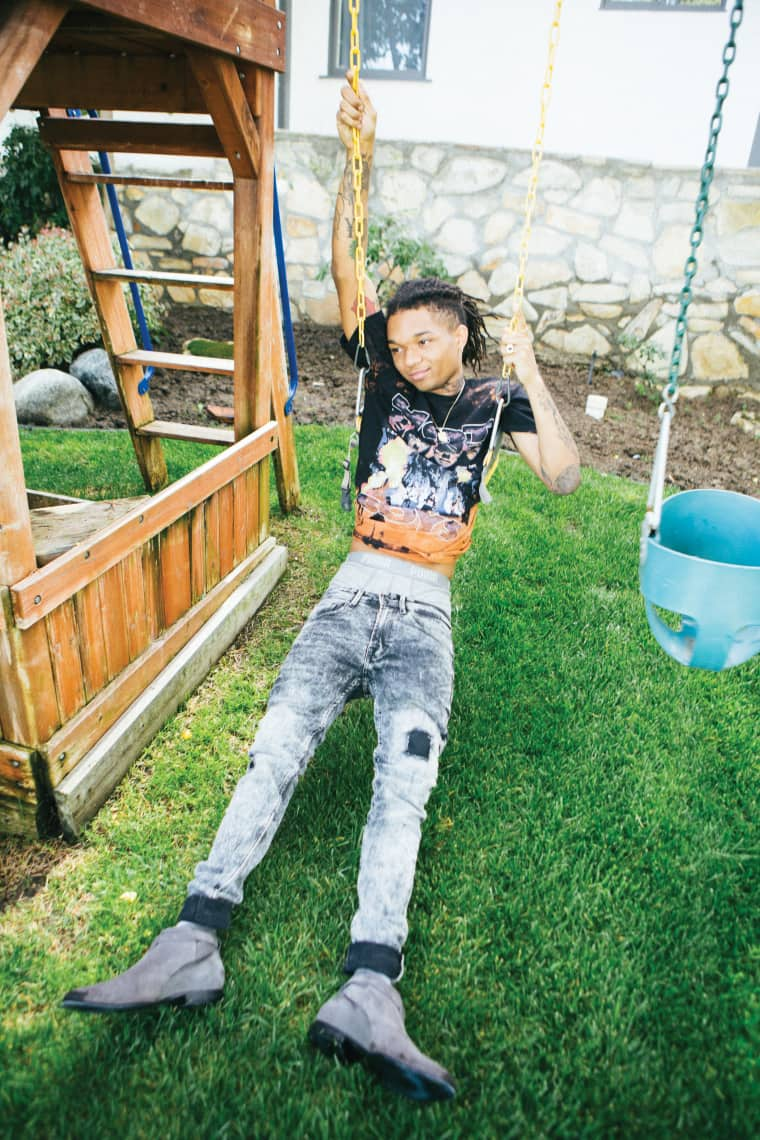 "We made sure everybody know that we didn't give a fuck what color you are. Pull up, we finna get lit." — Swae Lee
To spread their name, Jxmmi and Swae threw parties at the abandoned house. "We made sure everybody knew that we didn't give a fuck what color you are. Pull up, we finna get lit," Swae says. "The black people didn't know how the white people partied, the white people didn't know how the Latino people partied," he continues. "So we brought them all together at our crib, where everybody could get along. The people that came were the people who understood that the world is bigger than black and white."
Tupelo is a small town, the kind where people are close together and get involved in each other's business. And around town, some were skeptical of Swae and Jxmmi's big dreams. "A lot of people made fun of them because they did the mohawk thing with the glitter on their head," says AK, a childhood friend who now works as their assistant. "They were different-minded and people didn't understand that. In Mississippi, people are simple-minded. Me being a white girl out here working with a bunch of black people? There's rumors back home that I'm out here and not even getting paid. That's just Mississippi. That's where we come from."
"All of the mean people just didn't like the vibe," JJ remembers. "But everybody at my high school in Shannon, we loved them. We took up for them. We didn't let nobody touch them."
Around this time, JJ put Swae and Jxmmi in touch with P-Nazty, a cousin of his who had grown up in Tupelo but moved to Atlanta and was making beats there as part of Eardrummers, a crew led by the emerging super-producer Mike WiLL Made-It. "We knew we couldn't make it in Tupelo because the resources wasn't there," Bobo says. So after Swae turned 18 in 2011, they headed to Atlanta and stayed there with a cousin on their stepfather's side. They performed in talent shows and started recording in P-Nazty's basement, where both P and another Eardrummer producer, Marz, had studio setups.
"There's two hard producers in this one house," Swae remembers. "They got two rooms back to back, one cooking up crazy shit in here, one cooking up crazy shit in there. They got crazy chairs, they got money. The mix of their shit is just superb. The bass, the bounce. Everybody else was making thin beats, and Eardrummers come along with these animated-ass crazy sounds. I was like, Man, I don't know what I would do on these beats. I'm recording verses every night. Staying up, not even sleeping."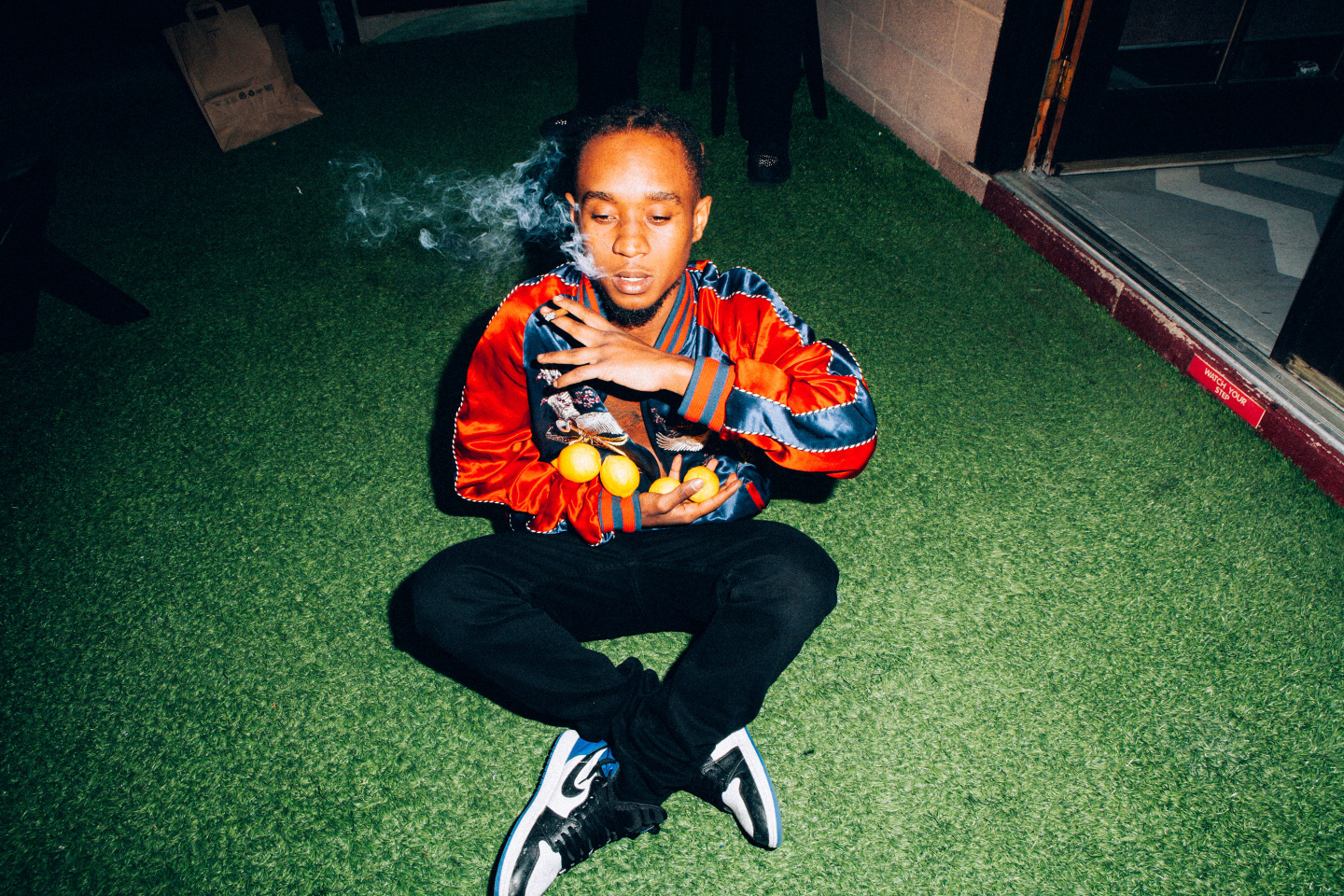 Swae smoked weed for the first time in that basement, finally relaxing after years of careful abstinence, he says, "because I felt like I had made it." But after about a year, things fell apart. The three boys ran out of money, returned to Tupelo, and, for a while, the group effectively dissolved. Jxmmi got a good factory job. He worked a shift from 7 a.m. to 7 p.m., running pillow tops for king-sized mattresses through a machine and folding them up. He was processing a thousand pillow tops a day before getting promoted to another position at the factory, where he dismantled bundles of scraps for a grinder. "It was a long process," he says. "I didn't worry about my appearance. I was just saving my money. Mostly living in my truck." It was a GMC Jimmy, and his stage name today is in its honor.
In 2012, Jxmmi turned 21, the age of legal adulthood in Mississippi, and rented an apartment. Bobo moved in, and Swae did too. They got back into recording and throwing parties on weekends, but cops kept coming by to respond to noise complaints, and their landlord threatened eviction when they stopped mowing their lawn. After about eight months, Jxmmi left the factory, anticipating that he wouldn't pass a drug test. But they'd stayed in touch with the Eardrummers guys — who had recently scored a number of lucrative hits for Rick Ross, Juicy J, and Future — and got a chance to record a song called "I Dip" over one of their beats. P-Nazty saw potential in it, so the guys decided to return to Atlanta and try again. "The only reason we went was because Bobo Swae had a car," Swae says.
This time they used Mike WiLL's basement as an incubator, working for a year on the songs that would eventually comprise their debut album. "Mike WiLL would listen and wouldn't say nothing," Jxmmi says. "We would be like, 'Damn, we gotta go harder.' Then one day he was like, 'I see the vision, I like it.' Then he signed us." They changed their name to Rae Sremmurd — Eardrummers backwards. "All of us was smokin and chillin and that's what we said, and then we just owned it," Jxmmi says. "I liked it because it reminded me of Travis Porter. How it sounded like a person, but they were a group that wasn't just one person."
Migo, the group's current manager, remembers taking the brothers to perform at a club in Atlanta called Red Train one night in November 2013, after he and Mike WiLL had returned from Los Angeles, where Mike had executive produced Miley Cyrus's album. "Imagine nobody knowing their face, nobody knowing who the fuck these lil niggas is," he says. "And people went crazy. The boys are going insane, jumping off shit. The same energy they have now. That's when I was all the way hooked."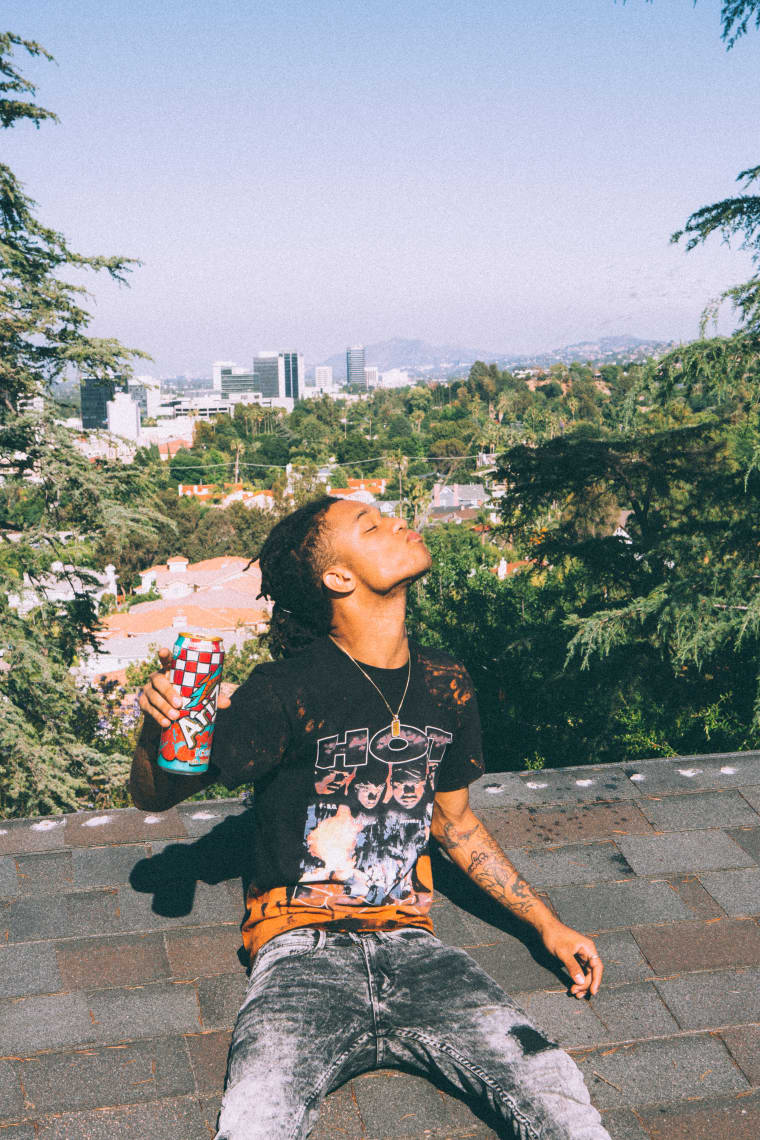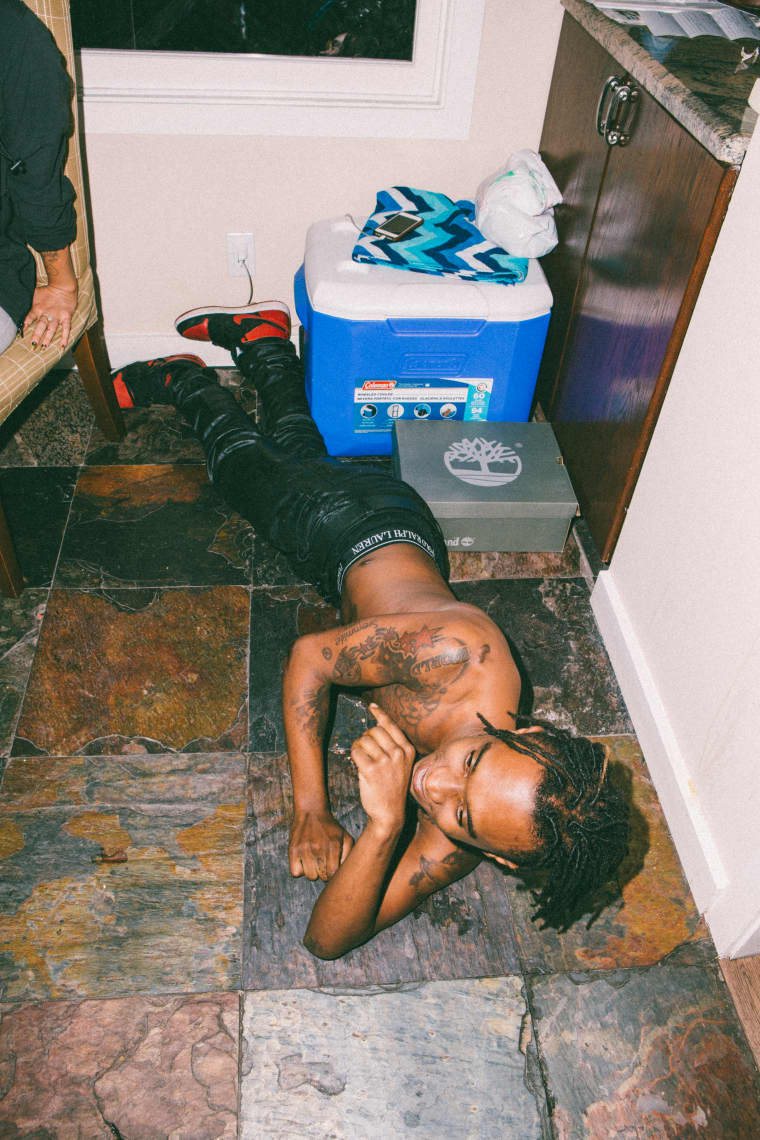 A couple months later, just before the February 2014 release of Rae Sremmurd's first track, "We," Bobo left the group. "Everything wasn't good," Bobo explains. "I had a kid. I knew I was walking away from a lot more than a dollar, but it was a certain pressure that I couldn't handle at that point in time. I'm not a rushing person. I got overwhelmed." He moved to Florida, where he went back to school and worked in nursing homes. "Everything happens for a reason," he says. "In Atlanta, we found people who had the same goal as we did. Mike really gave all his input on our talent and took the time to listen to us and gave us a chance." For someone who could be embittered, looking back he sounds remarkably content: "That shit was like heaven on earth."
Rae Sremmurd broke through with "No Flex Zone," a tightly sprung song about creating a radius around yourself where no one can put you down. They performed it at SXSW in 2014, where they crashed some of Future's sets, and saw their social media following grow from the tens to the ten thousands. The single was diminished for its repetitive chorus but applauded for its playfulness. Eventually, along with its follow-up "No Type," it was certified platinum. Five of the eleven tracks from Rae Sremmurd's debut album, SremmLife, released in January 2015, became radio singles. In the wake of that success, the guys moved to Los Angeles, toured America with Nicki Minaj, and played festivals around the world. They've gone on to make hits for others, too — Swae Lee wrote the hook of Beyoncé's career-shifting 2016 single "Formation."
By all accounts, Swae Lee's contribution to "Formation" came together as most Rae Sremmurd songs have. The boys get a beat, and they record multiple freestyles over it. Later, often in collaboration with producers from the Eardrummers team, they'll pick their freestyles apart and put the best of them back together, over high-definition beats.
"When I made that Beyoncé hook I was thinking nothing about it," he says. "I make a lot of songs, so I'm just thinking that this is another song. A couple months later, Mike tells me that Beyoncé wants it. I couldn't imagine!" Swae never worked on "Formation" with Beyoncé directly, but she invited him to hear the song when it had been finished. "I come in the studio and she's just like, a goddess or something. Just sitting there. This good aura. They played it for me and I'm like, It's a new Beyoncé. She put her own twist on it. She has so much sauce on that song, it blew me away." He concludes with what sounds like the highest possible compliment he would give: "She freaked it."
In a December 2015 conversation that aired on YouTube, New York radio personality Ebro Darden lobbied against Complex's decision to rank Rae Sremmurd's debut album as the third-best of the year, ahead of releases from Drake, The Weeknd, and Alabama Shakes. Speaking with members of the website's staff, he argued that the group's raps were too easy to deliver and, ultimately, not their own. "They didn't write that shit," he said. "Any of it. Maybe some of it. Mike WiLL Made-It? He made that album." Months later, after Swae got the "Formation" co-writing credit, Ebro called it unremarkable in a series of tweets: "If you co-wrote.... Technically you ain't write that shit. Just swag rappin in 2016 is zzzzzz."
Reached for clarification, Ebro insists Rae Sremmurd do not write all of their music. "I believe they generate a ton of ideas," he tells me. "But that stuff isn't even writing, it's just like mumbo jumbo, swag talk."
For Swae Lee, Ebro's allegation about his writing seems more confusing than it was hurtful. "It's such a false statement," he says now. "Where'd it come from? You pulled it out your ass. If you want to know who wrote my shit, go to my album credits." Migo attributes the misunderstanding to age difference. "Ebro's from a whole other generation, which is cool. He probably grew up on Ice Cube," he says. "Rae Sremmurd make music that's familiar to them, music they like to make. I think that most of the culture now leans toward that music too." Mike WiLL's response is more succinct: "I don't think Ebro understands what good is."
It seems that Ebro's real issue with Rae Sremmurd is that he does not think they should be taken seriously. But while his argument stands in for many rap fans, and especially those who privilege lyrics over melody and stylistic flourish, he also pulls at lots of straws. During the original December conversation, he suggested that they had only been ranked so high because they were "the cute little black kids from the hood that we wanna uplift, and we think it's cute, the same way little hipster white people love the drug dealer rap." His argument seems to be that Rae Sremmurd are bad because someone else is actually working for them, or because their music is gimmicky and people are fooled into liking it, or because they're part of a conspiratorial effort to dumb down black music for mainstream audiences. In this view, their appeal can't be credited to their talent, or to the fact that they have a message that resonates, or that they're skillfully and authentically expressing themselves.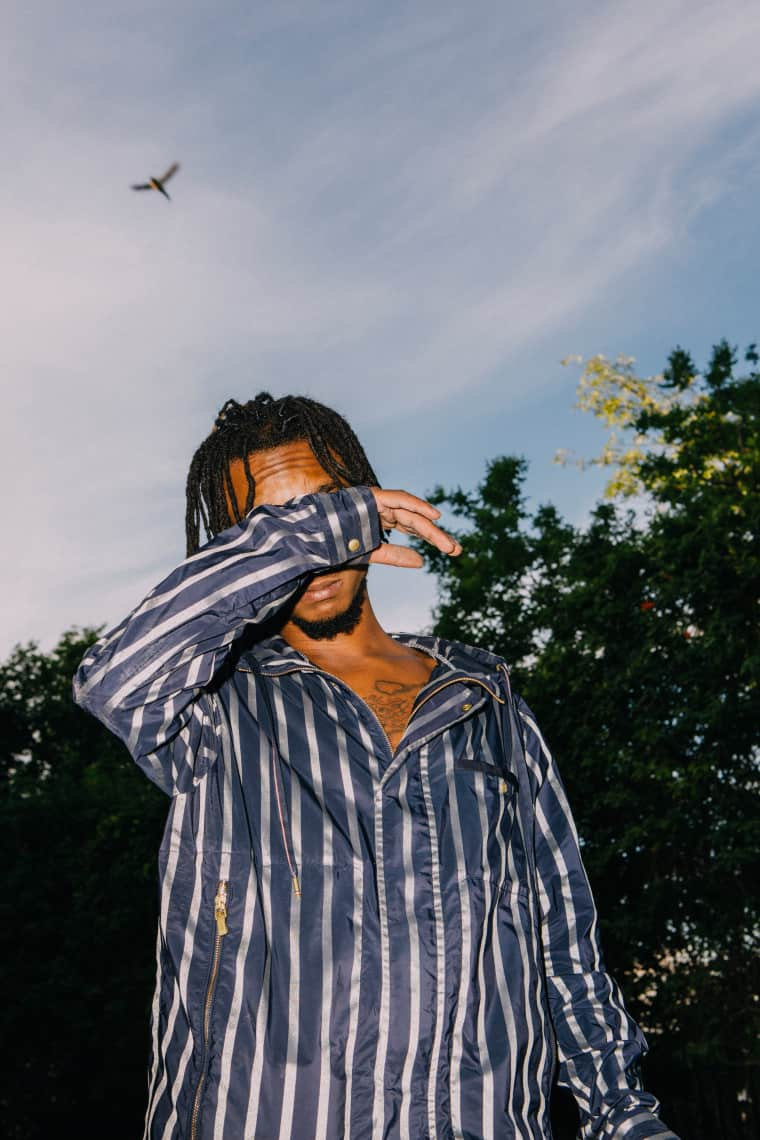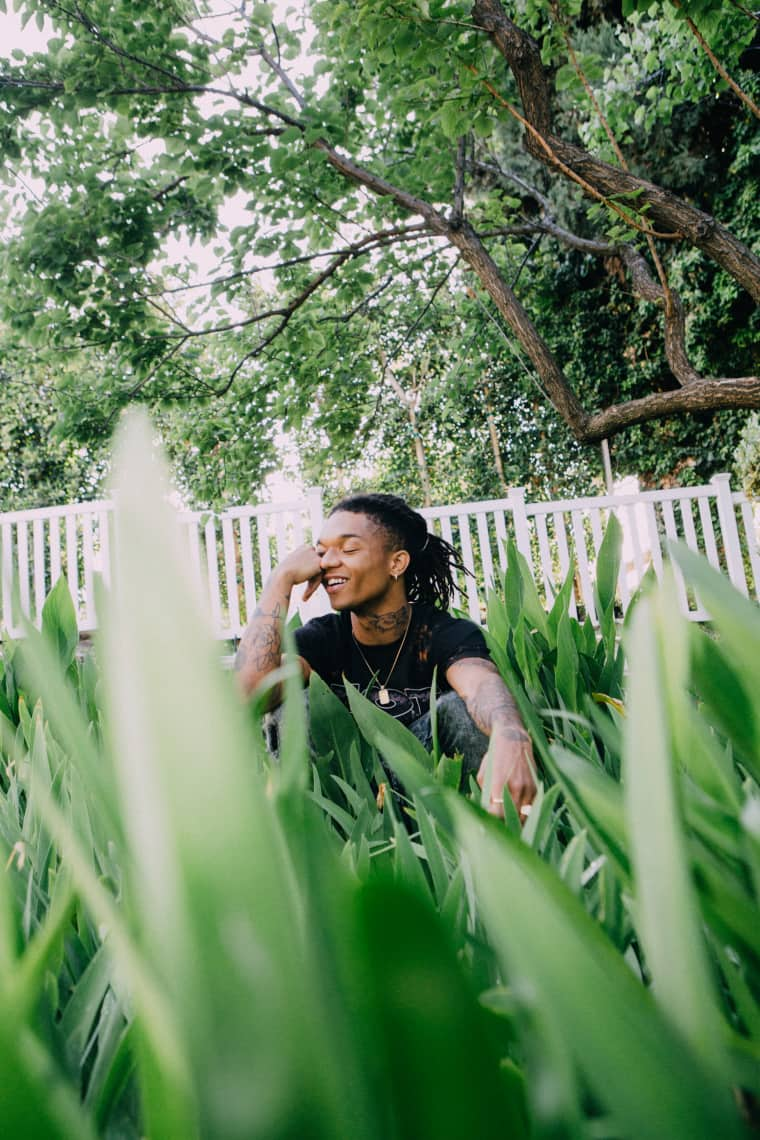 "If you want to know who wrote my shit, go to my album credits." — Swae Lee
That strikes me as foolish. For almost a decade, Swae and Jxmmi have been using songs to promote not just vague good times but a distinct world in which the sex is safe, the couplings are not bound by race, the paychecks come in on time, and the parties allow everyone the freedom to do what they want. On their new single "Look Alive," the beat has a Xanax glow and the premise is finding love at the point in the night when everyone seems to be nodding off. You my target, no doubt, Swae sings, sounding lyrically like the lurkers all-too-familiar to anyone who goes to parties, and vocally like a pop-punk frontman. But then he flips that bleakness into something surprisingly tender, and consensual: I could get you so right, I just need an invite. He's too wise to assume his role, and promises not to make assumptions either: Don't think I'm here to judge you.
I don't find it surprising that this utopian, anti-establishment sensibility resonates especially with Rae Sremmurd's college-age fans, who have taken out too many loans, or used GoFundMe to pay their Uber bill, or who can't imagine why anyone should ever be locked up for selling weed. That same compassionate insight is behind Swae's "Formation" hook, which is impressive as much for the sauce it inspired in one of pop's greatest performers as it is for its actual lyrics, a call to listeners paraphrased in The New York Times as: "Black women, join me and make your own formation, a power structure that doesn't rely on traditional institutions."
Rae Sremmurd make a lot of money performing at colleges, some of them majority-white. And what Ebro identified in one of his comments — that people, and especially white people, like to support rappers they perceive as "cute" or unserious — is something they acknowledged head-on, back in Tupelo, when they made the decision to make "commercial" music. There's absolutely validity to the claim that rappers are rewarded by mainstream audiences for not cursing, or for avoiding unnerving subjects. And to survive, Rae Sremmurd did work hard, and stayed out of trouble, and used condoms. I don't know why you'd blame them for that, though.
Ultimately, what makes Rae Sremmurd good is what makes any artist good. They are ardent and committed to themselves. But some of Rae Sremmurd's value — the way they've opened themselves up to trying new things, and made it their goal to create an environment in which people can come together and feel good — is hard to see on their music's surface. "People who like Rae Sremmurd believe in having a good time with people," Swae says. "Every time I choose to come on a beat like this, it's creation. I want you to be able to turn it on and you can just nod your head and turn up. You ain't gotta worry. I grew up with these people, so I know that's what they wanna hear too. It's a mutual feeling; we all wanna hear this shit. We all wanna feel like this at a party. We all wanna hear these words. We always wanted to do this."
This year, Rae Sremmurd moved to a house in the Valley neighborhood of Encino, at the top of a hill. It's nice up here — a jungle of fruit trees and tall hedges that mean you never have to see your neighbors. On the front door of their home, beyond the security gate, there's a sign to greet residents and interlopers that says: "DO NOT INVITE ANY EXTRA MALES OVER. DO NOT DISCLOSE ADDRESS TO ANY UNAPPROVED GUESTS. (EXCEPT BADDIES.)"
The guys moved here from a house in Studio City that had previously belonged to Mac Miller. It had a great studio that Mac built, but eventually it got "too hot," says Swae, and too many people were staying there. This one is more "family-like," Swae says, sitting in the sun in their yard, with a swing set behind him.
On the days I'm around, something like 12 people are staying here: Swae and Jxmmi, their DJ JJ, their manager Migo and assistant AK, their security guard Zeke, their engineer Randy, and some friends from Tupelo. Bobo Swae recently moved in. "They like being around their family," Migo says. "They're the type of people who're going to take care of their people, period."
The house is like a compound; some bedrooms have exterior entrances, and there's a lot of outdoor communal space. This layout means it's easy for Swae and Jxmmi to rarely appear in the same room, and this week, being apart is what they prefer. Their stepfather is visiting from Mississippi to see their younger brother, Little Mike, who is 15 and has been living with them for a couple months after he got into some trouble back home. Little Mike is "coming around" and doing better now, Swae says, but this week's family summit seems to have exhausted everyone.
"We're real brothers. We always get mad at each other," Jxmmi says in his bedroom, where there's a painting of a frog on the wall. "I like to see my brother doing good. We're like yin and yang. I'm more on the wild side. I wanna go skydiving. Swae's scared he's gonna die."
The boys argue, sometimes on stage, but if a dispute generates tension, everyone agrees it's short-lived. "Twenty minutes after every argument, it'll be good," JJ says. "It shows that real love." When they're away from each other for too long, Swae says, they miss each other.

"They like being around their family. They're going to take care of their people, period." — Migo The Plug
The social center of the house is the living room, which is anchored by a plush sectional couch, in a shade of chocolate brown that seems forgiving to stains. Off to one side, there's a permanent DJ setup, and on the other, a formal dining table. Some of its fabric-covered chairs have been carried to places they don't belong: to the deck outside and into the small studio near the garage, with a low ceiling that makes it look like a playhouse. In some of the bedrooms, there are less formal recording setups. A couple of suitcases are parked near the door, in anticipation of imminent departure.
AK, who moved to California after graduating from Mississippi State with a Health and Fitness degree last May, is responsible for breakfast. One morning she's set up a buffet of pancakes, eggs, fruit, and smoothies. In the kitchen, the pantry is stocked with Goldfish, cough drops, and protein shakes. "I feel like their mom," she tells me while smoking a cigarette on a deck overlooking the backyard pool, which is empty. "I pack for them. I keep up with their passports, most of their credit cards. Doctors' appointments. I make sure the maids get paid."
Migo spends the morning making calls, in sweatpants and Versace pool slides. He bought the sandals in two colors: black, and a primary red that matches most of Rae Sremmurd's tour merch. Migo has known Mike WiLL since high school. That's when Migo say he got his nickname, Migo The Plug, for getting clothes and shoes from "a supplier overseas" and selling them around Atlanta, out of his trunk. Mike used to bring Migo customers, and they'd split some profits 50/50. After Migo went back to school for management, and started running a restaurant, Mike brought him on to work with Rae Sremmurd, figuring he'd represent them well as they made their name playing clubs around the South. "In hip-hop you're dealing with both sides," Migo says now. "You're dealing with very street people, and then you're with Interscope and Live Nation." He's 30, and as the oldest resident of this house, says it's his job to let Rae Sremmurd be wild while also making sure "nobody goes to jail."
When Little Mike comes home from school, he sits on the couch and hums Post Malone's "White Iverson." His dad, Jxmmi and Swae's stepfather, inhales from a vape pen and does pull ups in the kitchen entryway. A beautiful woman walks in and out of the room. People take turns playing video games. The seat closest to the television is a wheelchair, tricked out with the Rae Sremmurd logo and gold spokes, that Jxmmi used for shows after splitting open his leg during a 2015 performance at New York's Governors Ball festival. "I thought he was gonna die! I swear," Swae says, remembering that accident. "He was on the ground and he gave me a look like: You know what's about to happen. If I never see you again, you know I love you."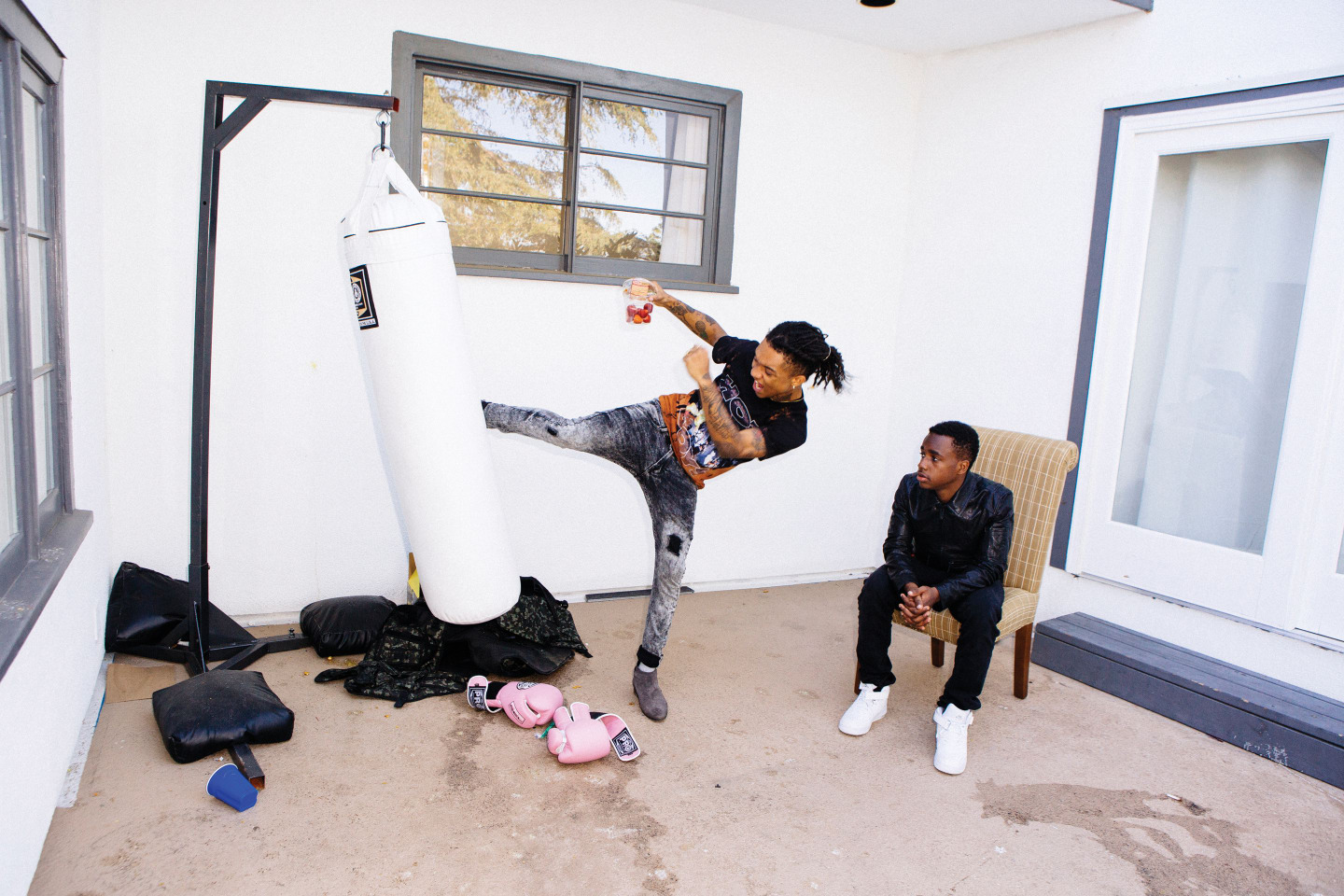 Swae boasts that Rae Sremmurd did "390" shows last year. Migo says he booked more like 150 — still a superhero amount. "We're used to moving around all the time," Swae says. "I'll be jumping onstage for hours, not sleeping, getting on the plane, drinking, turning up. But then I go to sleep, wake up, and I'm good. It just washes off." Even resilient bodies need a break sometimes, though, and Rae Sremmurd do not take many. "I did not think it was gonna be wake up and go do shows every day," JJ says while he tinkers with a beat in the studio. "I thought we was gonna get to go out to like an island for just like two weeks and rest, shit! But we can't."
In the evening, after Swae emerges from his room, a woman silently tiptoes out the front door. Later, Jxmmi heads to Crazy Girls, a no-nudity strip club in Hollywood. The DJ plays Rae Sremmurd's recent single "By Chance," and it lifts everyone's mood. Girls crowd Jxmmi's section. After just 15 minutes, his money thrown, Jxmmi is ready to go, and their security guard clears the way for a quick exit. "Don't grab the money till I'm done throwin' it!" Jxmmi says in the car after, frustrated at the dancers he thought had too eagerly started to gather his bills into plastic bags.
We drive to the club 1OAK, where Ty Dolla $ign is chatting up someone in the corner, and Rihanna is said to have appeared. Mike WiLL passes around shots. Swae, who skipped the strip club, arrives and holds two bottles of champagne in their air for a picture. Less than an hour after everyone shows up, the club closes.
When Jxmmi gets home, he freestyles a song inspired by the outing. The beat was sent over by a guy in London, and Jxmmi sing-raps the refrain: Shut up and wine! Pleasantly and surprisingly, it sounds like soca music.

"We're like yin and yang. I'm more on the wild side. I wanna go skydiving. Swae's scared." — Jxmmi
Rae Sremmurd's second album, SremmLife 2, is set to be released in July. To hear it, I go with Mike WiLL to Larrabee Studios, a palatial facility with a luxury kitchen. The album is due in a few days, so Mike is listening with a near obsessive compulsion. "Swap those," he tells an engineer. "Bring the whistle in." After winding back one song to its start a dozen times, he wakes up Skooly, an Eardrummer producer who's fallen asleep in a chair, and instructs him to record a piano part he might want to add in.
SremmLife 2 will come out on Mike's label, Ear Drummer Records, which was created in 2013 via a deal with Jimmy Iovine — then the chairman of Interscope and co-founder of Beats Electronics, and now responsible for steering Apple's music streaming business under no official title. Mike's vision was always to build a team of producers, songwriters, and creatives, with himself as coach. He signed Rae Sremmurd to Ear Drummer as he was completing major album projects with Miley Cyrus and Future, and in some ways, they've served as his proof of concept: that with a well-engineered team, you can make a superstar. "When I did get the chance to have my own label, I wanted to get all the diamonds out the clay," he says. "Rae Sremmurd are good-hearted, talented as fuck, and all the way from the clay. They just needed to get polished."
Now they have been. Mike cues up "Set the Roof," a song that features Lil Jon and reverse engineers the penetrating chants and aggressive stomp of turn-of-the-century crunk music — which itself originated in Memphis, near Tupelo, then developed in Atlanta. The thump of "Shake It Fast" is just as punishing, and Jxmmi raps like the rightful heir to the throne of Juicy J, who appears as a guest. These songs slap more than they smile, but Jxmmi insists that for this record, there hasn't been any conscious turn away from delight. "We're in our feelings when we make songs," he says, "so the album got sad songs, turnt songs, singing songs."
The best of those "singing" songs is "Just Like Us," a shimmering coming-of-age ballad that showcases Swae Lee and his writing. With a verse from Jxmmi and gloriously baroque instrumentation, it's an example of music driven by quality over ego, where collaborators recognize each other's good ideas. Addressed to a girl who feels she can "take on the world" and set under a clear night sky, the song carries a sense of gratefulness. Like: if life is short, at least there's space to stretch out, and really vibe with someone.
I ask Mike what he's learned from being around Swae and Jxmmi. "There's been so many times where I doubt myself, because something is new and I'm trying to make sure it's done right," he says. "But whatever it is, they'll tell me to go for it. The earth is their turf."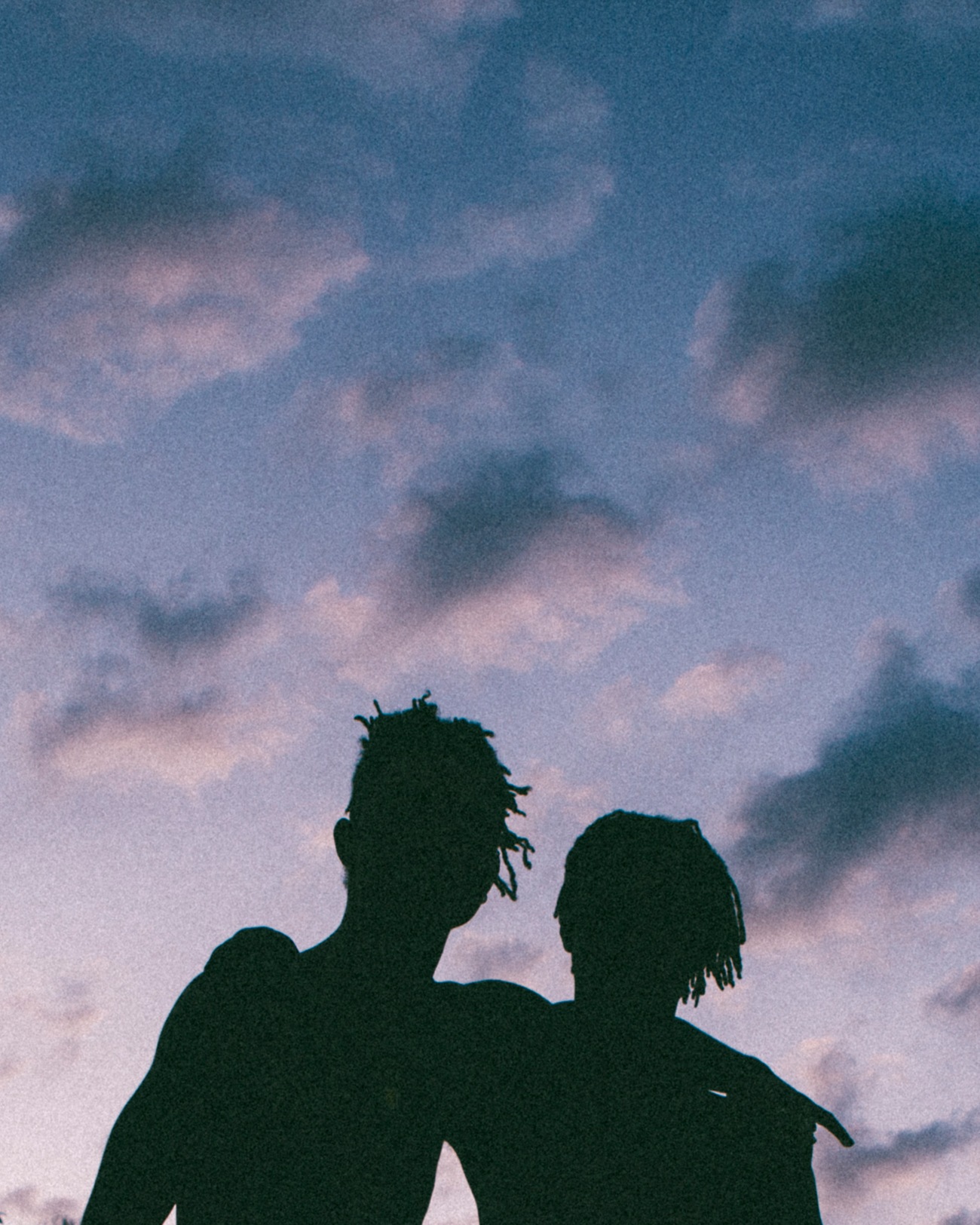 All week, everyone has been talking about throwing a Cinco de Mayo house party. For a moment there was a feeling that it would have to be cancelled, after flights were booked for a May 6 show in Pennsylvania and they realized they'd have to depart at 6 a.m. Migo thought maybe they should do a "family function" instead, taking everyone to eat together at a Mexican restaurant. But now the party is back on. Maracas, sombreros, and plastic necklaces are spread across the dining table. In gallon-sized dispensers, there are four flavors of margaritas: classic, strawberry, pineapple, and mango. A huge order of catering arrives. The brothers' stepfather confirms the enchiladas are delicious.
Later, I'll hear that Diplo stopped by and took a spin in the wheelchair. The superstar DJ is also from Tupelo, and he's already been invited to perform at this year's third-annual SremmFest, a weekend of concerts and activities the boys put on for their hometown. In the morning, I'm told, everyone gets to the airport on time.
When my own plane lands in New York, I think back to that person at the Fallon taping, who said they were worried about Rae Sremmurd. Their skepticism turned out to be unfounded. The performance went smoothly; Swae and Jxmmi hung their Gucci jackets over their shoulders, participating in the show's running cape joke, even though no one invited them to. They have a way of finding a good time, and winning over strangers. I've tried to be as open as them my whole life, and I've met a lot of people. These are not the ones to be worried about.
Wardrobe and styling Olori Swank, barber VGO, hair styling Erinn Courtney. Cover shot at Cherry Soda Studios in Los Angeles.