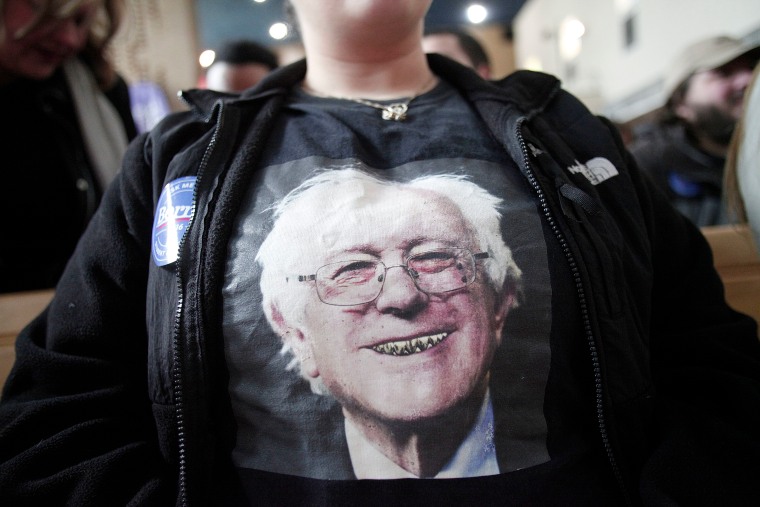 On a recent cheery Brooklyn evening, in the back room of a well-lit bar, a group of Bernie Sanders supporters were doing their best to ignore the end of days. It was a week before Hillary Clinton's victory in the California primary, the tallying of delegates that would make her the presumptive Democratic Party nominee, and Obama's endorsement. But at that point, nationally, a certain fatalism had long since draped itself over the Sanders campaign. And yet here, at the Cherry Tree — beers in hand, Babes 4 Bernie totes slung over shoulders — the dream was alive. As one supporter would explain, when asked if it was ever acknowledged among this crowd that Bernie Sanders may not be the next President of the United States: "I've never heard that brought up."
The occasion was a bi-weekly gathering of Team Bernie NY, a tight-knit New York City-specific network that has been working get-out-the-vote drives for the rumpled Vermontian since last summer, when he entered the race, and up through April's New York primary (Sanders lost to Clinton). The room was split, in gender and age: it was half people near Sanders's age — there were at least two late-Carlinesque silver ponytails — and half the millennials with which Sanders has become famously entwined. A volunteer organizer, a young woman, called for a show of hands to ID the first timers, and roughly half the room answered. "Still new people coming," she said. "That's amazing!"
The Sanders phenomenon has both inspired, and been propped up by, a large patchwork of all-volunteer grassroots organizations just like Team Bernie. These Sanders supporters are progressive idealists of all ages; they've joined together in a powerful movement; this was a special moment in their lives, and nobody really wants to go home. But with the Sanders For President campaign grumpily, reluctantly rowing itself across the River Styx, the grassroots has a serious existential question to ask itself. What happens now?
At the event, a string of young organizers (and one Marxist economist) took the floor and politely brought up alternative causes: the propagation of workers coops, and the State Senate campaign of Democratic Socialist Debbie Medina in the 18th district of New York. Before long, though, we got back to the man of the hour. "I wanna know," a fiftysomething woman from Crown Heights interjected during the Medina talk, "is Bernie gonna run as an independent?"
From there, things got wooly. A blonde woman in a baseball shirt asked for volunteers to stand with her, behind live-news broadcasters, holding signs reading "DON'T LIE ABOUT THE SUPER DELEGATES." A woman with a Polish accent and a tight top-knot asked what, exactly, the "agenda" was for the convention in Philadelphia "other than standing there looking pretty and shouting, 'We love you Bernie?'" A man in a fedora, with a pitcher of dark IPA all to himself, answered calmly: "The goal of the convention is to win."
After the meeting, I chatted with a sixtysomething Indian man named Arun in a brown baseball cap and various slogan pins ("Hill No," "(Phone) Bankers For Bernie"). He moved here from Mumbai in 1984, he explained, and has worked as an editor and journalist for a variety of Indian-expat publications. He told me he thinks Bernie shouldn't drop out, even if Bernie wanted to. "I advocate that we shouldn't allow him to make the call," he said. "We should tell him what the call is!"
The general wisdom is that Sanders is waiting to concede until certain concessions are made by the Democratic mainstream (Specifically, says The New York Times, he may want "stronger platform language on the regulation of big banks" at the convention, "the abolition of superdelegates," and the removal of two Clinton backers, Barney Frank and Dannel P. Malloy, "from their convention committee chairmanships over past criticisms of him.") But, Arun said, "We might not want him to cut a deal. We might want him to buck the system, go all the way, run as an independent!"
Arun is semi-retired. Just a few months back, he explained, "I was living a life where I had my feet up on the ottoman, drinking beer, watching TV, doing nothing." Then his daughter, seeing that he was intrigued from afar by Bernie, and knowing how capable he was, signed him up for the Sanders campaign's email blast. Within weeks, Arun was donating money, canvassing, and volunteering for phone banks; eventually, he set up his own pop-up Bernie office in his Brooklyn neighborhood, Canarsie, organizing a small army to go door-to-door to proselytize for his guy.
"It helped me sharpen my own understanding," Arun said of the benefits of working for Bernie, "and I've made a lot of interesting connections." He brought up, specifically, the Bushwick Berners, another local grassroots organization. "They're all young, they're all millennials — they're all from the same profile of people that would be hanging out in bars and going to art shows and freaking out on the weekends. Instead of that they're sitting up the whole night flyering. That invigorates me."
It was such a lovely little grassroots success story that I almost hated to ask. Say Bernie does run as an independent, and hurts Hillary in the process? Aren't you worried about the possible repercussions?
"My answer is: Why blame me?" Arun said. "You didn't make the right choice and now you're telling me I have to compromise my values." I nodded. "And, look, we survived Reagan, we survived Bush I, we survived Bush II …" I nodded some more. "... Europe survived Hitler, Mussolini, et cetera." I immediately stopped nodding. "In the long arc of history, we'll survive Trump. You know? If you look at it as a five-year span, a ten-year span, sure, Trump will be a disaster. But in the long arc of history, he'll just be one more disaster."
It was an utterly insane thing to say. But I had to believe it was coming from a good place. And that place was that unshakable belief that Bernie has managed to engender over the span of his remarkable campaign. For some, like Arun, it's Bernie now, Bernie forever, Bernie over everything.
Before the Cherry Tree meeting was through, a long-haired volunteer from New Jersey took the floor to plead for help from the New York chapter in the then-upcoming NJ primary. He talked about lack of morale in Jersey, and lack of institutional support from the Sanders campaign, which was then pouring its resources into California. "We need your experience a lot," he declared. "It's time for us to step up!"
Then, more quietly, more urgently, he explained that the canvass captain in Union City, New Jersey, had had a grandparent pass away, and was unavailable to fulfill his duties, and so what the team really needed right now was a new volunteer canvass captain. It felt to me like a good reminder of what grassroots political action is: the simultaneously insane and thrilling idea that this could be the linchpin for a whole national campaign — a small-town volunteer, answering the call to action.
Later, lamenting that lack of morale, and the dwindling hopes of Bernie Sanders, the Polish lady would say, "We all wish for miracles."
And with utter sincerity, the Crown Heights woman would respond, "They work! Miracles do happen!"
On Tuesday, June 7th, Bernie Sanders would go on to lose the New Jersey primary.