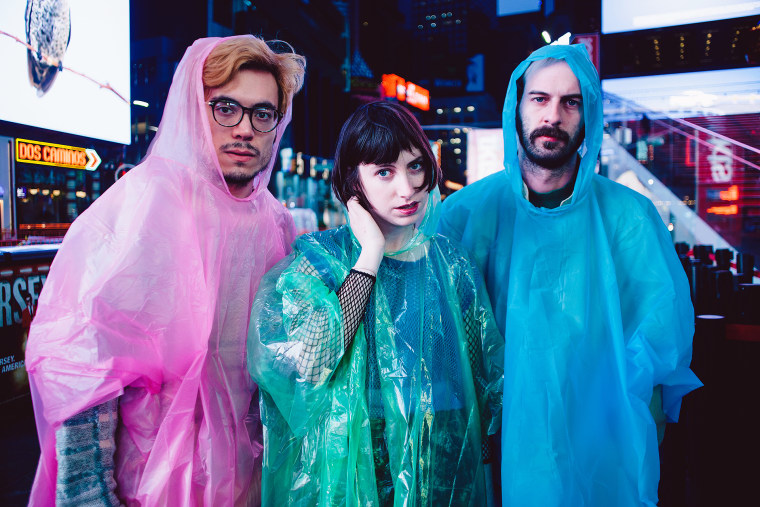 Jilian Medford used to perform as IAN, a solo project with one self-recorded EP. A few tumbles down the road later (a cross-country move, the end of a destructive relationship, an anxiety disorder, and, you know, life), and now with drummer Tim Cheney and bassist Damien Scalise by her side, she leads a group called IAN SWEET. With a classically-trained vocal degree from Berklee, a connection to her drummer she calls "telepathic," and a bassist who truly rips, Medford is seriously ready to stomp hard onto the scene with the dynamic debut full-length Shapeshifter, which Hardly Art will drop on September 9.
With the announcement of Shapeshifter comes "Slime Time Live," a swirling rock song about stuff that makes you feel helplessly out of control. If you remember from your young years, Nickelodeon's Slime Time Live is the perfect metaphor for not knowing what kind of life is going to hit you next, and having no say in the matter. Life doesn't care if you get the answer right.
"This song is about something, anything that completely consumes or covers you," Medford wrote in an email to The FADER. "Something that you most likely have no control over. I refer to 'slime' as my depression and feeling like the only contestant in an episode of Slime Time Live, where my fate lies completely in the hands of someone else, as the whole world waits for the green goop to drop."
Hear "Slime Time Live" below, and preorder IAN SWEET's debut record Shapeshifter here.
IAN SWEET's upcoming tour dates:
06.14.16 - Cambridge, MA - Middle East Downstairs *
06.15.16 - Brooklyn, NY - Market Hotel * %
09.06.16 - Cambridge, MA - Middle East Upstairs #
09.07.16 - Philadelphia, PA - Boot & Saddle #
09.08.16 - Baltimore, MD - Metro Gallery $
09.09.16 - Brooklyn, NY - Album Release Show at Shea Stadium #
09.10.16 - Lancaster, PA - Lizard Lounge $
09.11.16 - Pittsburgh, PA - Black Forge #
09.13.16 - Toronto, ON - Drake Hotel #
09.14.16 - Montreal, QC - Casa del Popolo
* - w/ Colleen Green, Chastity Belt
% - w/ Harmony Tividad (Girlpool)
$ - w/ Diet Cig
# - w/ Horse Jumper of Love