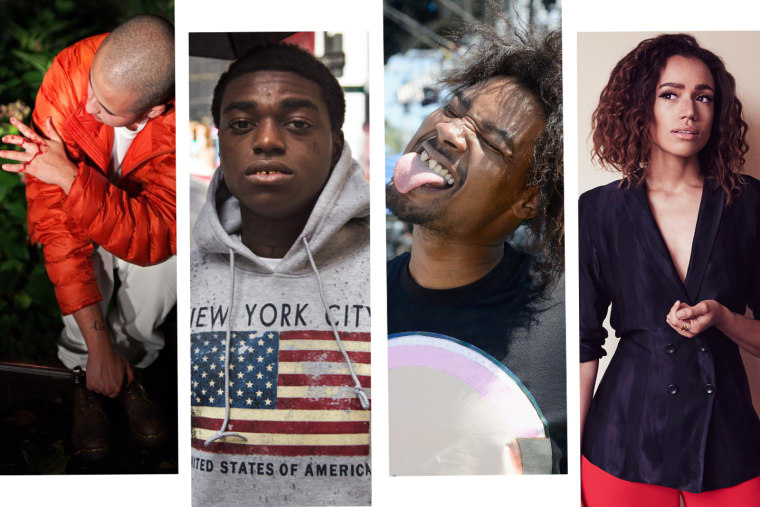 1. Kodak Black just turned 19, and he's already got jams on top of jams on top of jams. For one of his newest, "Vibin In This Bih," the Florida upstart recruited Gucci: Locked me in a box, but I'm coming out swinging, the legend raps truthfully.
2. G.L.O.S.S.'s queer, cathartic-as-hell strain of hardcore feels more urgent than just about any other new guitar music, and "We Live" proves why. It's a loud, messy tribute to dingy punk basements and the proud, resilient freaks who feel at home in them.
3. Woah, Danny Brown's signed to Warp Records now? If his breathless new single "When It Rain" is any indication, he's going to do some great, wild shit there.
4. Gothenburg's Anton Kristiansson maybe made the most out-there stoop drinking song of the whole season; "girl $" has a vague afropop melody, mostly Swedish lyrics, and the stoned optimism of all our favorite global summer songs in recent memory (i.e. "Everything Nice").
5. There's goth-y greatness all over TEAM SESH's sprawling new mixtape. Fifty Grand's "If We Know Where To Look" — a densely layered instrumental designed to score the movies on loop in the deepest, darkest places in your brain — is an early, haunting standout.
6. Every time we drop in on Virgina up-and-comer Treez Lowkey, we're more impressed than the last. "Emotions" is his airbrushed, gooey-sounding semi-slow jam. The way he stretches the word rushing on the Baby, why we rushing? hook is, honestly, a little bit iconic.
7. Neo-soul singer JONES shared an easygoing, spiritually uplifting new song called "Melt." With some light-touch production courtesy of HONNE, it feels designed for like a "Put Your Records On"-style bike ride in the sun.