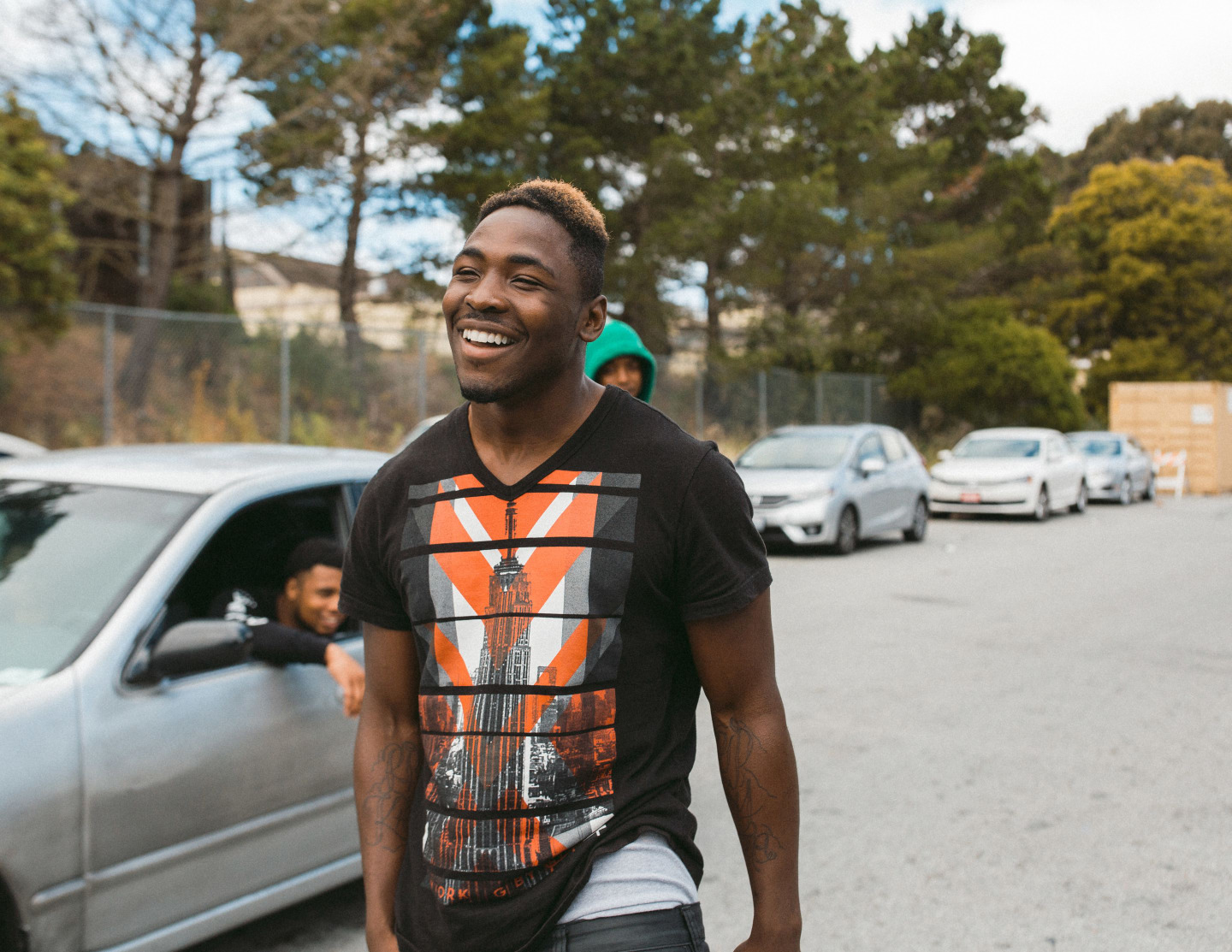 From the top of Harbor Road in Hunters Point, there's a panoramic view of the Bay Area, stretching from the skyline of downtown San Francisco in the near distance to the port of Oakland across the water. "We got million dollar views up here," said Llama Llama, the broad-shouldered, 21-year-old rapper, on one recent afternoon as he looked out at the cargo ships idling below. "Since I was a youngin', I remember tourists would come up here, just to see this."
Llama, whose real name is Ronald Curry, has, since he was born, lived in this section of the Hunters View public housing projects, known locally as the Harbor Road projects. He recorded on his laptop with friends in the neighborhood when he was 12, but began taking the hobby seriously after returning from an 18-month stint in a juvenile correctional facility in 2015. We in the field on the frontline/ A lotta soldiers done died from that gunfire, he sings on "Body Bags," his breakout song, and the first he recorded in a professional studio. Filmed in the hillside maze of squat homes, alleys, and courtyards along Harbor Road, the music video has amassed more than 500,000 views on YouTube.
Over the course of the last 40 years, San Francisco's black population has decreased by more than 50%. Rents in the increasingly crowded city have recently surpassed Manhattan's to become the highest in the nation. Meanwhile, people have left historically black neighborhoods like the Fillmore district for outlying Bay Area suburbs like Antioch, in search of affordable housing. The black San Franciscans who have remained are largely concentrated on the periphery of the city in communities with public housing, like Hunters Point.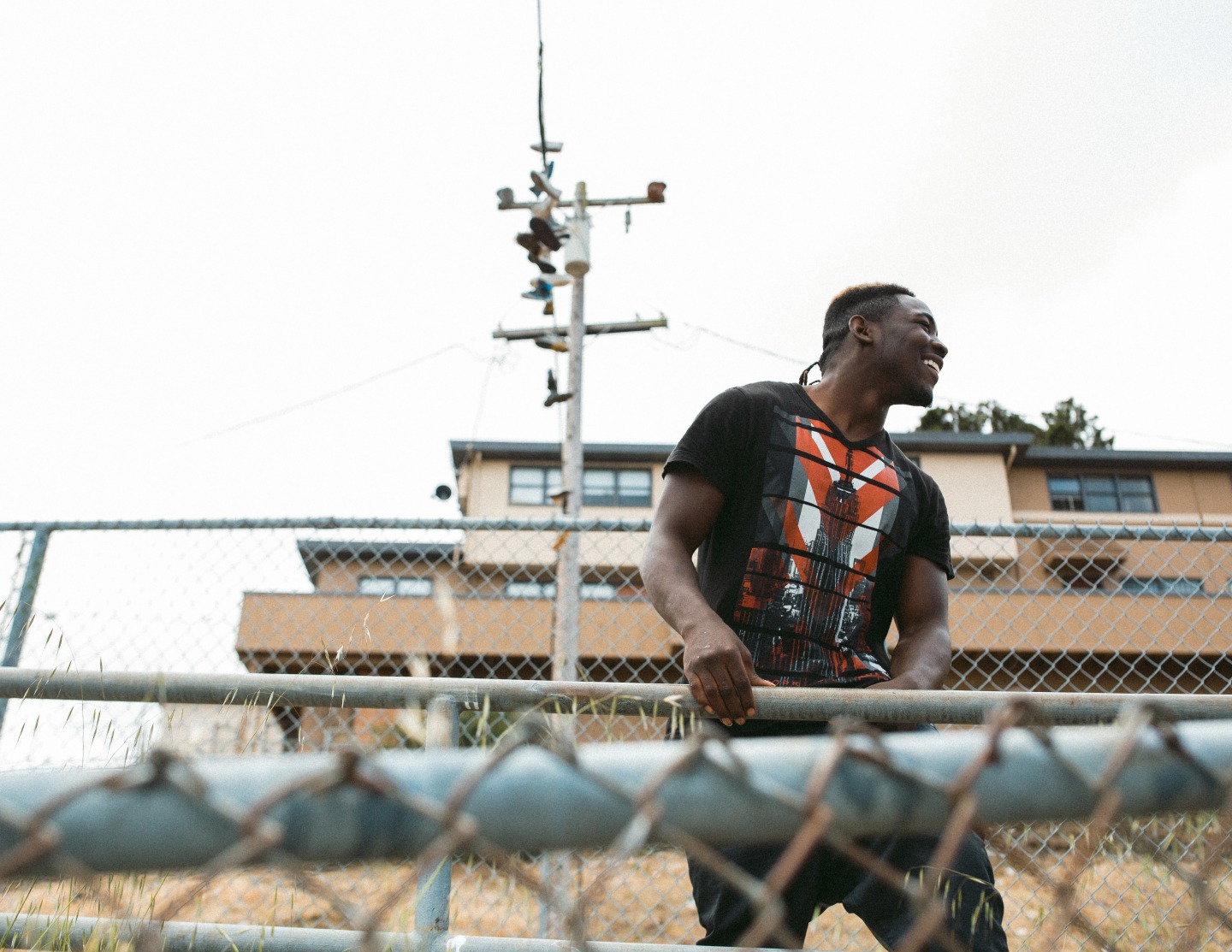 While long isolated at the southeastern tip of San Francisco, Hunters Point is now dotted with reminders of the city beyond its borders. Newly remodeled structures, placed intermittently among older buildings, have begun housing mixed-income tenants. A crop of new condominium-style apartments, backed by The City of San Francisco and three privately owned development firms, are slated for completion in 2017.
"They've been talking about this since I was a little kid and it's finally happening," Llama said, gesturing at the construction. "The city wants this land back."
---
San Francisco has never been the epicenter of Bay Area rap. Artists originating in Oakland and Vallejo have been more responsible for defining how the region is understood, both locally and on a national scale. But in the 1990s, the city produced some of the Bay's most recognizable and enduring hits, like RBL Posse's "Don't Give Me No Bammer Weed" and Rappin 4-Tay's "Players Club." With support from thriving independent distributors such as Oakland's In-A-Minute Records and Marin County's City Hall Records, those artists sold hundreds of thousands of records without major-label backing.
"We were pressing up our own records and literally making $200,000 off that shit," said San Quinn, a 25-year veteran of the city's rap scene. "Now, there's a lot more fame because of the internet. More people can find out about you and see your face, but these young rappers aren't making the same kind of money." Quinn, and other independent artists at the time, were often making double what they had paid to produce physical albums by selling their projects independently. But the autonomy that had once been a virtue of the Bay Area rap landscape started to become a weakness around the mid-2000s as the market for physical albums began to disappear.
The Bay's once ascendant hyphy movement arose during the middle of this decline, while the music industry was still reeling from the digital transition. The spastic subgenre, and its young fan base, instead relied on budding internet spaces like LimeWire, MySpace, and YouTube for consumption in place of physical releases. San Francisco, though, never fully embraced the hyphy movement, and, coinciding with the historic decline in black population, its rap output slowed significantly by the end of the decade. Quinn reflected on this progression with an air of somberness: "We're rapping to a dying fan base."
Seven miles southwest of Hunters Point, hemmed in by industrial plants and warehouses, stand the Sunnydale projects. The Visitacion Valley complex, constructed in the 1940s to house workers at the nearby Naval Shipyard, remains San Francisco's largest housing projects. Seagulls circled above the army barrack-style housing units, and Lil Yase sat in the center of Sunnydale's empty playground rolling a Backwood. The 21-year-old is tall and lanky, and it's not surprising that he played basketball for much of his life. "The rest of the city hates Sunnydale, but they love our music," Yase said, laughing and shaking his head. Born Mark Antonyyo Alexander, Yase started shooting music videos with a friend's iPad in 2013. Last year, he scored a regional hit with "Get It In," a hydraulic anthem where he and Yatta — and another S.F. rapper — trade verses about street life: Got my nigga in the back with a Mac-10/ Put the shotty to your back blow your back in, Yase raps.
"When it's all rebuilt, nobody is gonna be here that ain't supposed to be." —Lil Yase
The grim imagery in Yase's and Llama's music runs counter to the popular idea of San Francisco as a playground for the tech industry's elite. It also calls attention to the fact that the city has become not only an expensive place to live, but a divided one. Gentrification has displaced residents, transformed neighborhoods, and, in the last couple of years, been tied to police violence and officer-involved killings. After Mario Woods, Alex Nieto, and other people of color were shot and killed by law enforcement, activists known as the Frisco 5 went on a hunger strike in April, and demanded that S.F. Mayor Ed Lee take action against the San Francisco Police Department.
When I spoke to one of those activists, Ilyich Sato, who is known in the Bay Area rap community as Equipto, he had just been discharged from the hospital, after calling off the hunger strike, which lasted 17 days. "We went to town hall meetings, we had sit downs, we had disruptions," Sato said over the phone from San Francisco. "We felt like we had exhausted every avenue as far as how to approach this situation." Sato sees recent instances of police violence as a battle being waged against S.F's most marginalized citizens. "It's ethnic cleansing," he said, characterizing the way the city's demographics have transformed over time. "Slowly but surely, they're wiping entire communities and cultures off the map." A week after our conversation, SFPD fatally shot Jessica Williams, an unarmed black woman, and Police Chief Greg Suhr resigned.
Though they were born and raised there, neither Lil Yase nor Llama Llama have performed in San Francisco. Yase told me he resents being labeled a Bay Area rapper. He said his own work, distributedly largely through social media, is more influenced by the Gucci Mane-birthed Atlanta scene, and Chief Keef's viral rise out of Chicago public housing. "They localize you when you're from the Bay," he explained. Stylistically, Yase's music shows this resentment and hints at his desire to be included in a larger narrative. "In other places, it seems like everybody fucks with each other and collaborates — they help their people evolve."

While some are frustrated by the perceived ceiling for Bay Area rappers, others in the community are working to ensure that past mistakes on the business end are not repeated. "I felt like the one thing that we always lacked as a community was a structure and a framework for artists to really be successful," Ghazi Shami told me in May as we sat in the conference room of the San Francisco offices of EMPIRE Distribution. A distribution and record label hybrid, EMPIRE counts artists ranging from established stars like T.I. to local up-and-comers, like Yase and Llama, among their clients. Shami grew up in S.F.'s Potrero Hill neighborhood. Before founding EMPIRE in 2012, he worked for a decade as a producer and sound engineer, collaborating with guys like San Quinn and Messy Marv. In 2006 he landed a job with one of the first independent distribution companies to partner with iTunes, INgrooves Music Group. "I started looking at the marketing campaigns and people's contracts with others distributors," he recalled. "I realized [the distribution model for Bay Area rappers] was not set up to win — this was set up to barely stay relevant."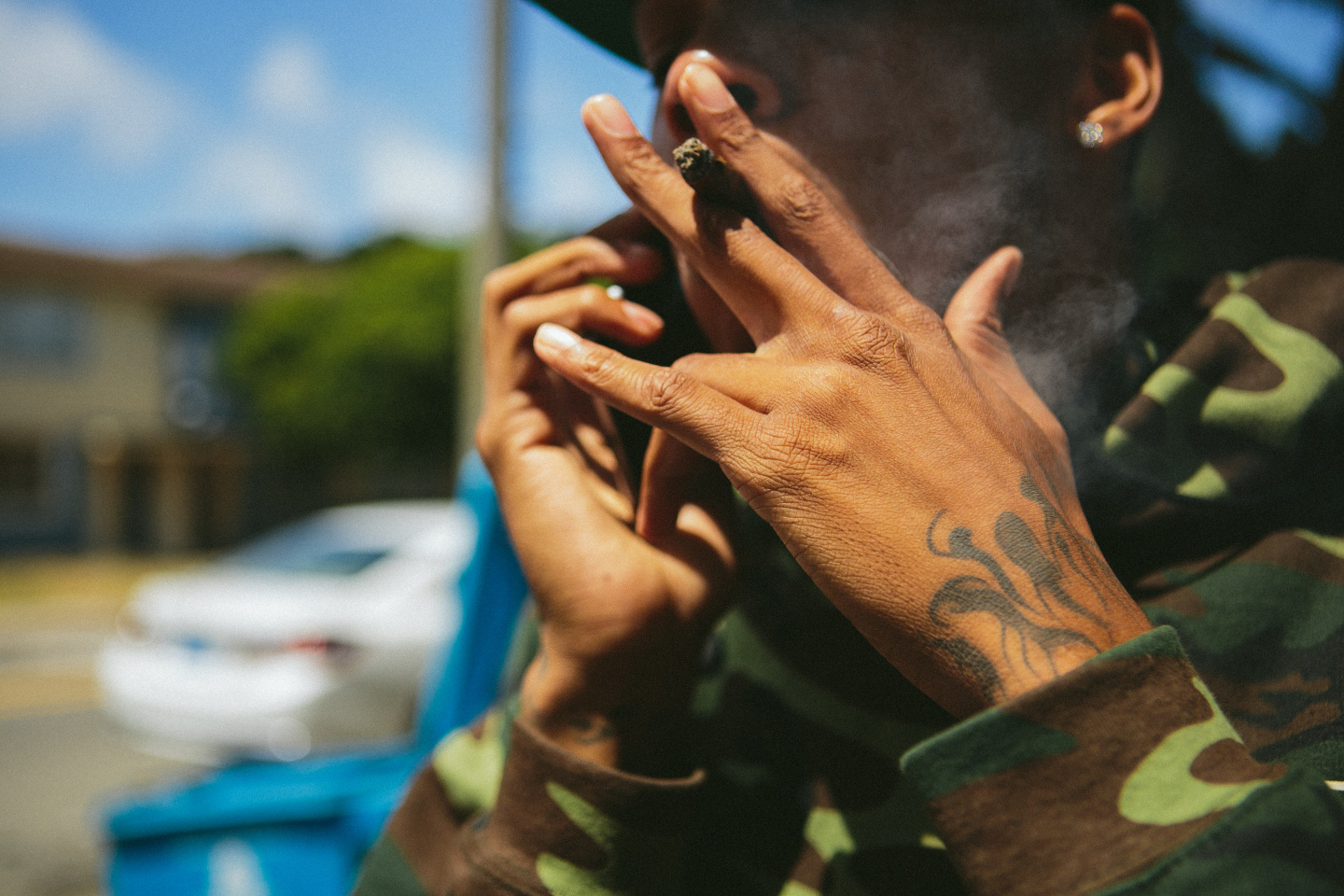 Today, EMPIRE offers artists an array of services, ranging from digital and physical distribution to artist development and traditional label services, with the goal of bringing regional artists to a national market. Through non-exclusive marketing and distribution contracts, which split revenue at 80% for the artists and 20% for the company, EMPIRE helps artists monetize their streams on services like Spotify, Apple Music, and Tidal. Shami describes his company as a restaurant that offers a menu to artists based on their potential marketability. With help from EMPIRE, Bay Area artists like Sage the Gemini and LoveRance have earned gold and platinum plaques.
---
On the day I met with Yase in Sunnydale, a piece of lined paper was taped to the door of the apartment of Lil Yase's friend, Gouda. On it, a stop sign was drawn above a message that read: "Knock before entering...Y'all muthafuckas are getting way too comfortable." Inside, a portrait of a friend, Spunkz, who was murdered in 2010, hung on the wall. Yase showed me a microphone setup in the narrow kitchen, where he recorded before moving onto professional studios. Yase recently moved out of Sunnydale, and, since our conversation, has relocated to Los Angeles, where he said the rap scene and industry is more "poppin." "It seems like that's where all the opportunities are at," he told me.
Similar to Hunters Point, there are plans for revitalization projects in Sunnydale, which are already underway. The HOPE SF campaign promises the targeted neighborhoods a one-for-one replacement of all demolished city housing units, as well as the addition of mixed-income and market rate housing. "It's over with," Yase said, when I asked him about the future of Sunnydale. As we discussed the neighborhood around us, a middle-aged woman made her way across the playground, pausing to ask Yase how his brother was doing. "When it's all rebuilt, nobody is gonna be here that ain't supposed to be."