FADER Mix: Mark Barrott
Essential listening for anyone looking to clear some headspace.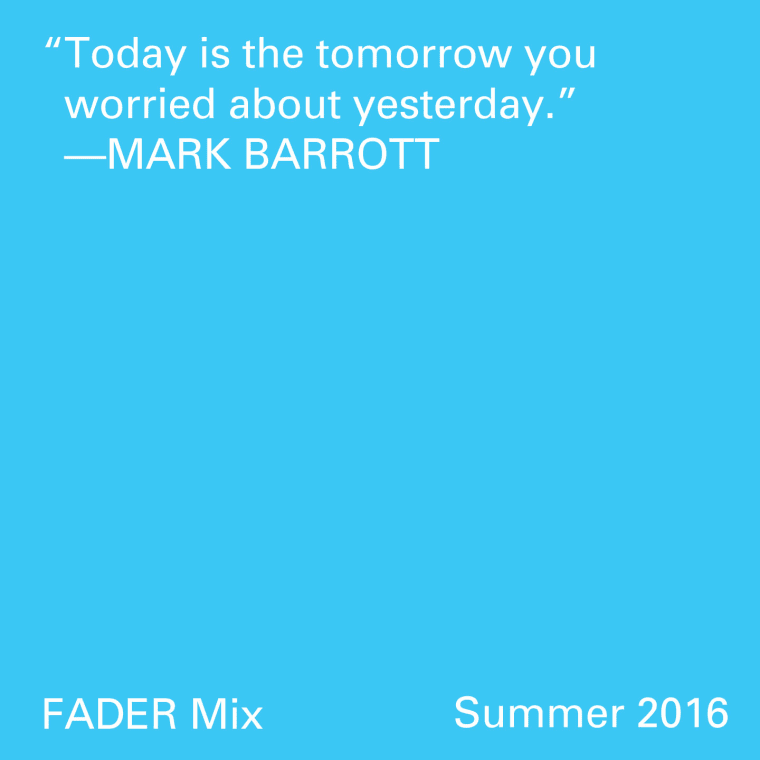 When I interviewed Mark Barrott last year about how he ended up moving to Ibiza, we naturally got to talking about his incredible album Sketches From an Island. Released in 2014, the record adopts a beguiling production style that's at once super-weird — I'm not aware of any larger community of producers making downtempo beach funk — and super-familiar, like your subconscious's background music as you dream of a perfect summer day.
At the time of our conversation, Barrott was dead-set on not creating a followup record. He seemed naturally averse to doing something that people expected of him. But it seems that by talking himself out of it, he found someone new to contradict — himself — and did the damn thing fans were hoping for all along: he made that followup, on his own terms.
Out on July 1 via the label he created, International Feel, Sketches From an Island 2 is just as sublime as the original. Order it here — it's essential listening for anyone looking to clear some headspace, and so is this live mix he did to celebrate.
Where are you right now? Describe your surroundings.
In bed with summer flu feeling the worst I've felt in years, covered in sweat in 100 degree heat.
Tell us a bit about this mix. Any particular logic behind the song selections?
Normally mixes take me weeks — loads of thought, detail, reworking, editing, etc., etc., and I just thought… there's no way i want to do another one like that. It takes all the joy out of the music, so this was the total opposite. I picked all my favorite new tracks, tracks I didn't play out last year or at my sunset residency in Ibiza, La Torre. I just did it live straight from the CDJs into a recorder with no editing, just instinct rather than thinking about it, and it was a breath of fresh air!
When we talked last year, you said, "I'm about as interested at this point in time in doing another Sketches record as I am in eating cat shit raw." Now there is one! What changed?
Artists are fickle and, as with the mix, I think I'd over-thought a new Sketches record. After the success of the first one, I'd bought a load of equipment to use on the next one, and that just distracted me. Music technology is a nice hobby, but it's not really got anything to do with actually making and finishing music. So as the winter progressed, I ditched all of that and just sat there with a slide guitar a laptop and a little MIDI keyboard sat on my knees, as I did with the first album, and then it became about the music not the equipment and everything happened really quickly.
A few track titles on the upcoming album seem quite specific — "Brunch with Suki," "Driving to Cap Negret." Are these specific memories that directly inspired tracks, or memories conjured up midway through based on how something sounded? In other words, how much planning goes into it?
Well, because I'd taken all the pressure off myself with the interview we did together, I had no expectations, so I started writing again with the simple set-up. Tracks started forming into what I thought was just going to be an EP, and my concept for the EP was a day in the life of my Ibiza, specifically Thursday, the day I DJ from June to September at La Torre. So the EP recounted a specific day, starting with brunch with a friend, then hanging out at Dieters, where I recorded the first album, and then driving to Cap Negret, which is where La Torre is. Then… I just kept on writing and writing, and the EP became the album.
Has your approach to DJing changed much since you moved to Ibiza?
I just do the weekly Sunset residency at La Torre, and really the only reason I do that is not because I want to DJ but because of the actual sunset at that place and being able to "soundtrack it." DJing in Ibiza, for me, means playing pretty much everything and anything I want in any order leading up to and after the money shot — the sunset — and for sure, I get to play things that just wouldn't work anywhere else. Last night at sunset, I was playing "Deep Water" from the first Sketches album overlaid by an MLK speech, followed by Hatchback, followed by Duran Duran. I'm not sure where else you could get away with that! I do keep getting offered other things — I just got offered a Vogue party in Paris, but I'm not sure I really want to go down the DJ / traveling route.
What's the last book you read that had a big impact on you and why?
I'm reading a lot of books on neuroscience and mindfulness at the moment. All of a sudden, after years of trying, I finally 'get' meditation and the total importance of living only and always in the present moment, so thats my main mission going forward. Today is the tomorrow you worried about yesterday. Was it really worth it? No!
What's your favorite dish to cook and how do you make it?
I have people for that sort of thing :)
Tracklist
1. Hold on to it (Jonny Nash Remix) - B.J. Smith
2. Pleasure Centre (Pharaohs Remix) - CFCF
3. Bungalow - Juan Marco
4. Gold Coast (Surfer's Paradise mix) - Andras
5. On Retinae (East) - Dip in the Pool
6. Tema per Malva - Ishi Vu
7. Time - Senor M
8. Clocking Off - (DON'T ASK)
9. Mkwaju - Mkwaju Ensemble
10. Cirkla - Dorisburg
11. Orange Coloured Liquid - Spooky
12. Present - 高橋幸宏