This Amazingly Intricate BDSM-Inspired Backpack Is What You Need Right Now
Anne Ishii of Massive Goods explains the method behind The Henry-designed bag.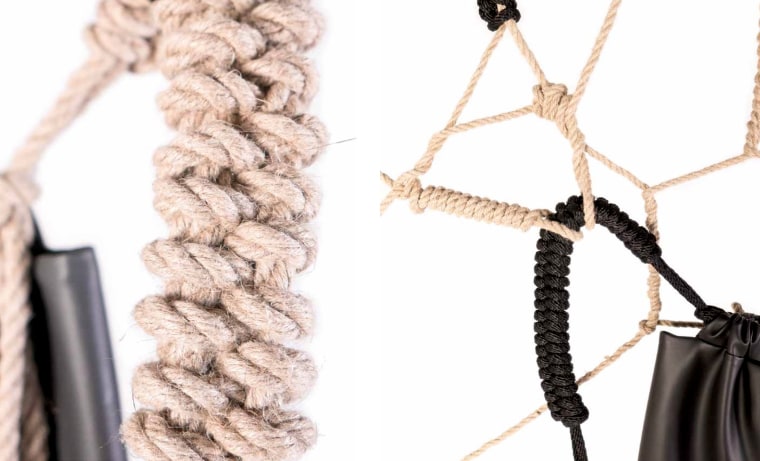 Our newest obsession is the The Henry-designed Passion bag, a specially created item for online purveyor Massive Goods, inspired by the work of legendary Japanese artist Gengoroh Tagame. The FADER spoke to Anne Ishii, owner of Massive Goods, about what this fascinating, ropey backpack means to her. The vegan leather and hemp bag incorporates some elements from BDSM culture, and as Ishii explained, took on greater significance after this month's shooting in Orlando. In these times, small gestures and safe spaces are more important than ever.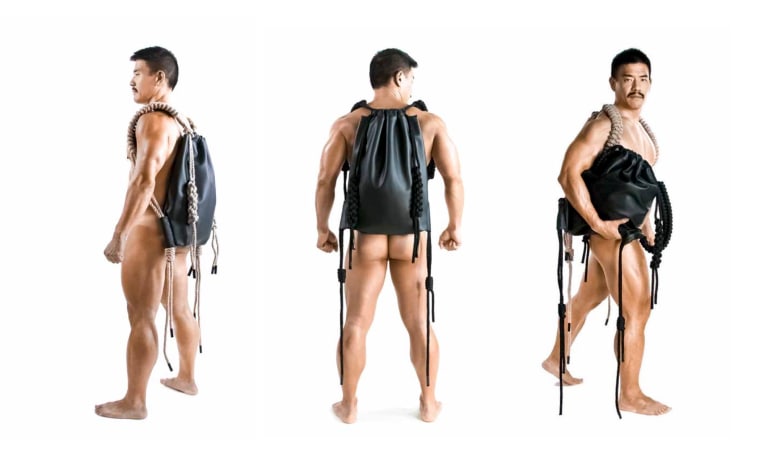 So how did this collaboration come about?
ANNE ISHII: I run Massive Goods and am also the editor and agent of the designer and artist behind the bag's concept, The Henry. Henry, the bag designer, came from Philip Lim and has done tailoring for Bjork and Anohni. He has an amazing design pedigree. [Henry and I] both had been fans of Gengoroh Tagame, the Japanese bondage artist who has done a ton of comics with really hardcore BDSM imagery and is sort of artistic entree to Japanese bondage to Western audiences. With his help and Henry's design direction, we came up with the bag.
Can you tell me a little bit more about Gengoroh Tagame?
He is definitely the most famous gay artist in Japan, but also a really well known bondage artist, who personally is just a part of the BDSM community — a real player. He's an artist who's been doing comics since the '80s and then in the '90s began a standalone career exclusively as a gay artist, which in Japan was a huge deal. He started a magazine called G Men, which was by far the biggest gay magazine in the world, it folded a couple of months ago. He still does gay porn comics.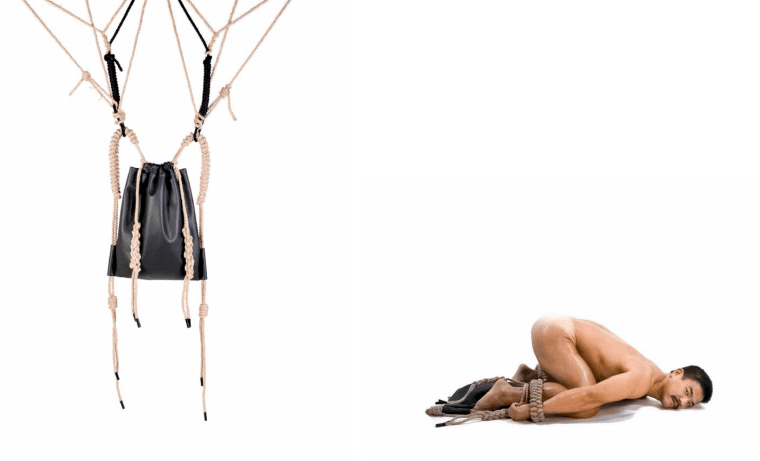 How does his work feed into the aesthetic of the bag?
The bag is definitely a mixture of his archival work with our design ethos. All of the materials [we used] are familiar to actual bondage community players, but also we wanted it to feel precious and luxurious.
What was the construction process like?
First, the shell is made of a vegan, synthetic leather. Gosh, it took so long to find because it needed to have the integrity of real leather, and that took forever to find. We didn't have a budget to create the metal trim, so we were trying to figure out a nice way to make it more bondage-y. What we found were rubber enclosures that are used to tie the ends of rope. So rather than using a metal or plastic enclosure, we found these like rubber shrinky-dinks. The rope took a long time to find too because we wanted to find a natural hemp rope. We sourced that out of Oregon because no one sells hemp rope anymore, at least not pure hemp rope. I think a lot of bondage people prefer that because it's more rugged and it's more painful and real.
I didn't realize rope preferences could be so nuanced!
Like, we showed this at a festival on Sunday and literally one guy was like, "Oh I would never get the nylon version, because nylon is for amateurs. Only a pussy would use nylon." Then we were looking for the nylon and each of these things. Then we found a fabricator in midtown on like 36th street; this little Chinese lady is basically sewing all the bags for us. So it goes from our office to the factory, then back to Henry, and he actually threads the rope through the bag and ties all the knots himself.  It takes him a couple hours per bag; he does like 60 knots all together in the bag. It is a very labor intensive process that cannot be mechanized.
So you debuted the bag at Pride; did it feel more loaded this year?
It has been a really intense time for us. Our artists in Japan have struggled with what to do, because the bar scene in Japan, like gay bars in Japan, are sacred and secret places for people who are not comfortable coming out. Even I can't come in as a queer ally because I'm female. These bars have strict entry codes to protect the identity and safety of their patrons. So when they heard that this happened at a gay bar, several of our artists panicked because it is the one place where they are not supposed to worry about, you know.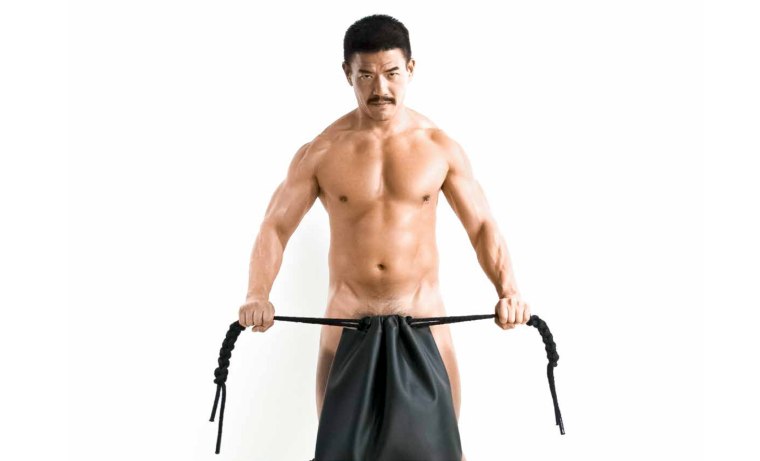 What does releasing this bag mean to you?
The bag coming out as a gesture felt very strange because the idea behind rope bondage and BDSM is that there is a joy in letting yourself lose control and be overpowered in a situation, of course with consent. It felt a little strange. But I do think at the end of the day, the idea of group perseverance, like this, is an acknowledgement to the gay community and the idea of chosen family, which is something we're about. Coming out with this felt extremely significant.