Sampha's Search For Magic
The Londoner lent others his voice and made their good songs great. Now, it's his own story that needs telling.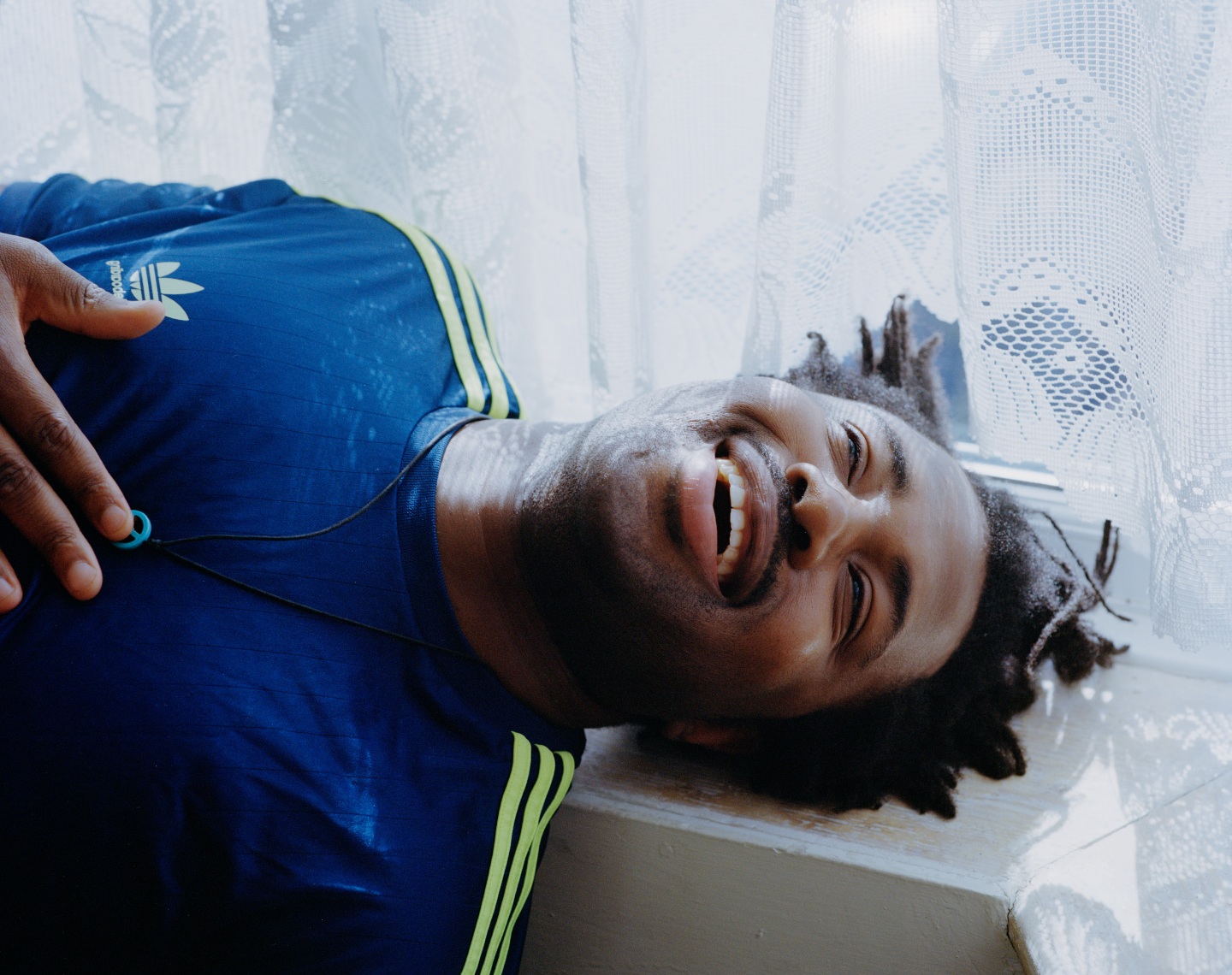 There's a lump in Sampha's throat and it won't go away.
When he first went to have it checked out in early 2012, the doctor sent him home without a proper examination. "They were like, 'It's nothing. You're too young,'" the 27-year-old remembers. "I had to go back a couple of times and be really stern." We're sitting in an East London studio, a windowless space that's right next door to the office of his record label, Young Turks. He tells me he wishes there was a technology that could identify pain and convey it. Like: look, that's how I feel. He was eventually given an endoscopy, so that the doctor could see what was going on. They found nothing.
In person, Sampha can be a little shy. But when he sings, his voice gives everything away. It cracks mid-range and frays into a whisper when he reaches for his falsetto. It's almost like his emotions are so close to the surface that they're bruising his vocal cords. On "Plastic 100ºC," a delicate ballad from his long-awaited and still-untitled debut album, Sampha candidly details this recent brush with his own mortality: Usually I'd run home/ And tuck the issue under/ Oh, sleeping with my worries, yeah/ I didn't really know what that lump was.
The lump had appeared in 2011, a couple of months after Sampha had joined a tour with his frequent collaborator, SBTRKT, real name Aaron Jermone. One morning, Sampha woke up with a cold, a fever, and a strange, painful feeling in his throat. He got better, but the lump remained. It bothered him, but he had too much going on. He put it to the back of his mind. He didn't want any more bad news.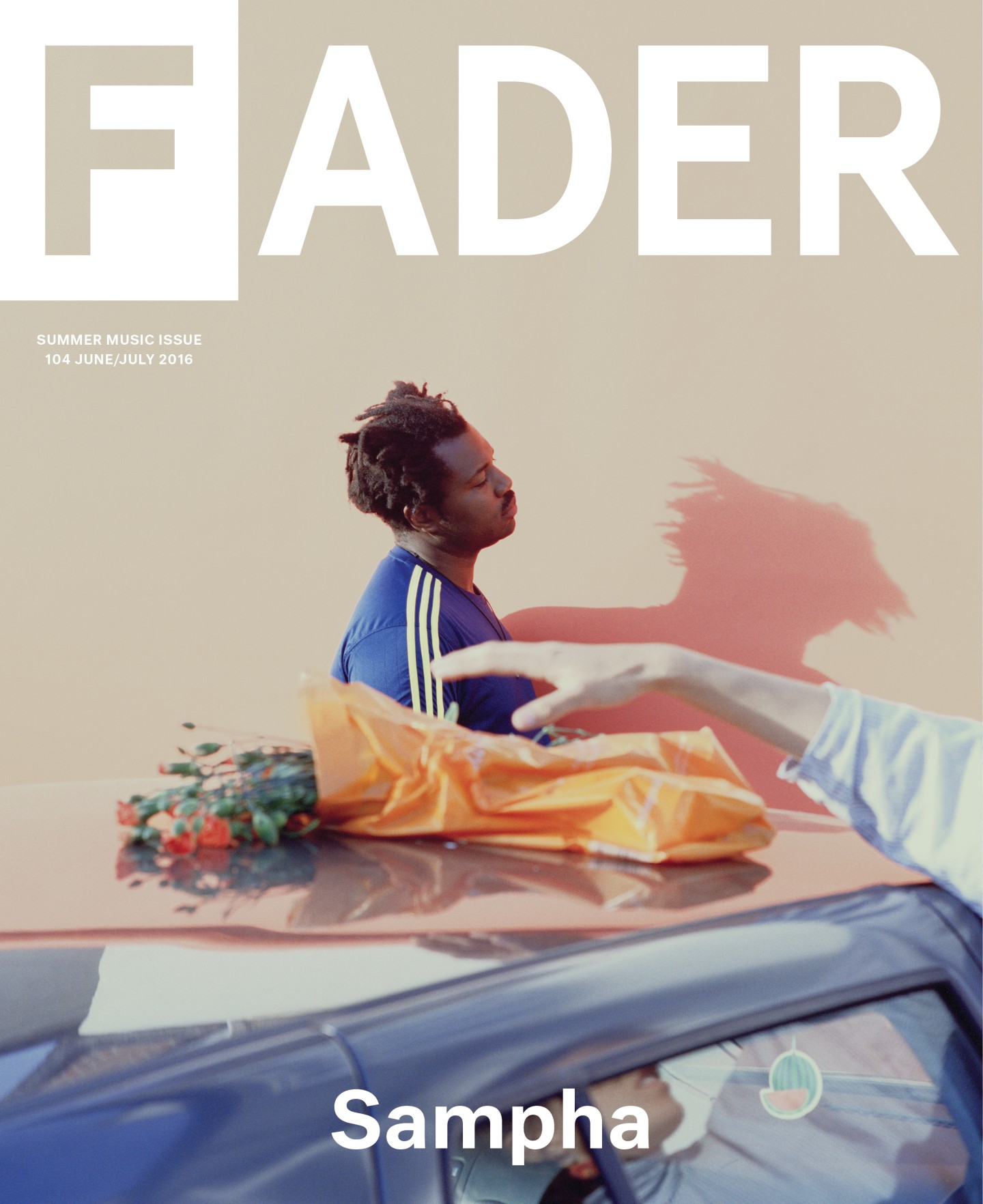 In 2010, his mother, Binty Sisay, had been diagnosed with cancer. Since Sampha was the only member of his family still living at home — his father died from lung cancer in 1998 — he'd become her primary caregiver. At the time, he'd been working hard to get somewhere in music because, much to his mother's dismay, he'd dropped out of university a couple of years before. (He'd been studying music production but wasn't really connecting with the course.) So when the chance to tour with SBTRKT arose, Sampha's brother Ernest — who had moved home shortly after their mum's diagnosis — and his cousins Maggie and May stepped in to help look after Binty.
Her cancer went into remission in late 2012. In the relief-fueled year that followed, Sampha's career blossomed. He flew to Toronto to work with Drake on Nothing Was the Same tracks "The Motion" and "Too Much," then to Ghana to work with Solange on music for a forthcoming project. A few months later, he traveled to both Los Angeles and Italy to work on early sessions for Kanye West's The Life of Pablo, resulting in the vulnerable-sounding "Saint Pablo," which Kanye added to the album four months after its release.
By the end of 2013, Sampha had moved out of the family home and was living by himself in East London. The plan was simple: hit pause on collaborations and start focusing on his debut solo album. But plans often go awry. His mum's health was up and down, and in late 2014, her cancer returned. Sampha moved home to be with her in the South London suburb of Morden. Some weeks, she was in and out of the hospital every couple of days. This past September, she lost her life to the debilitating disease. Understandably, Sampha is still reeling from the loss. "There's not 'the grieving process,'" he says quietly. "It's like a dream you never…" He pauses for a second. "It's never gonna feel real."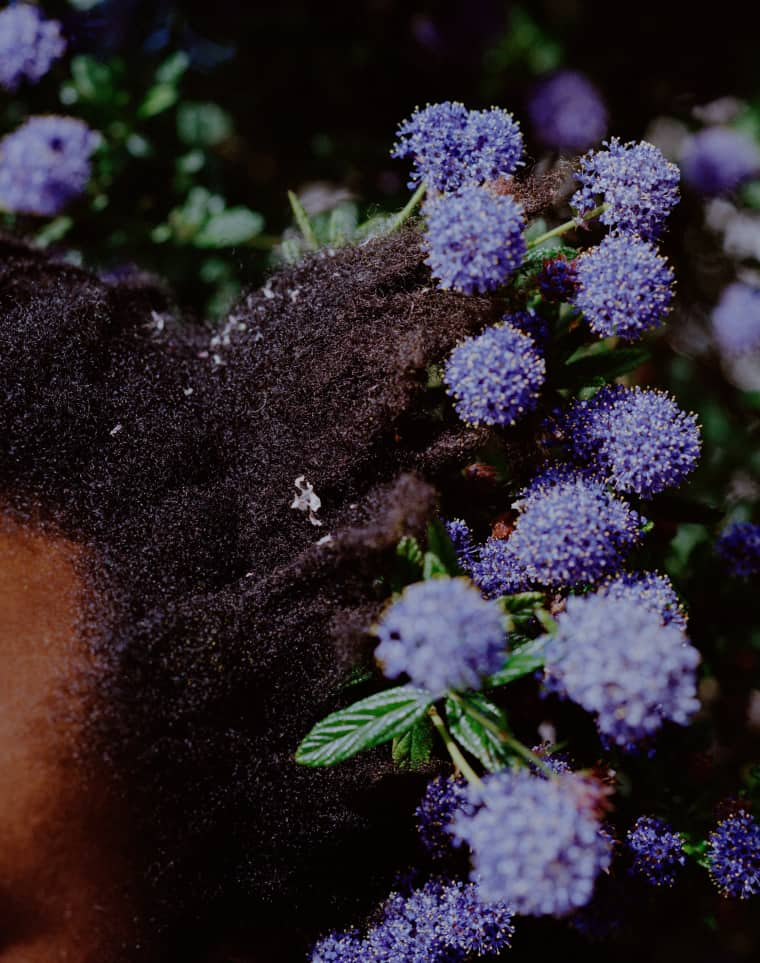 Sampha is the youngest of five brothers by over a decade. His older siblings — Junior, John, Sanie, and Ernest — spent their formative years in his parents' hometown of Kenema, Sierra Leone. But in 1982, his dad, a diamond evaluator named Joe, got a new job and moved the family to London, where Sampha was born a few years later. They settled in a semi-detached house in Morden on the edge of the countryside. The move was a chance to provide more opportunities for his sons, and to escape the corruption in the diamond trade that was wreaking havoc in his home country. A few years later, a decade-long civil war would break out in Sierra Leone, killing over 50,000 people and turning hundreds of thousands into refugees.
Sampha was 9 years old when his father died. "I wonder what kind of things I get from him," he tells me in a gentle tone. "I always find it weird that you have [inherited] things about you that are not just physical: the things you think, the things you feel — the epigenetics or whatever."
His mother and older brothers did their best to shelter Sampha from the trauma of his dad's death, but nevertheless it left a void. In the years that followed, Sampha's emotional world became entwined with music. His dad had bought a piano from their elderly neighbor when Sampha was 3. It was supposed to provide a "productive alternative to watching TV," his brother Sanie tells me later, over the phone. And it worked; Sampha was always playing it. Later, he discovered music production as a young teen, after Sanie, who's 16 years older, built himself a makeshift home studio in his house around the corner. But his real introduction to the music industry came second-hand via a London producer named Kwes, who he'd met on Myspace in 2007.
Back then, Sampha jokes, he thought "people in the music industry could far enough be aliens with huge blue hair and red eyes." Kwes helped put things in perspective, though, and went on to introduce Sampha to Young Turks, which, at the time, was an offshoot of XL Recordings. But it was Kwes's actual music — scratchy, bubbly tunes that defied conventional structure — that Sampha says changed his life. "It made me feel more okay with the songs I was writing," he says. Through Kwes, Sampha met a community of like-minded artists, including Ghostpoet, DELS, and Micachu, whose music strived to make new, irregular shapes at a time when seamless, glossy pop like Girls Aloud and Sam Sparro was dominating the U.K. charts. Sampha would upload tracks to Myspace, and he says the response he got from his peers was liberating. He felt understood.
That moment of understanding — of pure sonic communication — became something he actively sought out; it eventually resulted in Sundanza, his debut EP of intricate instrumentals released on CD-R by Young Turks in 2009. It was an exciting time at the label: The xx was enjoying debut album success, and expectations for Sampha were high.
He tells me about the "very unspoken connection" he had with SBTRKT while working on the London producer's 2011 debut, for which Sampha wrote, produced, and sang. Later, when Drake received a .zip file of Sampha's music from Young Turks in 2012, the first thing he showed interest in was a mid-tempo beat. Drake didn't end up using it, but the choice was still mind-blowing for Sampha: one of the world's biggest rappers recognized his skills as a producer. Rick Rubin also spotted something in Sampha's music, and invited him out to L.A. to work with Kanye. The place where they met looked like a bungalow in the side of a hill, Sampha tells me, but opened into an underground mansion. He got nervous when Kanye was "really responsive" to the embryonic album tracks he played. "I listened to College Dropout religiously," he says, still in awe even now.
On a sunny afternoon in early May, I meet Sampha outside the Willesden Green tube station in northwest London, a mostly residential area that has the fingerprints of gentrification all over it. He's lived around here with Jojo, his girlfriend of three years, since his mother passed away. There's hardly a cloud in the sky, and locals are sitting on metal chairs outside a nearby cafe. Sampha pulls up on a bicycle that, with a tug of a few levers, deftly folds down into a manageable carry-on size. We catch the tube from Willesden to Waterloo, then change to the Northern Line to travel down south to Morden, which is right at the end of the line. Grubby issues of the free morning paper are scattered around the traincar, their front pages emblazoned with a headline that gives away the tabloid's bias for the right-wing Conservative candidate in the local elections. Two days later, though, the win goes to the Labour Party's Sadiq Khan, the first Muslim politician to be elected mayor of London.
From Morden station, it's a short bus ride and a stroll to Sampha's brother Sanie's house. On the walk, petals fall like snow from blossoming trees. We bump into a middle-aged family friend on the way; he'd spotted Sampha out the window and wanted to come give his well-wishes.
Sanie's house is the hangout spot around here; friends and family drop by, listen to music, and swap stories. Today, Sanie's at the Southbank Centre seeing a play, so we're greeted by his other brother Ernest. He's a tall, broad-framed man who, save for his shaven head and the silver in his stubble, is Sampha's spitting image; they even have a similar laugh. Sampha's best friend Hassan, a visual artist with a beard and blue suede boots who lives nearby, is here too. Sampha and Hassan slip inside to catch up while Ernest and I sit outside for a moment, soaking up the sun. As we chat, a tiny red-breasted robin, its beak stuffed with flies, makes multiple trips to a nest tucked away on a shelf above Ernest's head.
Ernest tells me that Sampha was like a meerkat when he was little; his head would pop up whenever he heard one of his brothers playing music. As he got older, Sampha soaked up his family's wide-ranging musical interests like a sponge: Stevie Wonder, U.K. garage, rare groove, and sounds from Sierra Leone. It was an education in the breadth, depth, and wide-ranging influence of black music. "We used to get irritated after a while: 'You ask too many questions,'" remembers Ernest, laughing. "I used to explain how we have certain sounds because of the way they'd been produced. So Sampha's going on and on, experimenting with deep stuff, then he went off and found himself. I think he's done well. He's found his sound."
Like he always has, Sampha's been bringing around the tracks he's been working on for his album and playing them for his brothers and friends. "Sampha's quite open," Sanie tells me later. "He'll come in and play his stuff and be prepared to listen to anyone. That's the only way you can really develop."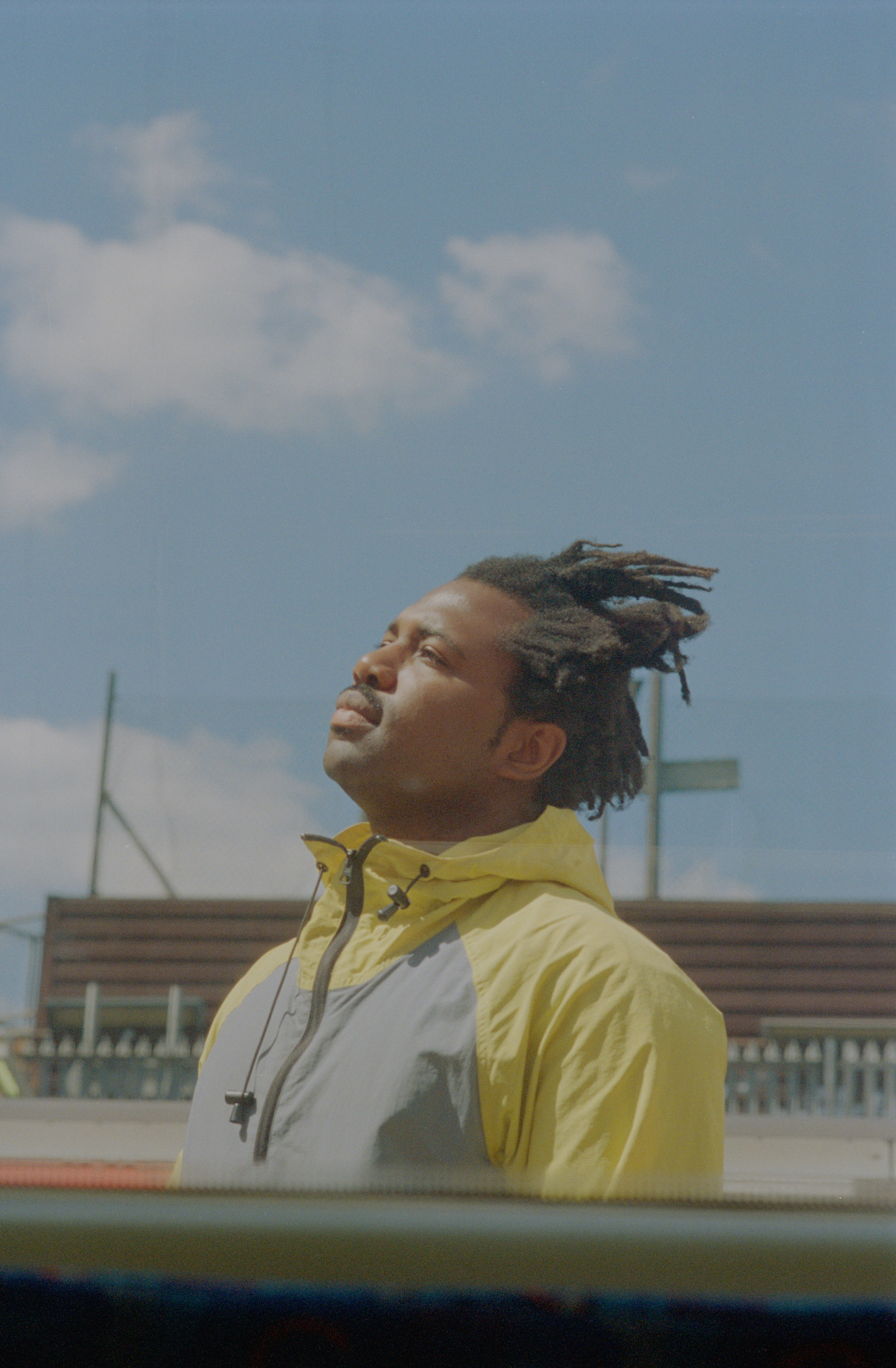 "There's a lot I see, feel, really want to express. I think that's part of the thing, like — I feel so much."
After lunch, we take a stroll over to Hassan's house. The bright sunlight makes everything seem a little CGI, the trees an almost impossible green. Some nights this past year, Hassan says, Sampha would call him at "crazy hours," and they would go for a drive through central London, listening to Sampha's album demos and talking until 3 or 4 in the morning. Other times, Sampha would hole up in the wooden studio in Hassan's garden, listening back to tracks while surrounded by Hassan's hypnotic artworks — large canvases with abstract, cartoon-like doodles that often feature a large central character with a mournful look. "I'm very visual when I'm making music," says Sampha. The two friends made an EP together once, but Hassan's been focused on art these past couple of years. Sampha has one of Hassan's paintings, which depicts a recurring character with a skull-like head and a bleeding heart called "The Phantom," in his room at home in Willesden.
Hassan is a couple of years older, but they've been friends ever since he saw Sampha play the piano at a school assembly 15 years ago. They bonded over music on the school bus home, and that shared enthusiasm still shapes their friendship today. There's a gentleness to the way they talk to one another; they listen respectfully and back up each other's points. There weren't many black or Asian families in the area, Hassan tells me, and their school was "maybe 80 percent white." Kids were nice, but sometimes people in the street would make racist comments.

Both young men were drawn to creative pursuits. "[Art] is the only way I can really express myself freely and enjoy something," says Hassan. "I couldn't really get it academically." Sampha continues: "For me personally, I've always felt like I'm just gonna do music no matter what. There's a lot I feel, see, really want to express. Because I think that's part of the thing, like — I feel so much."
Later, Sampha, Hassan, and I head back up north, where we're hoping to catch the sunset in London Fields. When the bus arrives, we all get on — apart from Sampha, who is having a little trouble folding up his bike. A young schoolboy with long locs past his shoulders spots Sampha from the bus window. "Oh, he looks like me!" the boy remarks. When Sampha finally climbs on board, the kid holds out his fist, and Sampha bumps his knuckles with a grin.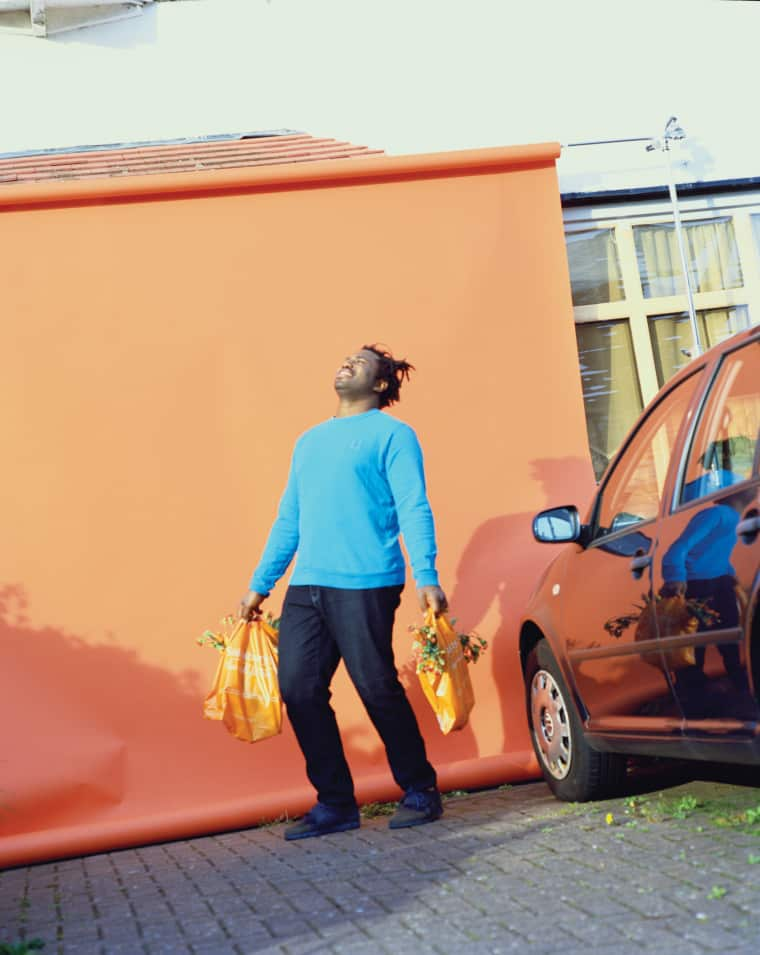 The biggest thing Sampha's learned from his high-profile collaborators is the importance of confidence. He observed everything quietly, storing it all away for later. "It taught me I need to appreciate what I've got. Like, appreciate difference," he says. Like Kanye, Sampha is also a "constant tinkerer." He made his album for himself, but he says he's editing in a way that respects that he will not be the only person listening.
He's written a lot over the last two years; there were 40 songs he was considering for the album and he's whittled it down. In the past, he'd always bury his vocal in the mix. "Obviously I've been told by a lot of people, 'You need to turn it up,'" says Sampha. "But now, if someone puts reverb [on my voice], I'm like, 'I wanna hear it dry.' I wanna hear it up front." The change is due in part to a new, more professional recording process. Sampha used to do everything on his own, recording songs in his bedroom, but for this album, he swallowed his self-proclaimed stubbornness. He recorded in studios, hired musicians including a kora player, and brought on XL Recordings's in-house producer Rodaidh McDonald, initially as an engineer, then later as a co-producer. "He made me feel more comfortable about hearing my own voice," Sampha says.
One of the reasons Sampha connects with so many people — famous creators and fans alike — is because he has a voice that scratches the soul. But what he's been less praised for is his considerable songwriting and production skills. On his album, due later this year, the extra steps he's gone to challenge our perception of him are audible. He lays bare the anxiety, the grief, and the love that's shaped his thorny path to adulthood. There are tense bangers (an upbeat song with the evocative central lyric: I swear they smell the blood on me) and tender pop songs, including one that feels like an older, wiser cousin of 2011's "Valentine," a collaboration with Jessie Ware. The album sounds like it could be a hit.
If it is, then he might have fame to deal with. Is that something he's interested in? "Somehow, in my head, I think it's not possible for me to get famous," he says, visibly thrown by the question. "It's funny because sometimes if you talk to family members, they're like, 'Oh don't worry, one day you're gonna be on TV.' That's their expectation of why I'm doing music — to be everywhere and be a huge celebrity, which isn't what I'm doing it for."
For Sampha, the prize is to keep learning. He'd like to become a better piano player. He wants to learn more about harmony and rhythm. He dreams about producing albums for other artists. Perhaps he'll write a musical someday. Maybe he'd even like to design clothes. "I just wanna really sort of push my brain," he says. "I wanna make things feel more magic to me, like how I felt when I was younger. When you grow older, you just try and work harder to find the magic in life."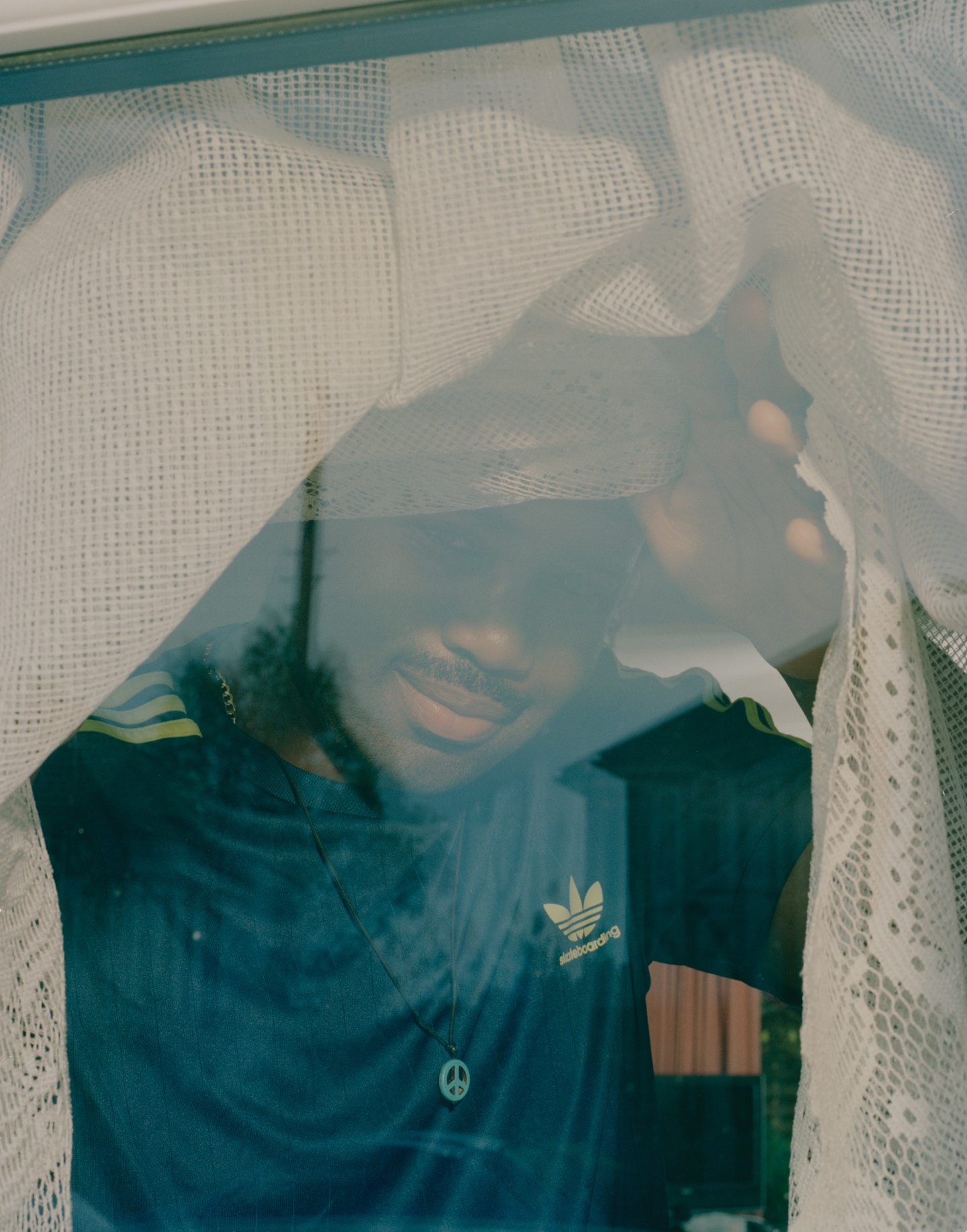 "I just wanna really push my brain. When you grow older, you try and work harder to find the magic in life."
When Sampha was six years old, he asked his dad if there was a God. His parents had raised their five sons as churchgoing Christians, but Sampha was a bit of a dreamer and always had questions. Overhearing the conversation, his mum tried to shush him — "Don't ask about that," she'd said — but his dad's interest was piqued: "No, let him speak; let me hear."
Sampha stopped going to church when he was 11. His mother's faith was strong but she allowed him to make his own decision. Recently, a friend gave him The Tibetan Book of Living and Dying to read, and while he hasn't yet finished it, its message of accepting death as a part of life really spoke to him. The book also stressed the importance of spiritual growth, something he'd not really considered before. "I feel that spirituality is connecting to that thing that you cannot see," he says after some thought. "So when I'm performing, I guess that's almost like a spiritual thing for me."
It certainly feels that way when you listen to a song from the album that he's been calling "Mother's Home." No one knows me like the piano in my mother's home, he sings on the stripped-back, heartbreakingly beautiful track. He wrote it not long after he'd moved back to Morden to be with her in what would be her final months. He thinks she might've heard the song, but she was so sick towards the end, he's not sure that it registered.
On the last night of my trip, Sampha sits on the rooftop of Young Turks's office playing a piano that's been rolled outside for a video shoot at dusk. It's actually his piano, but he keeps it at the studio next door because he doesn't have anywhere else to put it. Maybe there'll be room at home soon; he and Jojo, who is a personal trainer, are looking for a bigger place together. Like him, she's got a laid-back temperament, and they like being silly together. "When I'm on the edge and think something's about to go wrong, she can save me," he says.
Jojo's been at work this week, but joins us for the video shoot. She has both Jamaican and Polish heritage, and kind eyes that shine excitedly when she realizes I'm from the same region as the Leicester City Football Club. It turns out that her and Sampha both recently got wrapped up in the story of the team's impossible Premier League win. Last season they were nearly relegated to a lower league, so the odds were 5,000-1. The team's manager Claudio Ranieri didn't find success with intricate game plans; instead they played hard-charging, simple football, and took things match by match.
One thing Sampha's mother taught him is patience. Life can be shitty, but there's no need to race to get to the top. "My mother was always solid," Ernest had told me of her advice for Sampha's life in music. "This is what you love, I'm behind you 100 percent. Take your time, don't rush. Be ready to be knocked backwards. The music industry is not easy.'"
Sampha's career has been full of stops and starts, but he's coming to terms with it all — including his throat problems. He now thinks the cause is probably globus pharyngis, which is a psychological sensation sometimes brought on by stress or anxiety, though Sampha says he'll have to see a specialist to fully understand it. "To me, it's very physical," he says. It gets worse if he drinks alcohol or is around smoke. He's learned to live with it, but the experience has had an impact on his mental state. "I've gone through lots of emotions depending on what kind of mood I'm in," he says. It also affects his voice. "It makes singing for me a difficult process sometimes. Every time I sing I don't even know what it's gonna be like."
Tonight, up on the roof, Sampha plays the same song — "Plastic 100ºC," the one that mentions his throat lump — over and over for the cameras. It's so hot, I've been melting out here/ I'm made out of plastic out here, he sings over its plaintive melody. He doesn't seem to notice the rumbling trains to his right, or the birds chattering their welcome to the nearing twilight. Instead, he gets more inside the performance with each repetition, nodding his head into the keys, and allowing the pauses between each note to sing with as much conviction as he does.